A Call to Artists

Perspectives No. 324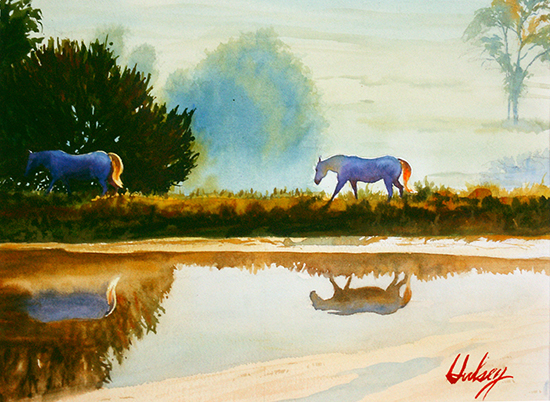 Sunrise at Tailgate Ranch Watercolor © John Hulsey


Those of us who love to paint the landscape are always engaged in a kind of preservation effort, whether we know it at the time or not. Wild landscapes are often under threat of development or natural disasters of one kind or another. Recently, some wonderful old lodges and vast acreages of trees burned in Glacier National Park. These were places we knew from our painting residency there—places we had stayed in, hiked in and painted. Gone now.

Sometimes artists have been able to effect change directly through the art we create by painting places which we know are threatened by development or human disruption. By mounting and publicizing an exhibition of those paintings, we can bring attention to the importance of place and its impending loss. This can move hearts and minds to action to prevent this loss, as happened when Congress, influenced by paintings by artists such as George Catlin, Thomas Moran and Albert Bierstadt, established the National Parks.

Over the years, we've seen swaths of the open land and small farms around us disappear into housing development. We look back at the paintings created when those places were still open, beautiful and accessible, and shake our heads. We've had buyers at exhibitions who didn't know the areas had once been so lovely. Progress, we guess.

Now we're faced with an even greater threat—a large-scale industrial food processing operation potentially moving close by, into our rural landscape. Their plan will forever change this beautiful area with a huge, polluting plant on land nearby. Land where we've often painted the changing seasons, the waving fields of hay followed by hay bales worthy of Monet, horses and cows drinking the sunrises and sunsets reflected in farm ponds. The company trying to locate here has a bad track record of environmental violations and we fear the worst for our clean air and water.

As artists what can we do? We'll join the protests and contribute what we can to the fund-raising, but perhaps the most important thing we can do is to paint, to record the beauty of the land that will be lost. Paint the visual gift of the prairie. Drink in the smells and sounds and try to incorporate them into art that symbolizes what we stand to lose. Make a big show of it all. Perhaps people will notice and join in the opposition. By preserving the landscape in our art, we can only hope we might help to preserve it for real.
Save
Save