The Watercolor Medium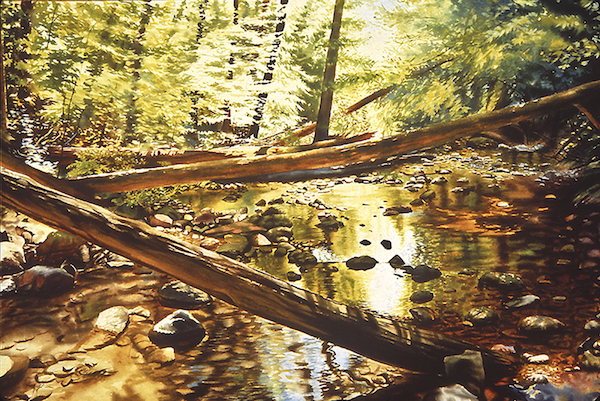 In the Quiet Places 27 x 39" Watercolor John Hulsey
What attracts us to using watercolor is this—you only need water and you're ready to paint. It is a very quick and direct way to get working quickly—ideal for plein air or travel. Of course things aren't so simple when one tries to make watercolor cooperate! It takes many miles of paper to get on friendly terms with the medium and learn the "watercolor dance". However, it is a journey worth taking! Having a knowledgeable guide to help you along the way can be enormously useful to shorten the learning curve. That is one of the reasons we offer online watercolor classes each week—to help our students learn the joys of working in this wonderful painting medium without all the frustrations which can develop.

Recently, a student asked us about watercolor mediums and additives, and we decided to do some up-to-date research on what products are now available, and their properties. We start with the old-school mediums that have been around a long time, Gum Arabic, Ox Gall and Vodka (for freezing temperatures outside) and then introduce you to some of the most recent additions to the watercolorist's toolbox.
Mediums may not be as commonly used with watercolor as they are with oil paints, but they can be useful to modify the working characteristics of the paint or the paper being used. They can add iridescence or granulation, make paper more receptive to pigment or make lifting of pigments easier. Here is a brief summary of the most common of watercolor mediums.
Gum Arabic/Binders
Gum Arabic is a natural non-toxic gum most commonly used as the binder in watercolors. It comes from the hardened sap of the Acacia tree. It dissolves in water but leaves a dry thin layer of binder "glueing" pigment to paper. Adding additional Gum Arabic to your watercolor paints extends drying time and adds more transparency and gloss. Many artists feel that this gives more control when painting wet-on-wet because of the slower drying time. Gum Arabic can be used for making one's own watercolors from dry pigments as well. Sennelier manufactures a unique watercolor binding medium adding honey to the Gum Arabic base.

Ox Gall/Wetting Agents
Ox Gall is a wetting agent that reduces the surface tension of water. This allows watercolor paints to flow and blend more easily and to penetrate the surface and sizing of watercolor paper. Synthetic wetting agents are available in addition to the traditional Ox Gall. As its name accurately describes, Ox Gall is extracted from the gall bladders of oxen/cattle who have been processed for meat.

Blending Mediums
Other blending mediums are available which slow drying time and can be useful when working in dry, hot climates, mixed into paint or applied directly to the paper. They also increase flow for fine lines and strokes. Available under multiple brands, they are simply called "blending mediums."

Granulation Mediums
Adding granulating mediums to watercolor paints will enhance the effects of those pigments which are already considered granulated and will add granulation to smoother, staining pigments, creating a more dappled appearance. These mediums have fine particles that add texture and depth to watercolors.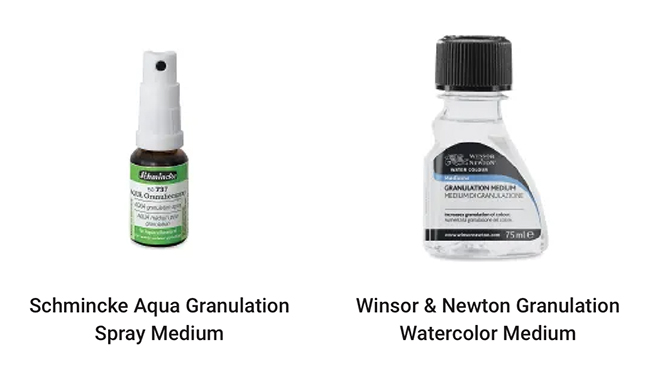 Thickening Mediums
Translucent thickening gels and texture mediums can be mixed directly with paint or applied to paper adding gloss and impasto-like texture.

Lifting Preparation Medium
Lifting preparation allows for dry paint washes to be more easily lifted off the paper. The preparation is applied to the surface of the paper and allowed to dry. Painting is then done over this surface. Once dry, a wet brush or sponge can be used to moisten the area to be lifted, blotting the dissolved color off of the paper. Greatest success in removing paint is within a five to six hour window after the initial application. The removal process can be done several times.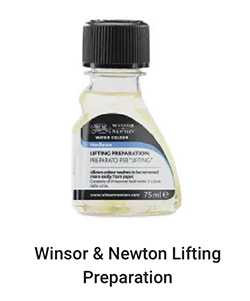 Iridescent Mediums
Iridescent medium can be mixed with paint or applied over a dry painting to add sparkling, glittering effects.

Experimental Mediums
Other more experimental mediums include Schmincke's Aqua Effect Spray. It creates what Schmincke calls "bizarre surface effects". The ethanol base forces wet or moist color to gather in unpredictable undulating pools.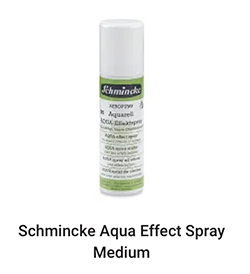 Watercolor Surface Preparation Grounds
Several manufacturers make absorbent "primer" products that allow watercolor paint to adhere to unconventional surfaces such as canvas and panels normally used for oil painting. These usually require several applications for best effect.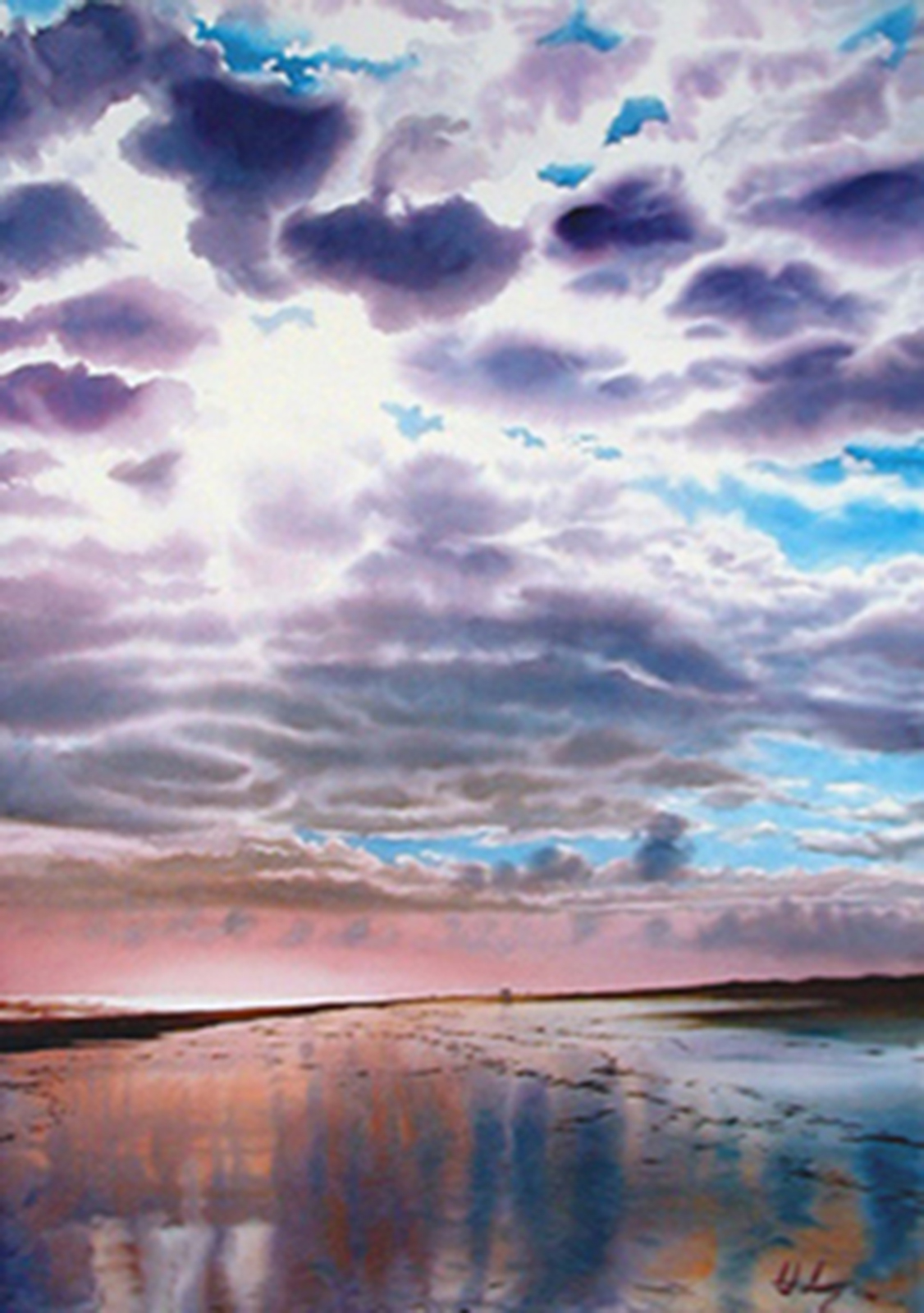 Ocean Light I 40 x 30" Watercolor John Hulsey
We encourage students to experiment with new things if looking for special effects, but first, to concentrate on mastering the intricate dance between watercolor and paper. Just like the tango, to do it well, takes lots of practice and many false steps. A masterful watercolor may look as it if is effortless, but the artist knows better!