Voices of Experience

Anton Pavlenko




Sleepless Forest 24 x 48" Oil

"I prefer to focus less on capturing a visual snapshot

and more on a dynamic observation

which employs all my senses."
Self-taught oil painter, Anton Pavlenko, creates expressive works evocative of the Oregon landscape near his home and studio. The paintings are very personal, an exploration not only of the subject, but of his deep sensual connection to the moment he is observing and painting. They border on the abstract while retaining a strong connection to the landscape. His work has been included in many juried exhibitions across the country and has been featured in national publications. He has won numerous top awards for his paintings.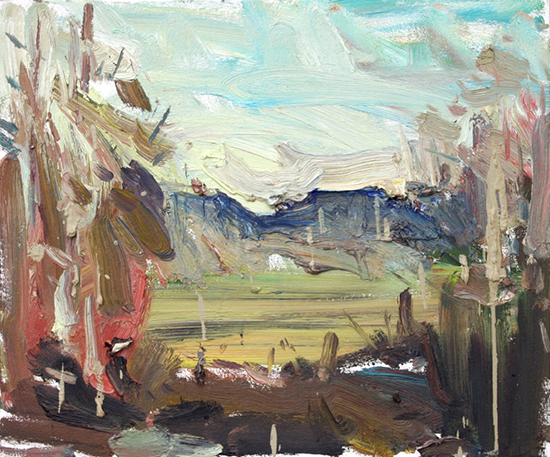 Willamette Valley 20 x 24" Oil

Pavlenko was born in Ukraine, but moved with his parents to the United States when he was six years old. We asked him to begin by telling us if art was an important part of his childhood.



I was involved artistically since childhood—mostly drawing with pencils, pastels and some water media like many kids. But I was really into it and eventually I took up painting in oils as a teenager. I spent most of my early time behind the easel copying other paintings I liked. That's essentially how I taught myself to paint. I never really thought about becoming an artist though. It just never seemed like a reality until my early 20s.

When I was in middle school, I received a couple of summer classes on scholarship at Pacific Northwest College of Art in Portland, OR, but I don't have a degree in fine arts. Aside from those classes and painting alongside friends, I am a self-taught artist. I am inspired by many artists whose styles vary from classical realism to conceptual art.

You were young when your parents came to the United States. Have you had the opportunity to go back to Ukraine?

I'm nostalgic for my birth country but have never been back. When my wife Anna (who's Russian) and I began traveling, we considered going to Russia and Ukraine but then the war broke out and we have still to plan a trip there. Hopefully sometime in the near future. Since my childhood memories of Ukraine are limited, I don't really know what it's like to live there as an artist.

How much do you work en plein air versus in the studio?

My studio and plein air time have gradually come to almost exclusive extremes, like seasons. What I mean is that I'll spend months, even up to years, just painting outdoors and then switch and do the same indoors. I don't really know why—it's just how I do it. Right now I'm stuck in a studio phase and only paint outdoors occasionally.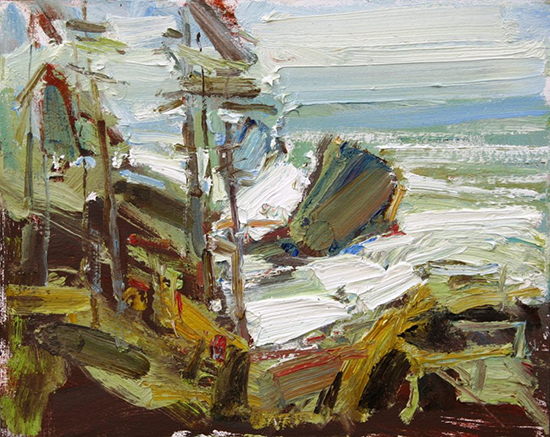 Salty Air 16 x 20" Oil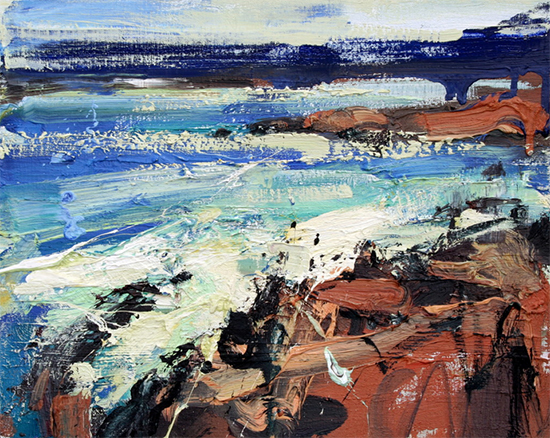 Land and Sea 16 x 20" Oil

When you do work outdoors, what are you looking for in a subject? How do you retain your initial emotional response to the subject within your painting?

When paintings landscapes, I prefer to paint places that I'm familiar with. I feel that I can connect to a subject that shares some history with me. Maybe like a favorite place to hike, picnic, swim, etc. It's easier to draw upon these memories and retain that emotional connection while painting.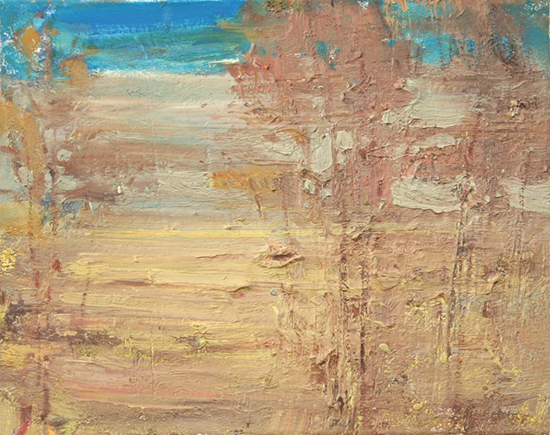 Hazy Afternoon 16 x 20" Oil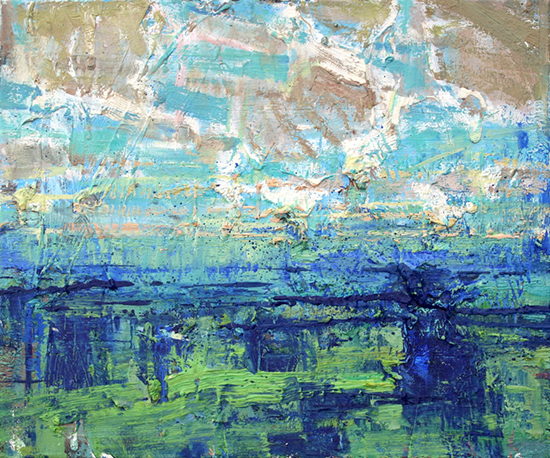 High Noon 20 x 24" Oil

What is your painting process (from first idea to canvas) and how has it evolved? What are your preferred materials?

I used to start with a lot of planning and thumbnail sketches but lately I just dive right in. My process has shifted from a blueprint mindset to a more visceral gut action. More of my work tends to go astray this way so I end up destroying or painting over a lot of it. But when a painting does go right it makes up for the waste. It feels like landing a wild trick shot in sports—difficult to repeat with ease.

Although I have some preference, I'm not a purist when it comes to art supplies. And aside from drawing and experimenting in studies, I only work in oils. My typical palette consists of Titanium White, Cadmium Green, Cerulean/Manganese Blue, Ultramarine Blue, Alizarin Crimson, Cadmium Red Light, Burnt Sienna, Burnt Umber, Ivory Black, Yellow Ochre, Cadmium Yellow Medium, Cadmium Lemon, plus or minus a couple of colors. Since I tend to paint thickly, I like to purchase studio-grade paints at times. They pose their own challenges, but I don't ever want the cost of materials holding me back from freely doing what I feel like. So, if buying cheaper paints does that trick then so it is. I like to tell my students to use paint as if they stole it! For my preferred surface, I go back and forth between painting on canvas and board/panel. I like the rigidity of cradled boards, but storage and weight become issues with larger works. As for brushes, I like to use natural hog bristle and rarely use palette knives to apply paint.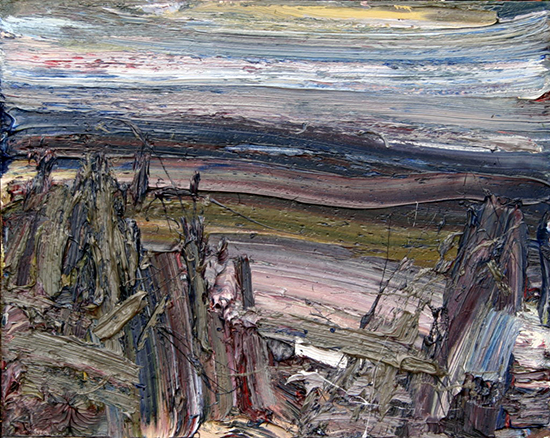 The Coast 16 x 20" Oil

Where have you found inspiration—in the work of other artists and/or books, etc.?

This is a tough question to answer because I like it all! My early landscape work was inspired by the California, Russian, and French Impressionists. I was also really moved by the Society of Six and Group of Seven painters at one time. Lately I've been enjoying a wide array of artists including many who work non-representationally. I enjoy looking at and reading about the mid-century American Abstract expressionist artists. I also find music, film and literature as great inspiration for visual art.

Have you had the opportunity to travel to and paint other countries?

Yes I enjoy traveling and painting abroad. It's a challenge but worth it if I can get enough work to have a show back home in the States. So far, I've been to Nicaragua, Thailand, France and Spain. And this April I'm flying off to Italy for another month-long painting trip.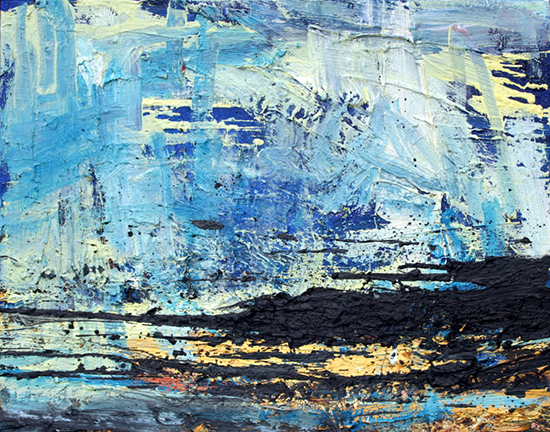 The Clearing 22 x 28" Oil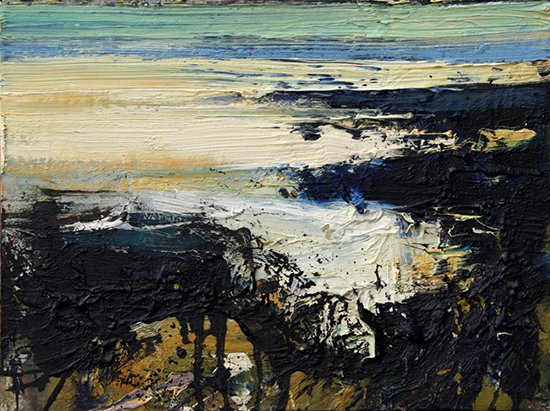 Winter Surf 12 x 16" Oil

Do you teach any classes or workshops?

Occasionally I do but not often. Things are subject to change but if I were to guess, I will probably teach even less in the foreseeable future. When I do teach, I enjoy one-on-one or really small group sizes.

What words of encouragement or piece of advice would you give a beginning artist?

Okay here are a few random phrases that I would find helpful in the beginning: Don't lie to yourself. Each artist's road is different. Painting is easier if you don't cling to ideals. Don't be afraid—you're not a surgeon and no one will die if you fail. Your dread hurts more than people's actual criticism. Don't take yourself so seriously—your work isn't saving anyone's life. Experiment. Paint like you stole all your art supplies. Above all, create more work than you know what to do with!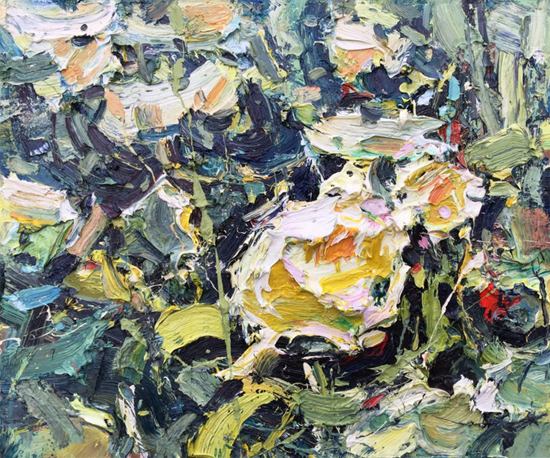 Garden Melody 20 x 24" Oil

To see more of Anton Pavlenko's work, go to:
All Artwork © Anton Pavlenko