The Other Artists of Giverny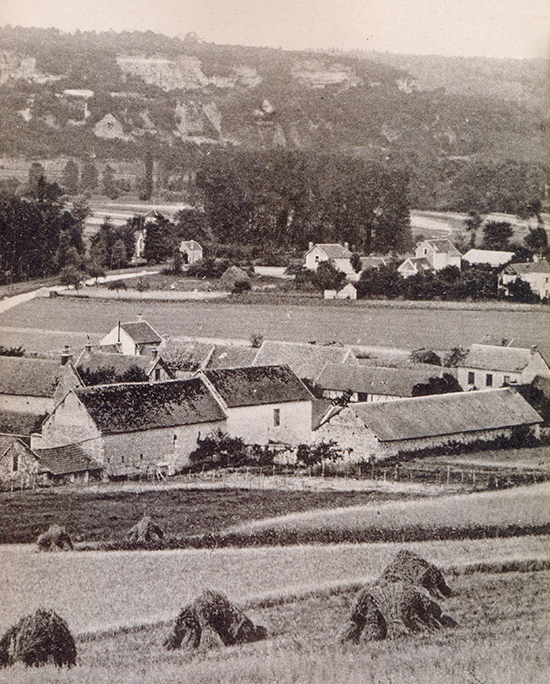 View of Giverny from Vintage Postcard - A. Lavergne
(Musée d'Art Américain Giverny)
Monet arrived in Giverny in 1883 looking for a quiet, off-the-beaten-track rural village which would offer him a variety of landscape subjects to paint. Giverny has an interesting diversity of topography - hills and heights, a beautiful river valley, fields of wildflowers and agricultural fields dotted with haystacks in the fall. The poplar and willow-lined river Epte flows through the valley and provided many fine picture making opportunities with the Seine River also nearby. He could not have imagined how popular his presence would make the village.
Giverny was much more than Monet's home.

During his lifetime, it became the focal point

for an important art colony which attracted

painters from all over the world.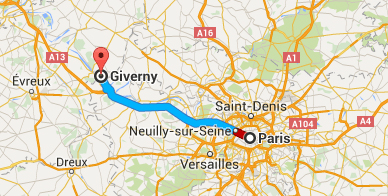 The first artists to follow on Monet's heels arrived around 1885 and came looking for a rural landscape undiscovered by the hordes of artists working in and around Paris at the time. The first American artists to visit the village did not want and did not encourage other artists to follow them. Most of them had been art students in Paris and had experience painting in many of the other popular villages. These intrepid plein air painters had grown weary of painting in overcrowded art colonies and over-painted regions of France. Places like the forests of Fontainebleau, Barbizon, Pont-Aven, Concarneau, Grez-sur-Loing, St. Ives, Le Pouldu and so on, had become popular artist colonies, and every square foot of scenery around them had been painted repeatedly, most often by Americans. They arrived with no intentions of developing a busy artist colony, and some claimed that they were not even aware that Monet lived nearby. They did not come to expressly imitate what the great master had done; they simply wanted to paint the "transcendent loveliness of the country" and by 1887 there were perhaps 7 or 8 other artists, besides Monet, working in the village. But, word soon got out. Giverny's proximity to Paris and its beautiful rural landscapes were important in bringing artists to the area and within a few more years, there were over fifty additional artists in the tiny village.

"The vast majority of artists to visit Giverny between 1887 and 1915 were American, but others came from Australia, Canada, Great Britain, Argentina, Austria, Germany, Poland, Norway and Sweden." - Impressionist Giverny: A Colony of Artists, 1885-1915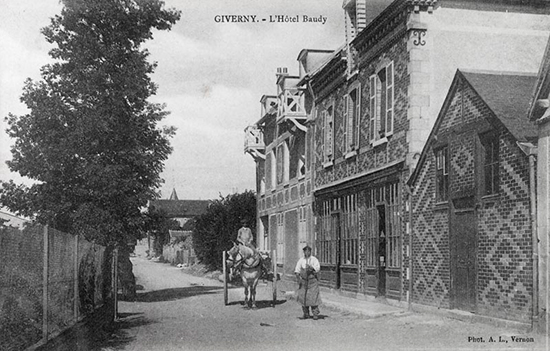 Accommodations for many of the artists who initially came to Giverny were provided by Angelina and Lucien Baudy who opened the Baudy Hotel in 1887. The hotel was instrumental in the establishment of the colony, providing inexpensive room and board and a welcoming home to the many foreign artists who stayed there. As the number of visitors grew, it became the unofficial nexus of the gathering artists. The owners expanded the hotel to include artist studios and tennis courts. They served afternoon tea, some American food, and even hosted costume balls. All this social activity provided an attraction for some and a discouragement for others. Some artists left to find quieter places to paint while some of the more established and committed artists purchased houses nearby and began raising their families in Giverny. During the 43 years that Monet lived in Giverny, more than three hundred and fifty other artists came to this agrarian area to paint the rural landscape and village. Although many were inspired by Monet, the colony of artists that grew there developed very independently of him. They became known as the Colony of Giverny.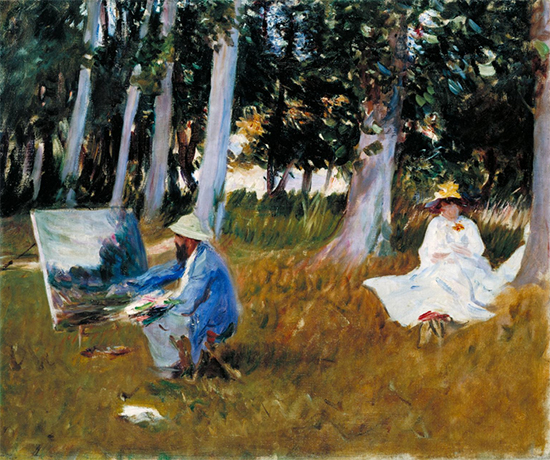 Claude Monet Painting at the Edge of a Wood John Singer Sargent
It was all too much for Monet at times. He had friendships with only a few of the foreign artists and allowed a rare few to paint with him or in his gardens. Among those few were Theodore Robinson, John Leslie Breck, Lilla Cabot Perry, John Singer Sargent and Willard Metcalf.

The first American artist to visit him at Giverny was his friend, John Singer Sargent. Sargent visited Monet several times in the last two decades of the 1800s. The two occasionally painted together as is shown in the work, Claude Monet Painting at the Edge of a Wood (above) by Sargent.

But Monet complained about the large number of artists that began to arrive, saying that he couldn't go out into the fields to paint except very early in the morning because, as he put it, "I cannot make a study in the countryside without seeing myself surrounded by the curious." He did not set out to attract people to Giverny, but they came, some of them, precisely because of his presence there. Partly in reaction to this loss of privacy, he retreated to his property to build a private landscape subject in his gardens and eventually the great lily pond, the subject of his greatest body of work.
Another of the earliest American artists to visit Giverny was Willard Leroy Metcalf (1858 - 1925). In addition to his worldwide travels, Metcalf continued to return to Giverny for several summers, in the company of other American artists.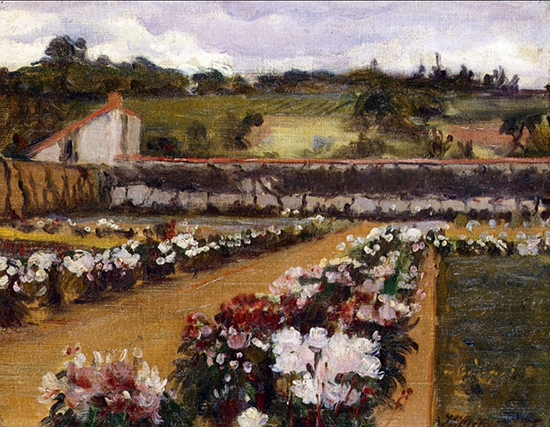 Monet's Formal Garden 1885-86 Willard Metcalf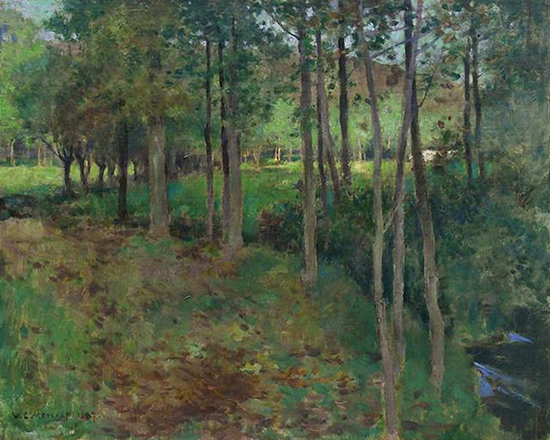 Giverny 1887 Willard Metcalf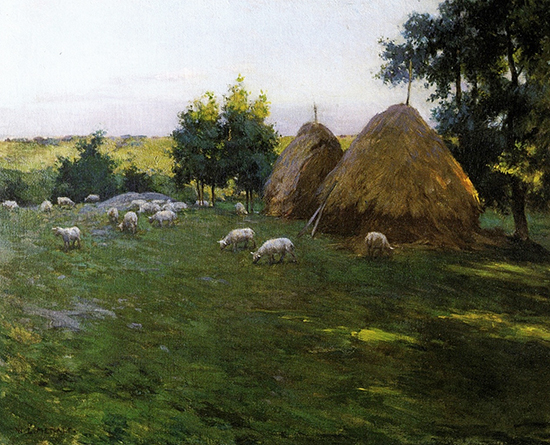 Haystacks at Sunset 1888 Willard Metcalf

Theodore Earl Butler (1861–1936) was an American artist born in Columbus, Ohio. After studying at Marietta College and the Art Students League in New York, Butler moved to Paris to continue his studies under Emile Carolus Duran, who introduced him to the work of Claude Monet. In 1888, Butler traveled to Giverny with fellow Ohio artist, Theodore Wendel, checking into the Hôtel Baudy. Butler became a close friend to Monet, marrying his stepdaughter, Suzanne Hoschedé in 1892, and, after her death, marrying her sister,
Marthe Hoschedé.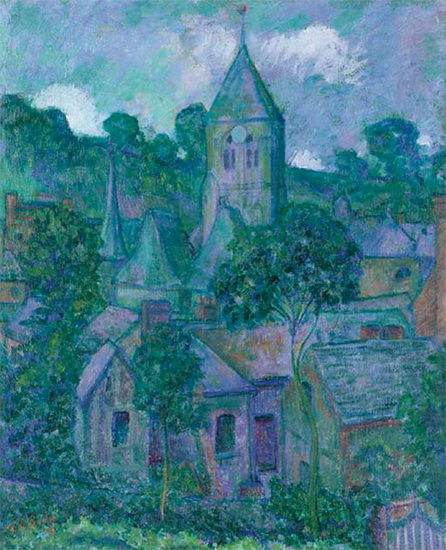 Giverny at Night 1909 Theodore Butler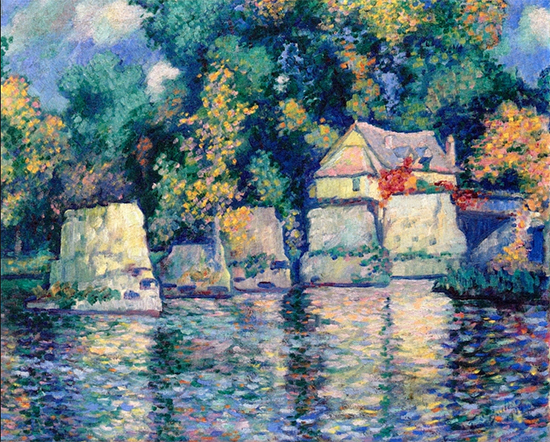 The Red Bridge in Vernon 1909 Theodore Butler



The Seine Near Giverny 1911 Theodore Butler

Blanche Hoschedé Monet (1865-1947) was also a stepdaughter of Monet's and interested in painting from a young age. She became assistant to and student of Monet often painting on location beside him. She married Claude Monet's eldest son, Jean Monet, in 1897. Blanche took responsibility for Monet's household and gardens after her mother's death.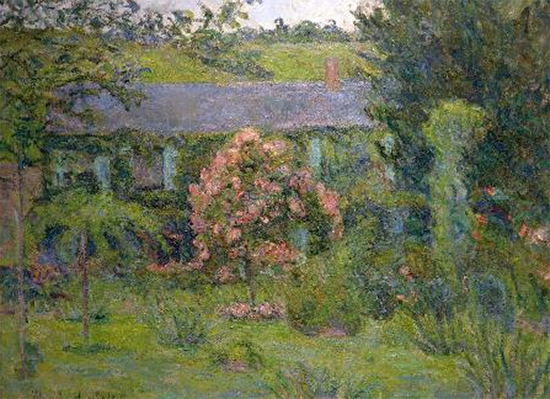 House and Garden of Claude Monet painting Blanche Hoschedé Monet

Theodore Robinson (1852 - 1896) came to Giverny specifically to meet Monet, and became a close friend to the artist. This was an exception as Monet did not invite or teach the preponderance of artists who continued to arrive.

Robinson had traveled to Paris to work under Carolus-Duran after studying in Chicago and New York. He returned to New York where he maintained a studio from which he worked and taught. In 1884 he traveled back to France where he lived for eight years, eventually moving next door to Monet in Giverny. Robinson later moved back to New York, teaching at the Brooklyn Art School, the Evelyn College and the Pennsylvania Academy of Fine Arts.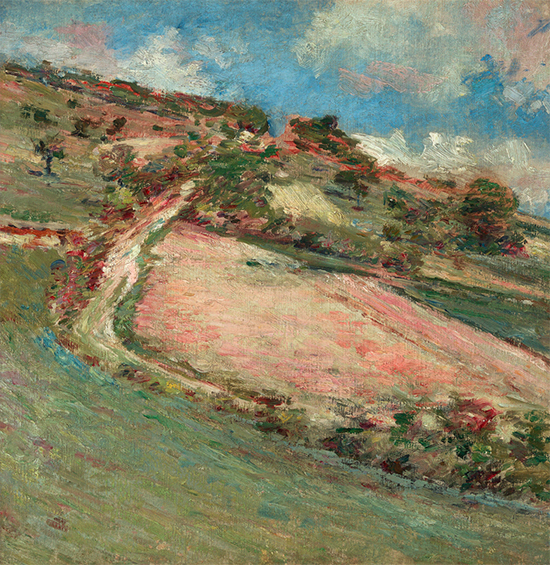 Hillside Springtime Giverny 1891 Theodore Robinson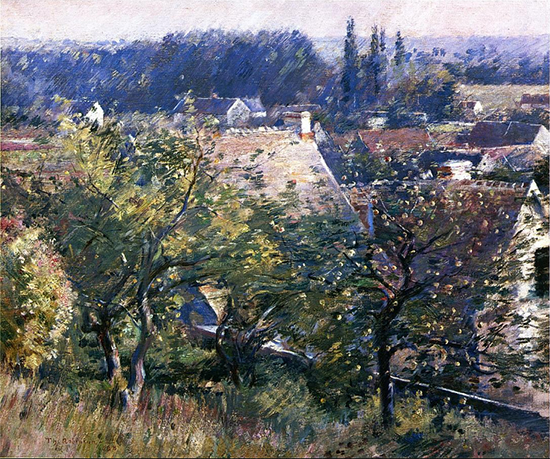 Saint Martins Summer, Giverny 1888 Theodore Robinson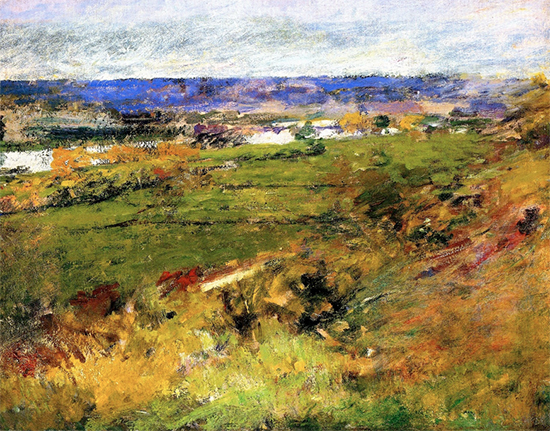 Study for Valley of the Seine from the Giverny Heights 1892 Theodore Robinson

By the mid to late 1890s, many artists had chosen to bring their families and to purchase homes in the area. Artists continued to arrive throughout the first two decades of the twentieth century, painting the now iconic scenes of the landscape of Giverny.

William Blair Bruce (1859 - 1906), a Canadian artist, studied in France, painted in Giverny and later settled on the island of Gotland, Sweden with his Swedish artist wife, Carolina Benedicks.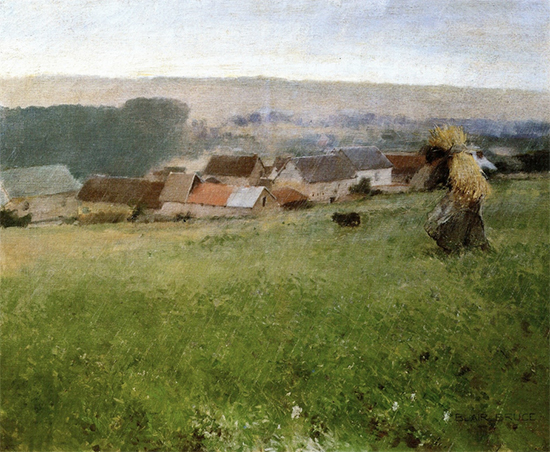 Rain in Giverny 1887 William Blair Bruce

Theodore Wendel (1859 - 1932) studied in Paris at the Académie Julian from 1886 to 1888. During the summers of 1887 and 1888 he stayed in Giverny, becoming a friend of Claude Monet and painting in Monet's gardens with fellow Americans Theodore Robinson, Willard Metcalf and John Twachtman.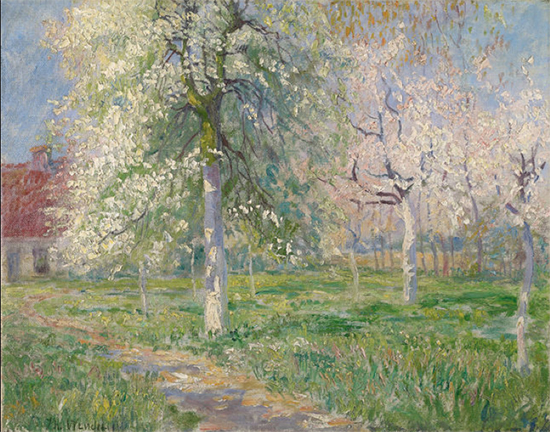 Giverny Farmhouse in Spring Theodore Wendel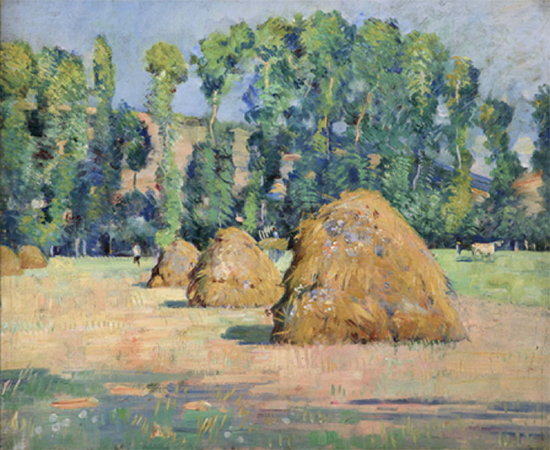 Giverny Haystacks 1887 Theodore Wendel

American artist Philip Leslie Hale (1865–1931) studied at the School of the Museum of Fine Arts in Boston and at the Art Students League in New York. Beginning in 1887, he studied in Paris for five years, traveling during the summers to paint at Giverny.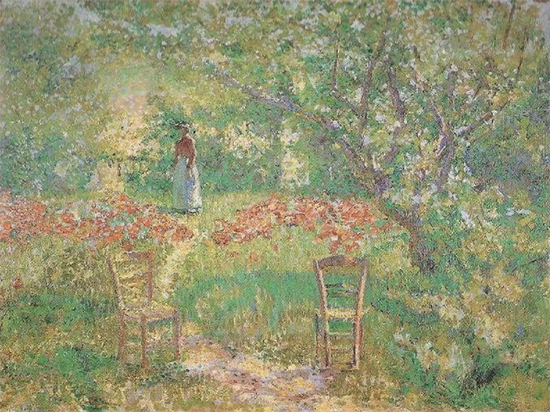 Giverny Garden 1890 Philip Leslie Hale

Guy Rose (1867 - 1925) was born in southern California. Throughout his life he suffered the effects of lead poisoning after being accidentally shot in the face during a hunting trip as a child. His recuperation marked the beginning of his interest in sketching and painting. Rose studied in Paris, returning to America to work as an illustrator in New York. He went back to France in 1899 with his wife, purchasing a home in Giverny. In 1914 Rose and his wife returned again to live in California.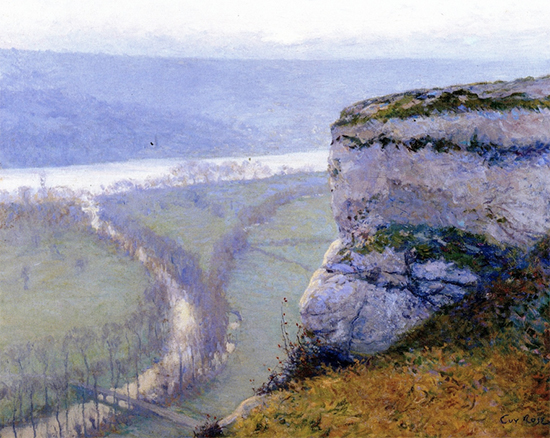 La Grosse Pierre 1910 Guy Rose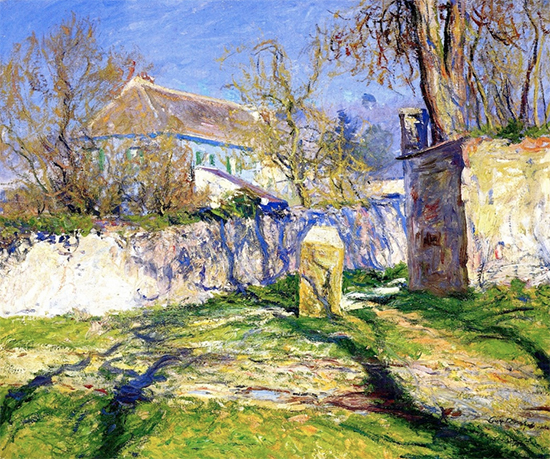 La Maison Bleue 1910 Guy Rose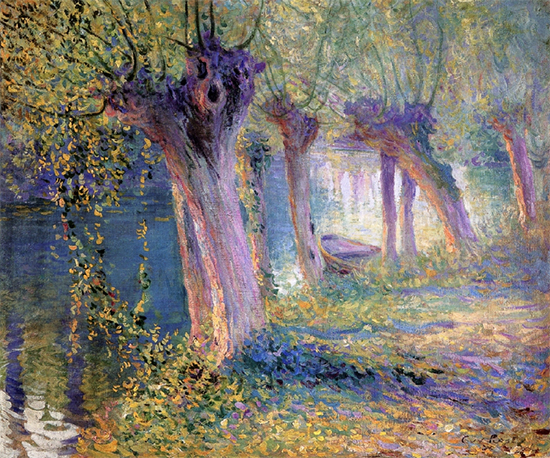 River Epte 1910 Guy Rose
John Leslie Breck (1859 - 1899) was an American artist born off Hong Kong, the son of a U.S. naval officer. At age 27 Breck went to study in Paris at the Académie Julian, later traveling to Giverny with Willard Metcalf and Theodore Robinson. However, he shortly left Giverny after a breakup with Monet's stepdaughter, Blanche Hoschedé. Breck reportedly died by gas poisoning at the young age of 39.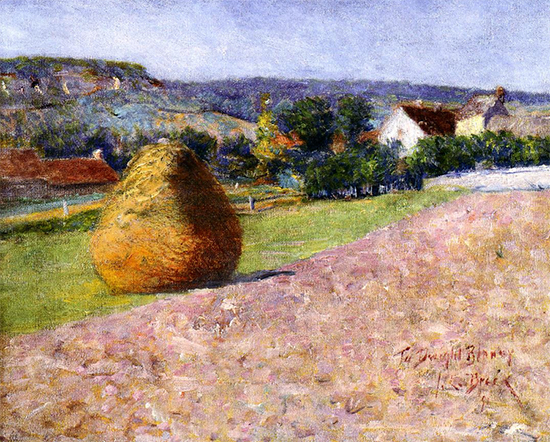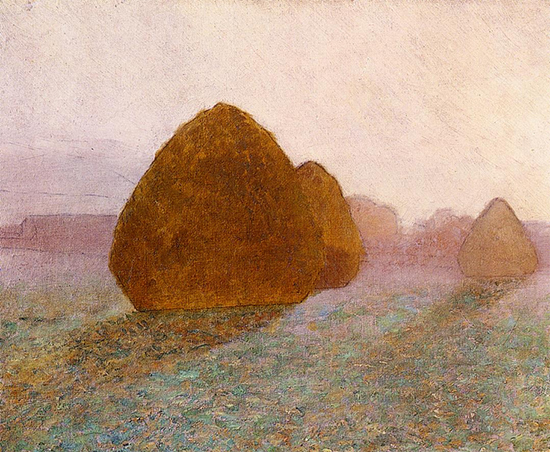 Grainstack Giverny 1891 Haystacks at Giverny Normany 1891
Sun Dispelling Morning Mist
John Leslie Breck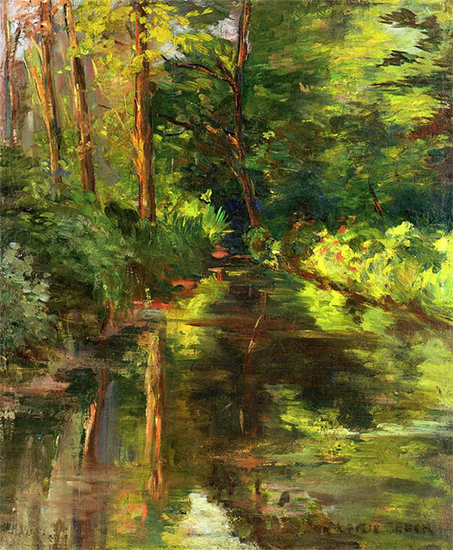 The River Ept 1887 John Leslie Breck

Dawson Dawson-Watson (1864 - 1939) was a British-born artist who later became well known for winning the largest cash prize in American art, the Texas Competitive Wildflower Competition (see Perspectives No. 228 - The Talented Dawson Dawson-Watson). John Leslie Breck invited Dawson-Watson to join him in Giverny in 1888. Dawson-Watson did not know Monet well, coming to Giverny as many other artists did to paint the village and landscape.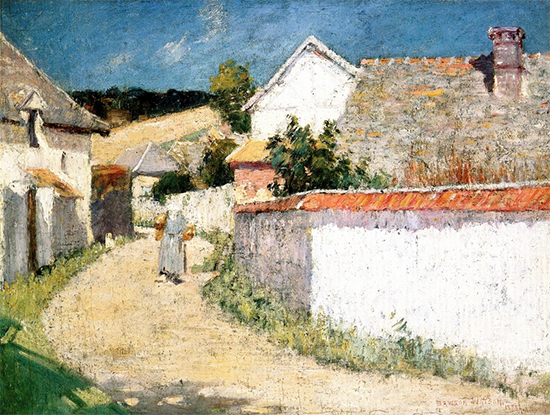 Giverny 1888 Dawson Dawson-Watson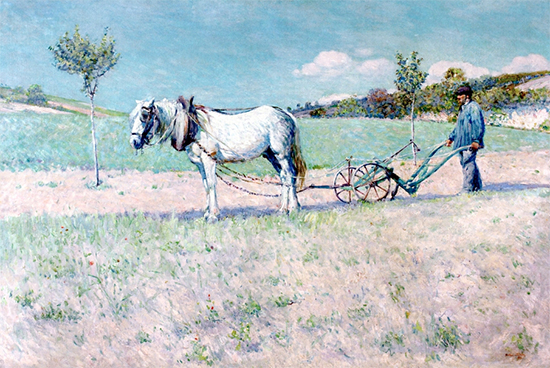 Springtime Giverny 1893 Dawson Dawson-Watson

Czech artist, Václav Radimsky (1867 - 1946) shared studio space in Paris with Paul Cézanne who is said to have introduced him to Monet. Radimsky settled in Giverny buying an old mill on the river Seine. He maintained a floating studio moored on the river from which it is thought he painted with Monet.

Road to Giverny 1894 Vaclav Radimsky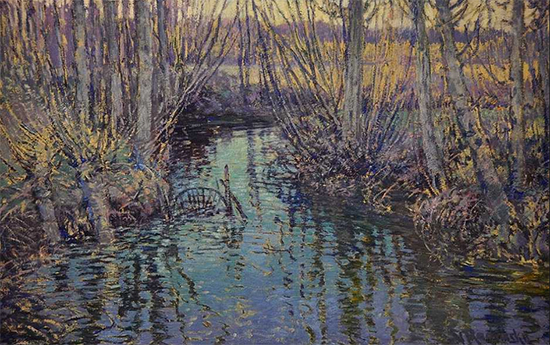 Small River at Giverny 1899 Vaclav Radimsky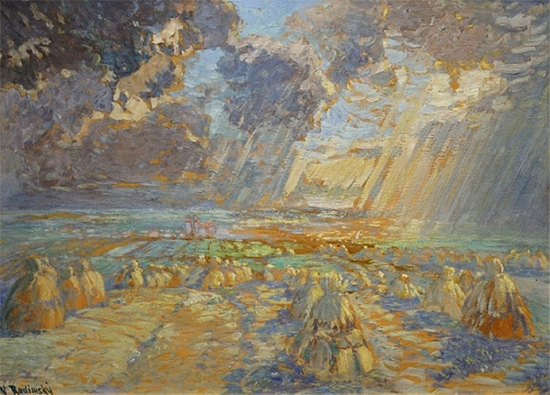 Haystacks in Giverny 1900 Vaclav Radimsky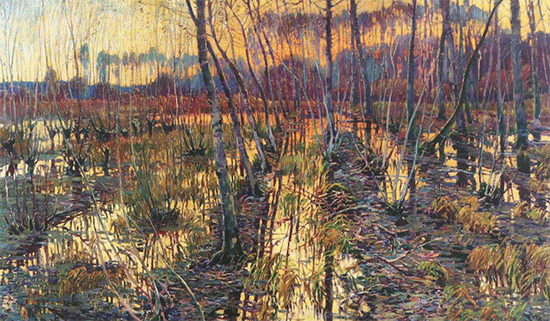 Landscape in Giverny 1900 Vaclav Radimsky

Lilla Cabot Perry (1848 - 1933) was the oldest of eight children born to a prominent surgeon and his wife in Boston. Perry studied art in Boston, Paris and Munich. While in Paris, she became friends with Mary Cassatt, Camille Pissarro, and Claude Monet. Perry spent the nine summers between 1889 and 1909 in Giverny. She later spent three years in Japan where her husband was teaching English at Keiogijku University. The influences of the various places she lived are strongly reflected in her paintings.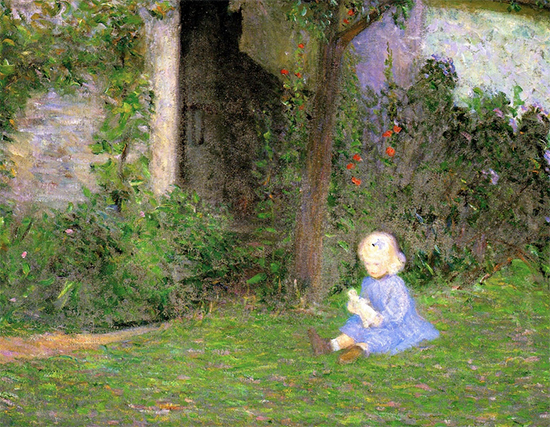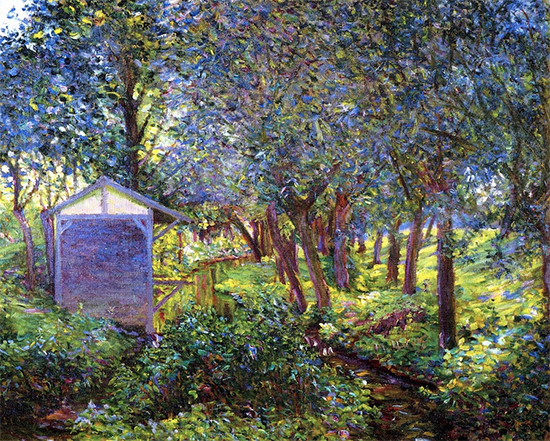 Child in a Walled Garden - Giverny Giverny Landscape in Monet's Garden 1897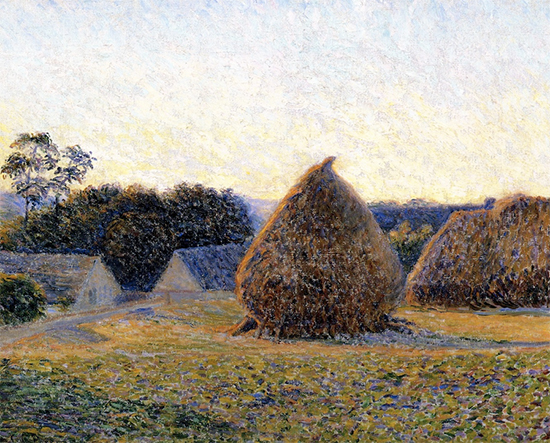 Haystacks - Giverny 1896 Lilla Cabot Perry

Frederick Carl Frieseke (1874 - 1939) studied at the Art Institute of Chicago and the Art Students League in New York. At the age of 24, Frieseke moved to France where he lived for the rest of his life. From 1906 until 1919, he with his wife and daughter, spent his summer months in Giverny, returning to Paris for the winters. The house he bought in Giverny had previously been the residence of artist Theodore Robinson and was next door to that of Claude Monet. However, Frieseke did not become close friends with Monet.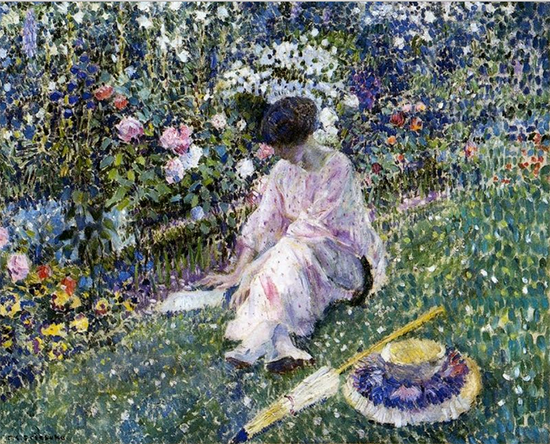 Garden in June 1911 Frederick Carl Frieseke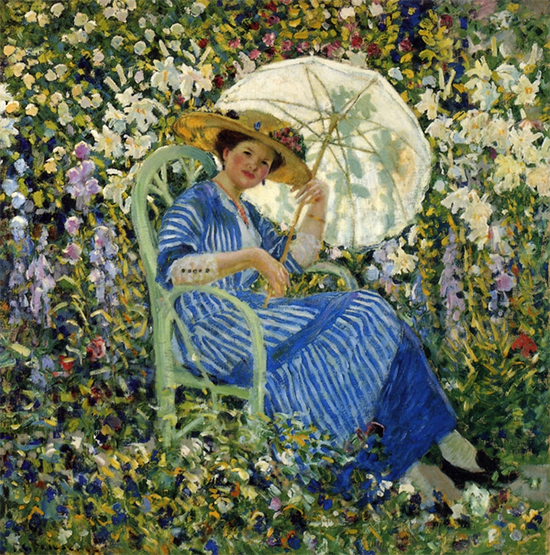 In the Garden 1910 Frederick Carl Frieseke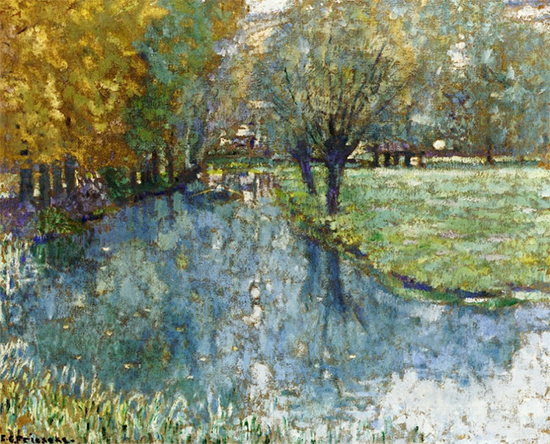 On the River Frederick Carl Frieseks
These are a few of our favorite "other" artists who painted in Giverny during Monet's time there. Additional artists who painted there during that time include many names you may recognize:

Louis Ritter (1854 - 1892)

John Howe Ireland Downes (1861 - 1933)

Louis Paul Dessar (1867 - 1952)

Thomas Buford Meteyard (1865 - 1928)

Robert W. Chambers (1865 - 1933)

Evelyn McCormick (1862 - 1948)

Maria Oakey Dewing (1845 - 1927)

Baptist Scherer (1869 - 1920)

Will Hicok Low (1853 - 1933)

Mary Fairchild MacMonnies Low (1858 - 1946)

Frederick William MacMonnies (1863 - 1937)

William Howard Hart - (1863 - 1937)

Karl Albert Buehr (1866–1952)

Louis Ritman (1889 - 1963)

Edmund Graecen (1876–1949)

Richard E. Miller (1875 - 1943)

Alson Skinner Clark (1876 - 1949)

Józef Pankiewicz (1866 - 1940)

Samuel Halpert (1884 - 1930)
For more information on the colony at Giverny, see William Gerdts's book, Monet's Giverny: An Impressionist Colony; and Impressionist Giverny: A Colony of Artists, 1885-1915 by Terra Foundation for American Art.
Save