The Beauty Spot

on the Wing of a Mallard Drake

Perspectives No. 429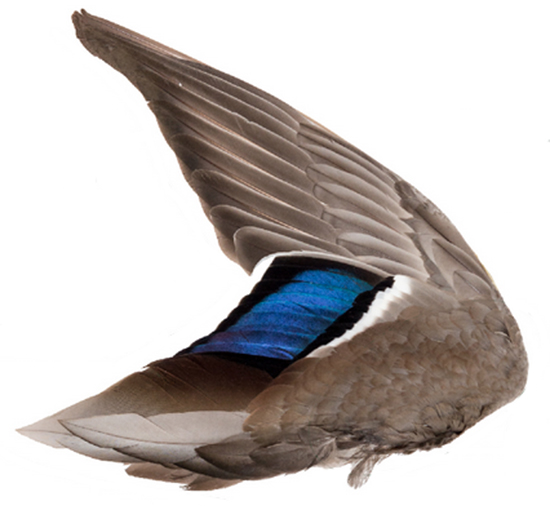 Mallard Drake Wing (Courtesy of U.S. Fish and Wildlife Service)
We recently treated ourselves to a copy of the book, Werner's Nomenclature of Colours - Adapted to Zoology, Botany, Chemistry, Mineralogy, Anatomy, and the Arts by P. Syme. This is a pocket-size facsimile printing of the second edition book originally published in 1821. The author, Patrick Syme, was an Edinburgh "flower-painter" to the Wernerian and Caledonian Horticultural Societies. The original edition, published in 1814, was compiled by Abraham Gottlob Werner, a mineralogist and geologist and was written to help identify minerals by various characteristics, including color. In the time before photography, descriptive details recorded by scientists were made solely by the written word. Colors had to be described in precise non-ambiguous words.

Syme expanded the original edition by adding color charts to the descriptions, making the book a great value to a much broader spectrum of scientists and artists. This was the book used by Charles Darwin on the HMS Beagle to identify in his notebooks the colors of the animals, plants and geology he encountered during his five-year trip around the world. Although Darwin crated thousands of specimens to be shipped home for study, it was particularly important to document their colors when collected as they would deteriorate during the long trip back.

Syme also added orange and purple to the original edition's colors, increasing the number of colors documented to 110. Each one is identified (as possible) by an animal, vegetable and mineral equivalent in color. But the book adds a lyrical note to its scientific tone. Prussian Blue is identified as "Berlin blue, with a considerable portion of velvet black, and a small quantity of indigo blue" or, "Beauty Spot on Wing of Mallard Drake, Stamina of Bluish Purple Anemone, Blue Copper Ore".

It is a lovely way to step back to appreciate the interrelated colors of nature and to hear Sap Green described as the "Under Side of lower Wings of Orange tip Butterfly", or Buff Orange as "Streak from the Eye of the King Fisher". It also provides a glimpse into an age of exploration and discovery.