Voices of Experience

Bruce Evans Newman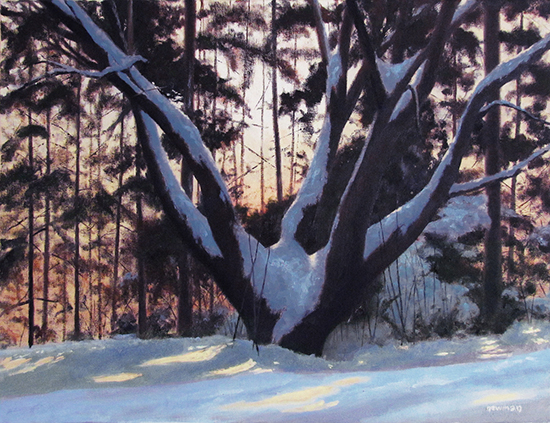 Fortress 18 x 24" Oil


"I would assure them (beginning artists)

that this is not a competition but, instead,

a community and to view art as just a long road

that all of us are on."


Although he has come to painting later in life, Canadian artist, Bruce Newman is applying to his art the same dedication that he applied to his previous successful careers. His fine arts education has been self-directed, attending workshops and studying the masters. Now an award-winning artist, Newman has had multiple solo exhibitions of his work. His paintings are included in collections across North America and Europe. We asked him about the evolution of his fine arts career and his life as a plein air landscape artist in New Brunswick.
Was art a part of your life in some form or other when you were young? Did you have other creative outlets or an appreciation of art before you began painting?

My life had always been primarily about work and family, as it is for most people, and my creative/social outlet had been competitive golf. Although I had always appreciated "clean design" in general terms, I had no experience or particular interest in the creative arts. I recall winning a poster contest in the 8th grade but that was the only thing I had ever done in art.

My art education consisted of a ten-evening pencil drawing class through the local university's extension program in 1999 as well as several workshops with great painters I admire. I find it hard to call myself "self-taught" because I simply borrowed from all the information available, but I do claim to have directed my own course of study. This could get unbelievably long and way out of hand so I will just say that Richard Schmid has been my primary source of knowledge and inspiration.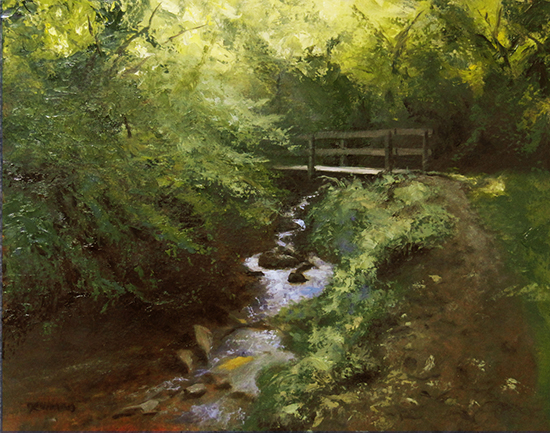 The Creekside Trail 11 x 14" Oil



Sudden Flight 16 x 20" Oil

What other artists' work do you look at regularly for inspiration? Do you have any particular books that you go to to spark your creativity?

A few of my favorite contemporary artists are Marc Hanson, Jennifer McChristian, Matt Smith and Mark Boedges. Historical favorites include, Joaquin Sorolla, William-Adolphe Bouguereau, Frank Benson and Paul Peel. I have accumulated a vast and varied library and while many good works excite me, I am always most moved by Richard Schmid, his works and his words. I have every one of his publications, books and videos, and they always speak to me most deeply.

Your previous careers in construction management and in golf involved time outdoors. Did they play a role in your desire to paint the landscape?

Although my construction management background was spent mainly in offices and with job site visits, you are absolutely correct about the golf/landscape connection. In golf, I have always walked and carried my clubs and I love playing in the early morning after the fairways have been mowed. What a great smell and feel! I love hiking and exploring and taking in all that nature provides.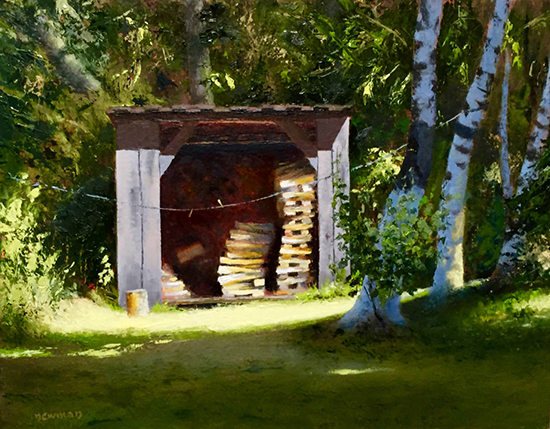 Dry Storage 11 x 14" Oil

Is there a thriving art community near you in New Brunswick?

I'm afraid this will sound odd. I live in Fredericton, the capital city and cultural center of New Brunswick. We have a vibrant and thriving arts community here but I feel apart from it and essentially on my own. I identify with traditional representational plein air painting, for example, and there isn't a lot of that happening here. When I needed to learn from Marc Hanson, I took a workshop in Minnesota. No one does that here. I sort of feel that I am marching to my own drummer even though I am surrounded by other artists.

In 2011, inspired by Eric Rhoads at his Publisher's Invitational in New York's Adirondacks, I founded Plein Air Painters of New Brunswick. I had hoped to convince other painters how good it is for your painting to work directly from life outdoors. I hoped to be a champion for plein air painting, just as Eric had been, and to grow it in my region. Ultimately, I wanted people to paint with and we do have a fledgling group.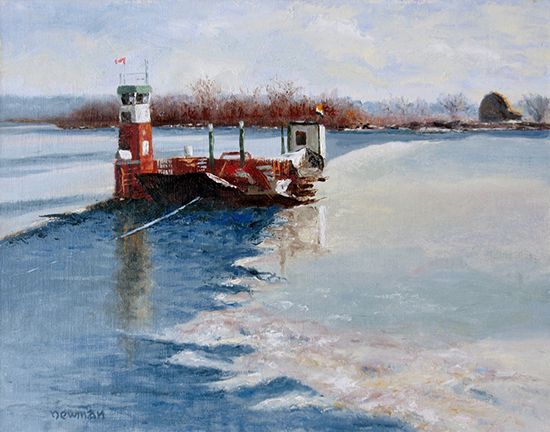 Georgetown Ferry 8 x 10" Plein Air Oil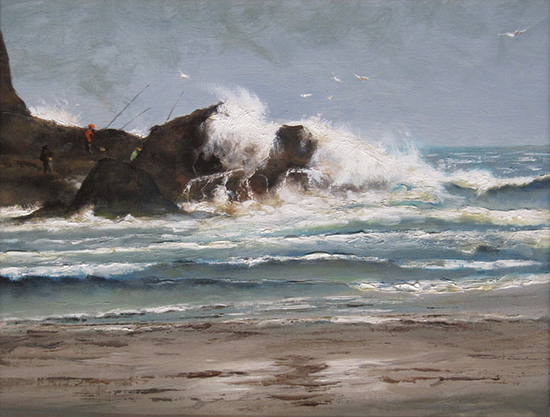 Piha Fishermen 11 x 14" Oil


You travel the plein air circuit in the United States quite a bit. How has that affected your art and the way you work?

I have been both a participant and a judge in plein air events and have met so many wonderful people at these festivals. I began entering these as a way of pushing myself to experience painting in another way and, of course, to learn. As invigorating as it was, I think I have hit a wall this year. It takes so much time and there is so much travel. And then there is the rush of the event—the competition, the framing and showing, etc. I don't even participate that much compared with so many of the top U.S. painters. I honestly don't know how they do it.

My inclination at this point is to retreat a bit and get back into pure painting for the love of it, being more thoughtful and perhaps redefining what it is I am striving toward. The jury is out.

Have you had the opportunity to travel away from Canada and the U.S., and if so, how has it informed your work?

You know, I feel that I am so much a student of painting that I can't honestly say that travel has been important in my work. I'm essentially painting light (and the lack of light) so, in a sense, the subject matter is immaterial. That said, I've been to Europe several times and had great adventures there. Thailand was beautiful, both the cities and in remote visits to the hill tribes. One of my very favorite places so far is New Zealand. My wife and I spent two weeks touring both the North and South islands. As far as painting goes, the main thing I feel when I travel is that I wish I were a better painter!

Tell us about your preferred materials and your painting process.

I'm afraid my materials and equipment aren't terribly exciting as they are fairly basic. I prefer painting on canvas and linen covered panels, particularly for plein air works. I use a full range of bristle brushes, both filberts and flats, and also #279 mongoose flats by Rosemary and Co..

Since I was first inspired to paint by Richard Schmid, I adopted his basic palette as a starting point and, so far, I have found no reason to change. My studio and field palettes are the same: Titanium White, Cadmium Lemon, Cadmium Yellow Pale, Cadmium Yellow Deep, Yellow Ochre Pale, Terra Rosa, Cadmium Red, Permanent Alizarin, Transparent Oxide Red, Viridian, Cobalt Blue Light and Ultramarine Blue Deep. I do add specialty colors as needed from time to time though.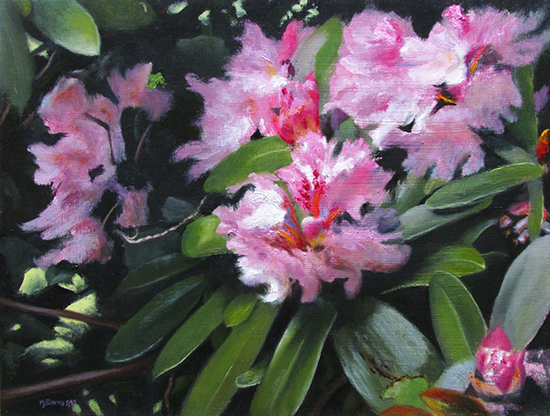 Rhododendrons 11 x 14" Oil
In the field, I compose visually, at least to this point. Once my subject is determined and I have thought about how I will approach the painting, I typically start right in with paint. I'll sketch some directional lines and develop the composition with OMS- (odorless mineral spirits) diluted oil paint. Next, I'll usually block in the shadows because they move quickly and I want to nail them down. Otherwise, I use a very conventional system of putting in the big shapes and slowly developing and refining them and controlling edges.

I do, very much, appreciate the value of thumbnails and hope to use them more in the future. Jennifer McChristian does wonderful thumbnails with markers and I love how well she does them and how quickly, too. Maybe I am too impatient but I would hope to do that some day.

I sometimes tone my support. For me, each painting is individual and I decide at the time what I will do. I don't like to have "rules" and each painting just seems to tell me what I need.

With Richard Schmid's revelation when I was a beginning painter that it was okay to do a painting from life in 2 or 3 hours, I found I could learn ten times as much in one tenth of the time. Painting en plein air became a means for teaching myself to paint and I pursued that almost exclusively for ten years or so. I still love the experience of plein air painting and I will always do some degree of outdoor work, but I would like to balance it with more studio work, perhaps 50/50. I think each one will reinforce the other and make me a more capable painter.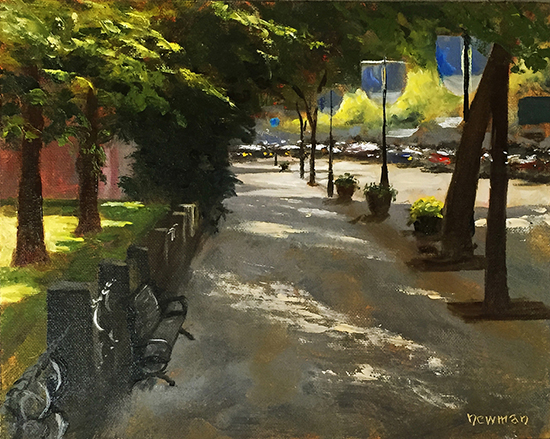 Downtown 8 x 10" Plein Air Oil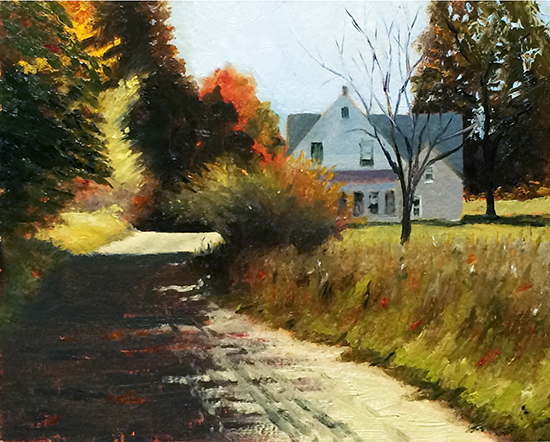 Autumn Light 8 x 10" Plein Air Oil

What do you feel makes your artwork unique? What are your goals for your art in the future?

Honestly, I can't tell you what makes my work unique and I don't really feel that it is at this point in my development. I do know that people can always pick my paintings out for some reason though. Perhaps that is because I keep my color clean? I don't know. I've also been told that I capture light very well.

My goal each year as an artist has always been very simple and that's to become a better painter. This year, I have some new techniques in mind that I am itching to work on. If they turn out as I hope, I will be closer to painting as I imagine. Sales are always nice but that has never been a big motivator for me. I feel that if I can paint well enough, the sales will follow.

Are you currently teaching any classes or workshops?

I taught pencil drawing at the local university for three years and I give private drawing lessons but I have not taught painting. I have, however, had many requests to do plein air painting workshops and that is something I will likely put together in the near future.

What words of encouragement or piece of advice would you give a beginning artist?

Beginning artists are always fearful that they "are not good enough", whatever that means! I would assure them that this is not a competition but, instead, a community and to view art as just a long road that all of us are on. We just happen to be at different places on the same road. Take your work seriously but without taking yourself seriously and always strive for excellence.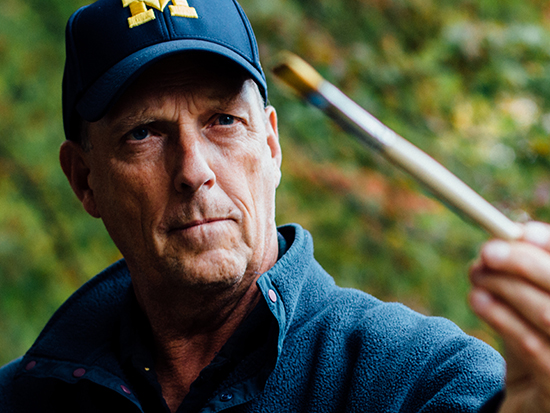 Born in Yonkers, New York in 1948, Bruce Newman spent most of his life in professional golf, construction management and real estate development before discovering art. An award-winning artist, he is an Elected Member of the Society of Canadian Artists, a juried member of Oil Painters of America, Plein Air Painters of the Bay of Fundy, The Fredericton Society of Artists and The Fredericton Arts Alliance. In 2011, Bruce founded the Plein Air Painters of New Brunswick and strives to further plein air painting in the region.
To see more of Bruce Evans Newman's work, go to:
All artwork © Bruce Evans Newman

Save
Save
Save
Save
Save
Save
Save
Save
Save
Save
Save
Save
Save
Save
Save
Save
Save
Save