Butterfly Vision

Perspectives No. 286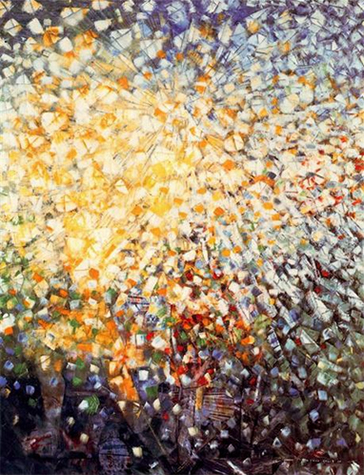 33 Little Girls Chasing Butterflies 1958 Max Ernst (fair use)

We often wonder what it is like for our studio dogs to miss out on seeing all of the colors that we are able to see. Our third cone allows us to see not only the red in the rainbow, but also every other glorious combination of scarlet, rose, pink, orange and violet. Painting would be a very limited occupation if we only saw the world through a dog's eye! Dogs' dichromatic color perception (two cones only) limits them to blues and yellows. It is similar to the vision of people with red-green color blindness.

Now, let's consider the vision of the bees and the butterflies. They are the Olympic champions of color vision. Bees and butterflies have five or more color receptor cones allowing their range of vision to extend into the ultraviolet. We humans and especially artists are continually inspired, even awed by, the beauty and grace of flowers. But we don't really see them fully, because we can't. Many of the flowers bees and butterflies pollinate have ultraviolet patterns on their petals, like lights on a runway, to guide them deep into the flower. Their super-vision also helps them figure out who to hang with. Butterflies that look remarkably similar to us can be differentiated and identified by other butterflies by their ultraviolet markings.

It has recently been discovered that the common bluebottle butterfly from Australia (Graphium sarpedon) has at least 15 different types of photo receptors in each of its eyes. One cone perceives ultraviolet, another violet. Three perceive varying shades of blue, one sees blue-green, four see green and five see red—five times the color receptors of a human being! If they could, they would have good reason to wonder how we humans can possibly navigate the world with our limited color perception.

Researchers examined the eyes of two hundred male bluebottle butterflies using physiological, anatomical, and molecular measurements. They were trying to understand why this particular species of butterfly evolved so many more color receptor cones. Their conclusions are that at least some of the receptors are tuned to perceive specific things of great ecological importance to them. Because of their extensive perception of variations in the color blue, for example, male bluebottles may be able to see and chase their rivals even when they are flying against a blue sky, something we limited three-coned humans would have a tough time with. We can only imagine the kind of rainbow a butterfly can see!