"Cherchez la Demi-Teinte"

Perspectives No. 402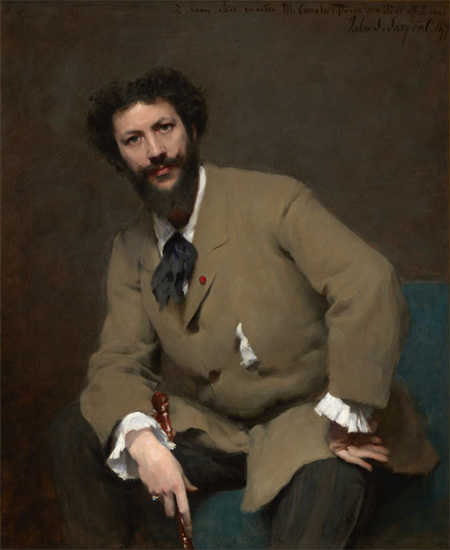 Portrait of Carolus Duran 1879 John Singer Sargent
We often listen to audio books while painting in our studios. Lately, we have been listening to a wonderful one by David McCullough, The Greater Journey: Americans in Paris
published in 2012. He weaves the story of the migration of American artists, doctors and writers to Paris in the 19th century, detailing their lives, friends and experiences both personal and professional, in fascinating anecdotes. We found the passage on John Singer Sargent especially interesting because McCullough went into some detail about Sargent's training under Carolus-Duran. That training formed the foundation of Sargent's painting methods for the rest of his life.

"One must look for the middle-tone, Carolus preached, and begin there. 'Cherchez la demi-teinte,' he would say again and again. And they must study Velázquez without respite. 'Velázquez, Velázquez, Velázquez, étudiez sans relâche Velázquez!' "

"Years later, in the course of a conversation with Henry James's brother, William, Sargent would remark of painting, 'If you begin with the middle-tone and work up from it towards the darks—so that you deal last with your highest lights and darks—you avoid false accents. That's what Carolus taught me.' "

Of course no painting of Sargent's is as simple as that. He was an artistic genius admired by even the most accomplished artists of his generation, and beyond. Still, it is instructive to understand how he went about his work and to attempt to incorporate wherever possible some of those procedures into one's own working methods.

It is interesting to note that while Sargent was fluent in four languages, he found it difficult to tell his students what he was doing and how he was doing it: "As to describing my procedure, I find the greatest difficulty in making it clear to pupils, even with the palette and brushes in hand and with the model before me; to serve it up in the abstract seems to me hopeless." (The Art of Portrait Painting by John Collier, 1910.)

Sargent surpassed his teacher, Carolus Duran, and went on to become the most sought-after portrait painter in Europe. His successes allowed him to travel the world and indulge his other painting passion—watercolor. His paintings in that medium still set the bar today as the highest level of artistic and technical achievement.