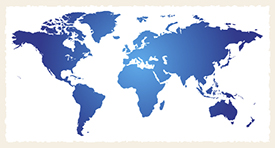 Color Mixing Secrets for the Plein Air Painter
Color Mixing Secrets
for the Plein Air Painter
Plein Air Painting in Abiquiu, New Mexico
.

Look at all those great colors!



P

ainting outdoors on location poses unique challenges compared to the well-controlled studio environment - no question about that! With the explosion of interest in plein air painting, there has been a commensurate increase of interest in educational workshops taught by experienced artists. Perhaps this is because upon beginning to paint outdoors, one quickly realizes how difficult and frustrating it can be to create even a small, pleasing picture from hours spent hard at work. There is so much to learn, and the quickest way to get there is to study with someone who has spent years learning the ins and outs of landscape painting. We teach plein air workshops in order to help cut years off of the plein air learning curve for our students. This article shows the unique method that we have developed and that we teach our workshop students to quickly analyze the local color and values, premix all the colors needed for the whole painting and develop a consistent color harmony among the premixed colors.

Every successful plein air painter we have come across uses a disciplined, systematic approach to analyze the subject in front of them, simplify it, and then restate it in painterly terms. This is how we approach the task of mixing correct values and harmonious color relationships: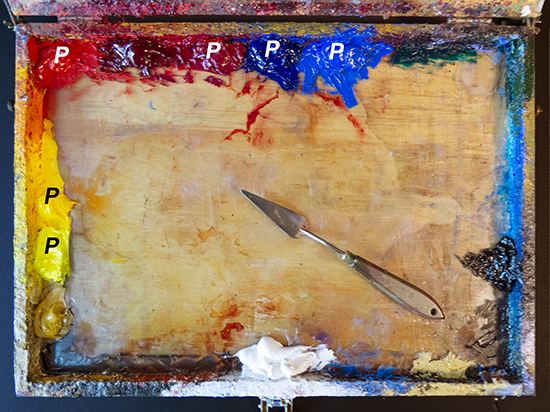 Step One:

Arrange the colors on your palette, from warm to cool
as shown.
We recommend that you read our article: The Educated Palette first and be thoroughly familiar with all the concepts there, especially, color temperature. A split primary palette consists of a warm amd a cool of each primary, red, yellow and blue. My primaries are from lower left to upper right: cadmium yellow light or lemon, cadmium yellow medium, cadmium red medium or light, quinacridone rose, ultramarine blue and cobalt blue. It can be helpful to think of the warm primaries like cadmium yellow as, "one yellow, one red", and ultramarine as "one blue and one red".
Over time, you will arrange your primary colors to your liking. As shown here, I have placed my reds and yellows like a color wheel to reflect my own preferences. I keep the warms and cools separated so that I can reach for them without thinking about where they are. Once you arrive at the optimal arrangement, never change it and your brush will always find the right color.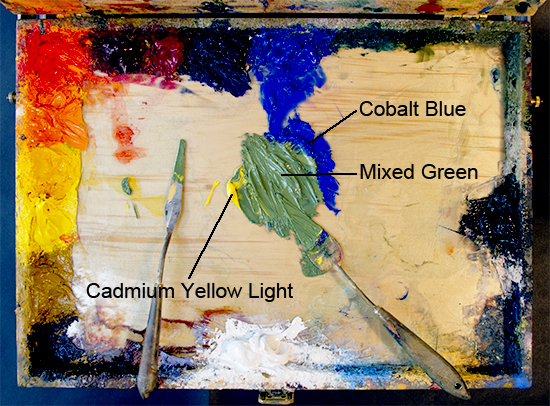 Green Secondary Mixed from Yellow and Blue Primaries


After you have done this, mix the three secondaries from the primaries in your palette. To save time in the field, we suggest that you mix these secondaries up in advance in your studio.
This
green mix is perfect - neither too blue nor too yellow.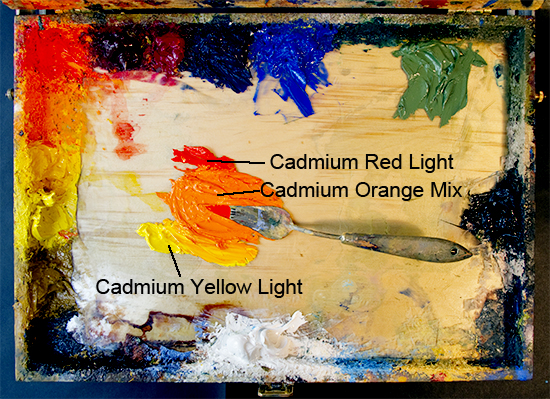 Orange Secondary from Red and Yellow Primaries


Why mix secondaries when we can easily buy them ready-made? We believe that the only way to truly understand color relationships is to experience mixing them. The confidence and speed you get from knowing which colors will make what mixed tone and how colors affect each other will automatically improve your paintings.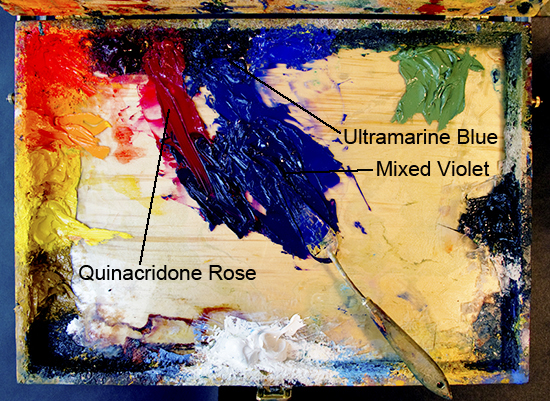 Violet Secondary from Red and Blue Primaries
Take your time when mixing the secondaries! It is very important to mix them so that they do not lean toward one or the other primary. They should sit right in the middle.
Compare them to the pure primaries as you mix, using your palette knife like a trowel or cake spatula to smooth the colors into each other with a flat, sawing motion.
Then place them in your palette where you can cross-mix them to develop those beautiful grays.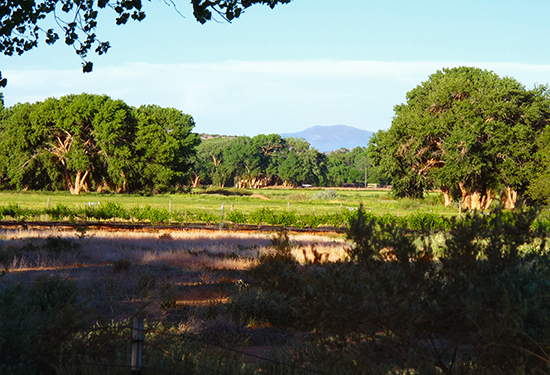 My Painting Subject in Abiquiu, New Mexico
Step Two:

Once you have located your subject and set up your gear, develop an effective composition and get that drawn on your canvas or board. If you are unsure of how to achieve this, refer to our article, The Artist's Road Guide to Composition for exact information.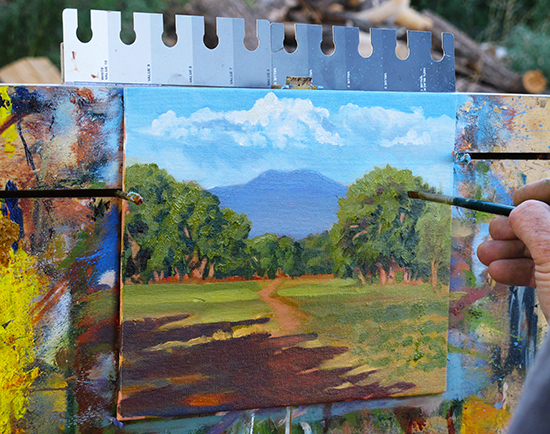 Using the Sight-Through Gray Scale

Step Three:

Using your palette knife, premix the colors in your landscape subject. We suggest that you first mix only the one or two largest masses of color, which you determine by squinting. As you mix these colors, constantly compare them in value to your subject. This process is made simpler by the use of a sight-through gray scale, as shown. First match the actual observed value of your major masses to a point on the scale, and then mix your color to match that gray value, using a palette knife.

You should use the gray scale for every plein air painting. To modify it like the one we use, see: Perspectives No. 86, Hit the Right Values Every Time. In this painting, one of my main masses is green, which is a secondary color, and the other mass is violet, another secondary, so this is an easy-to-understand example of our basic principles.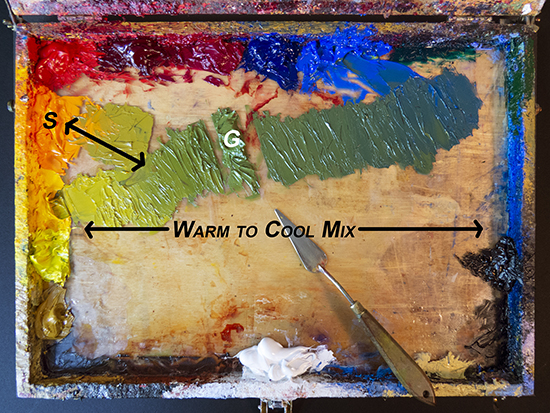 Green Color String


Step Four:

To create a color string from your pre-mixed mass-tones, in this case green, drag the green towards the yellow. Use the flat of a large palette knife with a sliding, sawing motion to pick up some yellow and work it back toward the green. Repeat this action until you get a smooth transition from yellow to green. Drag a small amount of the green over tothe cobalt blue where you'll get some of that mixed in and then work that back toward the green again, as before. Repeat this operation until you have a gradated set of colors that represent all the various tones of the green as it changes in hue from yellow to blue, or warm to cool. This is what we mean by a "color string".
Afterward, I worked a bit of the pre-mixed orange secondary into the green color string to get a very warmish green tone which would be usefull in my trees and elsewhere.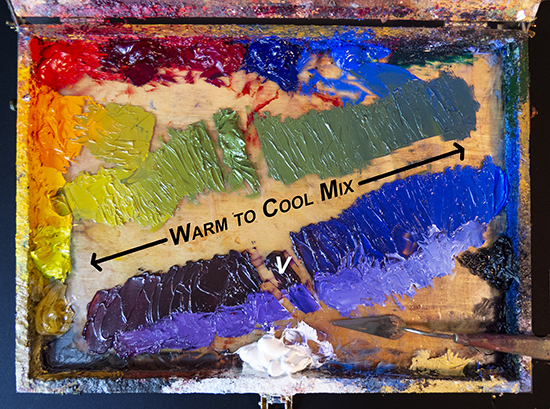 Violet Color String


Step Five:

Now perform the same operation with the other mass tone - the violet mix. At lower left I placed a little pile of quinacridone rose which I mixed gradually up toward my pre-mixed violet pile in the center. (It is easier to see the effect of this dark mix by adding a bit of white below it). Then I moved the violet toward the cool side by mixing toward a pure cobalt blue at right.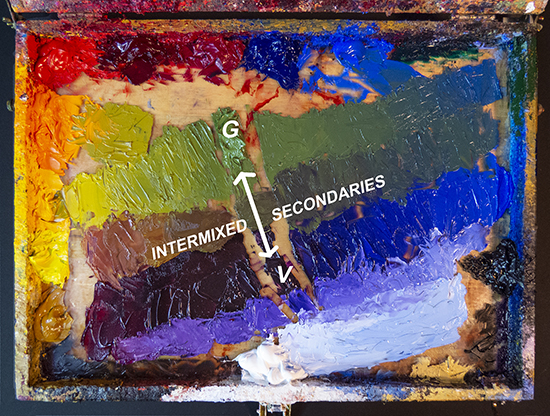 Harmonized Grays From Intermixed Color Strings


Step Six:
Let's take this a step further and create some colorful, harmonized greys in between our two main colors strings.
Look at those beautiful grays! Joaquin Sorolla is said to have called grays "the money colors", and he was right. 90% of our paintings should consist of colorful grays such as these, with only touches of pure colors here and there to bring it all together. These are now all the colors I will need to complete my painting,
and because they all share something of each other, they are all in harmony together.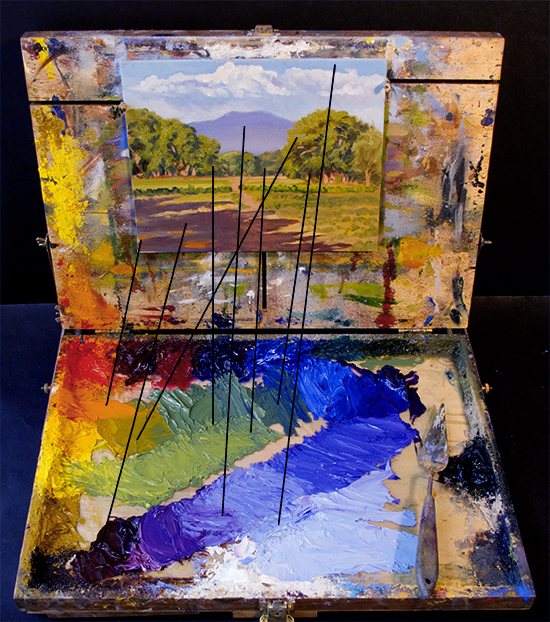 Where I Used My Colors


Step Seven:

Paint the entire picture with only these colors, not adding new colors after this point. They will stick out like a sore thumb. If you run out of a color, stop and remix it the same as before. Over time you'll get a sense of how much paint to mix up front. My original two mass-tone colors now work as pure hues, while all the other mixes are gradations of those main tones. It is a simple matter at this point to add white to any of these colors to effect a tint or highlight, or add black to make an accent. Note: when you need a lot of highlight color, start with a pile of white paint first, and then add small amounts of your premixed color to it, not the other way around. You'll avoid wasting lots of white paint this way.

This is an example of the kind of in-depth articles available to our members. If you like what you find here,
won't you consider supporting The Artist's Road educational mission through your membership today?
Become an Artist's Road Member Today!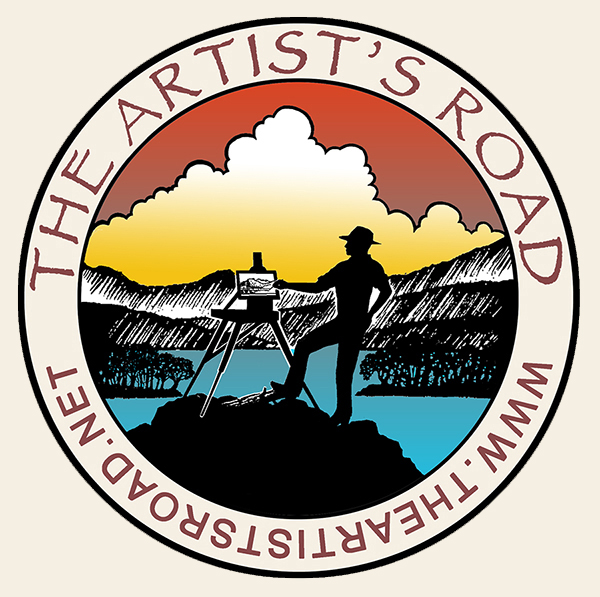 Click here to become a Member and enjoy access to all the in-depth painting and travel articles, videos and tutorials. Guaranteed!

Already a Member?
Log in here. To renew your membership, log in and follow the links.
Pay-Per-View Articles
New! If you're not a Member of The Artist's Road, some of our articles are available as Pay-Per-View.
Click here to find out more!
Perspectives
Not ready to become a Member yet? Subscribe to our free email postcards, "Perspectives". Enter your email address here.
The Artist's Road Store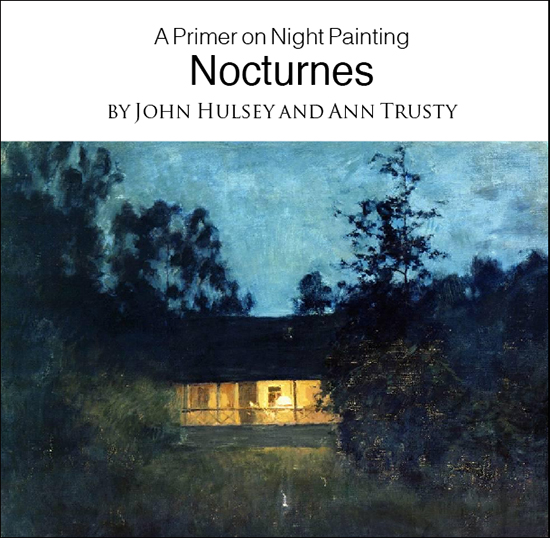 Nocturnes - A Primer on Night Painting
Filled with inspirational examples by the masters of nightime painting, this little book is sure to fire up your creative energies. Never tried painting at night? We show you how it's done with a step-by-step-oil demo and a tale of night painting in the wilds of Rocky Mountain National Park. The Primer on Night Painting - Nocturnes is a 7 x 7" PDF download with 40 pages of text and images. It includes a gallery of paintings by masters of the nocturne, information to inspire and encourage you in your plein air nocturne painting, an illustrated step-by-step demo and tips for working in pastel and oil. Also available in a softcover edition. Check out the tools and other products that we use in our own art and travels in The Artist's Road Store. We only offer things for sale that we enthusiastically believe in.
Save
Save
Save
Save
Save
Save
New Member Content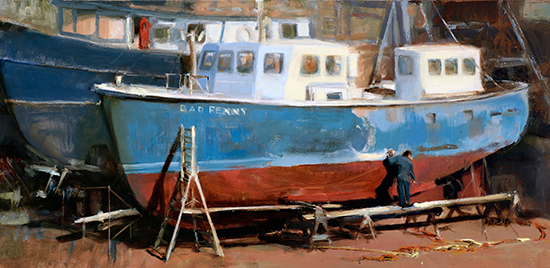 Voices of Experience:Donna Nyzio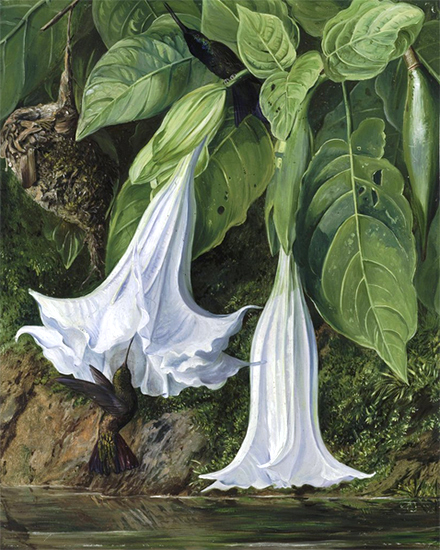 Botanical Art and the Amazing Marianne North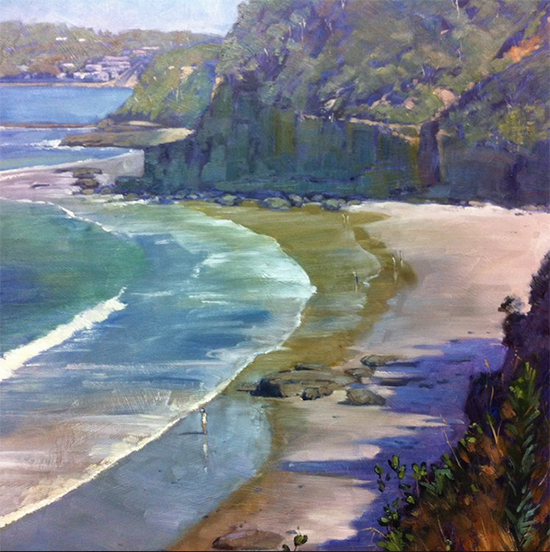 Voices of Experience:Brett "Mon" Garling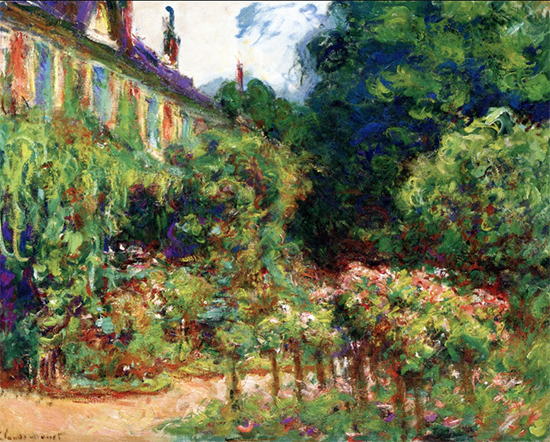 The Best is Yet to Come-Art After 65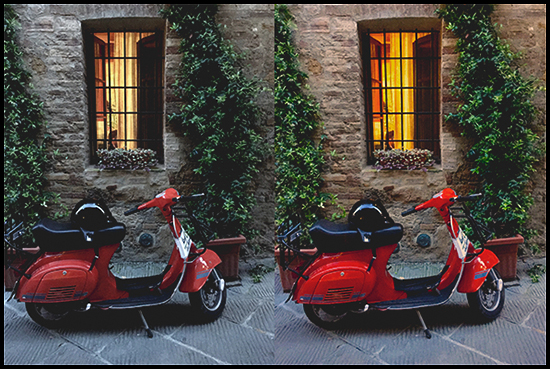 iPhoto Edits-From "Ho-Hum" to "Wow"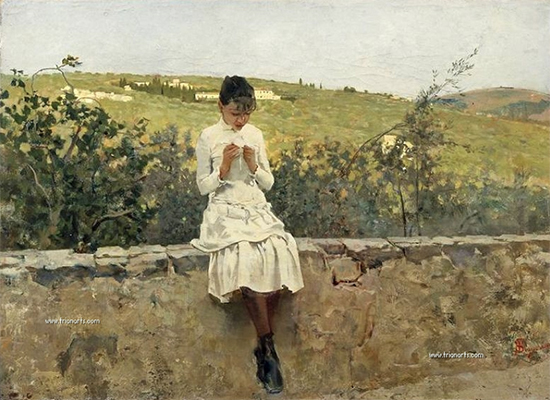 The Italian Macchiaioli
Forerunners of Impressionism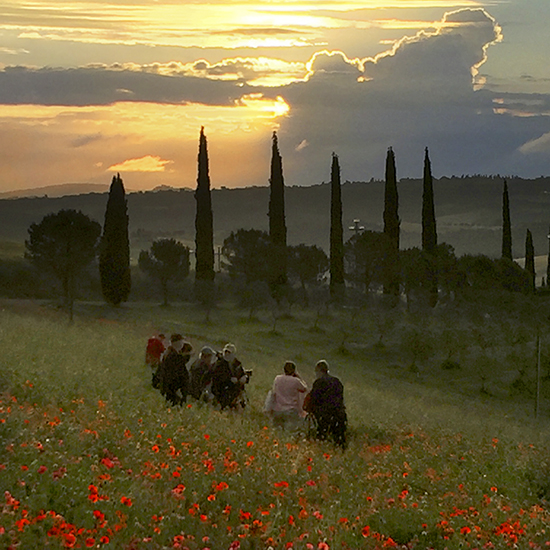 Art Among the Poppies:Part 1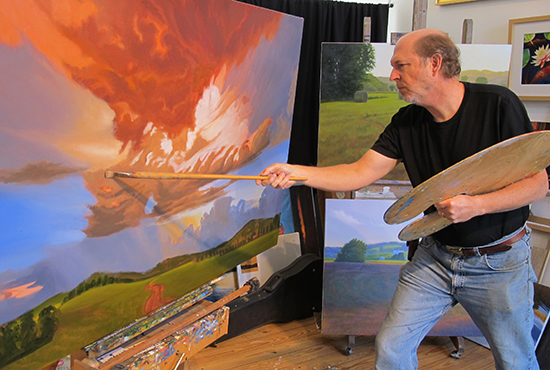 Oil Painting Brushes
Morni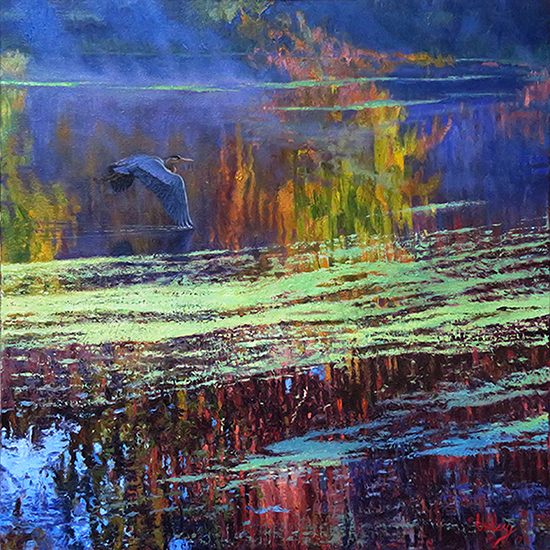 ng on the Pond I
A Painting Knife Oil Demonstration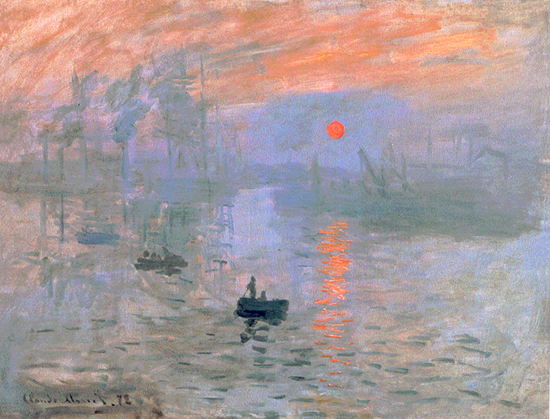 The Perspectives Archive

and MUCH MORE!
Save
Save
Save
Save
Save
Save
Save
Save
Save
Save
Save
Save
Save
Save
Save
Save
Save
Save
Save
Save
Save
Save
Save
Save
Save
Save
Save
Save
Save
Save
Save
Save
Save
Save
Save
Save
Save
Save
Save
Save
Save
Save
Save
Save
Save
Save
Save
Save
Save
Save
Save
Save
Save
Save
Save
Save
Save
Save
Save
Save
Save
Save
Save
Save
Save
Save
Save
Save
Save
Save
Save
Save
Save
Save
Save
Save
Save
Save
Save
Save
About Us

We are artists, authors and teachers with over 40 years of experience in painting the world's beautiful places. We created The Artist's Road in order to share our knowledge and experiences with you, and create a community of like-minded individuals. You can learn more about us and see our original paintings by clicking on the links below.
About Ann About John
Hulsey Trusty Studios
We are also regular contributors to the Plein Air blog at Artist Daily.