Color Vision
Perspectives No. 369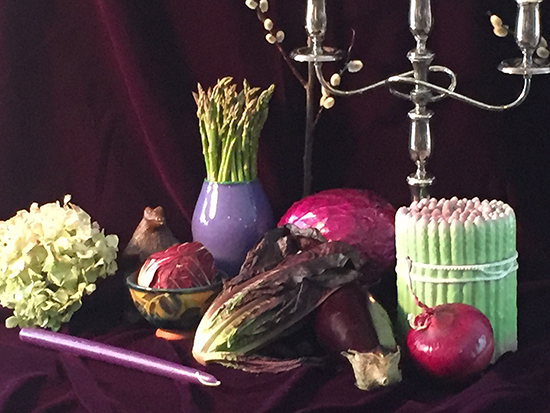 The Purple Still Life Setup


Over the course of many years teaching both the science and the art of color, one thing becomes very clear—everyone sees colors a little differently. We've learned from science that women are genetically wired to better discriminate between yellows and greens than men are. (See: Perspectives No. 128, Tomato, Tomahto). While we can't do anything about the wiring, we can devise exercises aimed at increasing color sensitivity and accuracy across the spectrum.

In our oil classes this semester, we've decided to focus on working to improve color perception, one color at a time. We've created still life arrangements featuring mainly one color or color family, but with some very subtle shifts in temperature and value. Not only is this a fun exercise, but it is one that most artists we know don't take the time to do on their own. And, like Richard Schmid's color charts, the learning is in the doing.

Our first step is to visit our local fabric shop and find some plain, not patterned, fabrics with subtle temperature shifts in them. These we use as both backdrop curtains and table cloth. Then we find interesting objects and perhaps flowers to use in the still life, along with some other colors just for accents. The trick is to invest whatever time is necessary toward turning a nearly monochromatic setting into a compelling still life. If the exercise is not fun to paint, then it will quickly become drudgery.

Going around the color wheel, we have studied whites, greens, reds, violets and blues so far. Our primary jobs are to illuminate the subtle differences between similar colors whenever a student can't put their finger on it, and then help with the process of mixing and matching the colors in oil paint—two very different operations. Mixing accurate colors in oil is a skill which requires a solid knowledge of pigments usually combined with lots of trial and error. We eliminate some of that error by talking through the process while we demonstrate the mixes. Which blue to start with to duplicate the deep red-violet? Which red? Why? Choosing the wrong primary colors to mix with always results in disappointment and more trial and error, so we have developed a method to describe the differences between the split primaries in our palettes. For example, we describe ultramarine blue as: one red, one blue. Cobalt is two blues. Cadmium red medium is two reds. Alizarin is one red, one blue, and so on.

We encourage our students to think through their color choices before they begin mixing. This is how we finally learned to mix - "eyes and heads" first. Once mastered, painting becomes more confident, more intuitive, more fun. And that is exactly how it should be.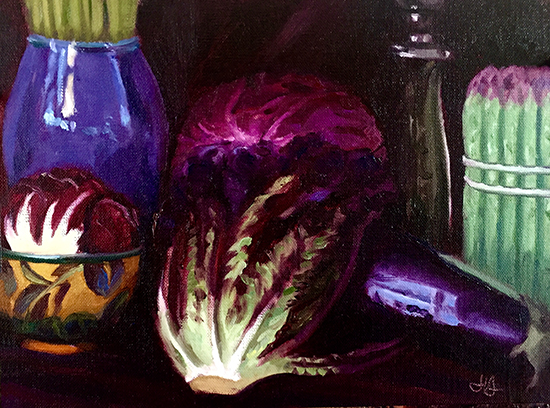 Study in Purple 9 x 12" Oil J. Hulsey