Conducting Metal

Perspectives No. 310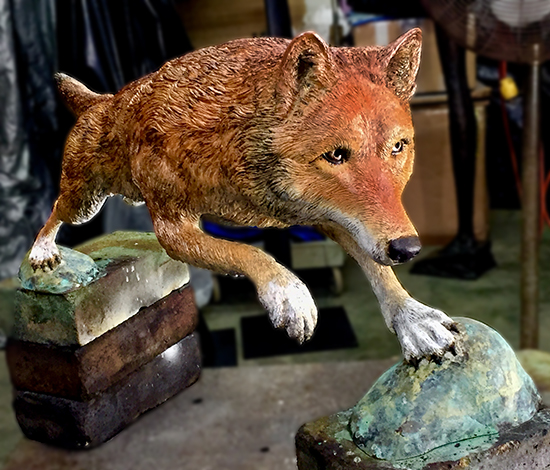 Red Wolf Bronze by J. Hulsey

If you are ever feeling a bit stale in your art, we recommend that you leave your comfort zone by trying something new. Nothing gets creative juices flowing better than trying to tackle a new artistic pursuit. Ideas which bubble up while working in a different medium often wind up stimulating new ideas when we return to our old familiar medium. Nothing is better for our art than being uncertain of where we are headed and uneasy with that fact! When we are questioning, we often find new answers. When we explore, we often find new country. However, working through discomfort is often not a pleasant experience—it is just plain hard work. It's much easier to stay with what we know how to do well.

Today I was again working outside my normal comfort zone of painting. I was at a local art bronze foundry finishing up a small bronze Red Wolf which I had created on commission this last winter. While I have become familiar with the bronze casting process there is one part of it I am always uneasy about—patination. Patination is the finishing touch for any bronze sculpture. It is essentially a process of coloring the metal using heat and chemicals or pigments. Experienced sculptors who are intimately familiar with the chemicals and their actions will usually apply the patina themselves. The problem for me is my general ignorance of the chemicals and the fact that the true colors of the patina do not appear until either the final wax or lacquer is applied. By then, if all did not go as envisioned, it is too late. Back to bead-blasting the finish off and starting over!

Those of us who are not knowledgeable enough to apply our own patina must rely on the skills of a second party to do this chemical painting for us. This is where my "discomfort zone" really begins. When I paint on canvas, I am in control of the process and the outcome. I generally know what I want and how to get there. Working with a patina specialist at the foundry is more like conducting music—expensive music. I prepare color-ups in Photoshop showing what I am after, (the sheet music), but then I must release control to the person playing the "melody". It is an ensemble performance in which I must trust the patina artist completely. All I can do to help is wave my baton and offer weak suggestions, like, "more brown here" or "shinier over there". It is a revelation, and always makes me think about my own painting in a new light.