Customs

Perspectives No. 348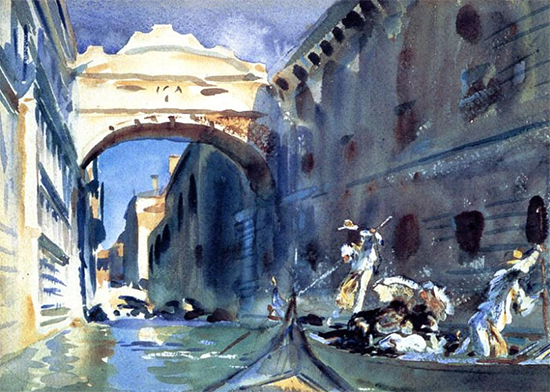 The Bridge of Sighs ca. 1905-08 John Singer Sargent

Recently we tried to ship a small package of art materials (containing no paints) to a hotel in Italy, where we are holding our watercolor painting workshop starting June 3rd. Although there was nothing in the package which should catch the attention of customs inspectors, it was held up anyway. We need to get this package delivered, but I only speak first year Italian, probably not adequate for a dialogue with Italian customs inspectors. Fortunately the manager of the hotel where we are all staying is very helpful, and she agreed to try to sort it out. She discovered that the inspectors wanted what they called an "invoice" for the contents of the package. This apparently meant that they wanted paperwork for what we had originally paid for each item and from where we had bought them. We think that because the USPS shipping label said that the box contained "merchandise", the customs agents assumed it was for resale, and therefore subject to import duties. Probably our fault for not stating clearly that these items were in reality, gifts - "regalo", in Italian. Now, how to correct that mistake in a foreign language? Google language translator has been very useful for the emails so far. But as of this writing, we are still in limbo.

A newbie mistake, but it puts a fine point on the subtle differences in language between cultures, especially official language. Even though a word in another latin-based language may look similar to English, its specific meaning can be different, or even the opposite. What linguists call "faux friends", a term which in itself conflates two languages. For example, the Italian word, "male", looks like a description of gender, but actually means "bad", and is pronounced "mah-lay". French also has many faux friends in it.

But perhaps the most important thing to remember when trying to converse in another language are the cultural differences. The custom in France and Italy is one of formal politeness to visitors, and a general tolerance for the language divide. Tourism and visitors are an important part of their economies and they are accustomed to having non-native speakers driving their streets and eating in their restaurants and hotels. Over the years that we have traveled and taught workshops in Europe, I have made a point of being somewhat overly polite and deferential in all my dealings with people, and it has paid off. We often receive better service and inside tips on the best places to visit.

I don't expect that everyone who travels has the interest in studying hard to learn a foreign language, but it can pay big dividends to learn a few words of the resident language, if only to be able to say, "buongiorno" - good day, or "per favore" - please, and "grazie" - thank you, with a smile. In doing so you may not only receive a warm smile back, but might also start an interesting conversation in fluent English with a new Italian friend.