Voices of Experience

Damien Gonzales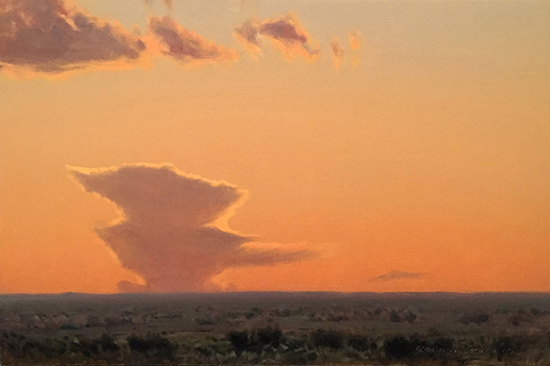 Candil 8 x 12" Oil

"Try to subordinate yourself,

so that as much reality and natural beauty

as possible enters your work."

Damien Gonzales embraces science and engineering, using them to understand the southwestern light and landscape as well as the technical aspects of painting the panoramic views of his native New Mexico. Gonzales is largely a self-taught artist, encouraged by family and artist friends, and learning by studying favorite books and magazines. He has participated in many national juried exhibitions and events and was named by Southwest Art Magazine as "An Artist to Watch". He wrote to us about growing up, meeting artists along the way, and immersing himself in the New Mexico light and land.

"As far back as I can remember, I was fascinated with drawing and later painting. My parents saved the first drawing I ever did, around the age of two, which I still have in a scrapbook. So from then until now, I don't remember ever deciding art would be my primary focus—it just always was.

As a kid I studied everything I could find about art and kept noticing that what I needed to learn was inextricably linked to science. A lot of the information I'd come across was beyond me from a technical standpoint which was frustrating. I'd read about refraction of light, visual perception and so on, and not really understand what it all meant and how to apply it to painting. Around the age of eleven I decided to pay more attention to the science side of art, thinking it would help me improve in the areas that really interested me, like landscape painting. As time passed, I began to connect what I was seeing to the physics going on in the background, which improved my paintings. Majoring in engineering in college gave me a strong technical background that helps me sort through the more difficult technical aspects that come up when painting—like why and how colors and values change as they recede into the distance. An understanding of technical issues is important but not as important as a strong sense of aesthetic, creativity and a lot of focused practice.

I've never attended a painting workshop. They weren't available to me when growing up so I just studied pictures in art books, visited galleries and museums whenever possible, observed things closely and practiced on my own. By the time workshops became popular, were readily available and I could afford them, I was progressing fairly quickly on my own and was proficient enough that, for me, it didn't make sense to ask someone to teach me to paint.

Now there are a wide variety of workshops available that can be very helpful and save a lot of time. It's essential though, to struggle and make sense of things for yourself so that you learn to generalize and are able to adapt and so you develop your own style. What did help along the way was that my father enjoyed meeting new people and would occasionally meet an artist. He made it a point to introduce me to them, occasionally taking me to visit their studios, where they would look over a small pile of my work.

When I was about eleven, I was very lucky to meet Wilson Hurley at a party my parents hosted. He asked if he could see my work which I reluctantly agreed to only because my dad glared at me when he saw I didn't really want to show anything to a stranger. Wilson looked it over, told me what was good and bad and said to have my parents drive me to his house for a critique when I completed ten paintings. I didn't know what "critique" meant. Things he said over the years, along with a few pointers and words of wisdom from other artists, helped keep me on track.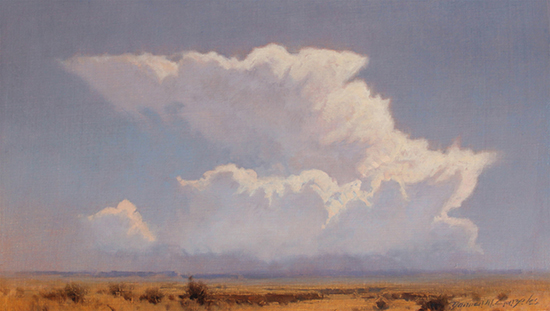 Cloudburst 7 x 12" Oil

I've always lived in the southwestern United States. Typically in the Southwest the lighting is stark, the atmosphere is thin and clear and desert colors are usually earth tones. In contrast, in lower elevations the atmosphere is more soupy and creates very different effects. I recently painted in Tucson and saw for myself again, after having not visited for many years, that in the low-lying Sonoran desert the distant gray and beige granites and even trees that are the same as those we have in New Mexico, take on a deep rose cast because of the thicker atmosphere. Occasionally I've mistakenly thought artists were over exaggerating some of those colors so it's great to paint in completely new places.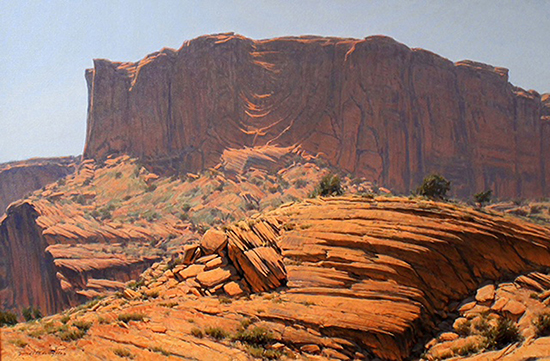 Tseyi Canyon 24 x 36" Oil

I prefer painting on location. For years I spent more time in the studio plugging away and was surprised to find I progressed two or three times faster when I started painting outside regularly. For most scenes I'd rather have the real thing in front of me versus contriving in the studio or looking at photographs for reference. I think painting outdoors is the best thing any landscape painters can do for themselves. It's easy to see paintings made from photographs and not from studies done on location.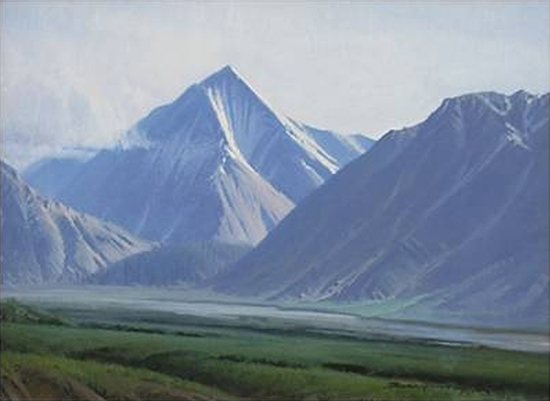 Alaska Range, Denali National Park 9 x 12" Oil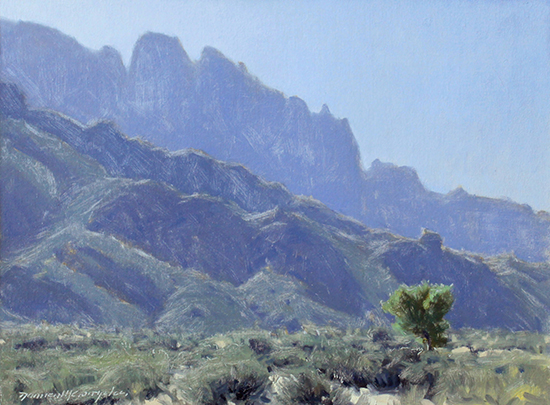 Blue Cliffs 9 x 12" Oil

My overall painting process is very flexible and can vary quite a bit from painting to painting. My general approach is to stay as open minded as possible and adapt as I go without too strong a preconception of what I'll do. For me it's better if the subject dictates the approach and I subordinate myself or else the paintings get bad quickly. When I head out to paint on location, along the way I think about general lighting, weather conditions, overall cast of the day, predominant tones in the landscape and the topography. When I see something of interest, I'll think about some general concepts for a painting and rough compositions but not lock myself in. When I find a good vantage point, I refine my ideas and settle on something. I usually set up a panel on my paint box and sketch the scene in pencil using sight-sizing for the major elements, focusing on the largest value groupings and moving things around a little if needed.

It usually turns out that the rough sketch has only four or five major value groupings represented. Sometimes I sketch on a panel that's toned with a thin wash of yellow ochre and red iron oxide or other earth tones, and other times I'll draw directly on a white surface. I'm always checking for common mistakes in the composition so I don't have to correct them later with a lot of paint spread out. Once I like the composition in pencil, I'll use thinned earth tone to reinforce the pencil lines of the sketch and rough in large areas of shadow. Next I paint the darkest darks in each grouping being as careful as possible to accurately represent the relative value differences needed to create the atmospheric perspective present in the scene. I think getting these values correct is the foundation for the painting. Once those are in, I quickly block in all the other shadow tones being careful to vary them within a particular grouping but keeping them closely tied to the original four or five groupings I saw initially. Usually at this point the flat surface starts to vanish, volume emerges and forms start to appear. From here it's just a matter of staying true to the tones and values with some modifications to value and color if it helps the overall painting. Sometimes I correct mistakes and fill in unfinished areas back in the studio where the lighting is more stable. I'll add details if necessary.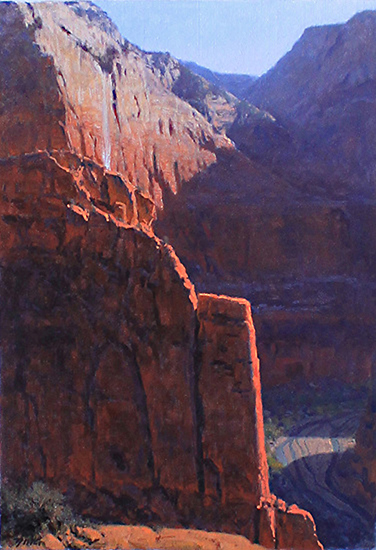 Zion Morning at Angel's Landing 10 x 8" Oil

What do you feel makes your artwork or style unique?

Probably the instances when my paintings capture a hint of something special I saw and it is successfully conveyed to the viewer and moves them. Paintings that seem alive are special and I try to impart that quality. I strive to make the movement, sounds and energy present in the real scene come through in the painting.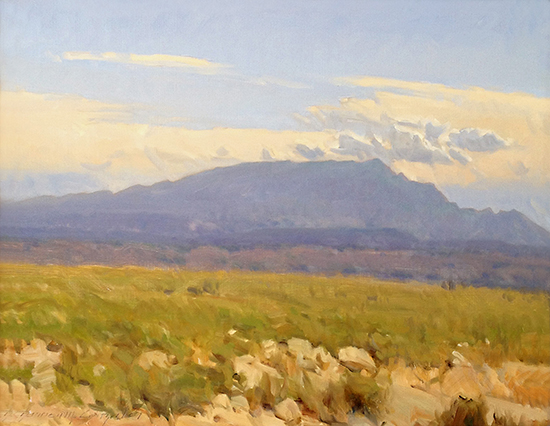 Isla Sandia 11 x 14" Oil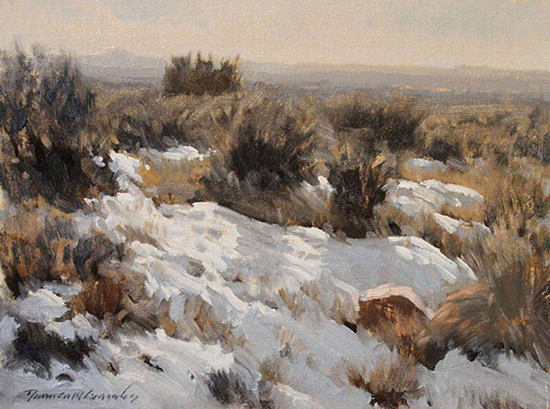 Arroyo del Oso 10 x 12" Oil

What are your preferred materials?

For painting grounds I use standard oil primed linen with a finer texture since I paint thinly and gessoed panels that I prepare myself. For brushes I use common bristle and sable brushes—nothing special. I also spread paint a little with my fingers and sometimes use the pointed end of a wood handled paint brush, a palette knife or even steel wool for details and texture. I use commercial oil paints in tubes and have all the usual colors but I tend to rely more heavily on a handful of earth tones—Yellow Ochre, Red Oxide and the Siennas; Ultramarine and Cobalt Blue, Titanium White and Mars Black. When my values are under control I'll amp things up with stronger colors if needed. I mix my own medium from different proportions of Stand Oil, Turpentine, Damar Varnish and occasionally a drop of two of Cobalt Dryer, if I need to accelerate drying. I'll vary my mix depending on where I'm going to be painting. If outside in hot dry air, I'll increase the amount of Turpentine in my medium, for example.

I've worked with watercolors, acrylics, pastels, pencil and charcoal, but for painting I prefer oils. You can do just about anything with them and they are beautiful when dry.

What other artists' work or books do you look at regularly for inspiration?

Among the older historical artists that inspire me there are Michelangelo, Vermeer, Sargent, Sorolla, Bierstadt, and Moran and others. I also like more recent artists like Wilson Hurley, Robert Lougheed, Nicolai Fechin, and Jimmy Jones to name just a few. I also find inspiring work on the internet, which I search regularly. I have a collection of favorite books and magazines I occasionally refer to such as The Enjoyment and Use of Color
, Art and Visual Perception: A Psychology of the Creative Eye
, old issues of Southwest Art, American Artist and Art of the West from the 1970s to the present.
In addition to your native Southwest, have you had the opportunity to paint in other parts of the country and world?

Traveling to paint is always fun, but because I'm busy with family and work, it's difficult and rare to get away to completely new scenery. I've painted in Japan, Italy, Mexico and even competed in a plein air event in Spain a few years ago. It's really interesting to see how different the light is near sea level versus around five to six thousand feet of elevation and higher here in the Southwest. My favorites have been the Sea of Cortez, Cañon de Chelley, the Rocky Mountains, the Grand Canyon and near the Mediterranean and mountains of southern Spain.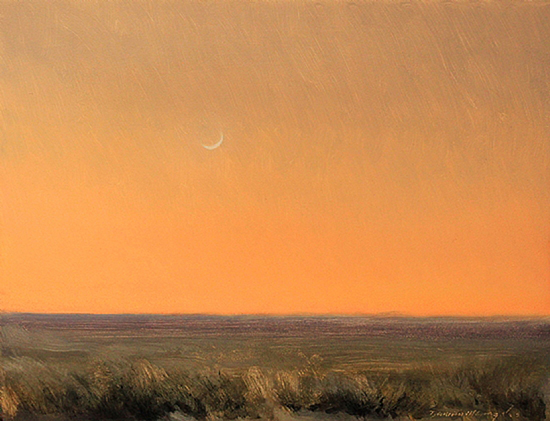 Moonset, PA 8 x 10" Oil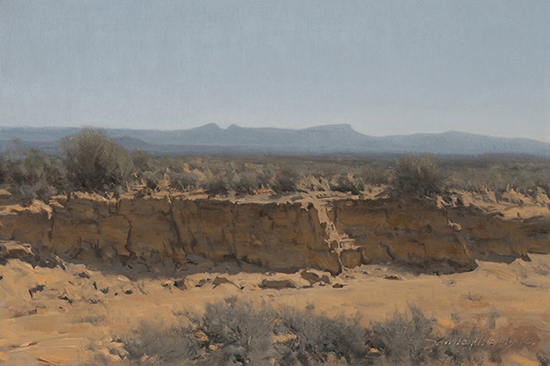 Vista del Arroyo 8 x 12" Oil
What words of encouragement would you like to give to beginning artists?

Develop your own vision for your work and find great mentors that can help you do that and are willing to critique your work honestly. Remember that all the difficulties and failures along the way are important, too. There aren't many shortcuts, so stay tenacious and work hard but with purpose. If you paint landscapes, paint on location as much as possible and don't force a scene to conform to your preconceptions and idiosyncrasies. Try to subordinate yourself, so that as much reality and natural beauty as possible enters your work.
To see more of Damien Gonzales's work, go to:
All artwork © Damien Gonzales

Save
Save
Save
Save
Save
Save
Save
Save
Save
Save
Save