Voices of Experience

An Interview with Dave Santillanes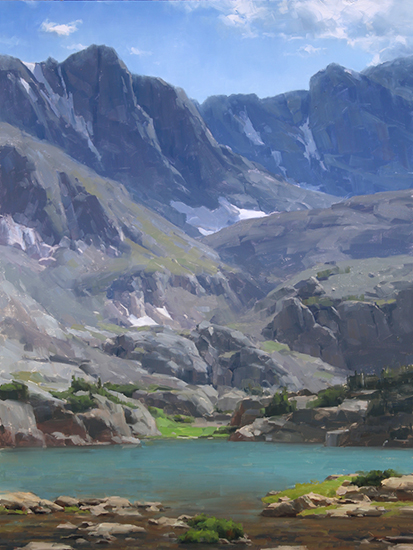 High in the Rockies 48 x 36" Oil


"There's no better way
to get to know a place on earth
than to sit for a couple of hours
and contemplate it while painting."
Colorado landscape artist, Dave Santillanes, has no lack of inspiration surrounding him in his native state. He captures the drama and complexity of the Rockies after spending time in quiet observation on-site. He works to create paintings that remain true to the essences of their subjects as interpreted through his unique lens. Santillanes shared his outstanding work with us and reflected on his evolution as an artist.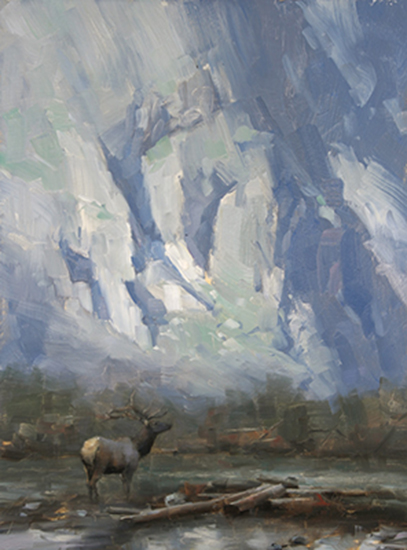 Break in the Silence (study) 16 x 12" Oil

We would enjoy learning about your earliest inspirations and when you realized that you would be an artist.
I had a wealth of encouragement from an early age. I think my parents and teachers all recognized an advanced level of drawing. When I was six or seven I drew a very recognizable portrait of Jimmy Carter using an encyclopedia for reference. My elementary school teacher even entered my work in contests like Ducks Unlimited. By the time I was in high school, I was already looking at ways to pursue art as a career. During my junior year I won a scholarship to study art at Colorado College the summer semester before my senior year.

What propelled your decision to focus on painting full-time?

I was working full time, my twelfth year as a digital imaging technician for a small professional photo lab in Fort Collins, Colorado. It was a great job to have while pursuing my painting passion. We did all the Photoshop and color work for Richard Schmid's books. I met some incredible painters who used the lab for shooting their work. I was painting as often as I could—after work and on weekends. As the industry changed from film to digital almost everyone was eventually let go. I stayed on through the digital revolution and through the owner's very serious health issues. When they were unable to pay, I continued working for them realizing I was able to survive on my painting income. As soon as they were in a good place, I made the leap to full time painter.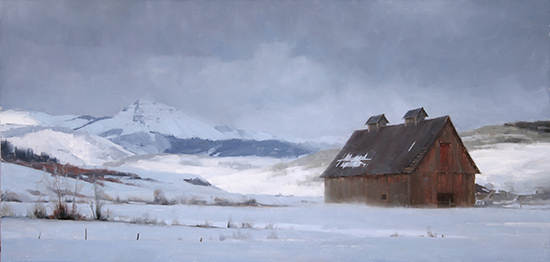 Fading to Gray 22 x 46" Oil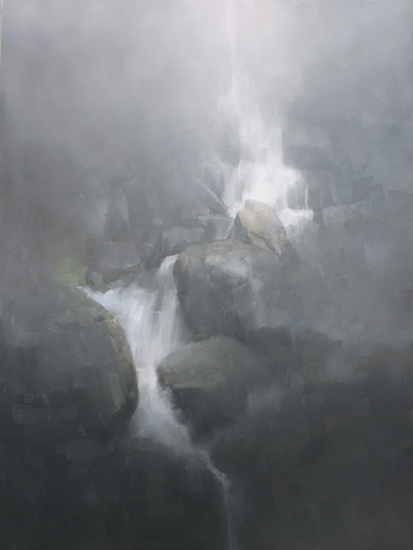 Silent Descent 40 x 30" Oil

Did you study with any other artists or take workshops when you switched to working full-time on your own work?
I've only ever taken one workshop. It was early on, from Skip Whitcomb. I had hit a wall and just needed to fill in a few blanks. He was fantastic and turned me on to some great books—like Carlson's Guide to Landscape Painting
. After that I realized that I preferred to figure things out on my own—a bit of a bull-headed approach, but I think it's helped me develop my own way of putting down paint.

Have oils always been your primary medium or have you worked in others?

Yes, I've always worked in oils. I've dabbled in other media but oil fits my paint personality. My approach is more of a sculptural one where a slow-drying medium is helpful in molding and refining shapes.

You so clearly have a deep connection to the western landscape, especially Colorado. Have you always lived in the West or did you relocate there at some point?
I'm a Colorado native through and through. The west is definitely in my blood.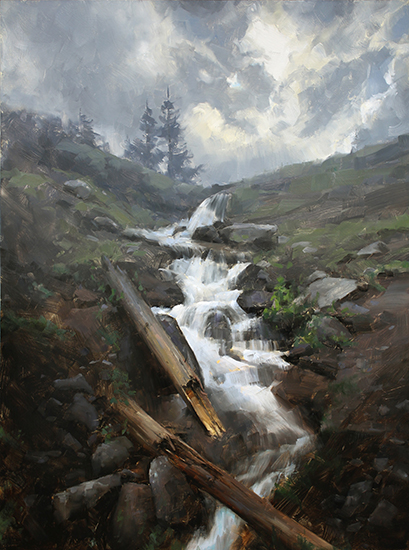 The Coming Rain 32 x 24" Oil



Winter Creek 12 x 20" Oil

What are some of the challenges you find when hiking wilderness areas in search of subjects?

The biggest challenge is not getting FOMO (fear of missing out). I've passed up countless paintings fearing I'll miss out on something further along the trail. Other challenges include fitting hiking and painting gear in one pack and keeping it as light as possible and, contending with the quickly changing weather at high altitude is always a challenge.

Would you tell us about your process from inspiration to final painting? What are you looking for when you are scouting?

I never know exactly what I'm looking for until I see it, but it's most often in a place of quiet, solitude. And I'm always drawn to scenes where the light and atmosphere create the design and the story. Once I'm inspired to paint a scene I don't do thumbnails or notan sketches but prefer to treat my plein air study as a sketch or "large thumbnail". This keeps it loose and not so "precious". So, I'm not bound in any way by a plan and I can move things around as needed to compose and tell the story. Back in the studio I'll take this plein air painting as a reference for composition and color and combined with photo references, I'll refine the composition in an alla prima studio study. If that works, I'll move to a larger finished painting. Even on the larger pieces, I prefer to work wet-into-wet so I'll paint more in sections on the larger pieces—a luxury provided by working out problems in the smaller studies.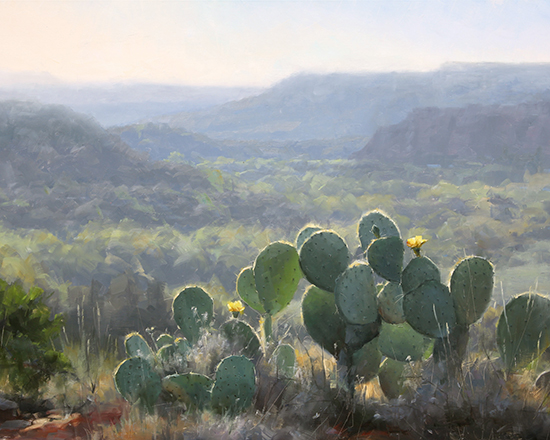 Desert Bouquet 24 x 30" Oil

What do you look for when you travel to paint new landscapes in other parts of the world?

Visiting places for the first time is sort of a blessing in disguise. With fresh eyes it's sometimes easier to see the beauty in what locals might take for granted. So, I just prefer to explore on my own and, for the most part, avoid places where everyone says I should paint.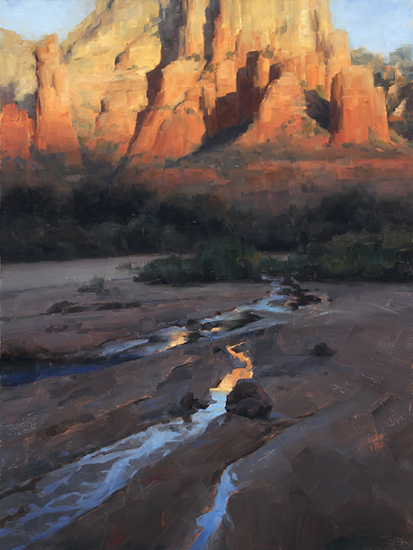 Sedona Light 32 x 24" Oil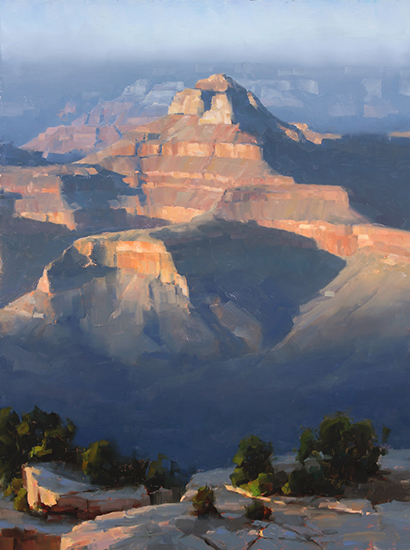 Rising Shadows 32 x 24" Oil

Do you like to participate in plein air painting events?

There was definitely a time earlier in my career when I loved them. But these days I prefer more solitude when I paint outdoors. There are definitely good things and bad things about plein air events. I have to say I grew so much as a painter when I was participating. And, on the other hand I've grown more as an "artist" since.

We'd like to hear about your choices of materials.

I like to paint on panels—MDF primed with Lineco Glue and Kilz or BIN by Zinsser. If I do paint on stretched canvas it's Claussens 13DP oil primed linen. I use mostly Rembrandt oil colors:
 Titanium White, Cold Gray, Cadmium Yellow, Yellow Ochre, Cadmium Red, Transparent Red Oxide, Alizarin Crimson (Gamblin), Viridian, Blue Azure (Sennelier), Ultramarine Blue.

Any words of encouragement or piece of advice for a beginning artist?

Don't be in a hurry. Understand that this is a lifelong pursuit.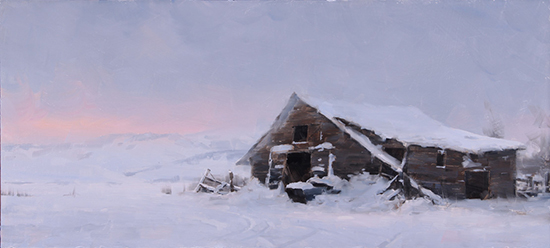 New Day (study) 10 x 22" Oil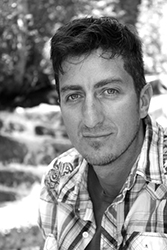 Dave Santillanes has won multiple awards in plein air and juried national competitions, including Best Painting at the Sedona Plein Air Festival, Best of Show at the Crested Butte Pein Air Invitational and the Bronze Medal at the Oil Painters of American 19th National Show. His work has been featured in Southwest Art Magazine.
To see more of Dave Santillane's work,
go to: http://dasanti.com
All artwork copyright Dave Santillanes