Voices of Experience

Dominik Baričević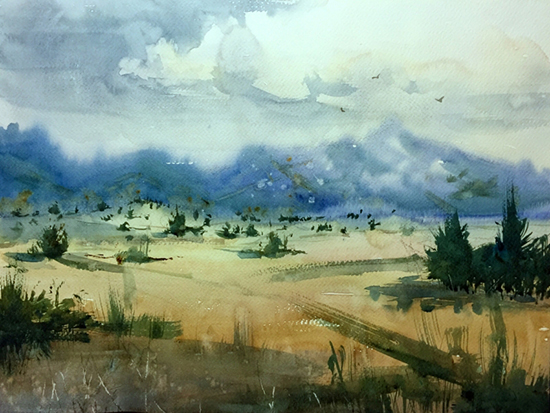 The Blue Mountain 12 x 16" Watercolor


"I try in my work to loosely capture the light and mood

of a landscape and to make the viewer feel at peace."


Dominik Baričević finds excitement in the challenge and spontaneity of watercolor. Baričević is a young, self-taught Croatian artist (born in 1991). Although he found other creative outlets while growing up, it was only recently that he began to focus that creativity into painting, discovering the intoxicating unpredictability of watercolor.

What is it about watercolor that has made it your medium of choice?

The spontaneous and stubborn nature of water and the childish fun of putting washes on paper. You are never quite certain how it's going to end, which gives you a small adrenaline rush and over time turns into a real addiction.

Fine art is a fairly new passion in my life as I've started regularly painting just 3 years ago (2014). I've always had artistic aspirations, winning some art competitions as a child, acting in a few theatricals and playing guitar for over a decade, so starting to regularly paint was just another art endeavor—and I've been hooked ever since.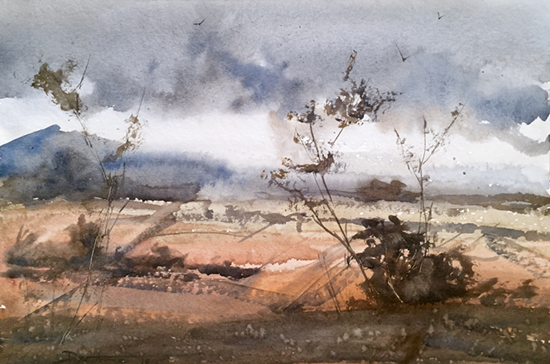 Storm Approaching 12 x 18" Watercolor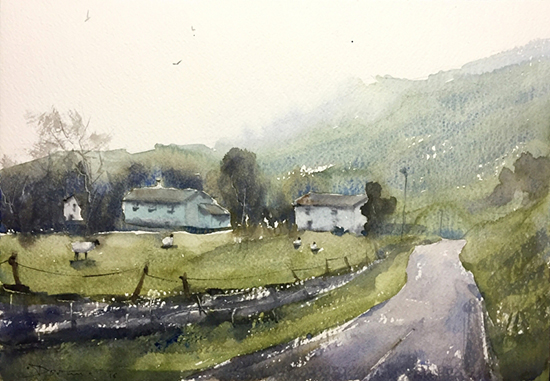 After the Rain 10 x 14" Watercolor

Baričević received his Master's degree in computer science from the University of Zagreb and currently works full-time as a game developer. Watercolor allows him to paint in the limited time he has away from work. He has found inspiration and learned skills from looking at the work of some of his favorite artists.

I've never attended any workshops and have no formal art education, but there are many watercolor masters that inspire me. I'm fascinated by the light and atmosphere of a landscape. The poetic art of Jospeh Zbukvic and loose, energetic work of Herman Pekel were a huge inspiration when I started painting. These days I am mostly inspired by the soft washes of Ross Paterson and the texture as well as rhythm of Chien Chung Wei's paintings.

I regularly look at the work of other contemporary masters who manage to capture the atmosphere of a landscape in a unique and fresh way. These days I am inspired by the works of Ping Long, Trevor Chamberlain, Liu Yi and Andy Evansen. I rarely look at watercolor books for creativity but if I have to recommend one, then it would be Mastering Atmosphere & Mood in Watercolor: The Critical Ingredients That Turn Paintings Into Art by Joseph Zbukvic—a must-read for every watercolor enthusiast.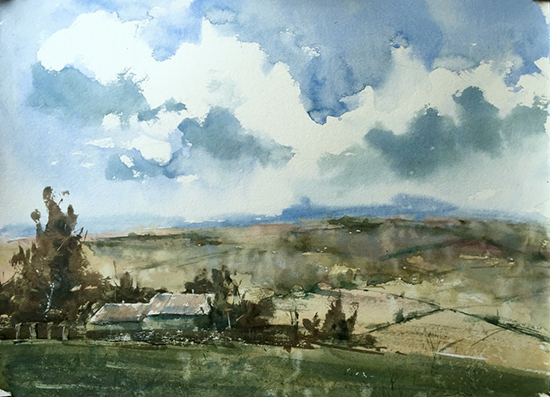 The Crispy Clouds 12 x 16" Watercolor
What do you find most inspiring about the Croatian landscape where you live?

Croatia has a very diverse landscape for such a small country. In a four-hour drive you can go from golden wheat fields in the countryside, over misty mountains and waterfalls to the magnificent Adriatic sea and its Romanesque coastline for which the country is most famous. I've spent most of my childhood in the country on a hillside—Slavonski Brod.



The endless view where the sky softly meets the land or sea is probably my favorite subject and biggest inspiration. Croatia really has a lot of beautiful motifs for a landscape artist, especially working en plein air.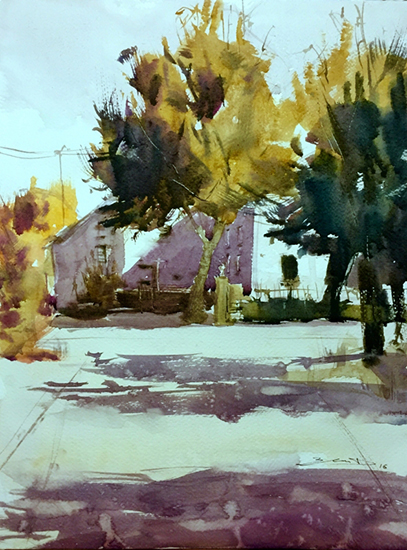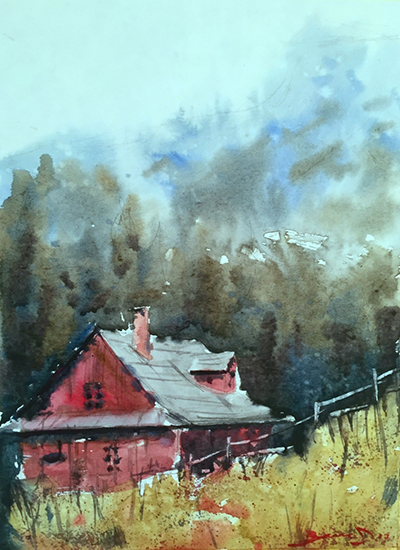 The Vivid Trees 12 x 16" Red Country House 9 x 12"
Watercolor

Have you had the opportunity to travel to other parts of the world?

Traveling has started to become very important for me because it introduces new subjects which are often very inspiring. I've recently been on a road trip to Paris and it was a prolific experience—really a gold mine for an artist. But in the end, I'm more attracted to quiet country scenes, small villages which blend in with nature. It's those forgotten barns, small rivers and misty hillsides which are my favorite places to paint.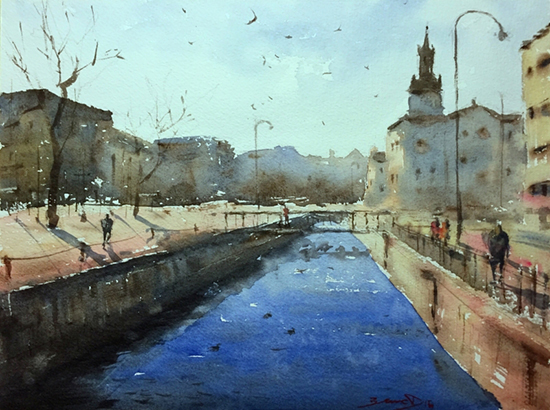 The Cold Sunshine 10 x 14" Watercolor

 How much of your painting time are you able to spend working outdoors on location?

Unfortunately, because of my current daytime job 80% of my work has to be done from references in the studio. I prefer working en plein air, however, because I can observe a bigger scene. A photograph can't capture the right mood of a subject.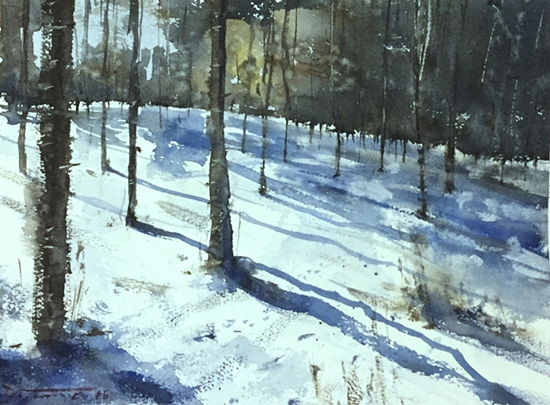 The Winter Shades 9 x 13" Watercolor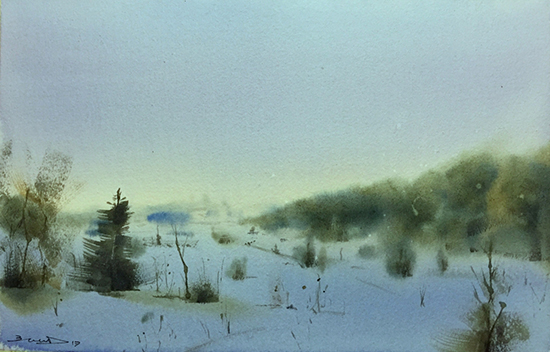 Winter Sunset 8 x 12" Watercolor
My advice to others starting out in watercolor is to put some color on your paper every day! It's very important to create a routine, no matter if yesterday was a masterpiece and today it's just garbage. Keeping the brushes wet regularly has many benefits: the fear of a bad wash or mark will disappear sooner and you will be more free in your expression; you will build up your self esteem and won't be discouraged by a weak work; and, most importantly, you will easily experiment in style and subject matter which is a must for artistic development.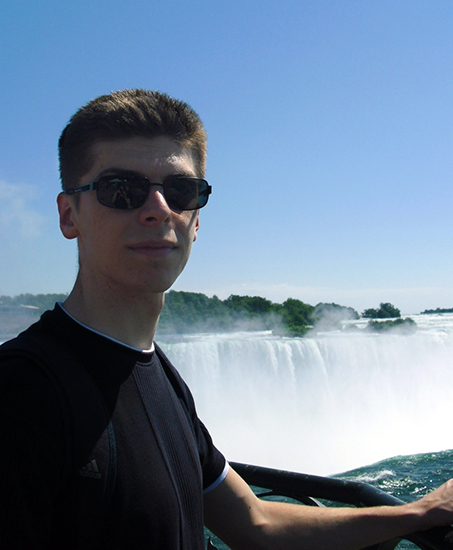 To see more of Dominik Baričević's work, go to:
All artwork © Dominik Baričević
Save
Save
Save
Save
Save
Save
Save
Save
Save
Save
Save
Save
Save
Save
Save
Save