Do You Know Your Neighbors?

Perspectives No. 330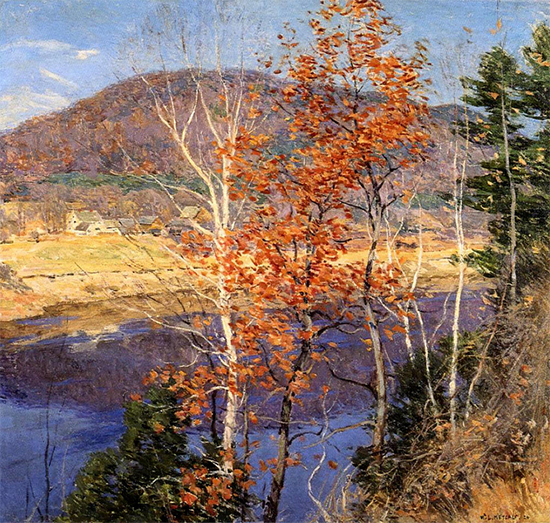 Closing Autumn 1924 Willard Metcalf

Fall is often considered a melancholy time of year, but there is always something good for the landscape painter in every change of season. As I was walking around the fall woods this morning, I noticed how many dozens of new burning bushes have been planted by the birds and animals there. The seeds come from shrubs in our yard, and are delicious food for wildlife. Their new presence in the mostly brown undergrowth punctuates the forest with bright splashes of red and turns the previously drab scene into a painting subject. I made a mental note to mark each one with orange tape while the leaves were bright red, so that when I mow in the spring, I won't hit them.

Recently, one of my students was sharing a personal insight about her growing artistic awareness which had to do with this change of seasons. She remarked that she used to always feel low when fall came because she missed the light and the colors of summer so much, but now she realizes that she is paying more attention to the structure and anatomy of trees. This has been an ongoing topic of discussion in our painting classes, and she decided that fall and winter present a wonderful opportunity to get out a good tree book and learn about the varieties of trees in her neighborhood. What a great attitude and project for the winter! Just as the figurative painter studies the human skeleton to understand the foundation of the body, so should the landscape painter know the architecture of the trees around her in order to paint them more effectively. Not only that, but there is a quiet satisfaction in knowing one's mega-fauna neighbors well. Some trees become so familiar to us that we can look on them as kindred spirits on this planet.

We have always studied and learned about the plants and geology of our environment, because it enriches our understanding of our painting subjects. We also gain a deeper bond with all living things when we can connect the dots between why things grow where they do. In a sense, it is a kind of artistic gardening when we can look out at a landscape, describe the plant life and why it grows where it does. This adds to our excitement and interest in creating a painting there.

So don't despair winter's naked landscape! Now is the time to get better acquainted with your leafless neighbors. You just might get inspired to create a painting.