Dreamers

Perspectives No. 315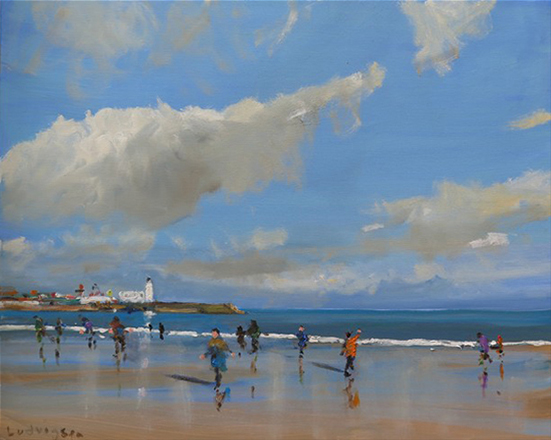 Scarborough Oil 24 x 30" © Malcolm Ludvigsen


This month's Voices of Experience interview is with English artist Malcolm Ludvigsen. Ludvigsen started life as a scientist specializing in mathematical physics and cosmology. In fact, he is so interested in the geometry of the Universe that he wrote a book about it which was published by Cambridge University. He didn't discover painting until about 13 years ago, but when he did, he threw himself passionately and fully into plein air painting the geometries of his Yorkshire homeland. Now a full-time artist, he traded one kind of physics for another and in the process, discovered how hard painting can be.

Science and art share many similarities. Scientists study their subjects in depth and then imagine a hypothetical situation which they would like to explore. Discovery is ever on their minds and sometimes they must invent new ways of looking or probing the known world to make progress. Sometimes they have to invent entirely new tools to do this. Sometimes they discover something new that wasn't what they set out looking for. Sound familiar?

Artists often follow a very similar path. We may dream of a world which doesn't exist except in our minds (our hypothesis) and then explore a means to express it. Sometimes we, too, discover a direction which had not occurred to us originally. This makes perfect sense in art. We can no sooner see over the horizon than a person sitting in a row boat on the ocean.

We may imagine an island paradise where a gigantic ape rules over all, or a hard edge where the world comes to an end. No matter what we dream up, we always have to do the hard rowing to discover what might be there. The joy, the thrill, of course, is in the journey, and having to sweat it out a bit makes our discoveries all the sweeter for us. We have been far out in the ocean of thought, sometimes where no one else dares to go. This is the unspoken risk of pursuing a personal vision.

What is also true many times for both science and art is the fact that, once one has arrived at the new summit of understanding, it can be difficult for other people to comprehend or appreciate that journey. They weren't there, don't know the route and can't believe in King Kong. Scientists write papers and wait for their results to be replicated by other scientists. However, artists are at a disadvantage here—the "peer review" system for art is purely subjective and may take years for the world to catch up, if ever. Never mind that. Do what our friend Malcolm does—find a beautiful beach, set up a canvas and throw yourself into it. You never know what you might discover.
Save
Save
Save
Save