Drop, Ripple, Wave

Perspectives No. 353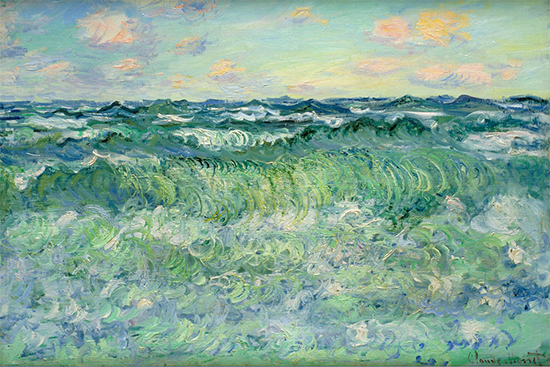 Marine, Pourville 1881 Claude Monet

"Just as ripples spread out

when a single pebble is dropped into water,

the actions of individuals can have far-reaching effects."
- Dalai Lama

It takes imagination and the ability to visualize to be an artist—a blessing and a curse? In turbulent times our strong imaginations can lead us into scary visualizations—sometimes quite accurate projections, sometimes creative fantasies. But with the great power of an acute imagination comes the ability to visualize beauty and positive possibility as well.

Dewitt Jones, a professional photographer who spent the majority of his career traveling around the world for National Geographic, delivers an inspiring Ted Talk on his personal creative doctrine—"Celebrate What's Right in the World". (View Dewitt Jones's TedX talk here.) Jones talks about taking the time to discover the beauty in a moment or a place in order to capture it for his exquisite photographs.

He says, "Our vision controls our perception and our perception becomes our reality." We sometimes forget that without being able to visualize our realities, we cannot create them. An essential practice in our art is to spend a few moments before we begin to paint, staring at our blank canvases, visualizing what the finished painting will look like. Like Dewitt Jones, we are trying to create beauty in our art, taking our inspiration from nature and the world around us.

Jones addresses the criticisms he sometimes receives that he is a "Pollyanna" by saying, "Celebrating what's right is not a perspective that denies the very real pain and suffering that exists on this planet. Rather it is a perspective that puts those problems into a larger, more balanced context, a context where we can see that there is far more right with the world than there is wrong with it."

In difficult times, that may be hard to acknowledge. All any of us can do is to drop our pebbles of beauty into the waters of life and keep making ripples. Who knows? Someday they just might all join to become a wave.