The Power of the Sketchbook
Part II:
Expeditionary Art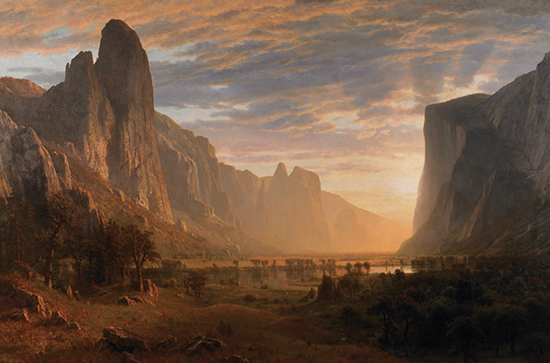 Looking Down Yosemite Valley Albert Bierstadt

Perhaps the single most important tool of the traveling artist is the sketchbook. In the days before the development of a portable camera, artists were hired to accompany exploration surveys of new or remote lands to capture visually what words could not. Conditions in the field and the need to be constantly on the move made the sketchbook the primary repository of travel experience. In the hands of accomplished artists, like those profiled below, beautiful and detailed pencil or charcoal studies could be made rather quickly. Watercolor was the natural choice for a coloring medium because of its portability and this was often layered over the top of these sketches to record the colors of the terrain. Additional field notes were usually made alongside these sketches, which could then serve as the basis for larger oil paintings executed later in the comfort of the studio.

Many of these artist-explorers were hired because they also possessed scientific training and served as expedition cartographer, naturalist or even doctor. In some cases their job was to create a visual manifestation of the "glory of God's work", and so their renderings and subsequent studio paintings were meant to be monumental statements about the richness of the lands that lay beyond. The ultimate goals of some these expeditions were to open up lands for exploitation and settlement, and that surely happened. However, another consequence that occurred not foreseen by land speculators and developers in America was the public interest in preserving these new lands as National Parks. Magnificent large oil paintings of the western United States by artists such as Moran and Bierstadt not only opened the eyes of the public to these spectacular vistas, but were also shown to Congress in the push to establish a National Park system. In this way, the humble sketches of these artists were instrumental in preserving the great scenic and natural resources of this country for all time. Not a bad legacy for the humble sketchbook!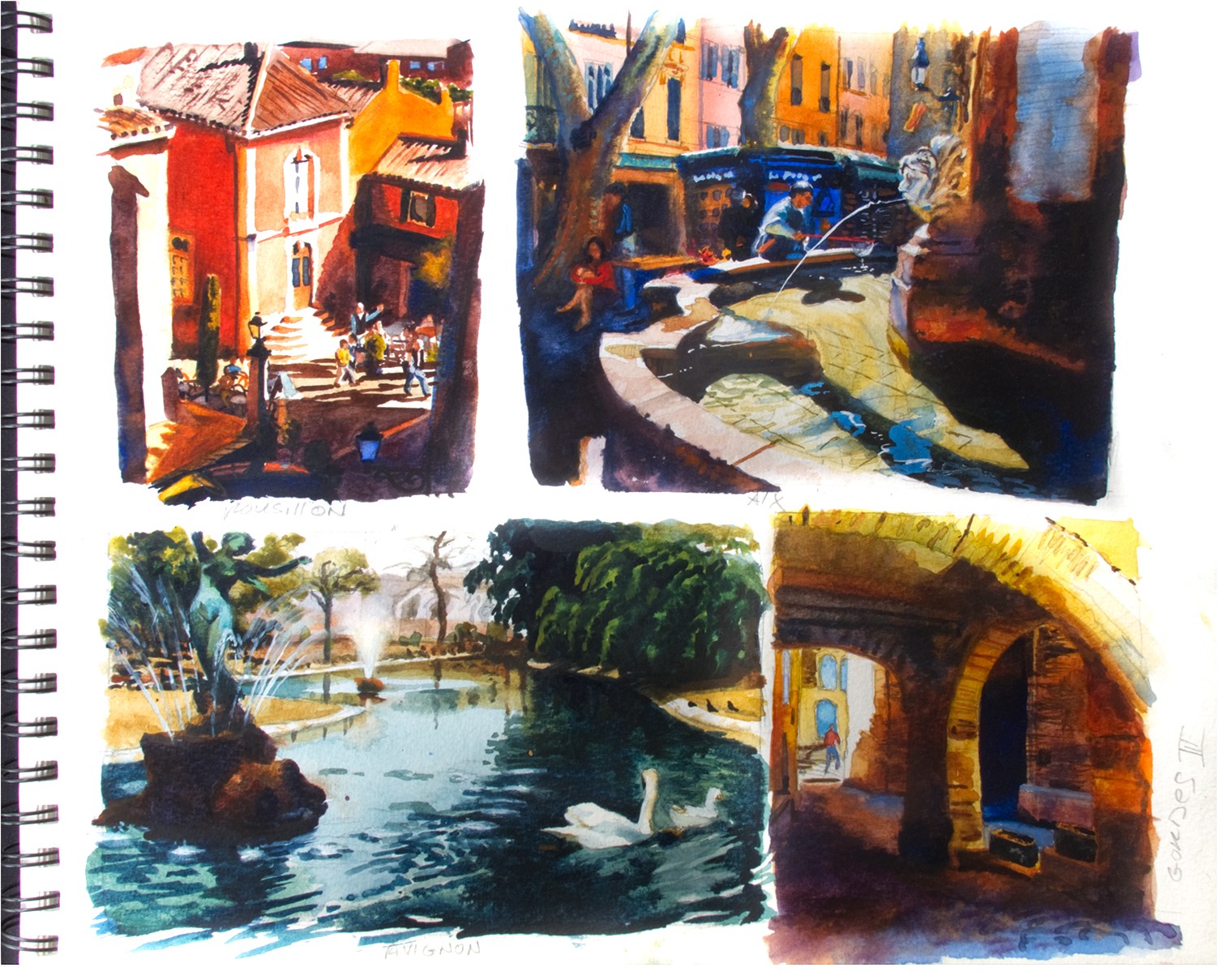 Page from John Hulsey's Sketchbook
Today, our sketchbooks still serve many functions, but the most important has not changed since the days of the early explorers. The primary purpose of our field work is to transport us to the moment of inspiration, so that, hopefully, we can re-create that moment's spontaneity and freshness back in the controlled environment of the studio. We use our sketchbooks as compact biographies of our lives as artists and as records of our artistic journey and development.

Sketchbooks also afford us a view of the changing world around us. Carrying the minimal gear of a portable sketchbook, pencils and a watercolor pan set, for example, allows us to experience and capture inspiration spontaneously, without the physical limitations of bulky, heavy painting gear to contend with. The sketchbook can combine notes, observations, drawings, and even the dust and pine needles collected during a painting expedition allowing the viewer a sense of the immediacy of the moment complete with its smells and detritus. See Beast of Burden, Perspectives No. 92.

Expeditionary artists of the past have given us our first glimpses of new and changing worldsand helped to preserve our commonwealth of natural resources. They have also inspired other generations of artists to follow in their footsteps. Here are some of our favorites.

Frederick Catherwood (1799-1854)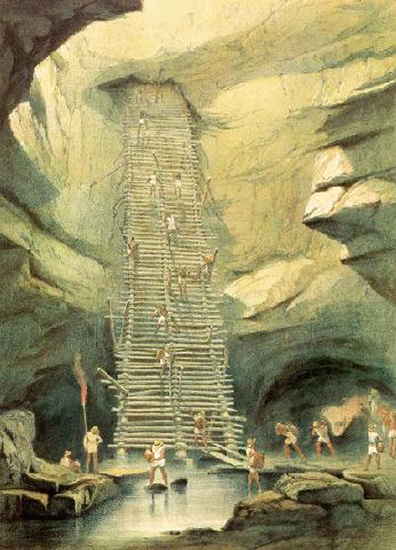 Bolonchen Cenote Frederick Catherwood

Frederick Catherwood, (born in England) traveled to Central America with writer John Lloyd Stephens in 1839 and 1840. Catherwood was an architect as well as artist and his fascination with the ruins of the Mayan civilization resulted in meticulously rendered drawings and several books, including Incidents of travel in Central America, Chiapas, and Yucatan , and Incidents of Travel in Yucatan, Vols. I and II
. Catherwood died at age 55 while crossing from Liverpool to New York on board a steamship which collided with another steamer in bad visibility conditions.

George Catlin (1796-1872)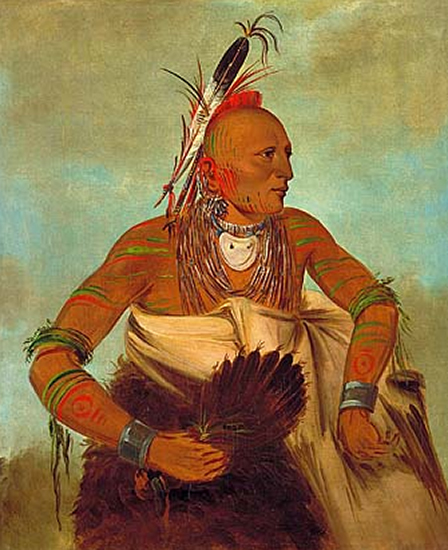 Osage Warrior George Catlin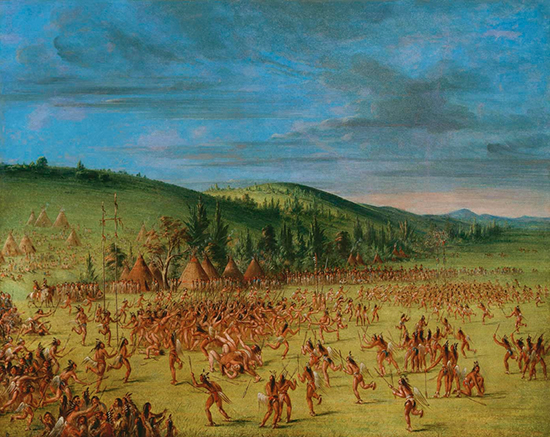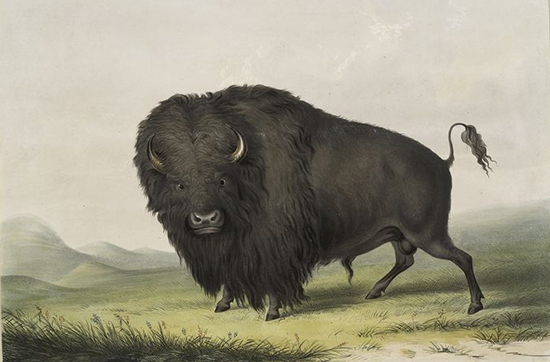 Ball Play of the Choctaws George Catlin Buffalo Bull Grazing George Catlin
George Catlin is most well known for his documentation of America's native people. He travelled west from his native Pennsy

lvania

with General William Clark in 1830. They traveled up the Mississippi River into the Native American territories. He made numerous trips following that one and visited fifty tribes. Later, he would venture up the Missouri River visiting tribes that had

had less contact with European civilization.



From his extensive travels throughout the American west he painted over 500 paintings and later published several books including, George Catlin and His Indian Gallery. Catlin showed his work in a traveling exhibition in the Eastern United States and in the European capitals. The almost complete set of his first Indian Gallery is a part of the Smithsonian American Art Museum. An additional 700 sketches are in collection of the American Museum of Natural History in New York.
Thomas Moran (1837-1926)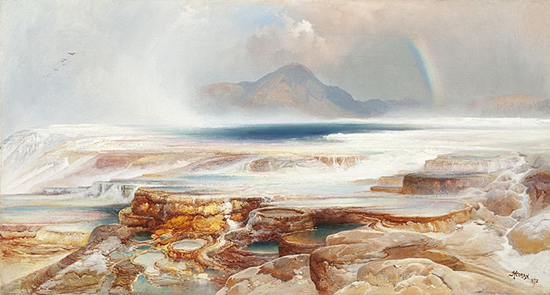 Hot Springs of the Yellowstone Thomas Moran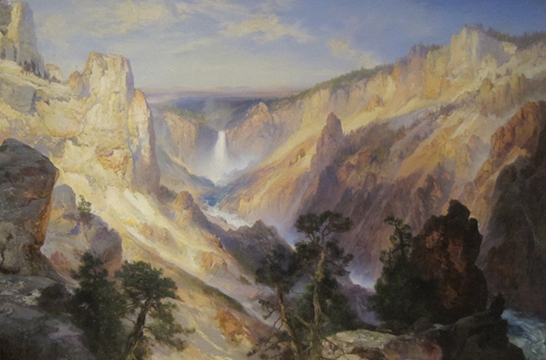 Grand Canyon of the Yellowstone, Wyoming Thomas Moran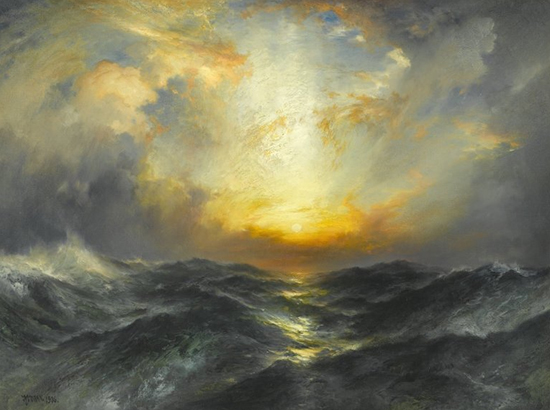 Sunset at Sea Thomas Moran

Thomas Moran started his artistic career as a wood engraver for a Philadelphia firm but found painting to be more interesting. He began studying with local painter James Hamilton who introduced him to the work of British artist J. M. W. Turner. Moran traveled to England in 1862 to see Turner's work and acknowledged Turner's influence on his use of color and choice of landscapes.

Moran is associated with both the Hudson River School and the Rocky Mountain School art movements. His paintings are credited as being critical in the creation of Yellowstone National Park, the first national park in the United States. At the urging of Jay Cooke, director of the Northern Pacific Railroad, Moran was invited by Dr. Ferdinand Hayden to be part of his geological survey team expedition in 1871, which was leaving to explore the unknown region of what is now Yellowstone. His expenses were covered by both Mr. Cooke and Scribner's Monthly magazine. His watercolor paintings of Yellowstone along with his diary and field notes were reproduced in the magazine, which created great public interest in the area, and ultimately led to the establishment of Yellowstone as a national park.

Moran travelled extensively, documenting through his paintings Yosemite, the Grand Canyon of the Colorado, Zion Canyon, the Virgin River, Colorado's Mountain of the Holy Cross, the Grand Tetons and the Spanish Southwest. A catalog of his field studies in contained in: Thomas Moran: The Field Sketches, 1856-1923 (Gilcrease-Oklahoma Series on Western Art and Artists)
.

Edward Adrian Wilson (1872-1912)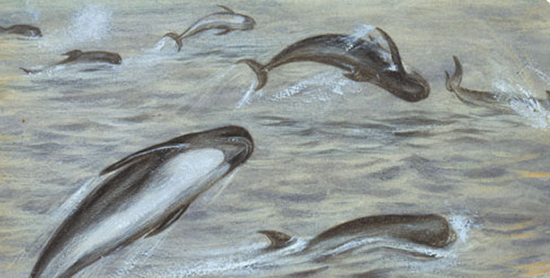 Sketch Edward Adrian Wilson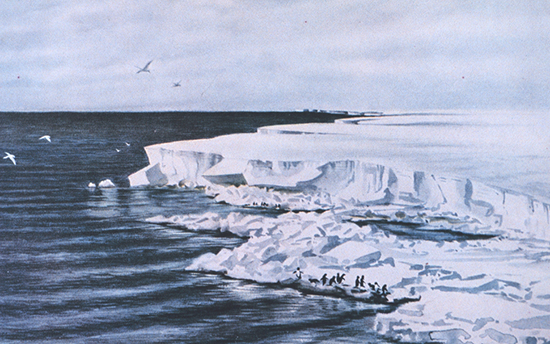 Cape Crozier Edward Adrian Wilson

Naturalist, doctor and artist Edward Adrian Wilson took part in two British expeditions to Antarctica - the Discovery and the Terra Nova both led by Robert Falcon Scott. Educated at both Oxford and Cambridge, Wilson obtained a first-class degree in Natural Sciences in 1894. He received a Bachelor of Medicine degree from St. George's Hospital Medical School. During a months-long convalescence for tuberculosis in 1898, Wilson developed his skills as an artist.

In 1901 he set off on his first expedition to the Antarctic, the Discovery Expedition, with Scott. Wilson has the responsibilities of expedition artist, zoologist and junior surgeon. During this trip, Wilson, Ernest Shakleford and Scott reached the southern-most spot of any exploration party before they were forced to retreat.

In 1910, Wilson joined Scott once again as Chief of the Scientific Staff on the ill-fated Terra Nova Expedition attempting to finally reach the South Pole. By January 18, 1912, they reached the Pole, only to discover that Roald Amundsen and his team had already been there five weeks before. Afflicted by unusually severe weather, Scott and his team never made it back to base camp.

Scott wrote about Wilson, "I believe he really is the finest character I ever met." Here are three of the books Wilson illustrated.
Diary of the 'Discovery' Expedition to the Antarctic Regions 1901-1904

Edward Wilson's Nature Notebooks (Antarctic)

Birds of the Antarctic


Karl Bodmer (1809-1893)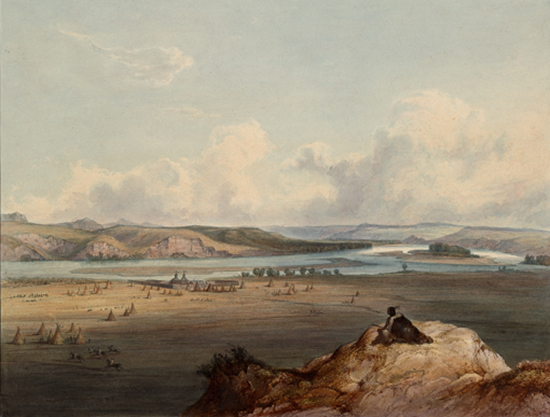 Fort Pierre on the Missouri Karl Bodmer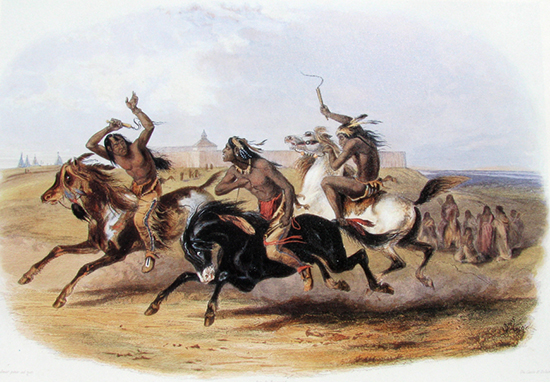 Horse Racing of the Sioux Karl Bodmer
Karl Bodmerwas an impressively accomplished man of many skills and talents. Born in Switzerland, he studied art under Johann Jakob Meier (his uncle) and made painting trips throughout Switzerland with Meier and Karl's older brother, Rudolf, also a painter. During the course of his career he became adept at printmaking, etching, lithography, engraving, painting and illustration. He left Europe to accompany Prince Maximilian zu Wied-Neuwied on his famous Missouri River expedition from 1832 through 1834. At the finish of the expedition, Bodmer traveled to Paris, where he had 81 scenes from the expedition reproduced as aquatints which were incorporated into the Prince's book and published in London in 1839. He later relocated to Barbizon, France, changed his name to Charles, and became a French citizen. His continued to paint the landscapes and scenery of the area around his new home to great acclaim becoming associated with the Barbizon School. The majority of his original watercolors from the Maximilian expedition are housed at the Joslyn Art Museum in Omaha, Nebraska.
Karl Bodmer's America
(1984) contains the full range of Bodmer's American work.
Karl Bodmer's North American Prints
(2004) pubished by the University of Nebraska Press.

Richard H. Kern (1821-1853)
Edward Meyer Kern (1823-1863)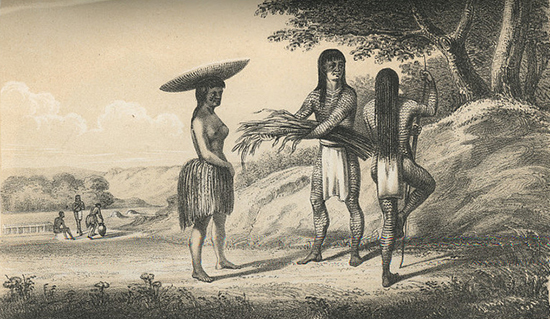 Mohave Indians Richard H. Kern

Courtesy Southern Methodist University, Central University Libraries, DeGolyer Library

Brothers Richard and Edward Kern were illustrators, scientistsand expeditionary artists accompanying the surveyor John C. Fremont on expedition. A third brother, Benjamin also accompanied them but died at an early age while on expedition.
Richard was the oldest brother but was killed in an ambush at the age of 32.

Richard H. Kern: Expeditionary artist in the far Southwest, 1848-1853
by David J. Weber was published in 1985.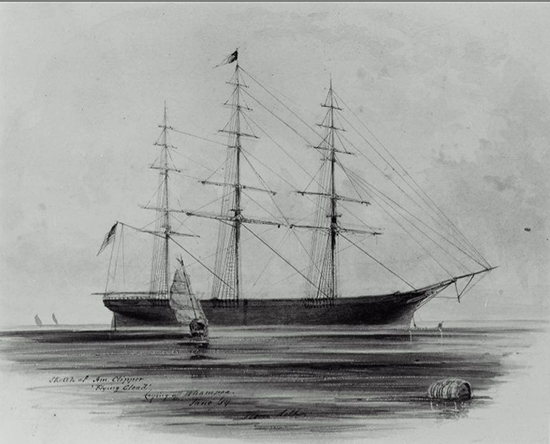 The Flying Cloud Lying Off Whampoa Edward Meyer Kern


Edward

also died at an early age. He suffered from health problems including epilepsy. However, he was very prolific and traveled extensively, appointed to accompany Fremont in 1845 as cartographer, artist and collector of botanical and animal specimens.
In 1848, again with Fremont, he explored southern Colorado including Canyon de Chelly. He also explored east Asia, Siberia, Hawaii and Japan.

Over eighty of his works are housed at the Bostom Museum of Fine Arts.

In the Shadow of Fremont: Edward Kern and the Art of American Exploration, 1845-1860
by Robert V. Hine was published in 1982.

Albert Bierstadt (1830-1902)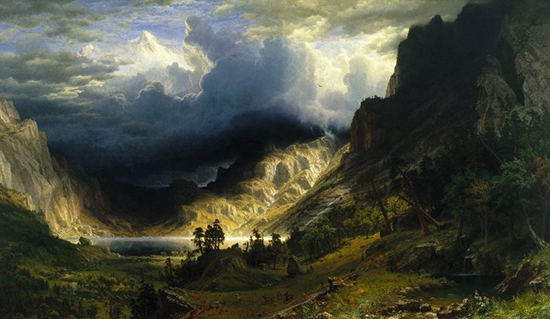 Storm in the Rocky Mountains Albert Bierstadt
Bierstadt was a German-American painter. His family moved to New Bedford, Massachusetts in 1831. He returned to Germany to study painting in Dusseldorf from 1853 to 1857. After returning to America, he painted the landscapes of New England and upstate New York becoming associated with the Hudson River School movement in American art. In 1859 he made his first painting trip to the western United States, traveling with Frederick Lander, a surveyor working for the U.S. government. When he returned, he began making his monumental oil paintings of the American west from the sketches he had made on the trip. He went west again in 1863 with the author Fitz Hugh Ludlow.

Bierstadt's oils were romantic representations of the west. He was known for accentuating and dramatizing his subjects, often changing features of the landscape to suit his pictorial interests, which brought him much criticism in his day.
One of many books showcasing his paintings is: Albert Bierstadt: Art and Enterprise
by Nancy K. Anderson and Linda S. Ferber.
Some Contemporary Expeditionary Artists:

Maria Coryell-Martin

One contemporary artist (profiled on The Artist's Road here), is bringing expeditionary art into the present by combining her passions for travel, science and art. Maria Coryell-Martin most recently has focused her work on painting polar and glaciated regions on modern expeditions with scientists. She believes that art can be used as a means to cultivate scientific inquiry and environmental awareness and that on of the most powerful aspects of the sketchbook is changing the participant from being a passive onlooker to being an active observer.

Tony Foster

Tony Foster is another contemporary expeditionary artist creating large-scale paintings on site in some of the most remote and difficult places in the world. A blurb from his book, Painting at the Edge of the World: The Watercolours of Tony Foster
, states, "Explorer-artist Tony Foster has been trekking into and living in the world's wildernesses for the past twenty-five years in order to make his monumental paintings, often under extreme and demanding conditions. These monumental works, containing written narratives, symbolic souvenirs, clues, and observations, are a celebration of some of the planet's most extraordinary places and of time spent studying and experiencing them."