Voices of Experience

An Interview with Frank Eber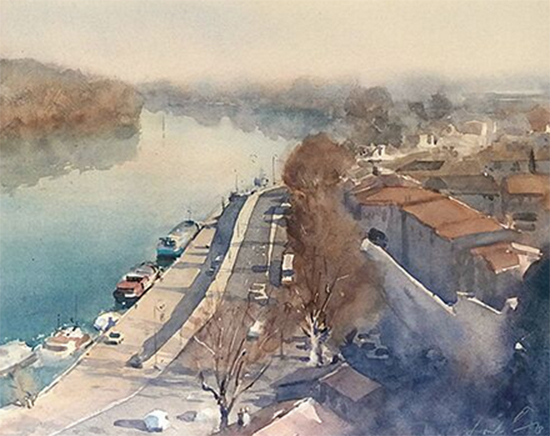 Boulevard de la Vigne Watercolor

"I think it is important to leave some mystery,

some room for imagination."
Frank Eber is a world traveler. Born in Germany, Eber has lived in France and painted in Italy, the Netherlands, Austria, Switzerland, the Czech Republic and China. He finds inspiration now from his studio in California as well. Eber is most well known for his work in watercolor, having won national and international awards. He is a signature member of the American Watercolor Society, the National Watercolor Society, the Transparent Watercolor Society of America and Watercolor West. He is an artist member of the California Art Club.

You were raised in Europe which must have exposed you from an early age to great art and architecture. At what point in your life did you know that you wanted to be an artist?

It's true that I was exposed to art from my early childhood on. However, my family was not artistic, I only had one uncle who was a professional painter and I never met him. He died before I was 10 years old. My grandmother's brother, who was killed in WW II, was a talented painter and also did beautiful etchings.
 I wanted to become an artist when I was 16 but it didn't happen until much later.
 I always had the talent but my parents thought it prudent for me to pursue an academic profession instead.


You mentored under Italian master painter Renato Casaro in the mid-90s. What was the most important lesson he taught you?



That's tough to pinpoint. I would say the most important lesson is that art is about self expression, less so in representational art, but still. You have to have something to say with your art. There should be a pretty good reason for becoming a painter, an artist in general, or even to paint something. I personally think that is a bit missing nowadays. 
I highly recommend the old book by Edward Reep, The Content of Watercolor
, where he elaborates on this subject.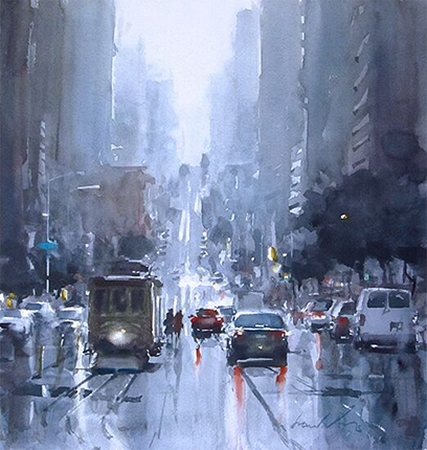 The Financial District, San Francisco Watercolor

You started painting in oil and gouache. What is it about watercolor that is most interesting to you?


Watercolor is the oldest medium and has an elusiveness about it that is very addictive. I was also attracted to it because some of the best painters in history have mastered both oils and watercolor and I wanted to do that as well (still trying . . . )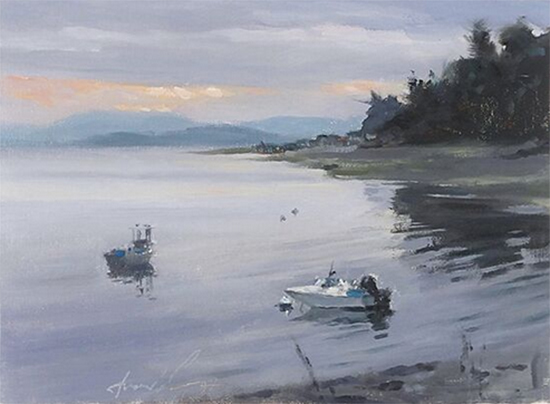 Langley Harbor, Whidbey Island Oil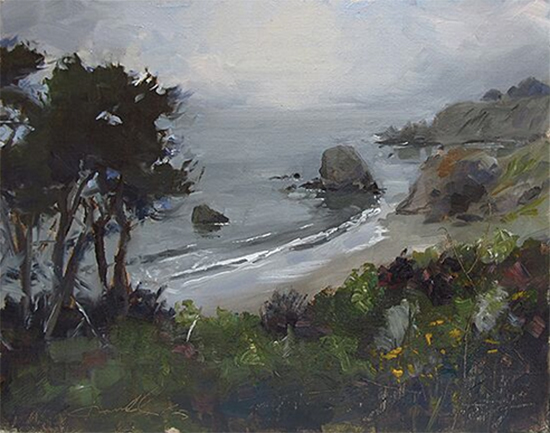 Highway 1 North Oil
We also paint in both watercolor and oil. We like the challenge of changing mediums back and forth and often use our watercolors as the basis of studio oils. Do you work back and forth between oil and watercolor also? 



Exactly! I also go back and forth and enjoy how one medium somehow teaches me about the other and vise versa. I love how it's all the same in the end. Painting is painting. I enjoy the texture that oil paints can create. I love how watercolor paints itself—sometimes! 
However, I do not see watercolor as a basis for studio oils. I think that watercolor painting is art that can stand on its own—it is real painting! I think some painting subjects are just made for watercolor, others are better for oils, although one could paint anything and everything in oils. Watercolor definitely has it's limitations. Oil painting doesn't.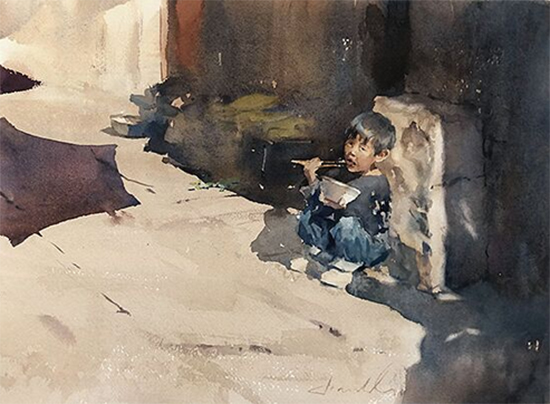 A King's Breakfast Watercolor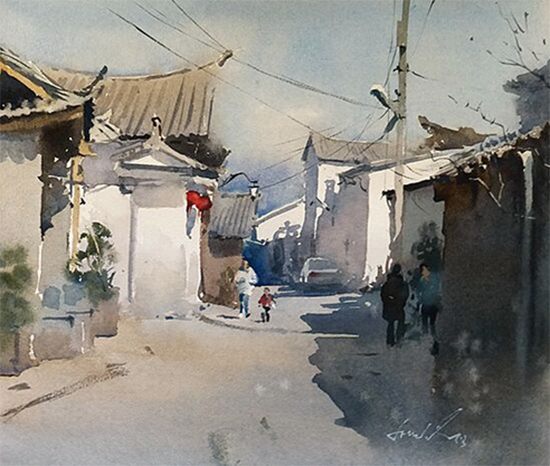 Qujing Old Village Watercolor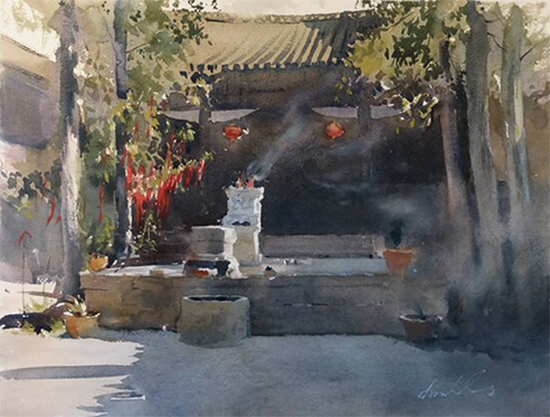 Morning Salutation Gongxiang Watercolor

City scenes, nature and the landscape are great inspirations for your work. What is it about a landscape that sparks your creative juices—the light, the composition, or something else?



As humans we are deeply connected to nature. A landscape is the earth we walk on until our bodies are no longer. Even after we die, we go back into the earth, so we are very much part of it. That is a powerful realization and when I paint I am conscious of that—(not conscious in the sense that I would think about it while painting). Inspiration can be found everywhere and sometimes nowhere. It's hard to say what sparks the creative juices, as you put it. You just know it when you see it. It happens on a deeper level where words are meaningless.

 To illustrate that point I'd like to make an analogy: My friend is a bee keeper. He makes his own honey. When he harvests honey after a season he has this first taste of honey made by his own bees. Could you explain to someone who never had honey how delicious honey tastes? There is no way. It cannot be put in words.

It is equally impossible to describe to someone else why I get inspired to paint a scene.

In addition to living in Europe for many years, you have also traveled extensively in search of interesting painting subjects. What places are your favorites and which have given you the most inspiration for your art?



I do love painting en plein air but I also do extensive studio work. Plein air is just one part of my work. Traveling brings new impressions that in turn can be inspiring. Favorite places are Italy, France and Germany, in Europe. In the U.S., California, Maine, Vermont. I'd like to point out though, that I am not attached to a certain place/country. The location is really secondary. I like to paint scenes that touch me on some level, therefore it doesn't matter where it is.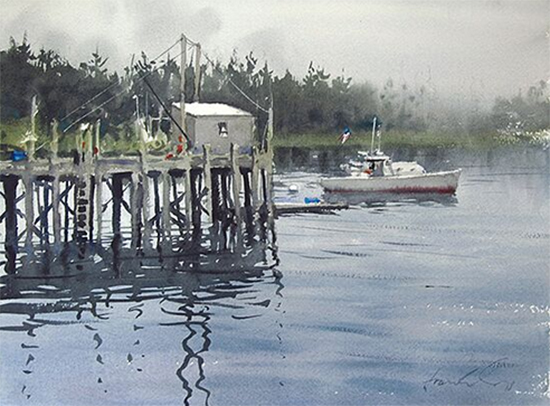 Owl's Head Harbor Gray Watercolor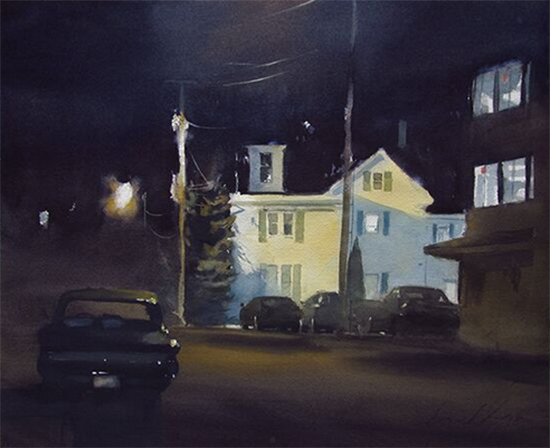 Rockland Noir Watercolor
Would you share what colors you typically keep in your palette?



I use mostly primary colors and a few secondaries like violet, orange and veridian. Most are staple colors that have been used for centuries. Earth tones are just yellows and reds to me. For darks I sometimes use neutral tint or ivory black.

Since you now have your signature on DaVinci brushes, we will assume that these are your favorites. Why?


 DaVinci is using a newly developed fully synthetic fibre that has the same water holding capacity as natural hair brushes and an amazing point. I don't like what's going on with the Kazan squirrels and how the hair is harvested. Aside from that, the brushes are just really really good and bristles never break off.

Do you ever rework or repaint a subject more than once when you are not quite satisfied with it?


Yes. I have a limit of three tries. If I don't get it on the third try, I quit and put that subject aside until later..

Have you ever found a subject that, for some reason, you couldn't satisfactorily capture? If so, why?



I sure have, although not that often. I think it has to do with not being able to connect with the subject you're painting. Again, it's best to put it aside and come back to it. It's often not clear why I can't do it. If I knew why exactly, I would most likely not have that problem. Maybe I'll revisit in a year and will be able to do it then

Can you describe your process or your style—what it is that makes your paintings unique?



I think having access to your creative potential is the most important thing. (I also do lectures on that topic.) If that door is not open, work tends to be repetitive and unoriginal—(looks like so and so, formula painter, etc.). Therefore I have a ritual to get into my painting zone before starting. 
Generally, I have an emotional approach to painting. Both emotional and practical I guess. I will never paint anything that doesn't move me in some way. I don't paint anything that's en vogue, or at least I think I don't. When painting plein air I will strive to capture what the place feels like, first and foremost. The high art of color mixing what you see in front of you is the whole point of painting in nature. In studio work that is not necessarily the same.
 Let me just say here that I am a work in progress, too. By no means have I figured all of this out. I am just lucky I had good teachers!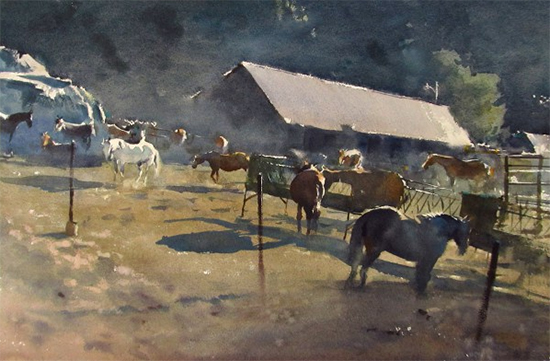 Ranger Stables Morning Watercolor

What other artists' work do you look at regularly - historical and/or contemporary?


Stephen Scott Young, Richard Schmid, Anders Zorn, George Carlson, Dean Mitchell
, Jim McVicker, just to name a few.


If you could spend a week painting and visiting with one artist from history, who would you choose?

Anders Zorn, Abbott Handerson Thayer or going way back, Rembrandt and Albrecht Durer (who was from my hometown). Luckily I don't have to pick one.

What do you think is the single most important lesson you have learned about painting in your career?
 


That is a tough question to answer. There are so many different and important things .
If we are talking about the process of painting only, it would have to be this one:
 "Paint what you first see last. Paint what you last see first." I don't know who said it, but it's brilliant.

What words of encouragement or piece of advice would you give a beginning artist?



Stay true to yourself and be original. Not very helpful, is it?

 I am not sure I would have words of encouragement. Being an artist is not easy and there are certainly better ways to make money. There is no protection in our profession and anyone of any mental state can call themselves an artist. One trip to the art store is enough. (Even that is unnecessary now as art supplies can be ordered online.)


There is great reward in creative work. I think that you have to be born with the drive and compulsion as well as the talent. I am not one of those people who will tell you that you can be a great artist without talent for drawing and painting. I think that's a blatant lie and is something you hear from motivational speakers who, let's face it, will tell you anything you want to hear. 
Being an artist is hard work and if you want to be a great representational artist it's even harder, because there is fierce competition out there. 
Another analogy: Roger Federer was always a great tennis player even when he was young. It's easy to overlook that he put 8 hours of practice in almost every day, for decades, to become one of the best. And he had talent when he started!


Put time into learning how to draw. Be an excellent draftsperson. Don't overestimate yourself. Look back in art history to stay grounded. Learn from a master, if you get the chance. Work in more than one medium. Strive for excellence in painting not accumulation of "followers". Don't pander to the level of the viewer. Be prepared to teach full time to make a living. Should be enough to get started . . .

An additional point about inspiration: 
 The question "What inspires you" cannot be answered properly. I could be sounding off things like the light, the clouds, reflections, the golden hour, bla bla—superficialities that are meaningless on their own. You can't paint the light— it is not possible. I like the answer that one rock climbing friend of mine gave when someone asked him "Why do you climb?". He answered, "It's not something I do—it's what I am, a climber."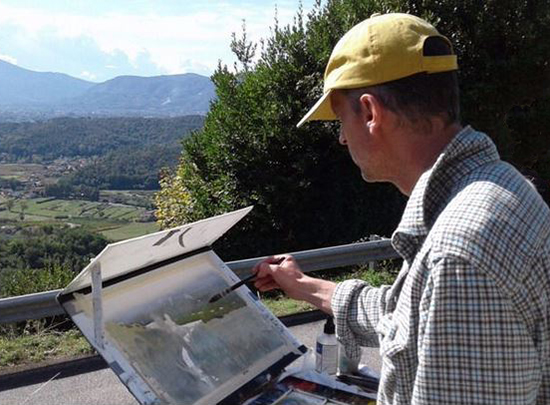 To see more of Frank Eber's work,
go to: http://www.frankeber.com
All artwork copyright Frank Eber