G'Day Viewers

Perspectives No. 354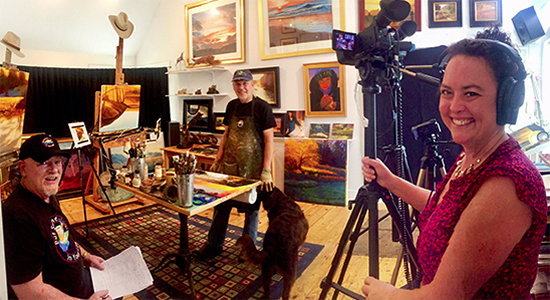 Graeme Stevenson, John Hulsey and Sophia Stacey
during the Colour In Your Life Interview - Photo© Ann Trusty
The art world is changing rapidly before our eyes. The traditional marketing channels for artists of galleries and dealers are quickly being replaced by newer, more direct avenues of communication based on the internet. Artists now have more opportunities than ever before to share what they are creating directly with a world-wide audience of billions of people with no "gate-keepers" in between. At the top of the list of these opportunities is social media, and YouTube is a major platform there. One of the top art stars of YouTube is a program out of Australia called Colour in Your Life, and they are dedicated to helping artists show the world what they do.

Yesterday, I was fortunate to be interviewed by the founder of Colour in Your Life, Graeme Stevenson, who is himself an outstanding artist and painter. He was accompanied by his videographer and director, Sophia Stacey, who is as charming and effervescent as she is efficient. Together, these two travel around the world interviewing artists in their own studios. Graeme started CIYL in 2010 in Australia and has been growing it ever since. It is now on television in nine countries worldwide and has a large and growing YouTube audience.

As with most good things, preparation is key to success, so Ann and I spent the week prior cleaning out my cluttered studio, painting walls and arranging a selection of paintings for the taping. While doing that, we discussed what I wanted to talk about with the audience, the demonstration I could do, and what my goals were for the show when it is finally broadcast. I wanted to share some of the painting knowledge I have gained over the last forty years and tell a bit of the story of my development as an artist and a painter. I also wanted to share why I find inspiration in my nature subjects and what is behind my change from painting with brushes to painting with knives. Last, I wanted to share my gratitude for the Jack Richeson and Company decision to not only sponsor part of the show, but also to offer under my name special Richeson and Co. brush sets. This was a lot to tell in a short, 45 minute show, but Graeme and Sophia are so experienced that it all seemed very fluid and seamless. They understand artists, their lives and challenges completely. I've been interviewed on TV before, but this was an outstanding experience for me. We have made new friends.

The CIYL YouTube channel is an amazing place where one can learn about the work of hundreds of artists from all over the world who work in every painting medium and style imaginable. We believe it is a very important marketing path for artists who wish to be independent from the old gallery representation system. Check it out here: Colour in Your Life.