Glazing and Scumbling

Perspectives No. 319
Two techniques that can provide depth and luminescence in oil paintings are glazing and scumbling. Examples of both can be seen as far back as the 16th century in the paintings of Titian.

Glazing is typically the application of a thin layer of slightly darker transparent paint over the dry paint on the canvas. The thin, transparent paint allows light rays to pass through it, bouncing off of the lighter surface beneath. Glazing can be used to create a glowing effect and more saturated coloration in a painting. Glazing can be used as a corrective measure to alter an underlying layer of paint, but true glazing is used to create a unique and specific effect and must be carefully applied over a completely dry previous layer. It is a time consuming and painstaking process. It was traditionally used sparingly to highlight only certain parts of a painting.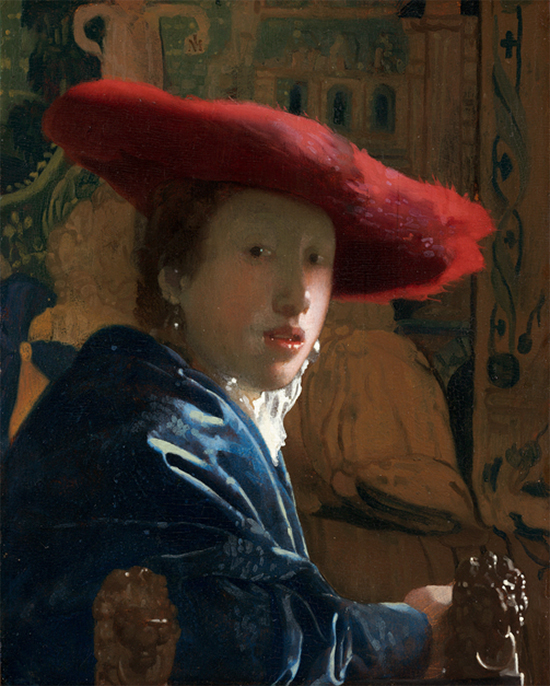 An example often cited is in the painting, Girl with a Red Hat, by Johannes Vermeer, ca. 1665-67.

From: Essential Vermeer:

"The plumed hat was first modeled in opaque vermilion (a brilliant, opaque red with a strong orange overtone) and black. The shadowed areas of the hat were then deepened by a glaze of red madder (a highly transparent ruby red derived from the madder plant) and a small amount of black after which a small amount of pure red madder was glazed over the illuminated areas giving the hat its exceptional light and its typically glowing red tone."

In contrast, scumbling is generally the application of a thin layer of lighter opaque paint over the dry paint on the canvas. Scumbling can create a translucent effect when it is used over a darker paint, softening edges and textures. Scumbling also allows the artist to take advantage of the optical mixing of colors as darker under-layers of color show through the broken brush work of the lighter, scumbled layer. J.M.W. Turner was a master of the technique as in this painting, Yacht Approaching the Coast, ca. 1840-45.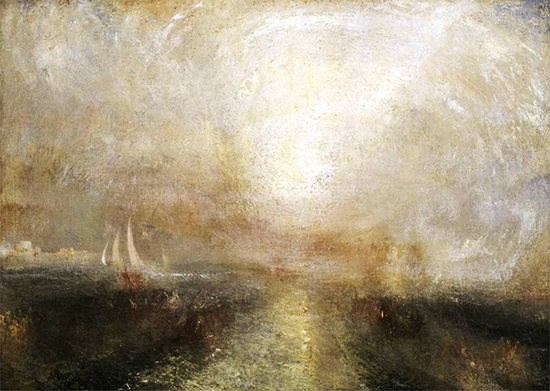 From the Tate:

"In this painting the light in the sky and on the sea dazzles the viewer, obscuring the scene. This visual effect echoes the progress of Turner's own work on the painting as he returned to areas of the canvas over a period of several years, covering the original subject. Dark shapes that appear through the layers suggest boats, while the buildings on the left have not been definitively identified but may represent Venice. By reworking the canvas, Turner has created less tangible subjects – those of light and colour themselves."
Save
Save
Save
Save