Granulation
Perspectives No. 205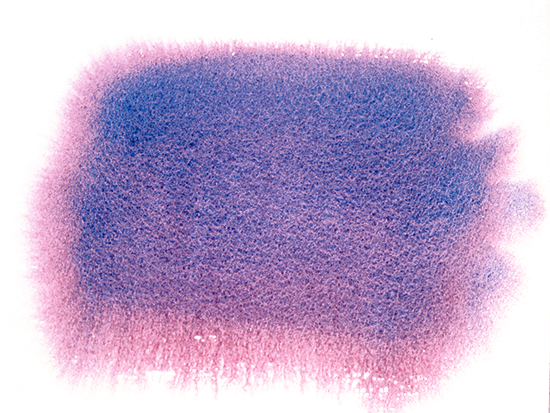 W

atercolor can do things that other painting media cannot. Although I paint in oil, pastel and casein, I always return to watercolor whenever I want to really challenge myself as a painter. First, it requires complete and total focus —no phones, no breaks. To paint really well, one must thoroughly and intimately know the behaviors of the medium and the living relationships that develop between the paint, the paper and the environment as one paints. To do all that while the clock is ticking (for washes are only "alive" for so long), is a performance and a dance with a lovely partner who has little tolerance if one doesn't know the steps!
One of the fascinating and unique characteristics of the medium is inherent in the formulations of the pigments. Watercolors come in two forms, the sedimentaries and the stainers. Sedimentaries can generally be thought of as relatively coarse-ground earth colors—umbers, ochres, and the like, although many blues and reds are also sedimentary in nature. These colors are heavy, can be quite opaque in concentration and tend to sink and settle out from the water as they sit on the palette or in a color mix. On a sheet of rough textured paper, they tumble off the high spots and settle in the low spots, creating a speckled look—granulation. Stainers are more ink-like in consistency, highly transparent, dissolve readily and don't settle out of water. They tend to penetrate and stain the paper, whether rough or hot press, and can create even, smooth wash effects. Granulation is also a delightful by-product of mixing sedimentary and staining colors together on textured paper.
One can create violet in the palette by mixing together red and blue. One can also create a much more interesting violet directly on the paper by applying a blue wash followed by a red wash—an optical mix. If the blue is a less transparent, sedimentary color (like cerulean), it must go down first, followed by the transparent staining red (like quinacridone rose). The result is a granulated tri-color effect—a vibrant violet with evidence of the red and blue as well. Marvelous! Only watercolor can do that and it does it willingly. This is what I mean when I say watercolor is alive. All the combinations of sedimentary and staining colors will perform this magic trick to a greater or lesser degree. Do try this at home.