Green Death

Perspectives No. 322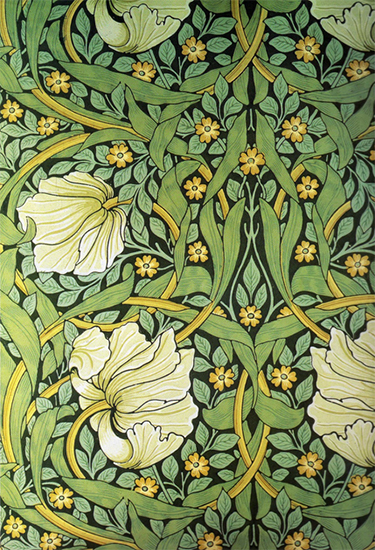 19th Century Wallpaper by William Morris
"As to the arsenic scare

a greater folly is hardly possible to imagine:

the doctors were bitten as people bitten by witch fever."

William Morris
The Collected Letters of William Morris, Vol. 2


As artists, we must stay aware of the materials we are using and take precautions when handling pigments that may have toxic ingredients. But we are fortunate to be living in a time when it is easy to obtain detailed information about our materials as well as a time when manufacturers are working to create less and less toxic formulas.

The discovery of a vivid green by Swedish chemist Carl Wilhelm Scheele in 1775 led to a fashion craze lasting for a century. Although Scheele knew that the pigment he developed was highly poisonous, he also realized that it was unlike any other green pigment available. It became so popular, that even after it became common knowledge that the paint was toxic, it was still being used for its vibrant color through the end of the 19th century. Gowns, hats, gloves and socks were dyed with it, sometimes making the wearer ill. The ingredient that made the color in Scheele's Green popular—arsenic—was also responsible for its deadliness.

Scheele's Green (later reconfigured as Paris Green and Emerald Green) was also used in wallpapers, insecticidal sprays used on vegetables and postage stamps. As the opening quote by William Morris highlights, the action of arsenic in the body was not well understood for a long time. Some people exposed to it would fall ill, while others with a similar exposure, did not. However, a pattern soon emerged—it was particularly lethal to children, the elderly and sickly.

The wallpaper in Napoleon's bedroom on St. Helena Island, where he died in exile, showed traces of Scheele's Green in the fleur-de-lis pattern printed on it. Humid environments, like that on St. Helena, can cause the arsenic to out-gas or flake off the paper. Although it isn't known conclusively, it is suspected that the arsenic in the wallpaper may have contributed to his death.

It is unlikely that green arsenic-colored wallpapers have survived and are still around today. However, Victoria Finley writes in The Brilliant History of Color in Art
, "Even as late as 1950 the United States ambassador to Italy, Clare Boothe Luce, fell sick from arsenic poisoning. The CIA suspected the Soviets and sent a team to Rome to investigate. They eventually found that the ceiling in her bedroom was decorated with pigments full of arsenic. A new washing machine had been installed in the room above. Its juddering had released arsenic dust, which she breathed in as she slept."

Many online art materials retailers now provide detailed information about their pigments, including which ones are still toxic. Be careful out there!

Save
Save