Voices of Experience

Greg LaRock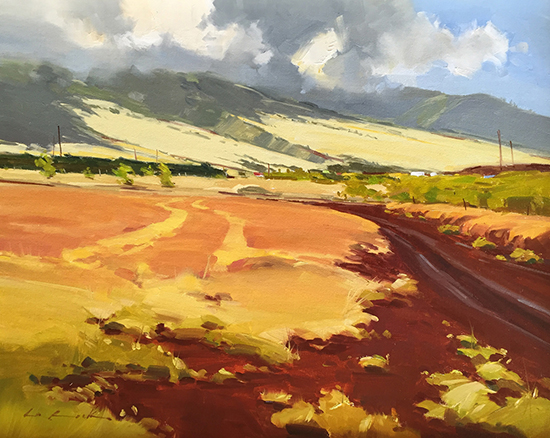 Roasted Reds 16 x 20" Plein Air Oil

"It takes two lifetimes to become a good artist."
Greg LaRock's powerful work is infused with the strong design skills acquired from a career in graphics. His keen sense of observation and vivid use of color create powerful paintings whether landscape, figurative or still life. LaRock can be found at most of the major plein air painting events. He has won awards consistently. He is a signature member of the Laguna Plein Air Painters Association, the American Impressionist Society and the American Society of Marine Artists. He inspires others by teaching workshops both in the United States and abroad.

First, can you tell us a little bit about your background? Did you grow up in California?

Yes, California native! I was born near the Pasadena area and grew up in Huntington Beach. I loved to draw as a kid—I'd spend hours doing it. Nobody in my family had any artistic background, but they encouraged the drawing and I kept it up. It wasn't until high school that I realized I was farther along the art path than most others.

My high school art teacher, Jerry Nicholson, was my first mentor. He recognized something in me and guided my path from about junior high on. We entered shows and I won a few awards. He was, and still is an awesome watercolorist and was interested in realism, which wasn't too popular back then. Being an average high school student, I felt I would get lost in the mix if I pursued anything other than the visual arts in college, so I gave it a shot. Working for a magazine during my later college years helped to solidify my future in the arts.

(LaRock graduated from Long Beach State University with a Bachelor of Fine Arts, Drawing and Painting degree.)

After college, I continued to work for the magazine for a couple more years until it went defunct. I then started my own graphics career and followed that for 18 years. I really never thought I could make it as a fine artist, so I kept with the regular paycheck in graphics. Many years later I wanted to get back to painting and was going to do it only as a hobby, but it became all encompassing after a year or so. I then discovered "plein air" painting (most of my college training was figurative) while watching a LPAPA demo at the beach. I thought that putting your feet in the sand while creating art was awesome, so I starting trying my hand at the landscapes. I was terrible at first with no idea how to get it to work, but after a workshop with (the unfortunately, now late) Ken Auster, my eyes were opened and I blossomed from there.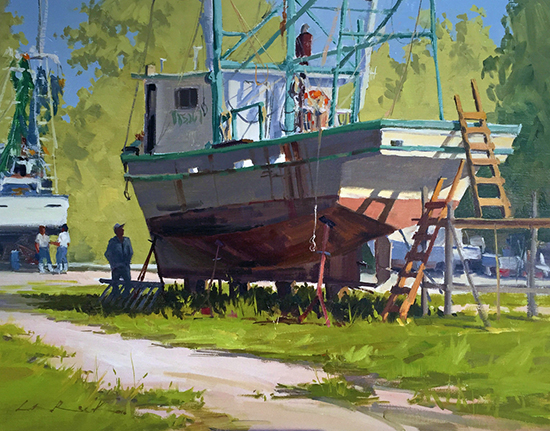 Get 'Er Done 18 x 24" Plein Air Oil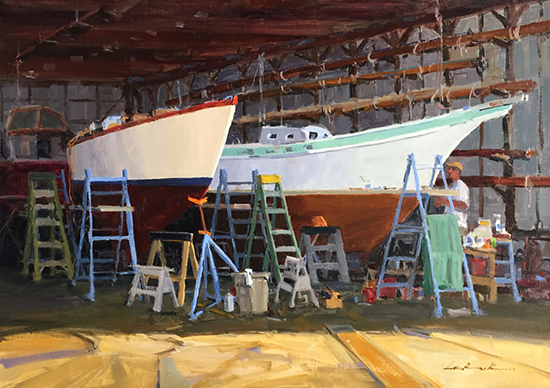 The Wife and the Mistress 24 x 36" Plein Air Oil

You've been painting on the plein air circuit for some time. Can you tell us a little bit about your experiences doing plein air events? Do they provide an income or do they primarily generate contacts with buyers, galleries and/or other artists?

They do all of the above! Although it depends on you level, collector base, how new you are to the scene, etc. When I first started to get accepted into the shows, nobody knew me. Collectors would look at my work and enjoy it, but they did not readily purchase at first. When I was juried back in the following year, they remembered me from before and sales started to trickle in. In the beginning, I viewed each new plein air event as cheap advertising—as my costs to do the event even without any sales were usually less than running an ad in the magazines. Plus, buyers and other artists could meet me, and view my work in person. It does take a little while to be recognized, taken seriously and accepted. As I grew with the shows and as an artist, I would look at different areas of the country and say to myself, "Well, no one knows me in the southeast, so let's try to do a show there". I now have a better gut feeling for how a show will work out. I might do one and the sales were slow, but I painted well, had a good feeling with the collectors, enjoyed painting the area, etc. So I'll return to that show. If the second year doesn't pan out, I'm done. Others have had consistent sales year after year and I'll continue to return if invited or juried back in.

As for experience, the plein air shows are awesome! Some of my best growth has come from the sheer panic of participating with the best artists in the country. You certainly have to bring your "A" game and push yourself! All I wanted were for the other artists to view my work and feel that I belonged at that level in the beginning—sales were the last thing on my mind! These types of competitions definitely get you out of your comfort zone. It's easy and safe to hide in your own studio, but shaking it up a bit by painting with your peers gives you a boost. Now, I also use the shows as a way to try something different. I will do at least one painting during the event that is a stretch for me—a difficult subject, larger size, or maybe a nocturne if that's new. By doing this you can make leaps in your growth. And if it doesn't turn out, just don't submit the work!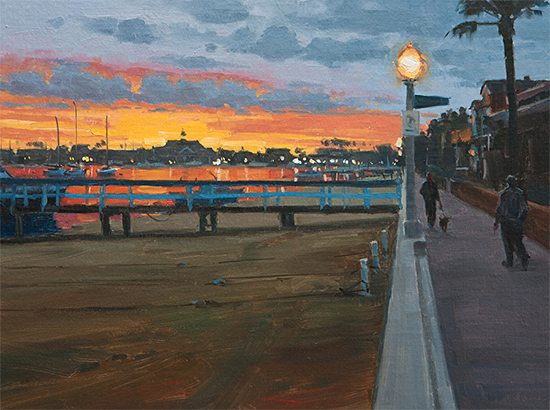 Night Walkers 14 x 18" Studio Oil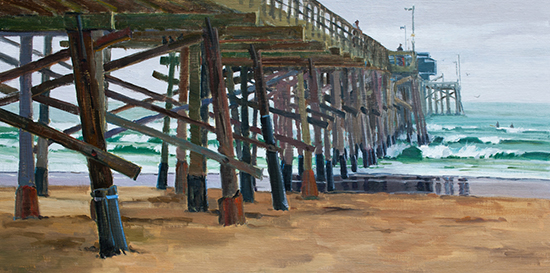 Stretched Out 18 x 36" Plein Air Oil

Have you had the opportunity to travel to and paint other countries?

Yes, I've taught in Italy and will usually sneak out and do a painting or two on a family vacation. The only difference is that I might bring a smaller pochade box that I'm not as comfortable with, but the painting is the same. Each area of the world brings its own challenges from the perspective of creating. If the light looks different, my goal is to try and capture it. Or grasp the "flavor" of the area.

"The beauty of painting in a country

where you might not know the language

is that the language of painting is universal."
The locals might not have a clue to what you're doing, but when they see your painting, it usually brings a smile or some compliment in a foreign tongue (at least they always sounded like compliments!).
What are your preferred working materials, and your processes for creating a painting?

If I'm giving advice to students, I tell them that their choice in materials is irrelevant to what others are using. Just find what works for you. Just because so-and-so, Mr. Superstar Artist uses it, doesn't mean you'll think it's the end-all, be-all. If you are able to afford to experiment, then do. With that said, for paint, I use mostly M. Graham oils with a few other colors from Michael Harding. I almost exclusively paint on Claessen's double oil-primed linen mounted to board. I use mostly Rosemary's Brushes, but have a bunch of generic hogs that I'll grab too. It all depends on the "spring" of the brush for me. I primarily use flats, but have been enjoying different shapes such as filberts, egberts and Rosemary's Daggers. I use a rigger or script brush for detail. I use Gamsol exclusively for turps, linseed oil for medium and always wear Nitrile gloves when painting with oils.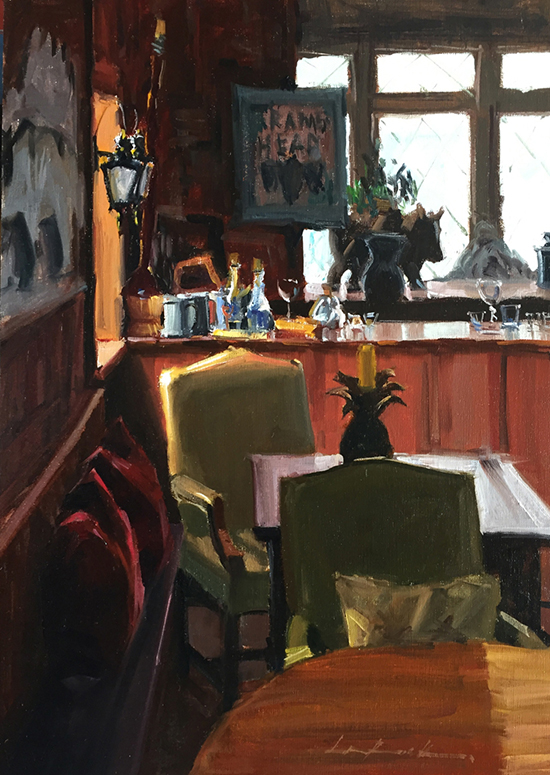 The Ram's Head Pub 20 x 16" Plein Air Oil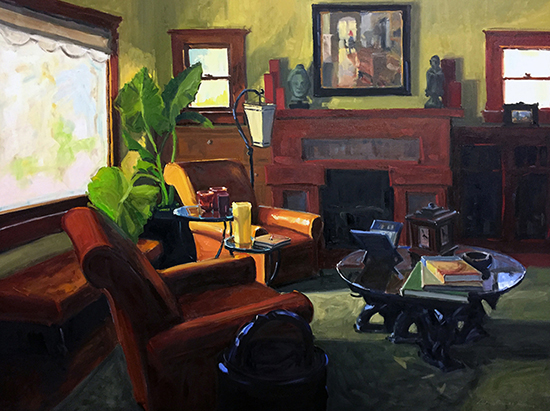 The Comfy Chair 36 x 48" Studio Oil

As for process, I mostly jump in. I will sometimes do smaller studies or look at my successful smaller paintings and see if they merit enlargement. Then I might try a large work based a plein air study.

I do spend an inordinate amount of time thinking a painting through. I have a mental checklist—so to speak—and a process that I do before I proceed with any painting. If I'm out doing plein air work, I'll walk around and view the subject from many directions. Is it better from closer up or farther away? Should I move over 20 feet to the right or left for a better angle, sit or stand, etc. I also try to determine if the time of day and lighting conditions are best now, or should I come back in the afternoon, when it's sunny? I also have to view the scene in my head as a finished painting. Nature is beautiful, but it's not always meant to be turned into a work of art.

Once something has piqued my interest, my mental checklist begins. I go through each part of the painting and try to solve the problems I foresee. Each area needs to be thought through. What will be the quiet passages? Where's my focus? Is there a theme? And, finally, is my ability able to pull off each area? Some scenes have a section or subject that you might not have painted before. I have to ask myself If I think I can capture it, or change it if necessary. If not, then I pass on the painting. Sometimes you're not ready for a scene yet and I'll wait years as my ability grows before coming around to it again.

After I've worked out what I want from all areas of a painting, and think I have a solution for everything, I begin. The challenge and fun is seeing if I can achieve my mental goal!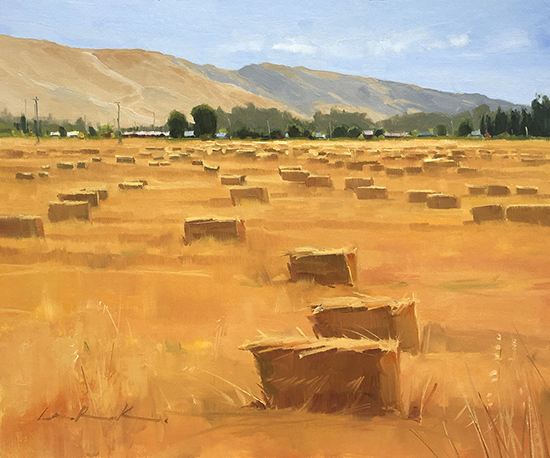 All Bundled Up 16 x 20" Plein Air Oil

For me, subject is irrelevant. I really don't care what I'm painting as long as I see it as a painting. I'm truly only looking at the organization of shapes and light/dark patterns. If those things line up in a way that I find interesting and exciting, then that's what I want to paint. Doesn't matter if it's a boat, flower, landscape, figure, etc. It takes awhile to view things like this, but I find that design and composition are everything. Most great paintings are rarely of one subject plopped in the middle of the canvas. It's the whole or the environment of a painting, never a portion of.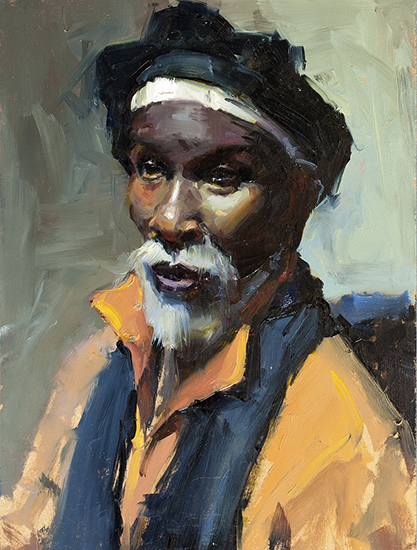 Mr. J. 12 x 9" Plein Air Oil


Do you teach any classes or workshops? What is your primary focus when teaching?

I love to teach and hold several workshops each year. I've been trying to do more travel workshops and bring what I have to offer into new areas. Teaching is also a great way to grow as an individual artist. It helps solidify your own belief systems. Plus, it's wonderful to share what you know and hopefully expand another student's artistic horizons. It also facilitates the growth and development of art as a whole. The more you can give a student, the more they are going to take those ideas and morph them into their own. That will spawn new ideas and we can all experience that growth together.

I try to teach the concept of painting—how to "build" a painting. Which materials you use and the paths to get there are endless, but there are some foundational items which are important to get across. I try to show the students how I think about creating a painting. I'll do a demo from start to completion and talk the whole way through. Students need to know what's going on inside an instructor's head and why we choose to do this or that. Then as I talk to each student, I'm looking to find out the direction they wish to travel—trying to show how it could be successful and what pitfalls to look for from their viewpoint. Just because I like to paint a certain scene, doesn't mean each student sees it that way. It's my job to figure out what they want and give them the tools to reach their own successes.

What words of encouragement or piece of advice do you give your students?

It takes two lifetimes to become a good artist. You're never going to get it all in this one so don't worry about when you start or what age you are. If you enjoy it, just do it and learn all that you can. Don't compare yourself to others. As long as you're growing as an artist, you're doing it right. The joy is in the journey not the destination.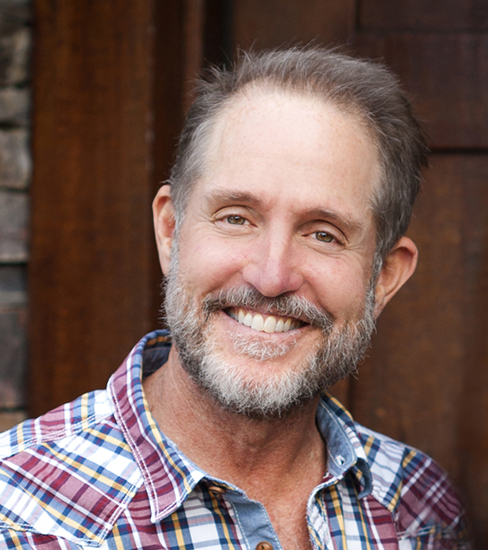 To see more of Greg LaRock's work, go to:
All Artwork © Greg LaRock

A signature member of LPAPA, AIS and ASMA, Greg LaRock has won ­numerous awards for his painting ­excellence including Artist Choice at both the Maui Plein Air Painting Invitational and Florida's Forgotten Coast Invitational, First Place at the Door County Plein Air Invitational, the Grand Prize at Easton, Maryland and the Distinctive Merit Award in the Laguna Beach Plein Air Invitational. He was also awarded the Callaway Gardens Plein Air Purchase Prize in Georgia. LaRock has been juried into four of the Oil Painters of America national shows and was an invited artist 11 times to LPAPA's annual Plein Air Invitational. He has also been ­profiled in Plein Air Magazine with an article on "Ideas for Better Paintings", featured in ­Southwest Arts' "Artist to Watch" ­column and included in a Jack Richeson Fine Art Series book "Plein Air New ­Mexico." A sought-after ­instructor for workshops, he resides with his wife in Orange, California.
Save
Save
Save
Save
Save
Save
Save
Save
Save
Save
Save
Save
Save
Save
Save
Save
Save
Save
Save