Having a Say
Perspectives No. 405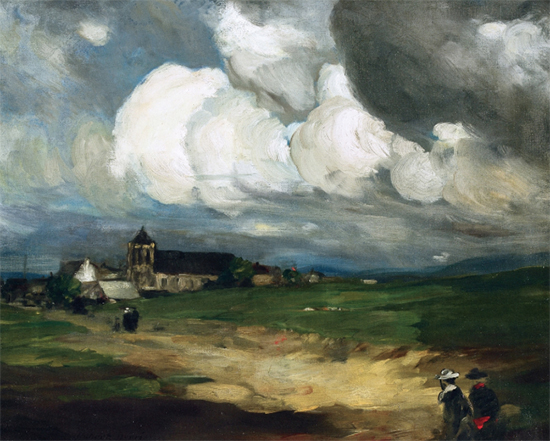 Spain 1902 Robert Henri

At moments of confusion and doubt, we return to reading the classics like The Art Spirit
by Robert Henri. We've written before about Henri's interesting life story and unlikely childhood. The son of a riverboat gambler, Henri was born near Cincinnati and grew up in the small town of Cozad, Nebraska, founded by his father, John Jackson Cozad. When Henri was 17, he and his family fled the area, after his father had shot a neighboring rancher in a dispute over pasturing cattle on his land. Although later cleared of wrongdoing, John Cozad and his family had moved on—first to Denver, then on to Atlantic City. Robert dropped his his last name of Cozad and went by Robert Henri.

Henri went on to become a well known artist and teacher, studying at the Pennsylvania Academy of Fine Arts and the École des Beaux Arts in France. He taught at the New York School of Art and the Art Students League. His book is a classic for all artists.

He wrote passionately of the importance of artists as witnesses to life, both the struggle and the beauty.

"Painting is the expression of ideas in their permanent form. It is the giving of evidence. it is the study of our lives, our environment. The American who is useful as an artist is one who studies his own life and records his experiences; in this way he gives evidence. if a man has something to say he will find a way of saying it."

"There are those in the community who regard the artist as a mere entertainer come with cap and bells to amuse and perform graces before a paying public The true artist regards his work as a means of talking with men, of saying his say to himself and to others. It is not a question of pay. It is not a question of willing acceptance on the part of the public. If he is welcomed and paid it is very good, but whether of not he must say his say."

"I have no sympathy with the belief that art is the restricted province of those who paint, sculpt, make music and verse. I hope we will come to an understanding that the materials used are only incidental, that there is artist in every man; and that to him and the possibility of development and of expression and the happiness of creation is as much a right and as much a duty to himself, as to any of those who work in the especially ticketed ways." - Pleiades Club Yearbook, 1918

Our objective is also to teach and help other artists to "have their say", in their own unique ways. Join us for one of our new live online oil (and soon watercolor) painting workshops to learn important fundamentals of picture creation, and to gain valuable insights into the creative process from our 40+ years of experience as professional artists and teachers. Interested? Click here.