Voices of Experience

An Interview with Karen Blackwood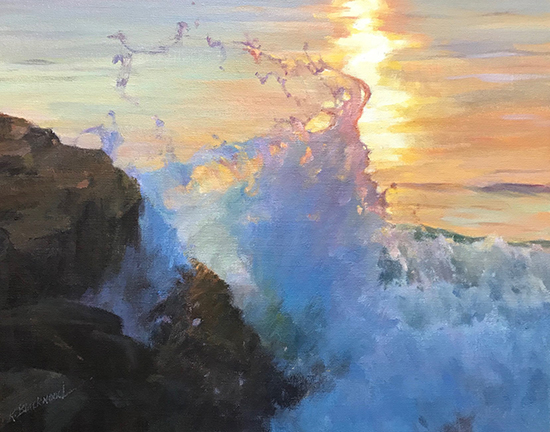 Illumination 16 x 20" Oil
First Place 2019 Oil Painters of America Spring Online Juried Exhibition

Karen Blackwood is a connoisseur of waves. She has painted both the Pacific and the Atlantic coastlines studying the waves—their crests and falls, their moods and changes from dawn to dusk, their transformations from season to season. Although her artistic career has been diverse, as a New York art director, a portrait artist and a landscape painter; it is obvious that painting the sea is her true passion. Blackwood is a Signature Member of the American Society of Marine Artists. Her paintings have toured nationwide in both museum and juried gallery exhibitions and her work has been included in national and international arts publications.

Blackwood wrote to us about her life in the fine arts, her travels and painting processes. She shares a selection of her marine work with us.

"I was the typical young artist getting praise and, of course, loving it. The positive reinforcement was a great way to overcome shyness and by second or third grade, I had the reputation as the classroom artist. This positive reinforcement stayed with me throughout my public education.

While I loved art, my plans were to become an elementary school teacher. I didn't realize I could pursue fine art in college, and was actually surprised when a friend's mom asked why I wasn't planning to enter the art program at the University of New Hampshire. That changed everything! I developed a portfolio in my senior year of high school and was accepted into the UNH Fine Art Department. I had two professors who were important in my development as an artist, Conley Harris and Sigmund Abeles. I felt lucky to have been trained in the academic tradition by two established and serious fine artists. I developed an appreciation for the serious study of art and approached my work with an intent to communicate something beyond surface beauty—to communicate by being honest in my work and putting down what I saw in the most true way possible.

You previously worked as an Art Director in New York. Did that work inform your current painting?

I think my earlier years as an Art Director in New York City have been beneficial in the way I've learned to approach my art as a job. This is the work I do, and the work needs to sell. Marketing the work is natural to me and trying to maintain a high standard that keeps my name associated with a top tier keeps me on my game.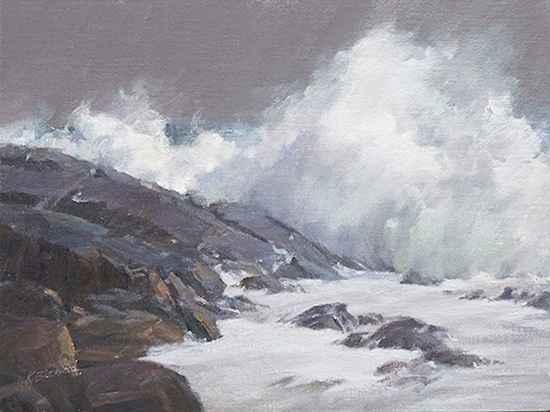 Atlantic Storm 12 x 16" Oil
Seascape Award of Excellence, 28th National Oil Painters of America Juried Exhibition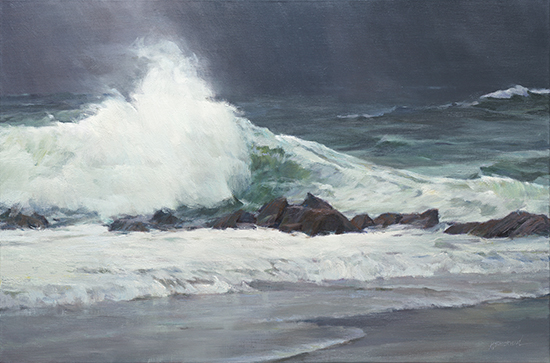 Fury 20 x 30" Oil

Please tell us more about your process and your inspiration.
I work primarily in the studio but feel I can't achieve the "alive" factor in my work without getting out and doing plein air studies. I keep many of my plein air pieces in my studio as reference for accurate colors, energy and atmosphere of various days along the coast. I think of my plein air studies as information gathering from nature.

Moving to Newburyport, Massachusetts, a small coastal community, allows me to take frequent walks on our local beach. Seeing waves crash along the rocks and shore excites me more than fireworks on the fourth of July. There is a life force and an energy that makes me feel like a young child seeing the ocean for the first time. Literally. I was at another beach in the area jumping onto the jetty as 8 to 10-foot waves came in and my excitement must have been visible because a local, non-artist, asked if this was my first time seeing the ocean. I have a great love for it and I have a healthy fear of its enormous power. It is that duality that draws me to it time and time again.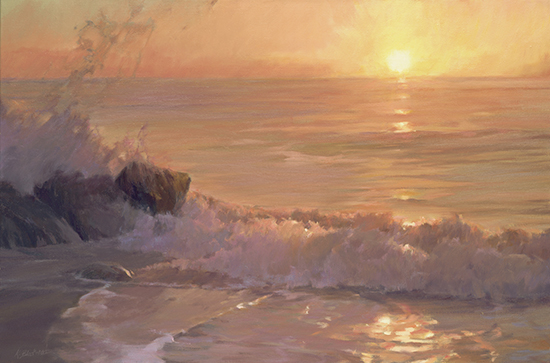 Dawning 24 x 36" Oil

I take hundreds of photos, to try to record the day but the photos never do justice to what I'm seeing and feeling. I spend a good deal of my time just studying the ocean by watching certain parts of a wave to get its rhythms.

Before I start a studio painting, I do a thumbnail sketch from my photo reference. I prefer to use a fairly low quality print-out of the image rather than a computer projection, to keep me from trying to copy the photographic picture, and instead, to rely on my memory of what excited me about the scene. The sketch helps to work out the value and design of the painting although I find that the drawing process itself helps me to actually find my pathway to the painting. I begin to see patterns and connected shapes and I get a deeper understanding of what I am about to paint. I love having done this work beforehand, allowing me to be freer when I have the brush in my hand.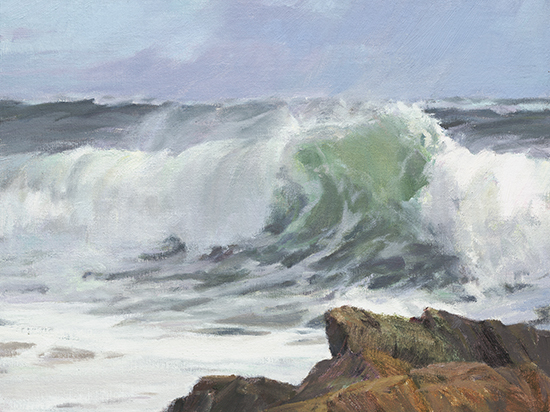 Green Crest 12 x 16" Oil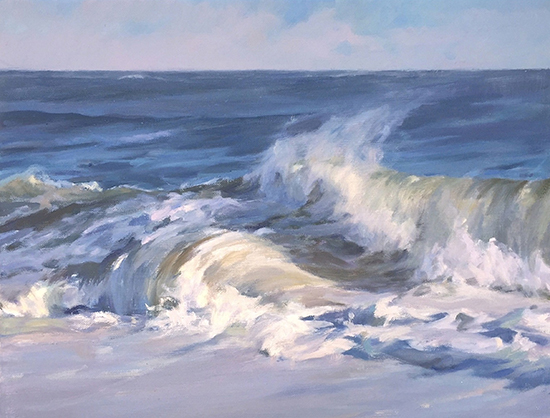 The Surge 14 x 18" Oil

In addition to oil, in what other mediums have you worked?

I have worked professionally in watercolor as well as in acrylic. In California, I used to do watercolor paintings dealing with the figure. I did yearly portraits for Deirdre Hall, of the daytime soap, Days of Our Lives. I also did landscape paintings in acrylic and full scale murals of my landscapes. One estate home with a mural in the entry and 9 commissioned paintings in the dining room is always being used as a television shoot location. My mural has been seen in many productions including Beverly Hills 90210, and the recent Jim Carey television series.

I still prefer to use oils and may test the water soluble oils at some point. I'm always interested in lowering my exposure to the toxicity of our tools. For my oils, I am mostly using Michael Harding Paints. I just received an award given in Michael Harding Paints which is like Christmas in July! My palette is a limited one. I use Titanium White, Cadmium Yellow Pale, Alizarin Crimson, Ultramarine Blue and Viridian Green. I sometimes add Transparent Yellow Ochre and Cerulean Blue although both of those colors can be mixed from my limited palette. For canvas, I use mostly Sourcetek oil-primed linen and Raymar Art oil-primed linen panels. For larger paintings, I used Centurion Deluxe oil-primed linen stretched canvas.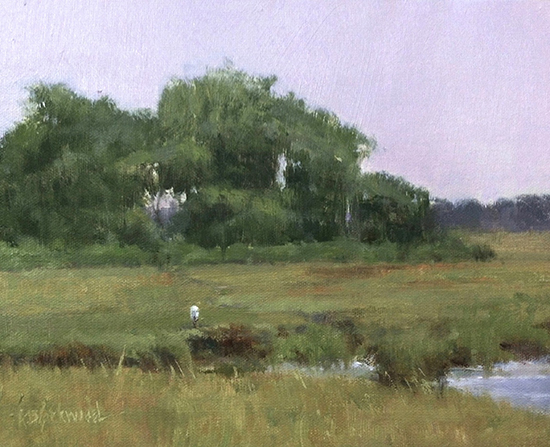 Connecticut Marsh 8 x 10" Oil

Have you had the opportunity to travel to other parts of the world to paint?

Since moving to the coast, marine work has been my primary focus. I have painted in many parts of the United States but have yet to paint in Europe where I have traveled many times. A recent trip to England with my daughter allowed me to see the Joaquin Sorolla Exhibit at the National Gallery. I was so excited to finally be able to see his work in person and was blown away by how far it exceeded my expectations. The colors and depth in his work have not been captured in print. Seeing that depth and color in person along with his passionate and intuitive brush work literally brought me to tears. He is truly humbling!! I love to look at his work for inspiration, and that of John Singer Sargent and Winslow Homer. They are the impossible bar I set for myself.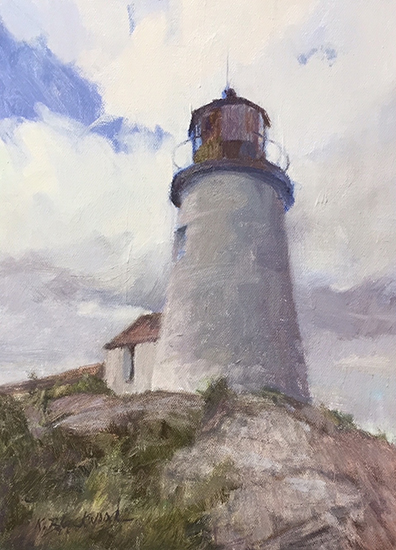 Burnt Island Lighthouse 12 x 9" Oil

The advice I would give to beginning and emerging artists is to commit to your growth as an artist. If you put in the work and the time studying your craft, you will begin to develop the habits of a professional artist. Think of it as your job and put in the hours of paint time. The excuses for not painting are usually just fear of failure. Ignore the excuses and make time to paint.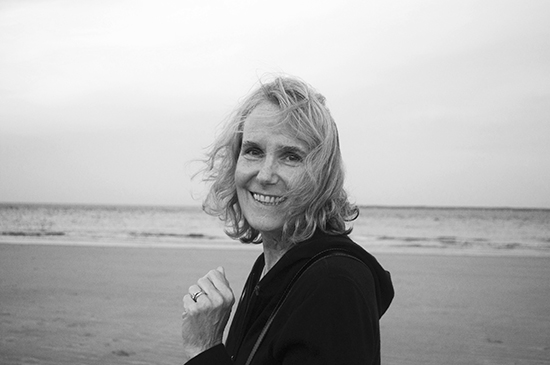 To see more of Karen Blackwood's work,
go to: https://karenblackwoodfineart.com
You will find her current workshop schedule here.
All artwork copyright Karen Blackwood