Voices of Experience

Lana Ballot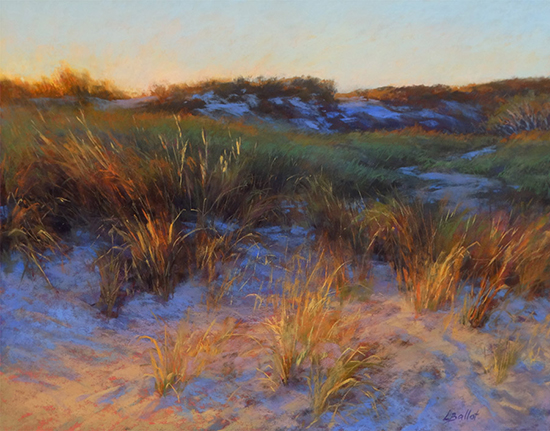 Sunset Filigree 14 x 18" Pastel
The beaches near her Long Island studio provide infinite inspiration to pastel artist Lana Ballot. She captures the subtle colors of the grasses and the translucency of the water in her luminous land and seascapes. Ballot was born in Russia. It was after she moved to the United States that she began to study painting in-depth and eventually to become a full-time artist. We asked her to begin by telling us about her background in Russia.




As a child in Russia, drawing was my favorite pastime. My skills were noticed and I moved from drawing paper dolls for girls in my kindergarten to doing sketches for the school newspaper when I was a teenager. Nevertheless, when the time came to choose a career, the thought of applying to an art college seemed intimidating. The college education system in Russia, at least at that time, was very stringent. The entrance exams were held only once a year, and we could only apply to one college and one major at a time. If we did not pass, we had to wait for the next year's enrollment season. Having had no special art training at school, I did not feel confident enough in my drawing skills to believe I would pass a timed drawing exam required by an art college. I did not take a chance, and chose languages as my career.

After I came to the United States, I felt that I was given a second chance to build my life doing what I love the most. I enrolled in the Studio Arts Major at Stony Brook University, New York. Even though I took a detour, I'm happy that eventually I ended up painting.

What inspires you in looking for subjects to paint? Do you work primarily en plein air?

My idea of what makes an interesting painting has evolved over the years. As with many beginners, I used to be too focused on a subject matter, not paying enough attention to the design. While I still favor certain subjects over others (e.g. seascapes, dunes), now I first look for interesting abstract qualities in a scene: the pattern created by light and dark shapes, the contrasts in color temperature and chroma.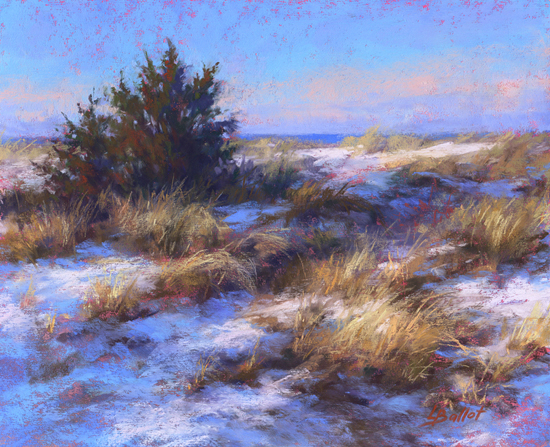 Snow in Cedar Beach Dunes 8 x 10" Pastel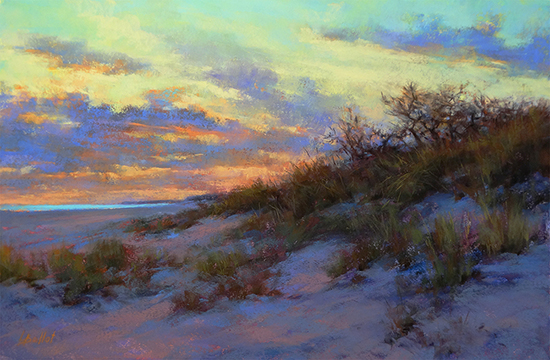 Until Tomorrow 12 x 18" Pastel

In my experience, both plein air and studio work are important and benefit each other. I remember unsuccessfully trying to convince the teacher in my first landscape class to let me paint outdoors. Before that I only worked from life whether it was a still life or a model. On my own time, I did take my paints outdoors. It was challenging, but I felt it was the only way to do a landscape. However, after graduating from college, I had to learn to use photo reference and my plein air studies if I wanted to paint landscape more often. Having an office job did not leave me much time for plein air. Thankfully, my previous experience working outdoors helped me a lot with seeing the shortcomings of the photos, particularly in color and values. Now, as a full time artist, I'm trying to make the most of the warmer time of the year, painting outdoors as much as I can. At the same time, studio work is just as valuable. I can experiment with composition, learn new techniques, try different surfaces, work on larger paintings.

Can you describe your process working in pastel and what your preferred materials are?

I begin by doing small value and color studies. It significantly improves my paintings—from composition to cleaner colors to more confident mark making. It's a way to visualize a future painting, to really think it through.

Very often I start by doing a wet underpainting, usually using NuPastels to block in larger shapes and washing them down with water or isopropyl alcohol. I prefer to start with a white or light neutral color surface. I like to pick my own base colors for the shapes in the scene. I rarely use local colors in the underpainting. I have my favorite underpainting colors—different purples and pinks. They are great colors to establish the temperature contrast right in the underpainting. They also play very well with greens and blues, which I use a lot. This helps create color depth and texture. I make sure I use a very light touch and let the color "breathe," particularly in very dark areas.

I have tried different surfaces and brands of pastels and have my favorites. For smaller and medium-sized works, I prefer to use UArt in 400 grit—perfect for a less detailed landscape. When painting larger, Art Spectrum Colourfix Supertooth Board works beautifully for coastal and seafoam textures. Occasionally, I prepare my own surfaces using pastel grounds from Art Spectrum or Golden. I like the textures I can create with the grounds, keeping the brush marks visible, which in turn allows the pastel pigment to imitate this appearance.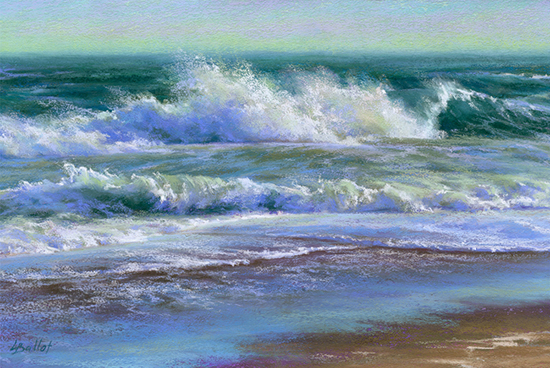 Tireless 11 x 17" Pastel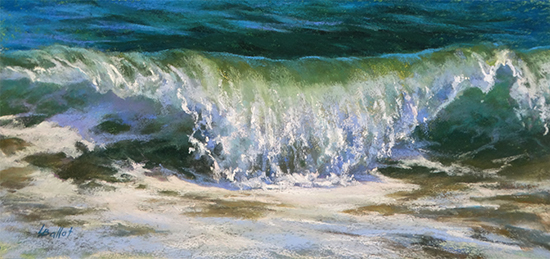 Whimsical Curls 9 x 18" Pastel

My pastel box has many brands. It's often quite impossible to tell them apart. I use the side of a stick to make wider, more paintbrush-like marks, so I take the wrappers off my pastels. Of course, I can still tell some of them apart by their unique texture or shape.

My favorites in softer pastels are Terry Ludwig, Schmincke, Sennelier, Unison, Blue Earth, Great American Art Works, Richeson. I love slightly firmer but still soft Mount Vision pastels for the mid-stage of a painting. They have excellent blues and neutrals that are so important for coastal scenes. I keep replacing my Terry Ludwig blues—I use them a lot!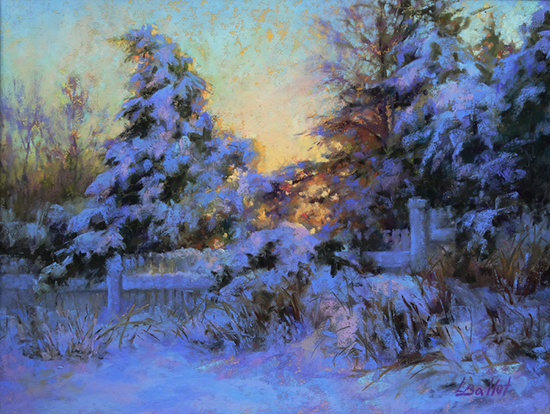 Driveway Wonderland 9 x 12" Pastel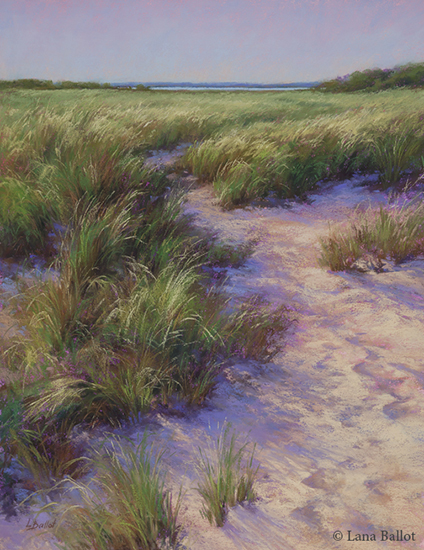 Through the Grass 24 x 18" Pastel

Have you worked in other mediums as well as pastel? What books or journals have provided inspiration for you?

In college I worked mostly with oils. I also did some watercolors and pen and ink. I wish I could say I fell in love with pastels at first try, but I did not. Ironically, one of the last art classes I took before graduating was a pastel class, but it was not an exciting class. After that, I put my pastels on a shelf until a couple of years later when I discovered how perfect they were for quick plein air studies. I saw some similarities in working with color in both pastels and oils. In addition to that, I did not have to deal with solvents, drying time or messy clean up. And once I tried working on sanded paper I knew that pastel was my medium.

Once I re-discovered pastels, I wanted to learn everything about this medium. I feel so fortunate that one of the first two pastel books I bought was Albert Handell's Painting the Landscape in Pastel
. I still look at it for inspiration, as well as his other books. Through Pastel Journal, I found many other artists whose work was very inspirational to me—Kim
Lordier, Barbara Jaenicke, Terri Ford, Bill Cone, Nancie King Mertz, Liz Haywood-Sullivan, Richard McKinley, to name just a few. Later, I discovered the wonderful pastel community on Facebook where I see the latest work of amazing artists currently working in this medium. It would be a very long list if I tried to give credit to every one of them for the inspiration they provide, but I am very grateful for that!

Have you had the opportunity to travel to paint other countries and landscapes?

Though I do believe that there are plenty of inspiring scenes right where I live, it was a special experience setting up my easel on a street in Cortona or high up on a hill overlooking a Tuscan valley. This was during the week-long plein air workshop I was teaching last summer in Tuscany, Italy. In this "artists' paradise," it was particularly important to remember that design comes first. An aged door, or an old cobble street are not necessarily the best choices to paint unless the light reveals an interesting value pattern in a scene.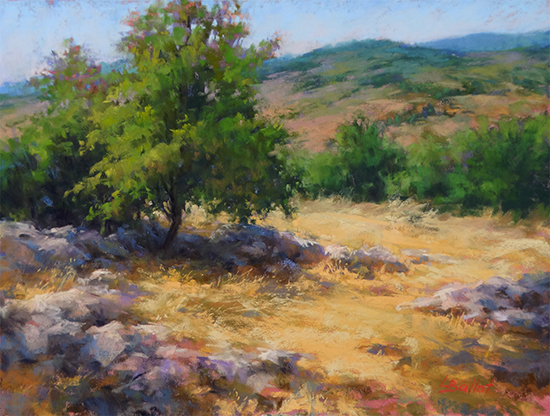 In Tuscan Hills 9 x 12" Pastel

This year I'm taking a group of students to the Amalfi coast. Seascapes are one of my favorite subjects, and I am particularly excited to use my turquoise blues for Mediterranean waves. I'm also looking forward to having more vertical elements in my compositions.

Footprints in the Sand 11 x 14" Pastel
What words of encouragement or piece of advice would you give a beginning artist?

A lot of beginning artists get discouraged too soon when they don't see great results. We seem to accept that it takes a lot of practice to learn to play a musical instrument but when it comes to visual arts we often feel like we can just step to the easel and create a beautiful painting. When this does not happen we start doubting if we have what it
takes. Be prepared that it might take some time to get good, work hard but enjoy the journey.

This is said a lot, but here it is again—draw as much as you can. It's the foundation for everything. Good drawing skills will give you confidence in any medium.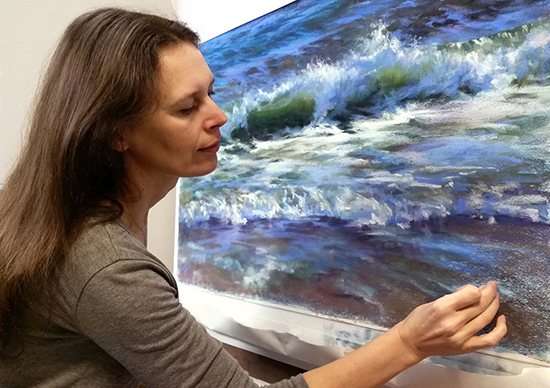 Lana Ballot is a Signature Member of the Pastel Society of America. Her work has been exhibited and won awards in National juried shows. In 2015 and 2017, Lana's work received Honorable mentions in the Pastel Journal's Pastel 100 competition.
To see more of Lana Ballot's work, go to:
All Artwork © Lana Ballot