Let's Go!
Perspectives No. 356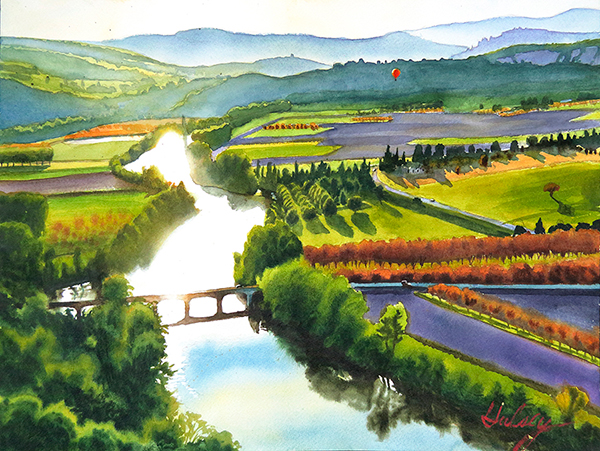 Soaring Watercolor John Hulsey
If you love to travel and paint, as we do, then, like us, you are probably always interested in gathering "intel" on beautiful, unspoiled places to paint. Some of the best intel can come from friends who also travel. We always enjoy hearing about their experiences. Above all, we want details. Was it hard to get to? Are there crowds to deal with? What time of year is best? What is the light like? What are the most interesting sights to see? Our curiosity knows no bounds.

Friends have recently returned from a long and rambling trip to Spain, France and England. One of the places they visited was the village of Domme, in the Dordogne Valley of France. In our article, A Painting Trip to the Dordogne Valley, we described our visit there years ago in the springtime. They became interested and added it to their itinerary, renting a car and driving from the Loire Valley via beautiful back roads. Like all great journeys, getting there was half the fun. They stayed in the same marvelous old hotel we stayed in and had written about. We were very interested to hear about their visit, the places they went, the food, the light, the weather this time of year (September), and every other detail about their trip.

We do this out of genuine interest, but also for planning our future workshops. We are currently setting up our workshop schedule for 2019 and 2020 and up-to-date information like this is essential to the process. Are we going to offer a painting trip to the Dordogne for next year? Very likely. We are also considering Aix-en-Provence again, Scotland, Ireland and several domestic sites as well. We love creating these painting holidays because it is so much fun to travel in the company of other artists. Our last trip, to Tuscany in June, (see: Art Among the Poppies, A Watercolor Painting Holiday in Tuscany), was even better than we could ever have imagined. Each day was filled with trips to fascinating villages, plein air painting, wonderful food, wine, weather and happy people. We'll do it again, you can be sure.

Do you know of a favorite painting spot somewhere in the world? Let us know. We'd love to hear your stories and recommendations. Who knows—we might just add it to the agenda. Life is short and the world is very big—so, let's go!

For a step-by-step demonstration of the watercolor painting, Soaring, above, click here.