Voices of Experience

Lorenzo Chávez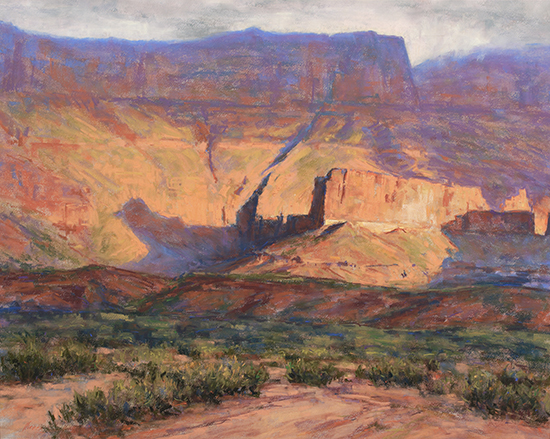 Here Comes the Sun 24 x 30" Pastel


"Start today. Every moment is precious.

Paint or draw anything that moves you."

Lorenzo Chávez is passionate about the landscape of the American West. He has devoted his artistic life to painting the intense colors and textures unique to the western landscapes, particularly of Colorado and New Mexico. Chávez is recognized for both his pastel and oil paintings and has exhibited in prestigious exhibitions across the country winning several major awards. Born and raised in New Mexico, he currently resides in Colorado. He wrote to us about his first inspirations, his mentors along the way, and his travels around the country and world, always returning to his deep connections to the American Rocky Mountains.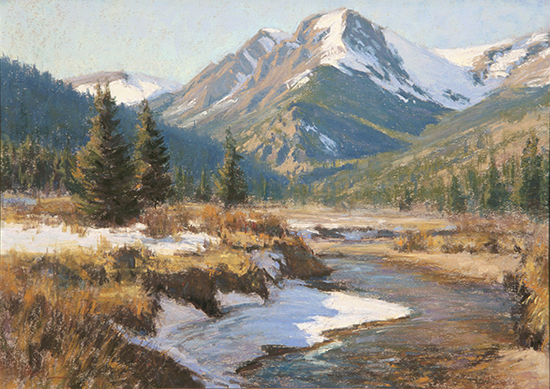 Blue Sky over Colorado 16 x 24" Pastel

What is your first memory of an interest in painting and the fine arts?

I was probably 10 or 11 years of age. Our family visited the old Albuquerque Art Museum located at that time by the Albuquerque Sunport. I remember viewing some paintings that really struck me. I remember after viewing them feeling this wonderful elation. It felt as if I had reached another plane of human existence—a higher more profound moment of living. Later I found out that the works I saw that day were examples of the early Taos Society artists' works. From that moment on I have had a never-ending passion for things that are creative. I still get that sensation while looking at great fine art, listening to inspiring music, reading great poetry or fine writing. Living in Albuquerque, New Mexico was influential—the landscape and the multiple cultures that live in the area all had, and continue to have a profound effect on my life as a creative spirit. As I began this journey into the arts, I have had the good fortune to meet people along the way that have been very encouraging about my pursuit in the arts. My high school art teachers and childhood friends enjoyed what I created and also purchased works from me. By the time I was in high school, I was focused on finding a way to live a creative life.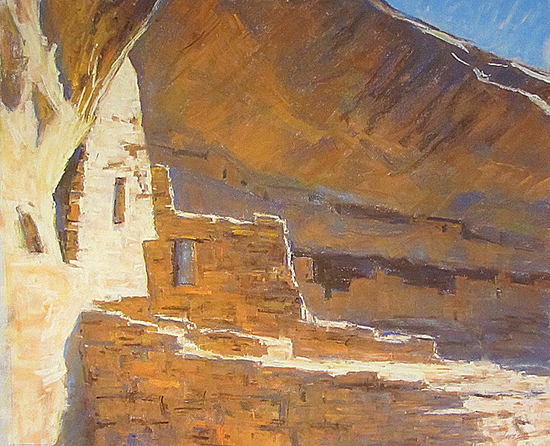 Pueblo of the Ancient People 20 x 24" Oil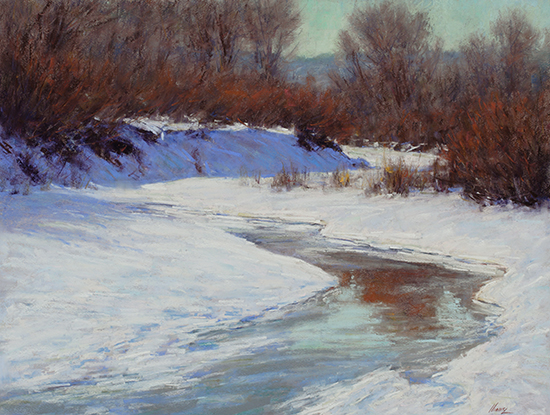 Cherry Creek in Winter 18 x 24" Pastel



Glacier Creek Winter 16 x 20" Oil

Did you receive a formal education in fine arts? Is there one mentor or teacher who most inspired you in your work?

When I finished high school, I decided to move to Colorado to study the arts at the Colorado Institute of Art in Denver. I graduated with honors in the early 1980s. I worked as a graphic designer for a while and painted and studied fine art on the side. I found all along that if I just pursued my passion I would meet people that helped and inspired along the way. I was lucky to first meet my wife, Dolores, who has been an unending supporter and very encouraging all along. We have been married for 32 years now. While attending the Colorado Institute of Art, I met Ned Jacob who has been a major inspiration for me going all the way back to my first seeing his works at the Fenn Gallery in Santa Fe. I was also inspired by Wilson Hurley who lived in Albuquerque. I eventually met him through gallery dealers of mine and was invited to visit his home and studio at the Foothills of the Sandia Crest east of Albuquerque. An early mentor in Denver was Pawel Kontny. He was a major reason I am now a fine artist. He hosted my very first exhibition of fine art works, mentored me, and introduced me to art dealers, artists and picture framers in the Denver area. He basically launched my fine art career in the mid 1980s. Since then, art is all I have done and all I hope to continue to do.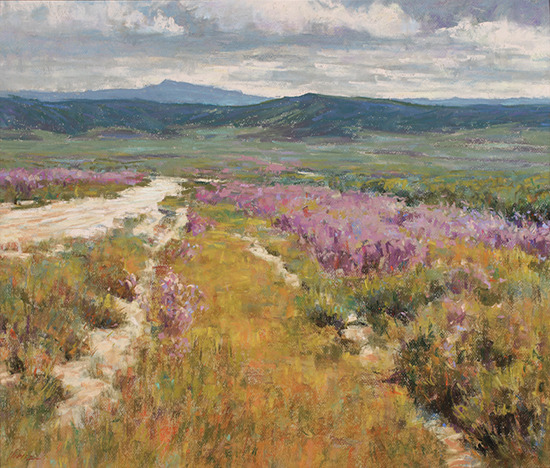 The Master's Bouquet 20 x 24" Pastel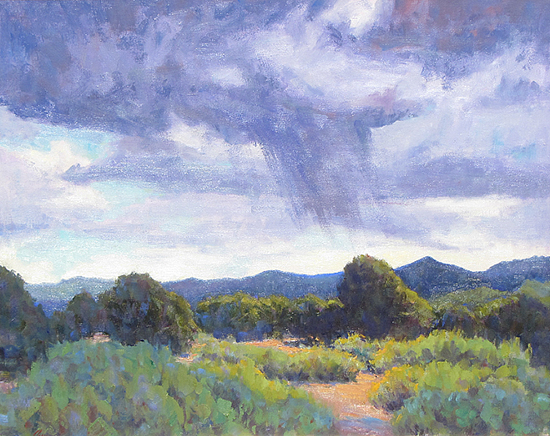 Giving Rain 24 x 30" Oil

You work in both pastel and oil. Which do you consider to be your primary medium?

I love both painting mediums. Really, the medium does not matter as much as the passion to be creative does. My fine art training began with oil paints. I have never taken a class in pastel. Currently I enjoy working with both mediums equally in the studio and out on location. The big goal outdoors is to observe and study with all my senses what light and atmosphere is doing to and with objects in nature. Indoors the goal is to focus on great design and to amplify the feeling I got from the outdoor experiences.

In my pastel work I first started using Rembrandt pastels and Canson Moonstone pastel paper. I still use them. Since beginning, I have added virtually every pastel brand that I am aware of and have tried many different substrates to gain effects of texture.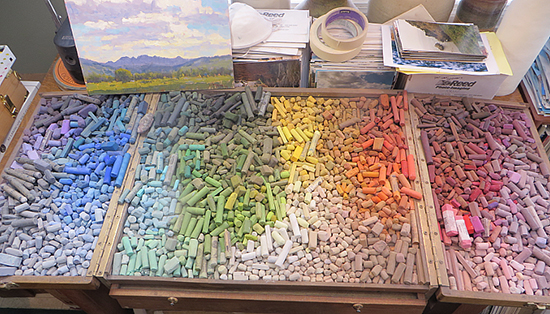 Studio Pastel Palette of Lorenzo Chávez

My training in oil paint began with using the prismatic palette and the Rubens palette advocated by many fine artists who studied at the American Academy in Chicago. I have tried many palettes from a very limited 3 primary colors plus white, a muted color palette that is close to the Anders Zorn palette—Black, Burnt Sienna and Yellow Ochre plus Titanium White. Plus, a very full palette like the one Nelson Shanks used with about 20 colors.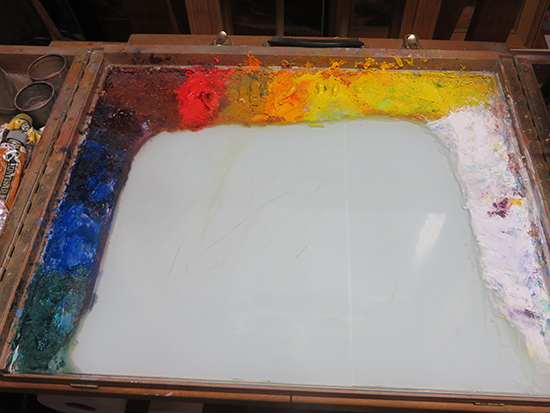 Studio Oil Palette of Lorenzo Chávez

What sparks your creativity? What other artists' work do you look at for inspiration? Does travel inspire your work?

I still love with my whole heart the work of the Taos Society of Artists. I study and get inspiration from many schools of art from realism to abstraction. My list is so long but here are a few: John Singer Sargent, Joaquin Sorolla, Anders Zorn, Willard Metcalf, Isaac Levitan, Nicolai Fechin, Maynard Dixon, Edgar Payne, all of the California Impressionists, the French landscape painters of the Barbizon, the Canadian Seven, the French Impressionists, the American Tonalist School, the Abstract Expressionists, Native American crafts and the art of the Spanish in early New Mexico. Also, great music, writing, poetry or movies—anything that stirs the heart.

I love to travel to new locations. I have painted in every state in the western U.S. including Alaska and Hawaii and hope to paint more of the eastern states. I have set up an easel in Ireland, France, England and Italy. I find the America Southwest and the Rocky Mountains to be the most inspiring mostly because I consider this area home and have deep feelings for it.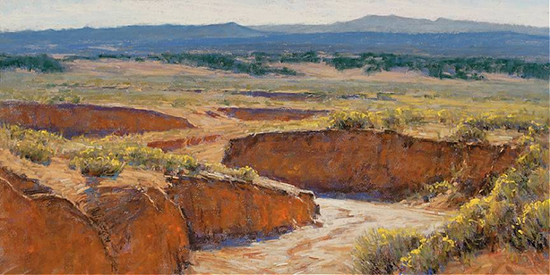 Across the Miles 14 x 28" Pastel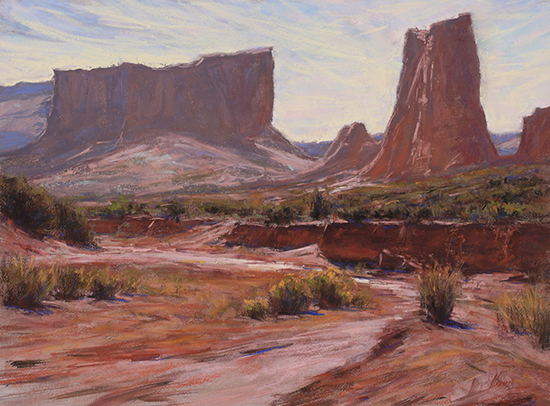 The Wild Country 16 x 22" Pastel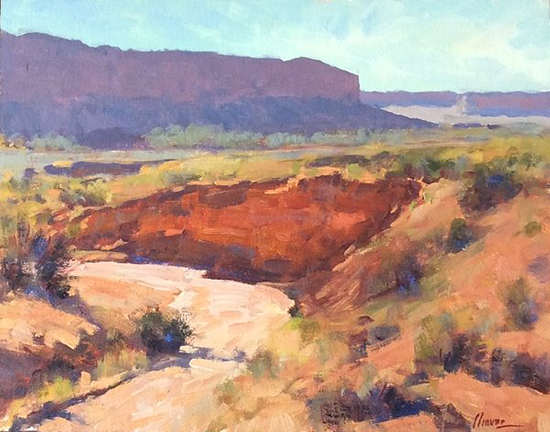 Western Dry Wash 11 x 14" Oil

Tell us a little about your painting process.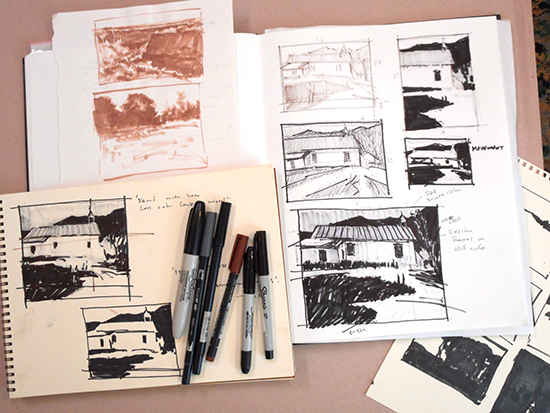 My process is to first find an interesting subject such as a light condition or concept. Then I do whatever I can to get the painting started. Sometimes a thumbnail sketch in a sketch book or drawing on paper or canvas, maybe starting with abstracted washes of thin oil or ink, doing a tonal mass block in. Basically, anything to get the creative ball rolling. Sometimes I do all the preparatory work and other times, when I feel bold or gusty, I jump right in.

I love painting in both the studio and outdoors. I find outdoors is where the inspiration is gained. After too much studio work, I must get out and be filled with inspiration again. This happens best for me in Nature.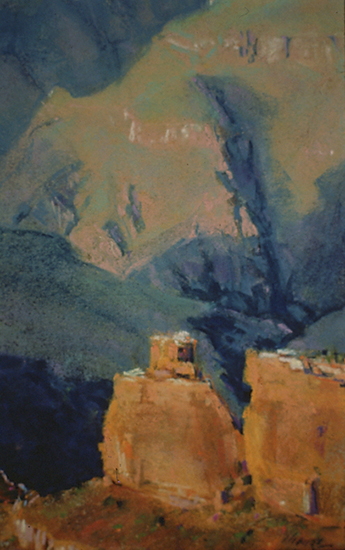 Canyon Abstract 14 x 10" Pastel
Chávez teaches workshops throughout the United States and at his art studio in Parker, Colorado. (Check his website listings for current locations.) His advice to painters just starting out:

The best advice I can think of is to start today. Every moment is precious. Paint or draw anything that moves you. Do not worry about talent. Just begin and do it often. Our confidence with art comes with doing it over and over and over again. Try to have fun creating, love what your subject is and paint it in any style by which you are inspired. You have probably seen this quote but here it goes again: "Let what you love be what you do."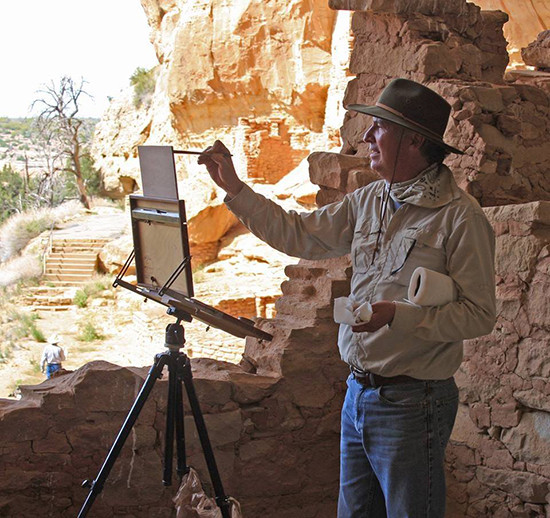 To see more of Lorenzo Chávez's work, go to:
All artwork © Lorenzo Chávez

Save
Save
Save
Save
Save
Save
Save
Save
Save
Save
Save
Save
Save