Making Your Mark

Perspectives No. 311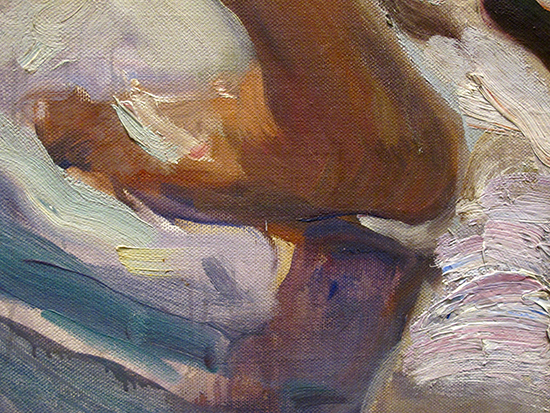 Detail of Sorolla Painting, Vision of Spain

"Every artist dips his brush in his own soul,

and paints his own nature into his pictures".

- Henry Ward Beecher
It is true that we must each find our own voice in our art, and that a part of that journey of finding our unique expression is in learning the craft of making art. When we first started painting, the impulse was to get right into the paint and see what might happen. No craft, no plan, no technique—and to be honest, we didn't care. We both loved painting and drawing and most of all, we loved big canvasses full of color. The results were not important—just the activity. It was a time to explore freely what paint could do unhampered by any formal methods or limitations.

Eventually, though, we found that we could benefit from some training in the craft of pushing paint around. It doesn't matter if it is abstract, impressionistic, graphic, traditional or other, it is just extremely helpful to know the technical procedures and the possibilities of what has been discovered in the world of painting thus far. This knowledge helps to make our efforts more efficient and our communication more powerful. We think of it as having a toolbox at hand, full of every possible instrument to serve whatever ideas we wish to express. It is best if one can gain these tools and knowledge while young, perhaps by studying under a master painter. For most of our generation though, out of art schools in the free-wheeling early 1970s, that knowledge had to be hard-won after graduation, often after years of slow discovery. Now, after more than forty years behind the brush, we are beginning to think that our toolboxes are getting well-equipped.

Richard Schmid has said that to make a good painting, we shouldn't waste effort correcting what is on the canvas—just to make each stroke the right one from the start! We used to chuckle at that concept, because it seemed impossible to actually know what stroke would be perfect each time. After all, we grew up feeling our way through paintings and course corrections are a part of that process. But now, we are taking more time to study our work in between strokes and have realized the wisdom of that approach. By sitting back, sometimes for quite awhile, the picture tells us what is needed and where. It is another, deeper form of knowing and draws on experience and intuition. Suddenly, the shapes and colors are there in our minds, and all we need do is apply them. This is the same for any technique or method whether brush or knife. We might be slowing down as we have gotten older, but we like to think that, by taking more time, we are surely getting better.
Save
Save
Save