Voices of Experience

Malcolm Ludvigsen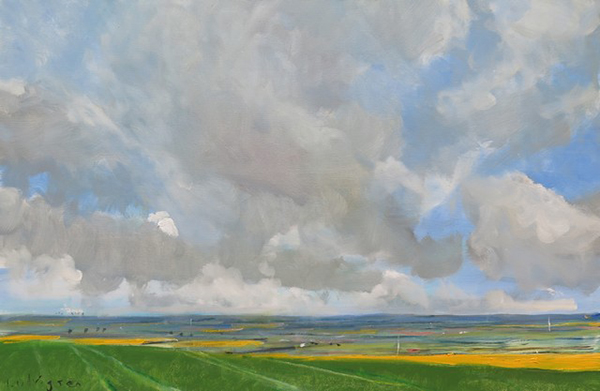 Above Londesborough Oil 24 x 36"

We found English artist Malcolm Ludvigsen on Facebook years ago, admired his work and have been following him ever since. We love his plein air paintings of the Yorkshire coast and his enthusiasm for painting itself. He is also appealing because he does not come from the art world or even an art educated background. His first career was as a mathematical physicist specializing in cosmology and general relativity, a subject about which he wrote a successful book, General Relativity: A Geometric Approach
, published by Cambridge University Press. He found painting almost by accident while on a teaching sabbatical about 13 years ago and has never stopped since.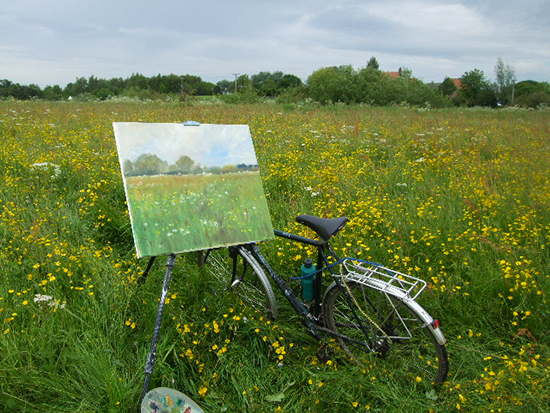 "I think the thing that first attracted me was John Ruskin's exhortation that all men, as part of their morning salutations, should go out and paint a picture of the sky. This sounded like a very nice thing to do, so I decided to give it a go, and I've not really stopped painting since".

Now a retired professor and full-time painter, Ludvigsen spends much of his time on the beaches and headlands of his Yorkshire homeland, endlessly fascinated by the sea and sky. He is an ardent believer in the benefits of painting outdoors, from life.

"I am a plein-air oil painter best known for my Yorkshire seascapes and beach scenes. I believe that working outside, directly in front of the subject, gives my work a life and vibrancy sadly lacking in much of studio work."

Ludvigsen has work represented by galleries in the United Kingdom, Europe and America and has had more than 14 solo exhibitions of his paintings. In 2013 he won the Oldie British Artists Award in a major competition for British artists age 60 or over that comes with a £5000 prize.

We wanted to find out more about this interesting artist.

Had you any connection to the fine arts before you began painting ten years ago? Did you paint at all when you were a child? Did you have family or friends who were artists?

Not really. I didn't paint or draw more than any other child, but I was always attracted by paintings and art galleries. I'm the only one in my family to take up painting seriously.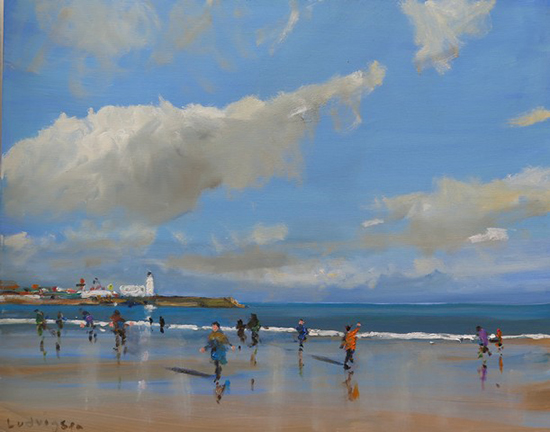 Scarborough Oil 24 x 30"
Have you found any connections or parallels between your studies in mathematics and cosmology and your fine art work? Does one inspire the other in any way?

The creative part of mathematics is visual (at least for me and many other mathematicians) so there certainly is a strong connection between maths and art. It's the same with physics—I'm a mathematical physicist, by the way— which is just a way of seeing and understanding the world at a deeper level—as is art.

Have you studied with other professional artists? Is there a teacher or mentor who has inspired you in your work?

No, not really. I learnt the hard way by making mistakes.

Would you tell us about your preferred materials? What pigment colors do you typically keep in your palette?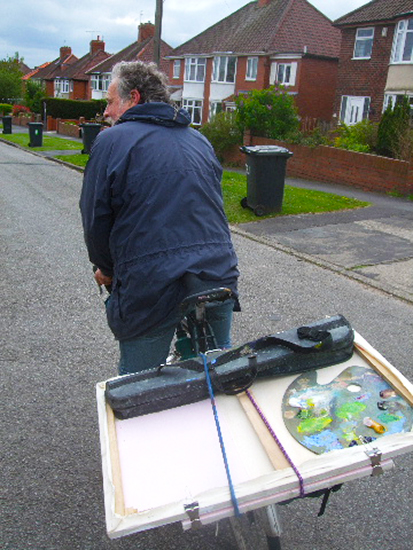 Everything is light-weight and easy to carry, though I do like to use big canvasses. My easel is aluminum and telescopic and my paints fit into a plastic box. This is necessary as I sometimes have to walk miles to find my painting spot. My preferred palette is Titanium White, Yellow Ochre, Burnt Sienna, Raw Umber, Ultramarine Blue, Cadmium Red, Lemon Yellow (especially in the spring), and Sky Blue.

What other artists' work do you look at regularly for inspiration? Do you have any particular books that you go to regularly to spark your creativity?

John Singer Sargent and Isaac Levitan are my favourites, but I may have been influenced by J.M.W. Turner and Claude Monet.

Have you traveled to paint foreign landscapes, or do you prefer to paint more familiar places?

I have painted in Greece and Mallorca (where Cerulean Blue is added to my palette) but my natural environment is gloomy Yorkshire with its grey skies and bleak moors.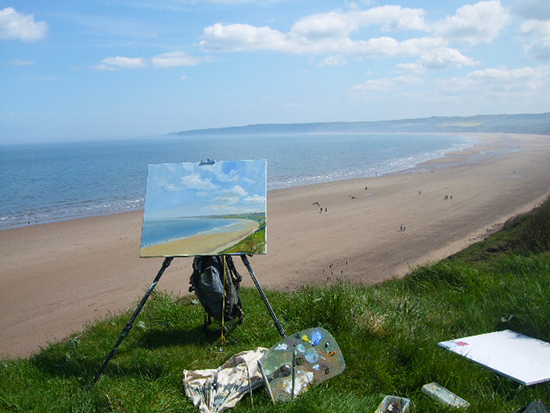 You prefer to work en plein air. How large a canvas have you taken on location?

My biggest size in 40 x 30'', any bigger and I'd take off like a kite. I tend to use quite big household brushes so I can cover a big canvas quickly. When I get home I usually straighten out the horizon and check if the perspective is right, but not much more. I don't go in for detail.

What about the ocean and beach brings such great inspiration to you and your work?

I think I've got an affinity with the sea and like painting it. I go back to my favourite painting spots time after time and it's never the same and always looks different: the tide, the clouds, the people on the beach always form a different scene. One of these days I'll get it right.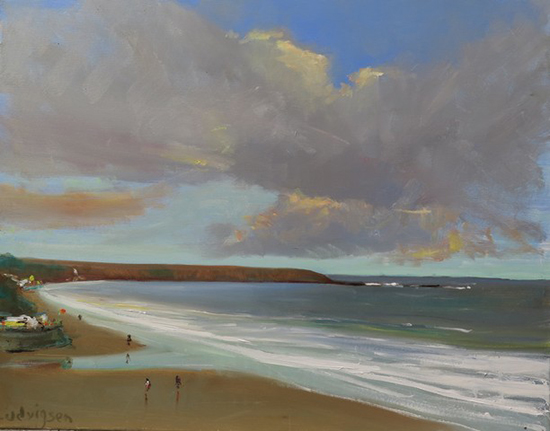 Filey Oil 24 x 30"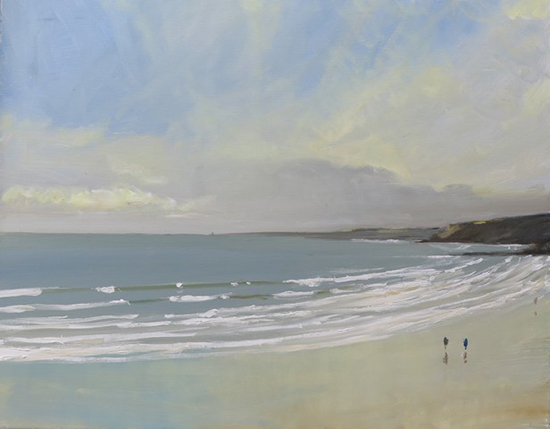 Scarborough Oil 24 x 30"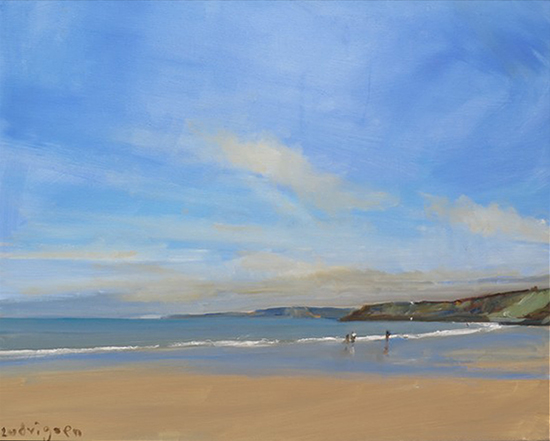 Scarborough Oil 24 x 30"


Can you describe your process - for example, do you begin with thumbnails, value studies, etc., or just dig right in?

I slap the paint straight on and cover the canvas as quickly as possible.

What do you feel makes your artwork or style unique?

Painting outside, winter and summer, in all weather—apart from rain!

Are you teaching any painting classes or workshops or do you plan to in the future?

No, don't have time.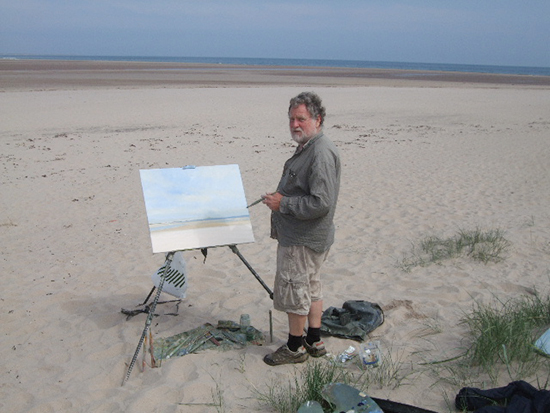 What words of encouragement or piece of advice would you give a beginning artist?

I think words of discouragement are more appropriate. Too many people take up painting thinking it is a nice relaxing hobby, whereas it is bloody hard work— harder than shoveling coal—and takes years of practice before you produce a decent painting. And hardly anybody makes money from it. I know good painters who have never sold a single painting.

We also admire his landscapes of the Yorkshire countryside - see what you think: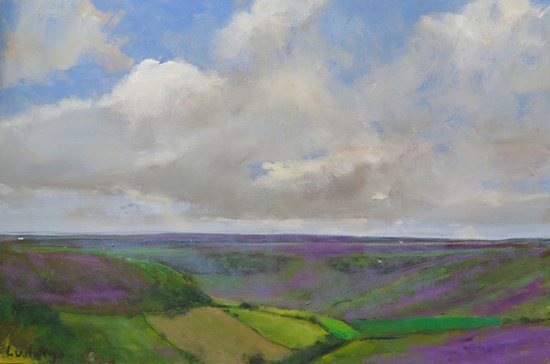 Hole of Horcum Oil 24 x 36"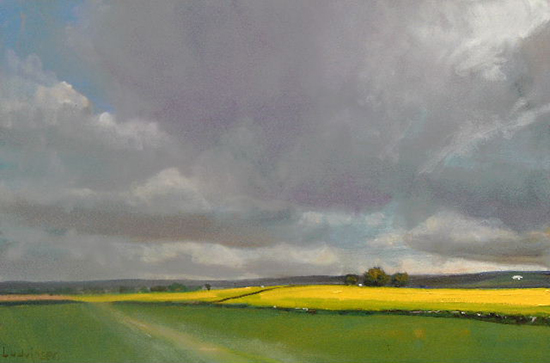 Hutton Sessay Oil 24 x 36"

Some Plein Air Words of Wisdom

Writing to emptyeasel.com in 2011, Mr. Ludvigsen shared some of his views on the perils and pleasures of outdoor painting:

Perils

At the most basic level, there may not be a handy toilet somewhere. This is not so important in the countryside with plenty of hedgerows and bushes, but it can be critical on a crowded beach.

The most common peril, however, and one which all outside painters dread, is people. Those determined footsteps coming up behind you and a voice saying "I see you're painting, I hope you won't mind if I watch . . ." send shivers up any painter's spine. What's worse, many people expect you to have a conversation with them because they think painting is such a relaxing thing to do and requires no concentration. This is, of course, completely untrue.

Mark Twain once said that painting is the most exhausting work one can do—personally, I think it is harder than shoveling coal—but most people who don't do it think it is nice and relaxing.

If people are trouble, also beware of dogs! They don't talk as much as their owners but can be just as much bother. If you have a wet canvas on the ground, you can guarantee the dog will walk on it, and, even worse, I've discovered that the smell of oil paint gives a dog the urge to urinate—so watch your painting bag!

Cows are lovely and great to paint, but they are very curious. If you find them arranged in some beautiful composition, don't expect them to say there very long. As soon as you start painting, they'll get up and walk behind you to see what you are up to. Once, one of them even started to eat my paint brushes. . .

Children, on the other hand, aren't bad if you can cope with them, and they can be very funny. When I was painting on the beach once, a little boy came up to me and asked if I was going to paint the crabs. The trouble is, one child tends to attract another and then another and you can end up being more popular than the Punch and Judy man. All children seem to be terribly interested in painting—such a pity that they eventually lose it—and they make a much better audience than adults.

No matter what you're painting, flies will either bite you or stick to your wet canvas—or both! Best leave them there till you get home and then remove them with the point of a palette knife.

Sand gets everywhere when you paint on the beach, particularly on wet canvasses. Don't try to remove it immediately or you'll ruin the painting. Also, don't wait too long or you won't be able to remove it at all and you'll have a canvas like sand paper. Best wait a day or two and scrape it off carefully with a palette knife. You can also just pretend it is texture.

Tides come in and out, so don't get too absorbed in painting when it's coming in. Check your tide table, and note whether the tide is coming in or going out. Start your painting accordingly, anticipating how things will look in an hour or two.

Strong wind can be a real problem, especially gusty wind. I always anchor my easel and canvas very firmly but, even so, I've had canvasses blown away. Always note direction of the wind and try to paint the clouds accordingly, not as they are now but as they will be in a few minutes when you're adding the final details.

The direction of the sun is very important. If it's directly behind you, your canvas will be too bright and you'll see your own shadow on it. If the sun is directly in front of you, it may be too dazzling to paint and the light will shine through your canvas.

Forgetting things is always a peril of outdoor painting as well. There's nothing more annoying than getting everything set up and then finding that you've left an essential bit of equipment at home. The best way of avoiding this is to have a well organized kit with everything in its right place so that it's obvious if anything is missing.

It is, however, inevitable that you'll forget something at some time or another. Our friend, the Edwardian landscape painter, Sir Alfred East RA, has some good advice in such an event. If, for example, you've left your brushes at home, he suggests that you simply hail a passing rustic and instruct him to run along and collect them for you. Unfortunately, in the 21st century this doesn't always work and may lead to verbal abuse. But it's usually possible to make do in one way or another. If you forget your palette, use a bit or cardboard or old wood. No white spirit? The village shop might have some. Forgotten your easel? Use a fence post.

Photos are always a disappointing representation of the real thing, so a painting based entirely on a photo can't be much better. If you must use a camera, do a sketch as well. This might not be much good, but it will help put the image in your head and will help with the painting.

Pleasures

Paintings done outside, on the whole, are more lively and vibrant and the colour more true and brilliant. I think one of the many reasons for this is that you don't have time to be fussy or finicky; you simply can't spend ages mixing colours and getting things just so (especially if the tide is coming in and the clouds are rapidly changing). This leads to spontaneity which in painting can be much better than slow deliberation. Your figures might not have two legs and two arms, but they'll certainly have more life than if you painted them in from a photo.

The plein-air painter sees his interesting pattern "out there" before putting in on the canvas, while the non-representational painter must find his pattern in his imagination. I don't know about you, but the patterns presented to me by nature "out there" are much more interesting than the more pedestrian ones in my head. Whether it's people, or cows, or waves . . . painting from nature always helps one to see deeper, and to see more.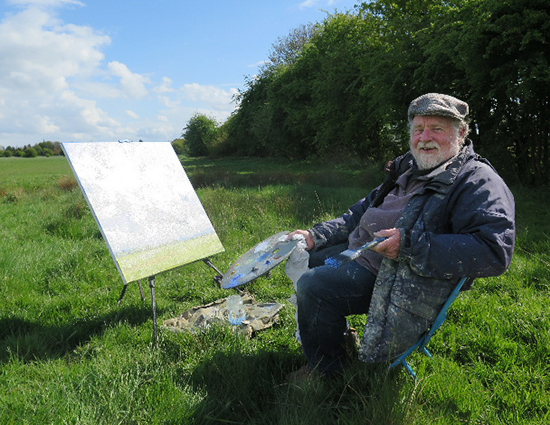 "Don't take a stool to sit on! It's only extra weight, and you
can't paint a good picture sitting down. Sir
Alfred East, the celebrated Edwardian landscape
painter and notorious snob, once said
that no noble picture has ever been painted by
a man sitting down."
To see more of Malcolm Ludvigsen's work, go to:
http://www.malcolmludvigsen.org.uk
All Artwork © Malcolm Ludvigsen
Save
Save
Save
Save