Voices of Experience

An Interview with Maria Marino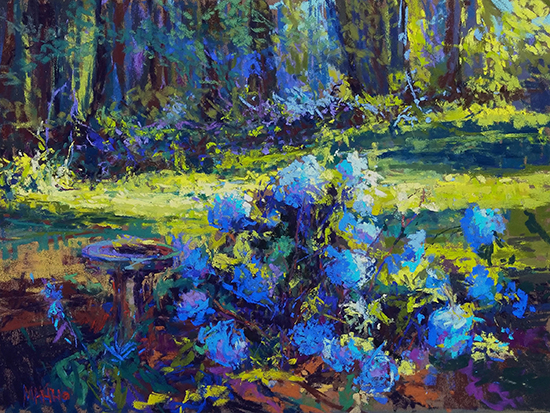 Late Afternoon in the Garden 12 x 16" Pastel (plein air)

"Art is limitless in its possibilities.
It is the essence of our souls.
To offer it freely, without fear of what will come of it,
to express it, is what I can give of myself . . ."
Maria Marino's vivid and expressive paintings are a delight to the eye. Although she works in multiple mediums, we asked her to tell us about her pastel work—her largest body of work. Her strong background in drawing combined with her BFA and years of work in Interior Architecture have given her a sure stroke and unique appreciation for the surface textures possible in pastel work. Marino told us about her background, the beginnings of her love for pastel, and, her relatively recent transition to being a full-time fine artist.

At 16 years of age my mother purchased a full set of Rembrandt pastels for me from a local art store. She was the person in my life who nurtured my love of art and design. She would spend time with me in an old-fashioned art store and allow me the opportunity to try out different mediums. She also exposed me to beautiful finishes and items that she brought over from her home in Athens, Greece. I was blessed to have parents who allowed me to follow my passion.

I earned my BFA degree from the Maryland Institute College of Art and Design (MICA) following a curriculum of fine art with a major in Interior Architecture. I then spent the better part of twenty years in a career as a licensed interior designer. I designed and specified many types of finishes for the commercial environment that included textiles. I sourced many that came from very old mills from around the world. Their hand (quality of weaving, luster and weight) are truly works of art. Drawing and painting was only available to me after hours since my work demands took up many hours overseeing the design and construction processes of project after project. Weekend time was also limited yet you could find me painting in the wee hours of the morning. I was able to pursue my true passion in becoming a full-time artist in 2015. In looking back, I feel the time in school was a wonderful part of my life for the school curriculum fused the fine arts with the applied arts. Given the fact that I returned to school in my thirties with a five-year old daughter, taking eighteen credits and working 25 to 30 hours a week proved to be challenging yet very rewarding.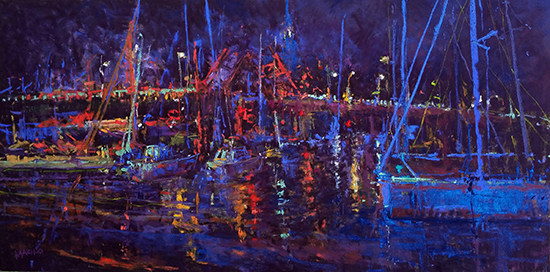 Summer Evening on Spa Creek, Annapolis 12 x 24" Pastel (plein air)

When you decided to focus full-time on painting, did you study with any other artists or take workshops?

I took a workshop three years ago with C.W. Mundy to reacquaint myself with oils. Such a fabulous instructor. I walked away with an arsenal of techniques. I believe a painter should spend time painting with others to exchange ideas and concerns with their peers. It helps to be acquainted with the new products available to artists. I don't hesitate to ask peers questions if needed.

Currently I work in oil, pastel, watercolor and use drawing mediums such as Conté pencils for open class figure drawing. Pastel is the only medium that allows such brilliant passages of color in a painting. Other mediums tend to dilute the pigment. I like my paintings to be truly unique in technique as well as texture. Many of my paintings focus on the landscape and capturing the atmospheric quality of a given moment. The texture that I am able to achieve in the pastel medium gives the painting the opportunity to be more dimensional in view. Many of the pastel brands out there have their own unique qualities.

What sparks your interest when you are choosing a subject to paint?

By far it is the fleeting moments of light found in the landscape.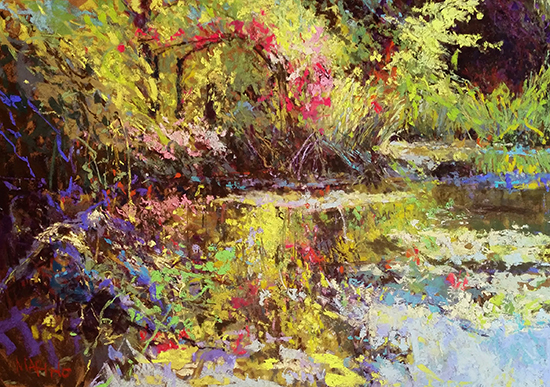 In the Garden 12 x 18" Pastel

What other artists' work do you look at regularly? And, just for fun, if you could spend a week painting with one artist from history, who would you choose?

Oh, it would be Monet and Sorolla! I would carve out two weeks, or, let's say I would relocate. They used color to describe the feeling of a given moment. The surface quality of their paintings is absolutely intoxicating. Museums in Washington, DC house several Monets which describe weather conditions so beautifully—from a beautiful sunny day in Giverny to the atmospheric conditions at Charring Cross Bridge in London.

At the Hispanic Society of America in New York City there is a room with large paintings (Sorolla Vision of Spain Gallery) which houses monumental paintings twelve feet tall, two hundred feet long, in which Sorolla painted the beauty of the Spanish landscape and her people. It leaves you in wonderment as to the dramatic compositions as well as the beautiful colors he used to describe the Spanish climate.

Both artists primarily worked in oils, yet Monet captured the fleeting play of light utilizing broken brushwork and Sorolla captured bright sunlight using successful value patterns in his paintings. When I look closely at Sorolla's paintings he utilized value change vs. using white to lighten an area. I try to translate these means and methods when painting in pastel. I feel the medium of pastel can be pushed to create beautiful mark-making that other mediums cannot accomplish.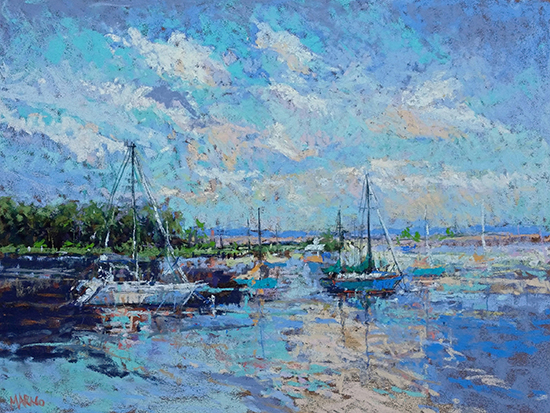 Morning at Redhouse Cove, Gibson Island 12 x 16" Pastel (plein air)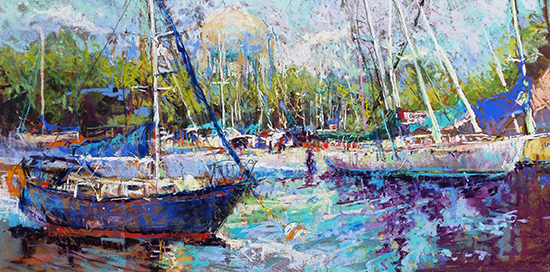 Morning at Back Creek, Eastport 12 x 24" Pastel (plein air)

Would you tell us about your process and materials? Do you work primarily en plein air or in the studio?

A combination of the two. There is nothing more special than being one with nature. To see the pastoral landscapes of the East to the grandeur of the Western mountains leaves you motionless.

I do use photos in my studio work and rely on my plein air studies for local color. In using photos they must have a strong sense of design or the painting will lose overall cohesiveness. I do not slavishly copy the photograph and concern myself with creating a painting.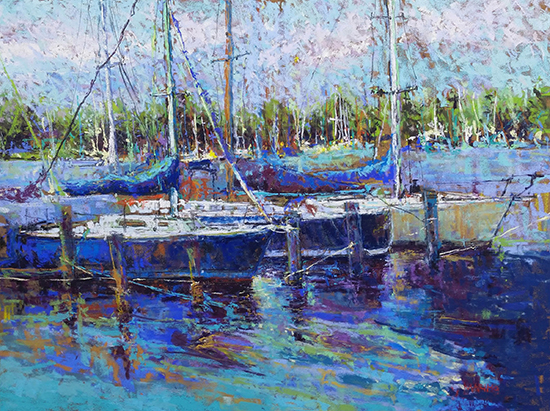 Dock Mates 18 x 24" Pastel

There are several surfaces that I typically use: UART 320 grit, either loose sheets or mounted on board (wonderful for implementing a watercolor wash); Sennelier LaCarte (cannot use any type of wet medium on it because the paper surface will pull apart from the backing); and, Mulltimedia Artboard (wonderful for implementing a watercolor wash).

There are other papers that I experiment on such as: Moulin de Larroque and Moulin du Pombie that is sourced from an old paper mill in France; as well as, Val de Laga Mill of the Moulin Richard de Bas which is a paper mill that dates back to 1326. The surface of the other papers are quite different and not sanded so my process changes to accommodate the surface texture at hand. Beautiful colorways are available yet the distributor here in the states closed their door two years ago making it difficult to find. Another paper that I use is Rives BFK (printmaker's paper) which is now available with a slightly sanded surface.

For the most part I avoid blending pastel with my fingers because the particles of pastel lose their vibrancy. I will use aggressive pressure to fuse the colors together which also creates thick impasto passages in the painting. Terry Ludwig pastels have a definitive edge to create a variety of marks. In tandem with their buttery quality, they allow the fusion of various colorways. The edges are especially ideal in getting those sharp strokes that are crucial in the foreground of a painting. Another brand that I love to work with is Sennelier. They are super buttery and are available in various sizes. Utilizing these qualities provides me with expanding my mark-making. The giant size pastels are especially amazing to work with. I can break them into pieces and wield them effortlessly across the surface. Because they are so large they do not tend to easily crumble allowing me to cover a wide area quickly. The range of yellows and yellow ochres in the Sennelier line are especially beautiful. They provide a wide range of hues to work with. Another must-have pastel for me are the Diane Townsends Terrages. Their unusual shape and gritty texture lend themselves to parcels of pure super rich pigment that lodges into the tooth of the support. Several colorways have pockets of pigment dispersed through the stick more than others. I crack one of these in half and experiment with the various marks that can be achieved. I also use Giraults for detail work and Roches for the final touches of color and also Unison pastels.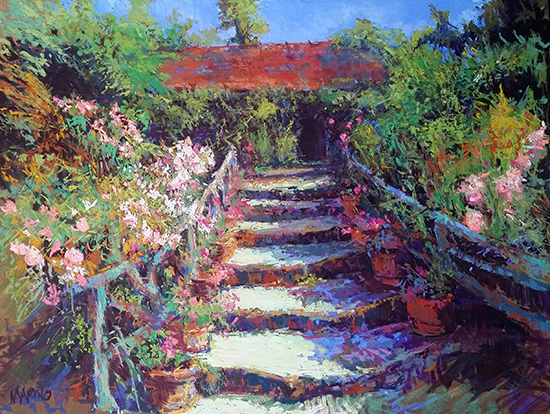 The Breath of Spring 18 x 24" Pastel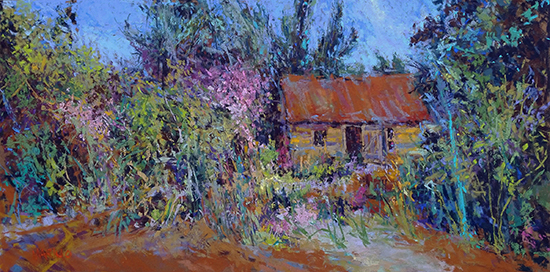 The Old Cabin at Surreybrooke 12 x 24" Pastel

I select colors that create a vibration to describe distance as well as help the viewer travel throughout the painting. I do not use fixative at all. Once the painting is completed, I pat the back of the piece with a bit of pressure to remove those particles of pigment that have not adhered to the surface. Yes, I do go through many pastels yet I am not one to work timidly with this medium!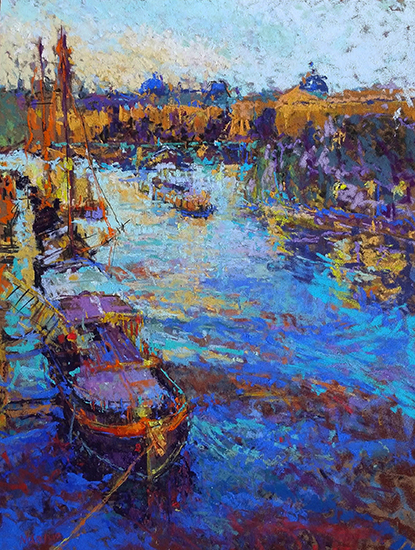 Twilight on the River Seine 16 x 12" Pastel

Have you had the opportunity to travel to paint in other countries?

I had the opportunity to paint in France four years ago and am returning in June 2019! I am planning on painting the Normandy region in both oil and pastel. My husband will be with me and we will both enjoy the beauty of the region.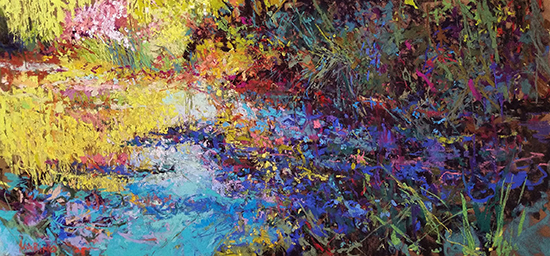 Eau Dorée 12 x 24" Pastel

What words of encouragement or piece of advice would you give a beginning artist?

Follow your heart! Seek those artists whose work speaks to you and attend a workshop to learn technique and thought process.

Maria Marino is an Exhibiting Artists Member of the National Arts Club and a Signature Member of the Pastel Society of America. She has received Master Circle status in the International Association of Pastel Societies. Her work has been exhibited nationally and internationally (Italy, France, Taiwan). Multiple national art and pastel publications have featured her work. She has won top awards and honors in multiple exhibitions, including, Pasit Pastellisti Italiani 2019, Allied Artists of America 105th Exhibition, and Salon du Pastel Internationale Exhibition, Giverny, 2017, and many more.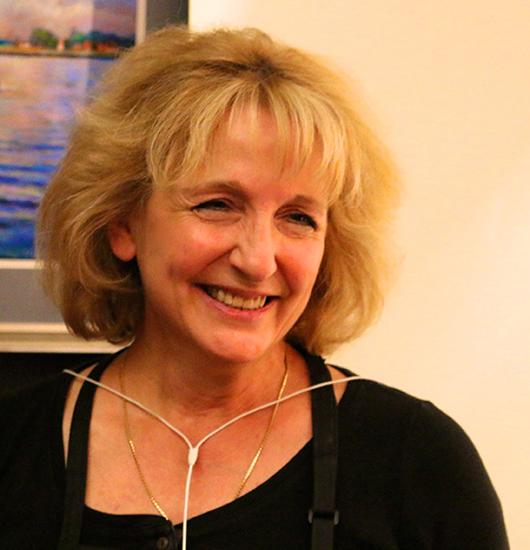 To see more of Maria Marino's work,
go to: https://mariamarinoart.com
All artwork copyright Maria Marino