Voices of Experience

Mark Laguë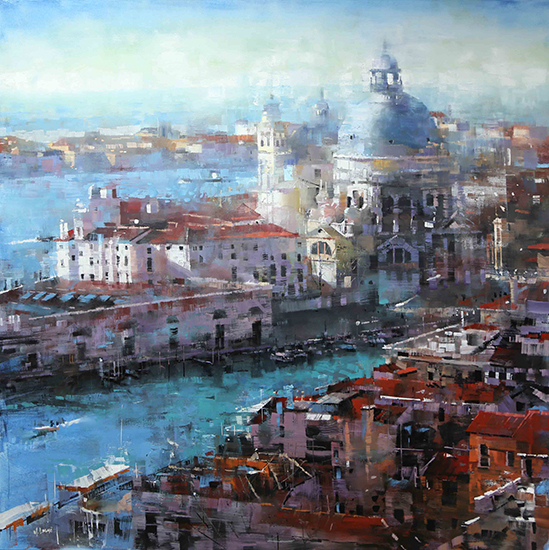 Venice Afternoon 40 x 40" Oil
Throughout a 14-year career in the animation field, Mark Laguë always maintained time for his personal watercolor painting. Both the training he received in the animation industry and his years of watercolor work are brought to bear in the distinctive oil paintings he has been creating ever since making the leap to being a full-time painter in 2002. His inspiration is found in the urban life and architecture of cities around the world. His style projects the movement, energy and essence of life in the city. Laguë's work has been featured in many juried and solo exhibitions across the United States and Canada and has received multiple awards of excellence.

You found your passion in drawing at a young age. Would you tell us about your first inspirations and your education in art?

I really loved to draw faces at a very young age. I would do portraits of hockey players from hockey cards—huge heads on tiny bodies. I never drew caricatures or cartoons, always as realistic as I could make it. I always had lots of encouragement from family and teachers.

Like many painters, I'm largely self-taught. The first art course I took was in my final year of high school. My teacher, Ms. Flockhart, very much encouraged me to pursue a career in art. She also warned me that potential is worthless if you're not willing to commit to practicing your craft.

I have taken 3 or 4 workshops in my life. The one that stands out was with the legendary watercolour master, Frank Webb. He was very insightful and generous with his time. I learned as much about teaching as I did about painting.

How does your former career in animation inform your painting processes today?

The vast majority of my 14 years in the business was spent painting backgrounds, which allowed me to spend hours a day mixing colour and laying washes. It was like boot camp for painters.

Why did you make the switch from watercolor to oil?

One of the main reasons I switched over to oils is that most galleries aren't interested in showing watercolours. Also, I was getting frustrated with the limitations of watercolour. I feel I can get most of the wonderful transparent qualities of watercolour with oil, while also being able to scrape off paint, and lay in thick, opaque passages.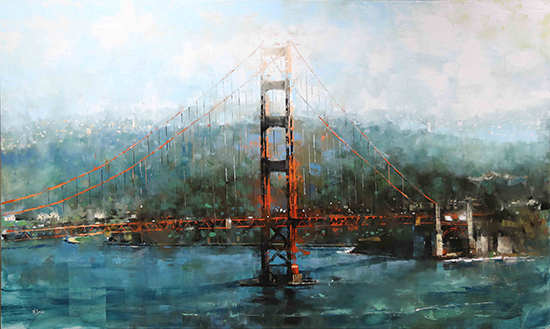 Golden Gate Mist 36 x 60" Oil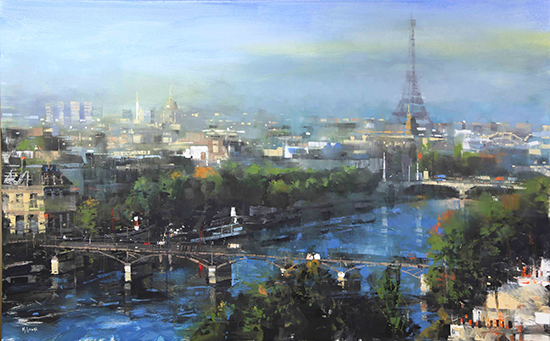 Paris Pedestrian Bridge 30 x 48" Oil

My palette consists of: Gamblin - Alizarin Crimson, Cadmium Red, Cadmium Orange, Cadmium Yellow, Cadmium Lemon, Transparent Earth Red; Winsor Newton - Winsor Violet, Yellow Ochre Pale, Permanent Green, Manganese Blue Hue, French Ultramarine; and Weber - Permanent White.

My brushes consist almost exclusively of Robert Simmons Signet Hog Bristle Flats. On rare occasions I will use small synthetic sable brushes for more detailed areas. I also use a lot of palette knives, mostly to lay in opaque light areas. Another important tool for me are rubber colour shapers. They are indispensable for scraping away paint. Finally, when working very large, I will sometimes use ink brayers to move paint around.

I work both on panel and stretched canvas depending on the size of the painting. Anything roughly 30" x 40" and smaller, I will work on 1/8" thick masonite panels, where I apply 2 coats of acrylic gesso with a large house painting brush. Larger paintings are done on stretched canvas.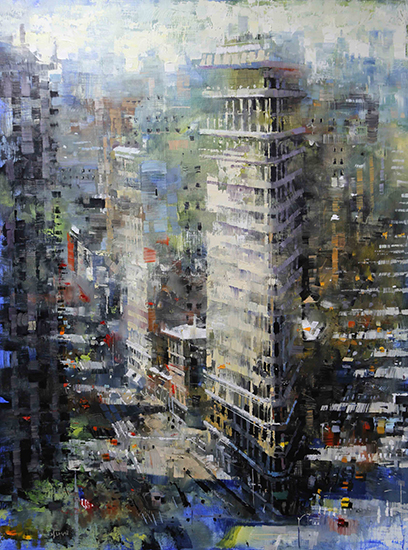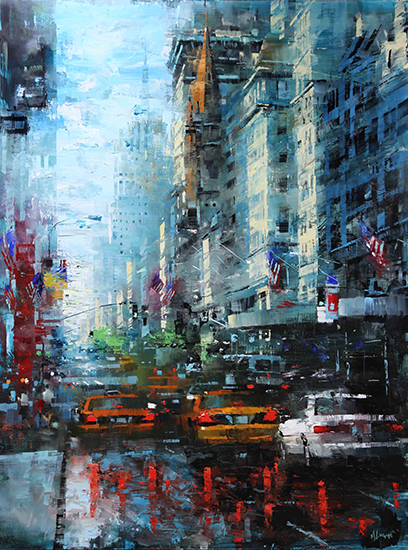 Flatiron Shadows 40 x 30" Oil Fifth Avenue Towards Empire State 40 x 30" Oil

Can you lead us through your process, from initial inspiration to final studio work?

My working process tends to vary from painting to painting. Sometimes I'll do some exploratory value studies in marker or graphite. Other times I'll do small colour studies in watercolour. Often I will just go straight to the final painting. What initially inspires me, without exception, and regardless of subject matter, is a clear and unified
light source that makes for a strong value pattern.

Brooklyn Bridge Vertical 30 x 48" Oil

Just for fun, if you could have dinner with one artist from history, who would you choose and why? What would you ask him or her?

I would have to say Rembrandt. In the long thread of art history, I think that he advanced the notion of what a painter is probably more than anyone before him or since. I would ask him, if he had to do it all over again, what would he do differently.

We'd also like to know how travel has informed your work and what landscapes/subjects have been of the greatest inspiration to you.

Travel has very much informed my work. San Fransisco probably inspires me the most, but New York and many European cities are right up there. I travel less these days, relying on aerial views I gather online, and use in conjunction with my own photos from past trips.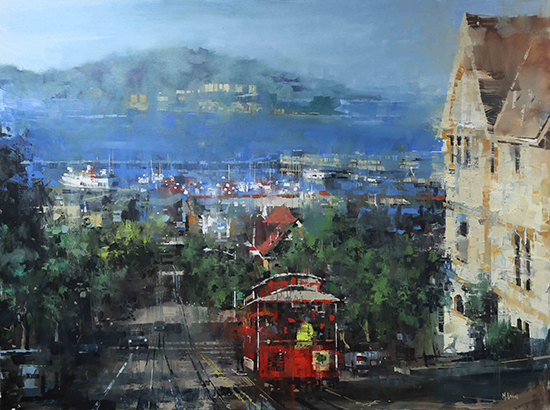 Distant Alcatraz 36 x 48" Oil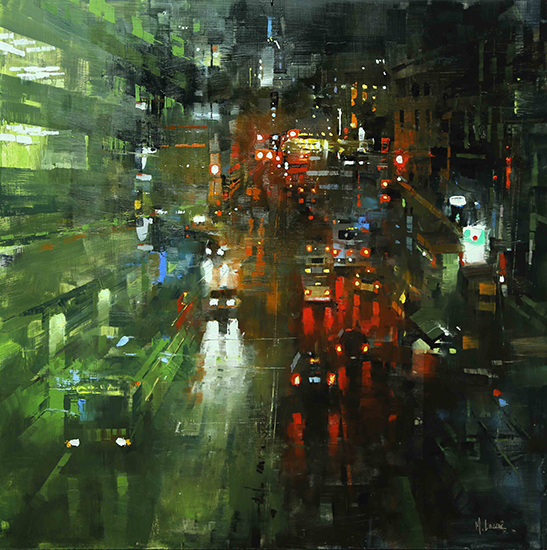 San Francisco Night Rain 30 x 30" Oil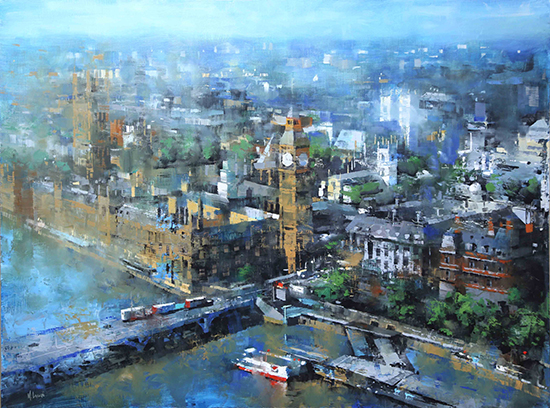 London Blue 30 x 40" Oil

Is teaching an important part of your artistic life?

While I do the odd demonstration for art associations, I really don't teach workshops anymore. Despite enjoying the teaching process, I started finding that the preparation was becoming far too time consuming. Also, I had an unfortunate incident at the airport a few years back where customs and border protection prevented me from
boarding my flight to Nashville to teach, as they said I would be stealing an American job. I can no longer teach in the U.S., which somewhat limits my opportunities.

What are your goals for the future in your art?

My goals for the future in my art are simple. To more and more paint what excites me first, and to move away from painting what the market demands. I think, first and foremost, collectors are looking for sincerity in artists' work.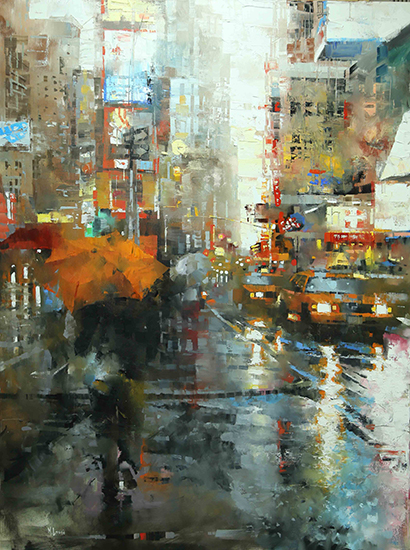 Manhattan Orange Umbrella 48 x 36" Oil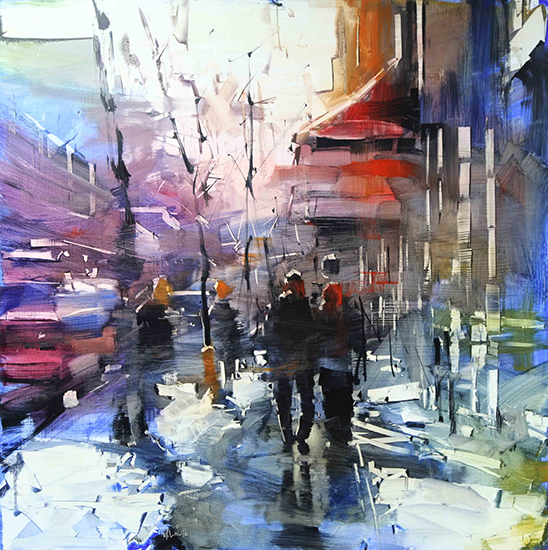 Saint Catherine Street Winter 30 x 30" Oil

What words of encouragement or piece of advice would you give a beginning artist?

I would tell a beginning artist that, if they're willing to work hard, the market for painters is not a bad place to be in 2018. The market has not demonstrably changed in the past 30 years or so, where as trying to make a living as a musician, as an example, has become near impossible in the digital era.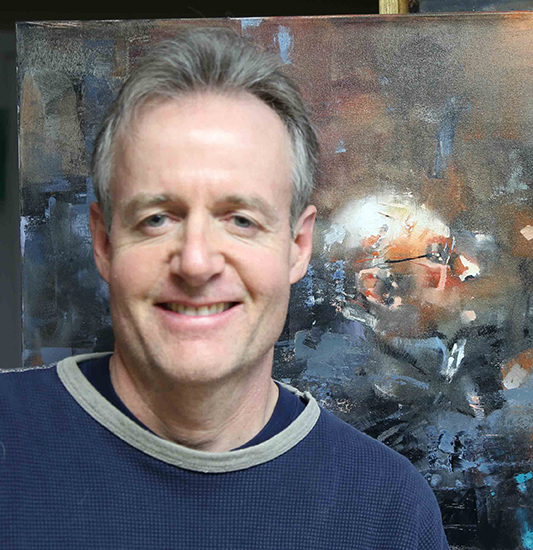 To see more of Mark Laguë's work, go to:
All Artwork © Mark Laguë