Memory Lane

Perspectives No. 335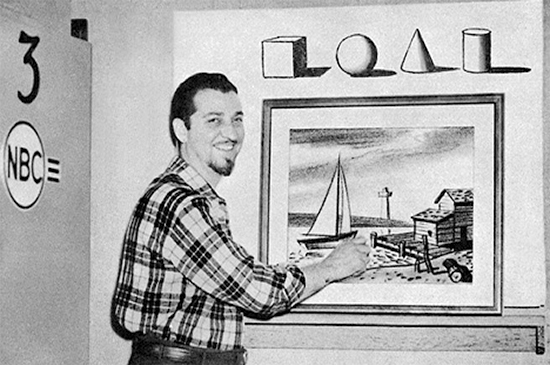 "I believe that you are an artist. I believe that everyone is an artist. When I say this I am not trying to be sensational. I merely state it as a conviction which has been proving itself for years in my beginners' art classes.

Everyone is an artist because everyone is a camera. Every sunset you have ever seen, every interesting old man, or beautiful woman is recorded in your brain. In fact, everything your eyes have looked upon during your entire lifetime is imprinted in your brain as surely as is a picture on film or sound on a record. And there is a way by which you can bring these pictures in all their clarity and brilliance, out of your brain to your fingertips and on to paper or canvas."
- Jon Gnagy

There were many funny Christmas gifts with a Bob Ross theme this year. (Did you see the Bob Ross Chia Pet that grows the famous television artist's haircut from seed?) Bob Ross (1942 - 1995) may be the most well known of the former television artists, but we grew up, along with other children of the fifties and sixties, watching Jon Gnagy (1907 - 1981).

The great benefit these shows offered was in showing everyone watching that they could learn at least the basics of drawing and painting and that one didn't necessarily need to be born with a great talent in order to enjoy drawing and painting. The mythology of the artist as an eccentric loner could be dismissed when listening to the friendly voices of Ross and Gnagy.

Jon Gnagy's Saturday show (airing on NBC and later CBS) was initially titled "You Are an Artist". In addition to teaching drawing, Gnagy also did on-air analyses of paintings from the Museum of Modern Art. Born into a Mennonite community near Pretty Prairie, Kansas, he went on to be the first performer on the first show broadcast the day the antenna was completed on the top of the Empire State Building (May 13, 1946).

The story of his life is fascinating. It includes a lot of what he called "ignorant nerve plus enthusiasm." Gnagy was entirely self-taught. His drawings and paintings began to take awards at the Kansas State Fairs when he was a teenager. He was offered and accepted a job as an Art Director in Tulsa, Oklahoma at the age of seventeen, producing posters for the International Petroleum Exposition. He went on to do illustration for the aircraft companies in Wichita, Kansas before moving to New York to pursue freelance work.

Gnagy became an assistant art director in Philadelphia, setting with his wife and two young children in the artists' colony of New Hope. During Word War II he taught camouflage techniques at the Franklin Institute and served as Art Director for the War Service Committee producing poster designs for war plants on the east coast.

We remember him for his plaid shirt and Van Dyke beard and for the inspiration he brought through his television show and his famous kits (still manufactured by the Martin Weber Company).

"Jon Gnagy taught me to draw; I watched his show every Saturday morning and bought all of his books." - Andy Warhol

Here is a clip from one of his shows:



For more information, visit the website created by his daughter - John Nagy Art.