Monet's Ultraviolet "Bee" Vision

Perspectives No. 368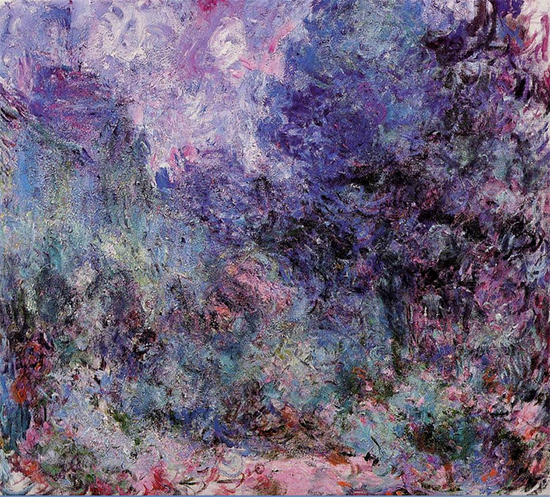 The House Seen from the Rose Garden 1922-24 Claude Monet

Bees and butterflies are the Olympic champions of color vision. Bees and butterflies have five or more color receptor cones allowing their range of vision to extend into the ultraviolet. We humans and especially artists are continually inspired, even awed by, the beauty and grace of flowers. However, we don't really see them fully, because we can't. Many of the flowers bees and butterflies pollinate have ultraviolet patterns on their petals, like lights on a runway, to guide their insect friends deep into the flower. There was one well-known human artist who attained a little bit of bee-vision capability. Claude Monet. Here's how it came about.

Monet's old-age struggles with cataracts and loss of vision are well documented in the letters he wrote to his eye doctor, Dr. Charles Coutela. As the cataracts worsened, he could not perceive colors or values well. His increasingly yellow-brown lenses led him to try to compensate by using ever more intense blues and reds. Finally, he resorted to reading the colors off the tubes and painting out of habit. He destroyed many of these paintings in frustration.
"My poor eyesight means I see everything as through a fog.
It's still very beautiful, and that's what I would like to represent."

Delaying surgery for as long as possible, Monet continued to paint using eye drops and special glasses to aid his vision. When he finally did submit to surgeries, the lens of his left eye was completely removed. This allowed light to stream through unimpeded by the cloudy yellow lens. Suddenly, colors became more vivid and Monet's eye was able to see in a larger range of colors not usually available to the human eye.

"After his cataract surgery, Monet's blue-tuned pigments could grab some of the UV light bouncing off of the petals. He started to paint the flowers a whitish-blue." - Carl Zimmer*

The lens of the human eye serves an important purpose in protecting our eyes by filtering out harmful ultraviolet rays. It is uncommon for a human to see into the ultraviolet range of color. When it does occur, usually due to injury or surgery, it is called "aphakia".
Monet's aphakia allowed him to see what is called "near" ultraviolet light. In this regard, his vision became closer to that of bees and some butterflies who see an ultraviolet range of color on the flowers they pollinate.

The paintings he produced immediately after his surgery are decidedly heavy in blues and violets—a range prevalent in the ultraviolet. It is possible that his vision of the garden then was more in tune with how his winged friends saw it than his human ones. After a time, he regained more sensitivity to the red end of the spectrum and his paintings once again looked more "natural". Fortunately for us, he documented his unusual perceptive abilities in a series of paintings which showed how his vision was changed and then readjusted to the norm.
"Monet is only an eye - but what an eye!" - Paul Cezanne

(See more in the series of paintings of Monet's house as seen from the rose garden painted before and after his surgeries here.)
* Carl Zimmer (https://carlzimmer.com)