Move It!
Perspectives No. 381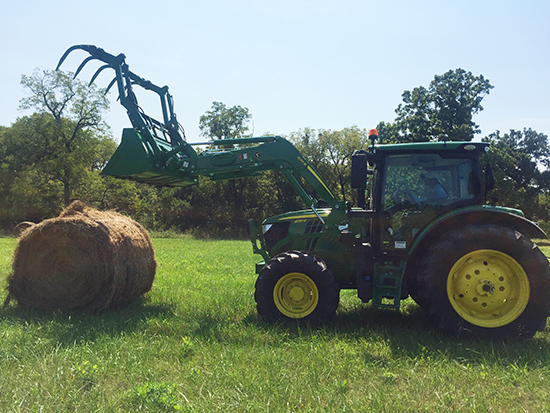 Plein air painting is not for the meek. There are many challenges to working outdoors and those challenges take time to master. For instance, Nature doesn't often supply us with the perfect arrangement of landscape elements, so one has to be able to design or redesign an interesting composition on the spot. This requires the ability to visualize the best arrangement and then either "borrow" the objects which are in view and move them around on the canvas, or delete those elements which don't fit. Easier said than done, often.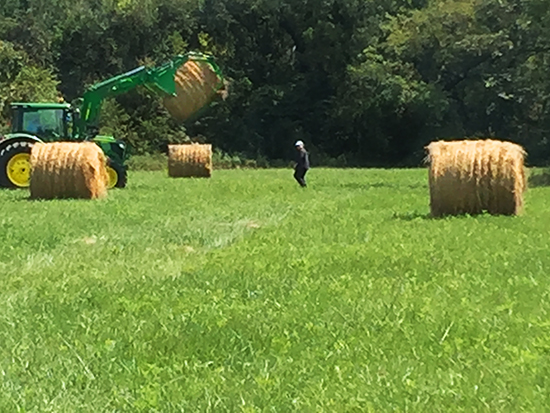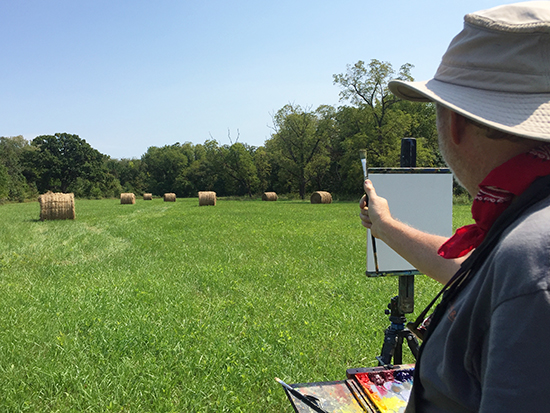 Ann Spotting a Placement A Much Better Arrangement
On a recent painting excursion into the countryside nearby, we came upon a lush green field strewn with large, cylindrical hay bales. Hay bales are a favorite subject for us, but the baling machines rarely deposit them on the landscape in an ideal arrangement for artistic purposes—we don't know why not. They can weigh up to 1000 lbs., so it isn't possible for us to roll them around to a better spot. It then falls to us to try to move them around in our heads to better suit the aesthetic needs of our picture. This mental exercise requires extra effort—effort better used in painting. So this time, we decided to try a new approach—have the actual hay bales moved instead. We called up Farmer Ted and he agreed to bring his brand-spanking-new John Deere tractor over to move the bales where we wanted them. We also felt that there weren't quite enough bales, so he got an extra to add to the composition. While Ann ran down the field, I pointed and waved my arms to guide her to the perfect placement as viewed from my painting position. Then she bravely stood there until Ted brought his big machine over, giant hay bale grasped between the claws and bucket, and gently set it into place. We then had him turn them this way or that, as needed, "fluff" them and tamp them a bit to improve their shapes. In about 20 minutes, we had a near-perfect arrangement of bales to paint. We decided that adding a tractor to our regular painting equipment was a great idea. And to think that all it took was a phone call.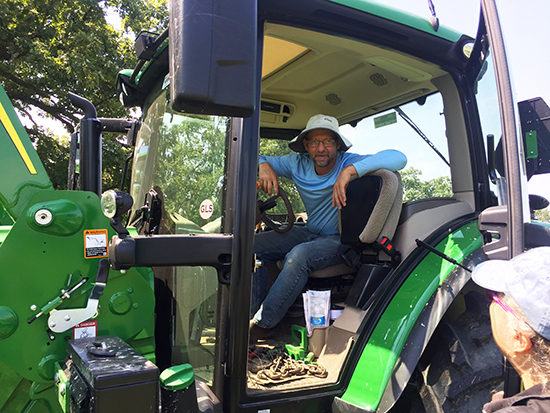 Our thanks to farmer Ted Grinter for his jocular cooperation.
(He's the one who grows those millions of sunflowers we've written about painting).