Voices of Experience

Nancy Tankersley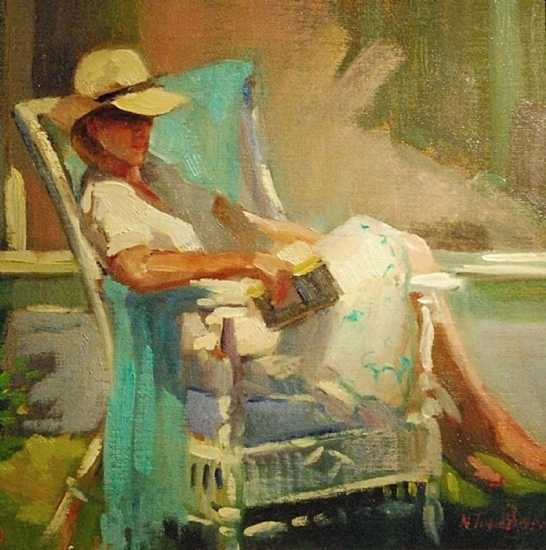 Tilghman Afternoon 12 x 12" Oil

"I am one of those artists

who cannot be content painting one look or subject."


Throughout her career, Nancy Tankersley has continuously challenged herself to create fresh and compelling work by tackling new subjects and exploring different techniques. Versatile in figurative, landscape and still life genres, Tankersley finds her inspiration more from the colors, shapes, values and mood of the scene than from the subject itself. As a primary founder of one of the most well-known plein air events, Plein Air Easton, she has assisted other beginning plein air events with her expertise and has participated in many as an artist. She is now turning her work more toward the studio where she can experiment further. Tankersley is a Signature Member of the American Impressionist Society and the Mid-Atlantic Plein Air Painters. She is the recipient of multiple awards at both plein air events and juried exhibitions across the United States. Nancy wrote to us about growing up an avid drawer, studying art in college and the influence of contemporary artists on her work.

How were the arts introduced to you as a child? What formal education did you receive in school and after?

I learned about drawing through a Jon Gnagy Learn to Draw kit that had been given to my older brother. I learned the joy of painting by borrowing his model car paints and painting my first portrait with them. I owe a lot to my brother! Eventually my parents noticed my interest and started buying me art supplies and equipment. I thank them for that because neither of them had any art in their backgrounds—the only piece of art I remember in the house was a Renoir print (which my mother cherished). They never discouraged me and were always supportive. By the time I was in 6th grade I was firmly on track to becoming an artist. We lived near Washington, DC and I was fortunate to be exposed to the masters' work first-hand through the many fine art museums in that city.

After two years at Miami University as an art major, I was unsure how I would ever pursue a career as an artist. They weren't teaching the fundamentals in those days and I found it hard to express myself without the necessary tools. I married a Naval Aviator and his career took us to California where I finished my education at UC Santa Cruz as a Community Studies major. I worked as a social worker for a few years before staying home with my children. That actually led me back to the arts as I started painting murals and doing portraits which fit in well with child raising and often single parenting.

I think I learned most of what is important to my growth as an artist by studying with professional artists and taking workshops. I can't say that I have had one major influence but my workshops with Ken Auster, Quang Ho, and Carolyn Anderson have been very influential in moving my work to a new level. Lately artists such as Jon Redmond, Doug Fryer and Jeremy Mann have introduced me to new ways of using the paints and different supports that have added excitement to my work.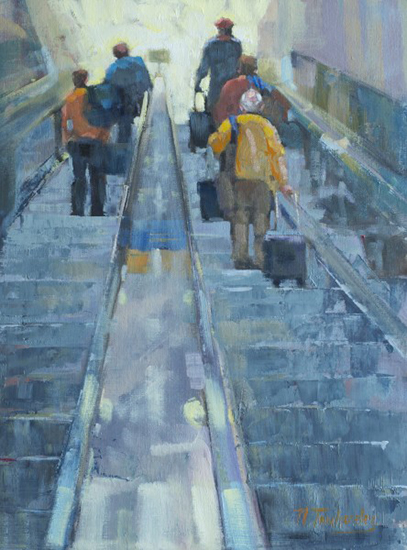 Onward and Upward 16 x 12" Oil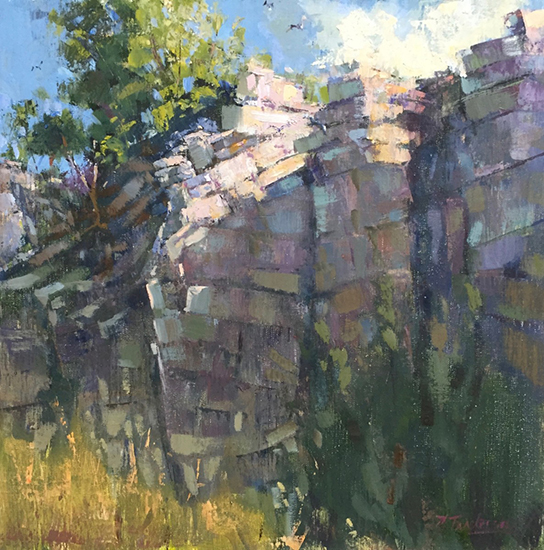 Soaring 18 x 18" Oil

Tell us a little bit about your experiences doing plein air events.

I've had much experience with plein air events both as a participant and as a judge. You may know that I was one of the founders of Plein Air Easton and based on that experience, have been able to assist other start ups with my knowledge. I do travel regularly for plein air events but am hoping to travel less in the future and concentrate more on my studio work. I regard my years of plein air painting as a necessary part of my education as a painter, but my studio work is more thoughtful and experimental.

Have you had the opportunity to travel to and paint other countries? Do you find that your skills are able to easily translate into the different lighting and landscape conditions?

I have taught in France three times and also in the Dutch Antilles island of Curacao. I am not one of those painters who is very affected by changes in color or light—I think that careful observation and a knowledge of design, judging value, and mixing colors will allow one to paint anywhere.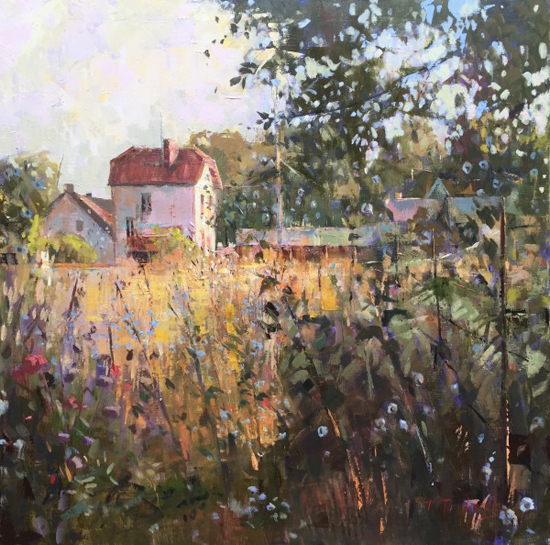 French Village 30 x 30" Oil

Would you tell us more about your workshops in France?

I have taught twice at La Bonne Eoile which is an artist's retreat about 90 KM southeast of Paris in an agricultural region. It is blessed with a great studio so I design my workshops there to be part studio, part plein air. I think the important basics of painting are best learned in a controlled environment, so having the studio is great. We do still life, spend one day painting a model, and also work from photos on some days that we are in the studio. The workshops are two weeks long and we don't travel except for day trips so people can really settle in and produce some more completed works. We live in a family style farmhouse and eat meals prepared by a Paris-trained chef!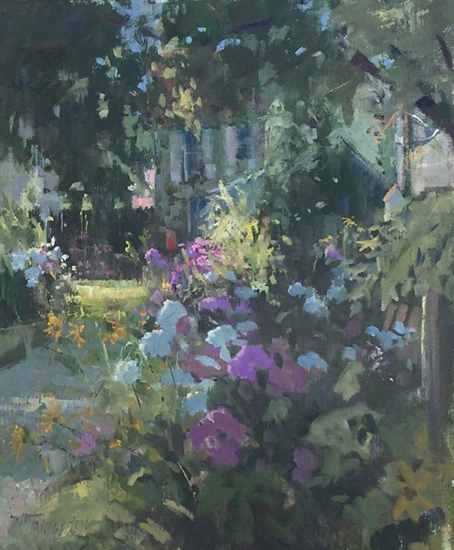 The Widow's Garden 24 x 20" Oil

Would you tell us about your preferred materials and your typical painting process?

For many years I worked in pastel and oil but now I primarily paint with oils with some acrylic underpainting when I need to speed up the process. When I started painting plein air, I switched to a limited palette and now use the same colors whether I am painting inside or out. My favorite colors vary but I usually have a warm and cool version of the primary colors. Jon Redmond influenced me in using transparent colors so now Indian Yellow is a favorite on my palette. Mixed with white it makes a wonderful warm yellow but also is useful as a transparent underpainting. Sometimes I will deliberately limit myself to only three colors plus white just to push myself to be more accurate with my color mixing. I also like to experiment with surfaces. You can find me painting on linen or cotton, gessoed masonite or paper, gessoed aluminum panels, and even mylar.

I know I should begin with thumbnail sketches and I sometimes do in the studio, but often outside I am too anxious to capture the light to take the time. However, sketching with oils is very forgiving in that I can wipe it all off and start over again if I'm not happy with the composition. I've learned it is better to start over than to continue with a composition that's not working.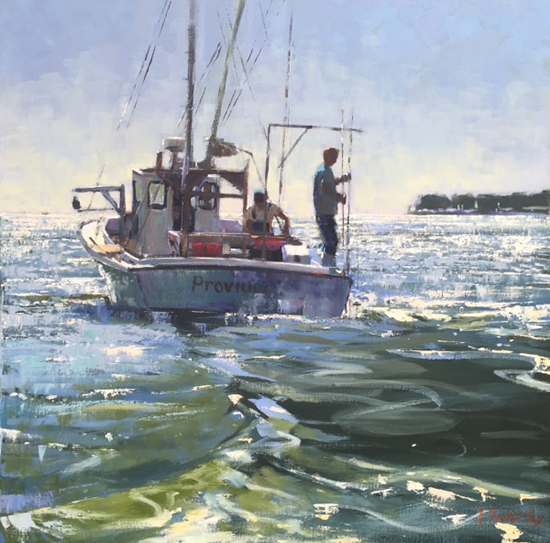 Provider 30 x 30" Oil

When you scout a location, on the road or at an event, what are you looking for? What triggers you to make a painting?

It's really how the light hits a shape or how shapes come together to make an nice abstract design that attracts me. I seldom paint the cute or obvious crowd pleasers unless they meet the first two criteria. In a plein air competition I often try to find a motif that says something about that particular area that has little to do with specifics. I look for iconic images. However, if an image satisfies my criteria for light and shape AND actually has a message, that really makes me happy. Hall of Hopes and Power Play were two such paintings.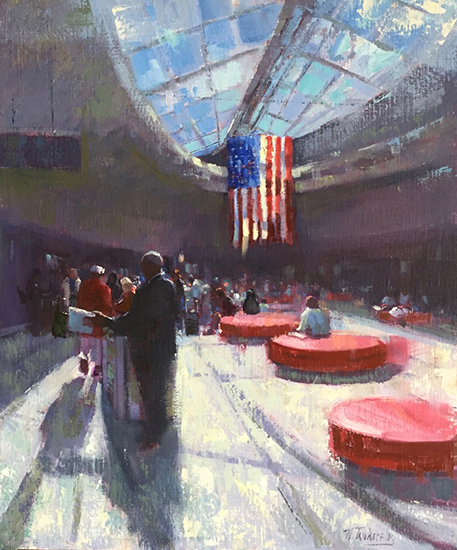 Hall of Hopes 24 x 20" Oil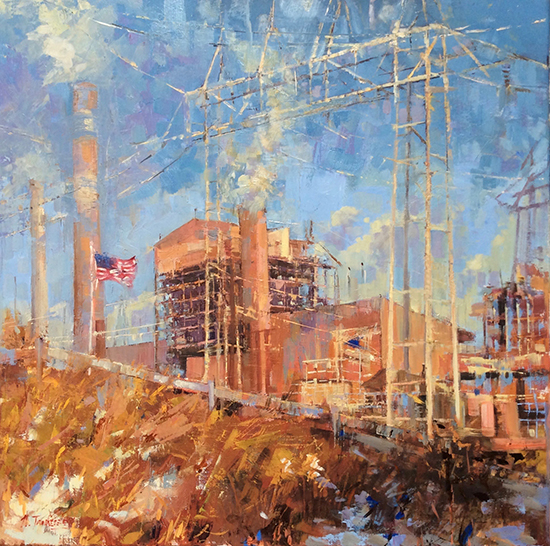 Power Play 20 x 20" Oil

Do you have any particular books that you go to regularly for inspiration and/or to spark your creativity?

Richard Schmid's book, Alla Prima II Everything I Know about Painting--And More
filed in a lot of blanks in my education. Sadly I no longer go to books as often as I go to the internet and other artists' websites. But I try to limit that exposure because it's hard to find one's own voice if you are constantly looking at other artists' work. The last book that I devoured was that of Len Chmiel, a western painter who is very proficient in all subjects, but I find his semi-abstract landscapes very interesting. Also, the landscapes of Utah painter Doug Fryer walk the line between representational and abstract and I find his work inspiring.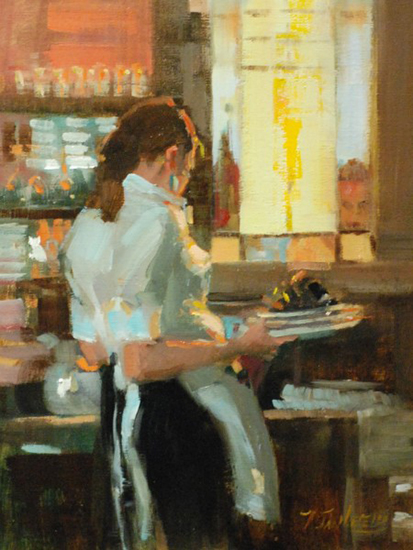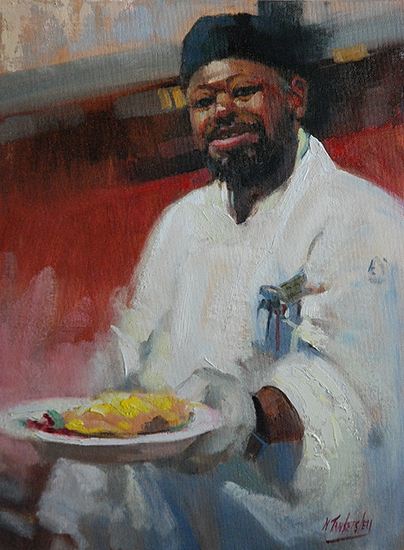 An Order of Mussels 12 x 9" Oil Charleston Charm 16 x 12" Oil
Do you think that your artwork or style is unique?

That's a hard question. I don't really strive to be unique or different, but if how I chose subjects, or apply the paint, or see the colors makes my work unique or different, that's a good thing. I do think that I am one of those artists who cannot be content painting one look or subject. Early on, I found myself categorized as a portrait painter, and then a painter of figures on the beach. When I tired of that, I started painting restaurant scenes and became known for that. When I tired of that, I turned to urban and industrial scenes. Through it all I painted landscapes and still life, too. I know I may lose collectors when I shift from one subject to another, and galleries aren't keen on not having a brand, but I'd rather be known as a good painter who painted everything well. Now I often let the subject dictate how I am going to treat it, and my palette, tools and even surface may change accordingly. I truly believe that great art is not subject driven—it's about the combination of shapes and values above everything else.Then comes mood or excitement and all of these factors can be found in any subject matter. So I am constantly challenging myself to find these factors in new subject matter so that my work stay fresh and interesting.

To beginning artists I would say, learn the basics (good drawing, good design, how to see value) and then paint, paint, paint. Your style will develop naturally. Follow artists whose work you love, not just admire for their facility. It's so easy to be distracted from your true path by the look or fad of the moment.
To see more of Nancy Tankersley's work, go to:
All Artwork © Nancy Tankersley