Opening Up

Perspectives No. 333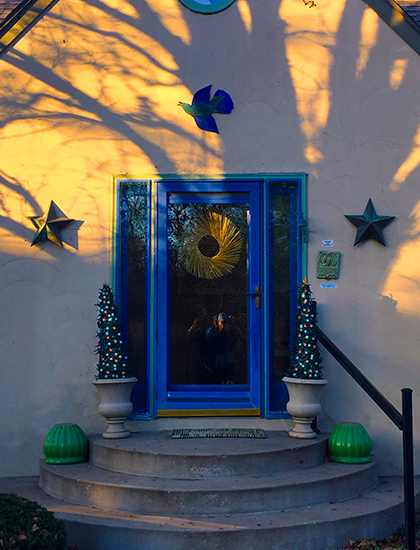 Like taking a bath, making art can be a lonely business. Perhaps that is part of what draws many of us to the occupation. Unlike other artistic vocations such as dance or music, there is little possibility for ensemble work in visual art. We like working alone. We enjoy the solitude to pursue our own thoughts and ideas free from discussion or compromise. We become quite comfortable with the quiet life. Occasionally, we may emerge at art exhibitions, which many view as necessary interruptions accommodated mostly to keep the lights on. Unless one is an exhibitionist by nature, though, showing and discussing our mostly private thoughts in public can be uncomfortable. It was for us in our first shows, but with practice, it got easier.

Today we are preparing our studios for a rare event—a public open house and sale. It has taken all week to disassemble our normal studio arrangements, move furniture, paint, inventory and price and rehang walls, but we're getting close. By the big day, Saturday, we should be in fine order. It is a lot of effort during which we can't work on art or much else for that matter, but it is important work. It is important because we know that the process of sharing our art with the larger world is the other half of the Yin/Yang circle that is a balanced artistic life. As galleries seem to have slowly reduced their support for individual artists and the internet has become a more comfortable marketplace, more and more artists are turning to direct public interaction as a means of creating an independent artistic life. We've learned how to run a business, of course, but most importantly, we've learned that there can be great satisfaction and joy in meeting people and expanding our artistic and personal circles. It takes effort to conquer the inertia of solitude or personal shyness, but the rewards are always worth it.

One important lesson we've learned repeatedly is that if we want to have a large and eager group of collectors, we must let them get to know us. It seems that people are more motivated to purchase art when they feel they have a connection, however tenuous, with the artist, and perhaps a story to share with friends about the artwork they have purchased.

It seems to us that here in the Midwest, collecting art is often less a matter of price and more a matter of purpose. When we share our stories and a bit of ourselves with the public, we imbue our work with that interpersonal connection, and thus give it and ourselves a greater purpose in the larger world.