Voices of Experience

An Interview with Pablo Rubén López Sanz



Alovera Watercolor Pablo Rubén
Pablo Rubén consistently takes first prize in plein air painting events in his native Spain. He has been awarded more than 300 prizes in Spain and France and has recently been given awards at the San Diego Watercolor Society International Exhibition. Travel is an integral part of his life and work. Rubén shares his experience and knowledge with students, maintaining an intense teaching schedule. He has taught workshops in Canada, Mexico, Brazil, Portugal, France and Spain. He took time out of his busy calendar to write to us about his evolution as an artist.

"From a very young age I had drawing skills and great creativity. Painting is what I have liked the most since I have had the use of reason, and although I did not have a familiar artistic reference (family background), I never stopped painting until I became a professional. At ten years of age, I had already participated in local certifications of drawing and painting.

When I was twelve years old, my parents signed me up to attend a drawing and painting academy that helped me get started in this exciting profession. I was learning from different masters mainly in the technique of oil, until about fifteen years ago when I started painting with watercolor.

In the beginning I learned with Alvero Castagnet and Joseph Zbukvic, the latter being my teacher of reference in this technique.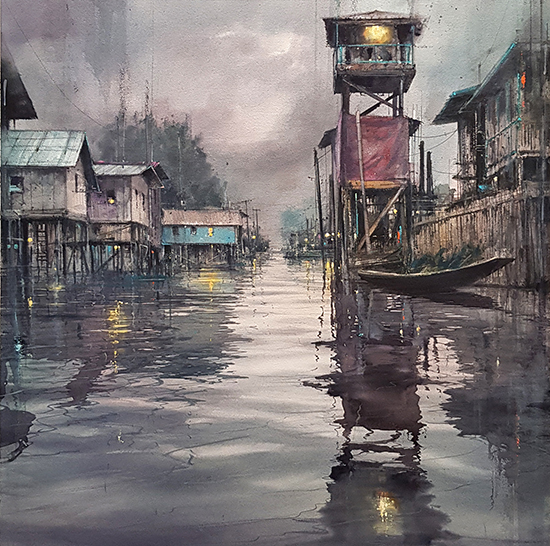 Stilt House Sunset Watercolor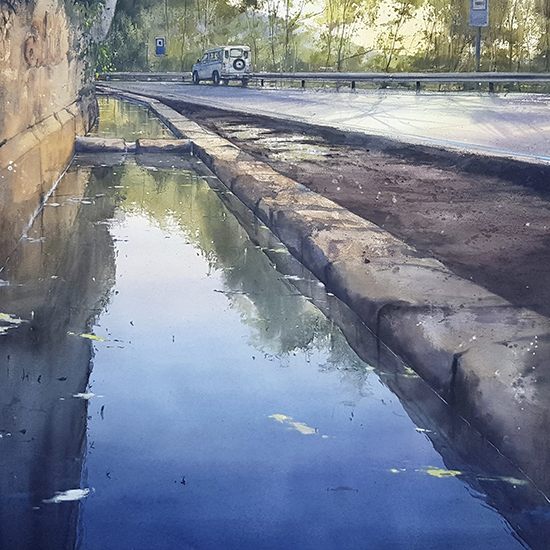 Castellar Watercolor

What is it about watercolor that has made it your medium of choice?

In watercolor I found the perfect medium to develop my works in a short time and in a fresh and spontaneous way. In addition, this technique allows me to maintain the structure of the previous drawing at all times and even redraw during the process. When it comes to outdoor painting, it is a perfect technique for the economy of means necessary and the cleaning of the materials that are used.

I usually do my work in the open air. Therefore the most difficult thing is to adapt to the weather—control the moisture of the paper and the drying times. I have painted at 45º C (113º F) in the month of August in Andalusia and -4º C (25º F) in winter. The best lessons are when you face this type of situation.

What type of paper do you typically use?

Arches 300 lb. rough surface.

- and your color palette?

The essentials for me are Lavander, Ultramarine Blue, Indigo, Cerulean Blue, Cobalt Teal Blue, Sepia, Pirrol Orange, Opera Pink, Transparent Red Oxide, Buff Titanium, Hansa Yellow Deep, Titanium White and Mars Yellow.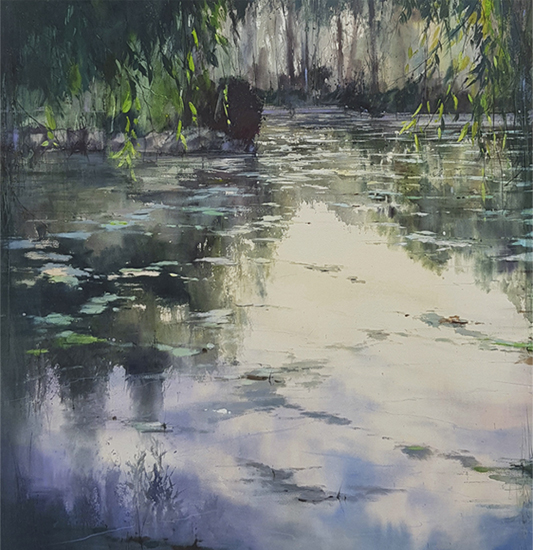 Capricho Watercolor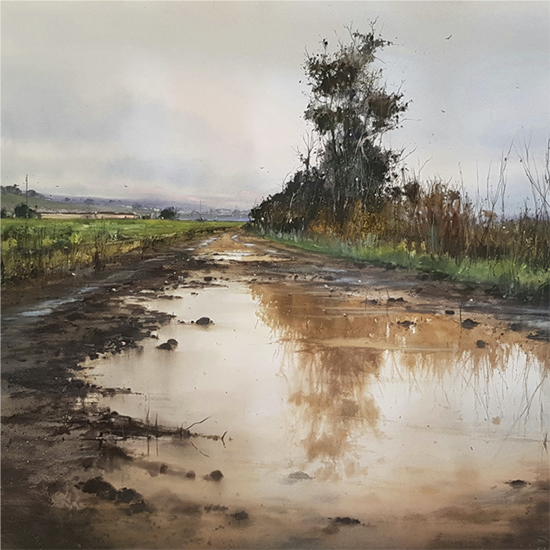 Poblette Watercolor

Can you lead us through your process, from initial inspiration to final work?

I have two different ways of working depending on whether I am working outdoors or in the studio. When I paint in the open air, decision-making has to be very fast because the light changes quickly and the watercolor must be solved in a short time. Normally I take photos with my phone to know how the light was at the beginning in case it is the light that interests me for the work.

My studio work is much more leisurely and I spend a lot of time developing the compositions of my watercolors, sometimes based on small quick sketches and others through photo editing, adding or removing elements until the desired composition is achieved. The studio works are not made in long days. I prefer to paint many short sessions in order to meditate on each step of the work.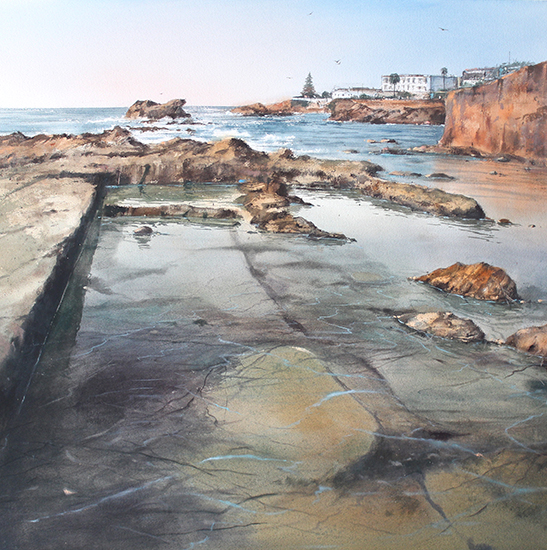 Cantera Romana Watercolor

How has travel informed your work?

Traveling is one of the great advantages of my profession and, without a doubt, one of the greatest rewards. During the weekends, I participate in numerous fast-painting competitions in Spain and France, so every day I am in a different region painting a different landscape. In addition to the contests, I regularly teach watercolor classes and workshops all over the world, which allows me to get to know many cultures and cities from one end of the planet to the other. My next courses will be in Moscow, Los Angeles and Florencia for example.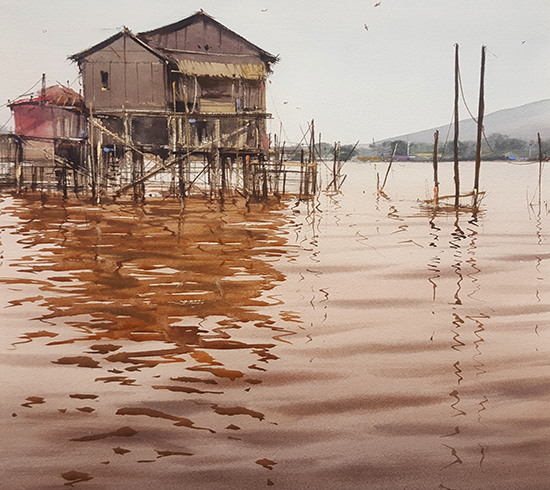 Brown Waves Watercolor

My themes within the landscape are divided mainly into two: on the one hand, the themes in which water is the main protagonist (puddles, lakes, rivers, ponds, fountains, ports, etc.); and, on the other hand, urban and industrial subjects (large cities and spaces with cranes, bridges, vehicles, etc.).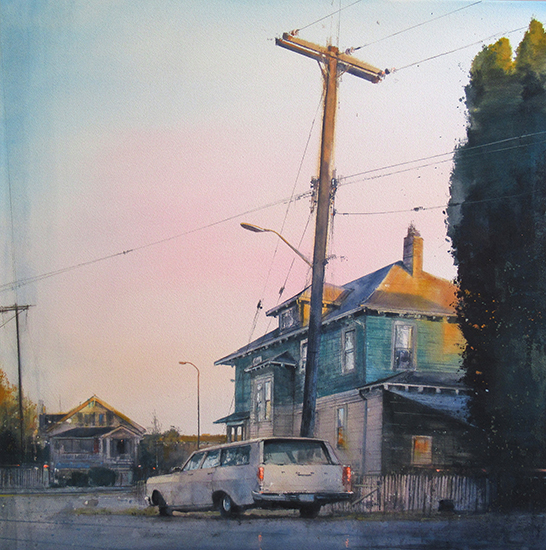 Sunset in Georgetown Watercolor

In whose work or in what books do you find inspiration?

My favourite artists historically are Joaquín Sorolla, Anders Zorn, John Singer Sargent and Mariano Fortuny. The best contemporary artists for me are Joseph Zbukvic, Chien Chung Wei and Jeremy Mann. I prefer to look at photography books instead of painting books for inspiration. The artist I love the most is Gregory Crewdson.

Is teaching an important part of your artistic life?

Of course—half of my professional activity is teaching drawing and painting, I've been combining painting with teaching for twenty years. Teaching enriches you personally and having to correct the work of the students makes the technique improve greatly—in addition to meeting fantastic people among students who are going through classes.

I often tell my students that the only secret is sincerity and perseverance. Knowing how to recognize our mistakes and where we want to go and to not stop trying. You do not learn to draw and paint in two days. The road is long and you have to go through all the steps.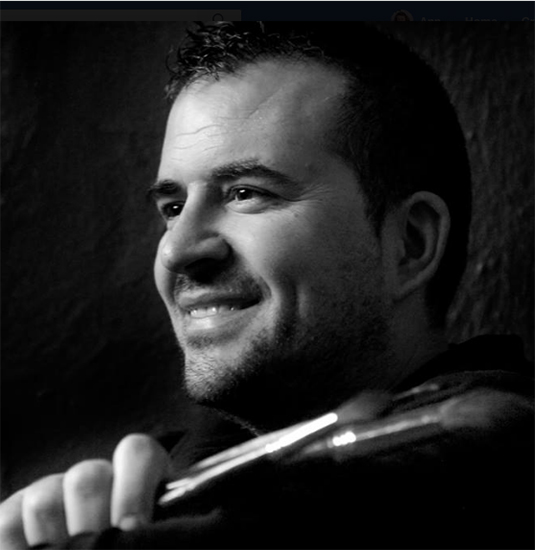 To see more of Pablo Rubén López Sanz's work,
go to: https://pabloruben.com/en
All artwork copyright Pablo Rubén López Sanz