Painting in a Fog

Perspectives No. 304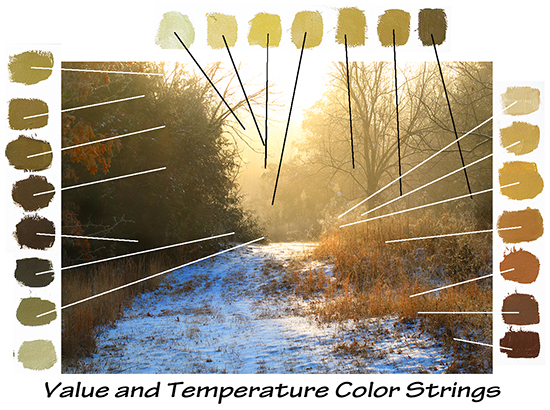 Painting the light effects created by fog can be frustrating at first, primarily because fog is typically moving around while we are trying to paint it, making the scene ever-changing. This can be maddening, and may cause us, like Monet, to put a foot right through our canvas!

For our oil classes, we developed a good exercise which can go a long way towards elucidating the fundamentals of painting fog effects. Instead of trying to keep up with a moving subject, we had the class work in the studio, using one of our photos greatly enlarged. To make it even more interesting, we chose an image taken on an exceptional day when warm yellow sunlight back-lit the subject, turning the normally cool-toned bluish-gray fog effect on its pictorial head. Everything in our subject was suffused with this yellowy tone, even the snow. This can present a serious color mixing and value-matching challenge.

Our solution was to break the image down into large masses of tone and then carefully analyze and match the values and temperatures of those in a pool of color mixed on the palette. We identified four main masses in the subject and started mixing the darkest values of each color first. This was followed by mixing a color string of the other tones within that mass until we had all the apparent colors/values mixed and ready. We know that this may sound like a tedious approach to the problem, but it need not take very long to do and it is very accurate. The importance of this operation cannot be overstated, as it saves us from constantly making corrections to our colors and main values while we paint. This greatly speeds our work as we adapt to a shape-shifting subject outside. Plus, by sticking to a pre-mixed palette, we are less prone to add new, disharmonious colors partway through the picture. Any of our color strings can be cross-mixed with any other and still work as a whole. All that remains as we paint is to use white or black to lighten or perhaps darken our colors as necessary. Note: We now use Gamblin Chromatic Black for accenting (darkening) colors because it does not affect the temperature of the color.

In short, this exercise teaches us to analyze colors and tones as large masses/shapes and quickly mix up the correct matches. Important, since painting fog is a kind of performance art. For once we are painting outside, there will be moments when there is no time at all before the fog lifts and the subject has literally evaporated.