Passive Aggressive Art

Perspectives No. 303




If you ever have the opportunity to visit the St. Regis Hotel bar in Manhattan, you will want to see the famous Maxfield Parrish mural based on the nursery rhyme, "Old King Cole":
Old King Cole was a merry old soul,
And a merry old soul was he;
He called for his pipe, and he called for his bowl,
And he called for his fiddlers three.
Every fiddler he had a fiddle,
And a very fine fiddle had he;
Oh there's none so rare, as can compare,
With King Cole and his fiddlers three.

Parrish (1870 - 1966) had a long and successful artistic career. He is remembered for his use of saturated pigments, most notably what we call "Parrish Blue"; his laborious glazing techniques; and his neo-classical imagery. His illustration work adorned calendars, magazines, advertisements and books. Although he is remembered primarily for his commercial work, he focused on landscape painting later in his career.

In 1906, Parrish was approached by John Jacob Astor IV to paint the King Cole mural for the bar at his new Knickerbocker Hotel. Parrish was a non-drinking Quaker and resisted the commission until the fee reached $5,000 (equivalent to more than $125,000 today). For paying that large amount of money, Astor felt that he should be portrayed as the king in the painting. Parrish accepted the condition and combined it with a bet among fellow painter friends, who challenged him to paint what they felt was unpaintable—the act of breaking wind.

Parrish succeeded in painting the Astor figure as King Cole sitting on his throne passing gas and won the bet. He added the figures of jesters to each side of the king, both self- portraits, laughing at the king's (Astor's) flatulence. Despite the joke, the mural is considered a masterpiece. Astor later died aboard the Titanic.

The mural consists of three 8 x 10' panels. Although commissioned for the Knickerbocker Hotel, it now resides in the St. Regis, after having been moved several times, once to the Chicago Art Institute. It was restored in the 1950s under the watch of Parrish himself, and more recently was restored for the cost of $100,000. At the time (2007) it was valued at 12 million dollars.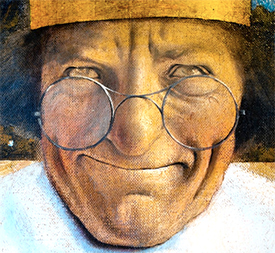 Save
Save
Save
Save
Save
Save