Voices of Experience

Patrick Saunders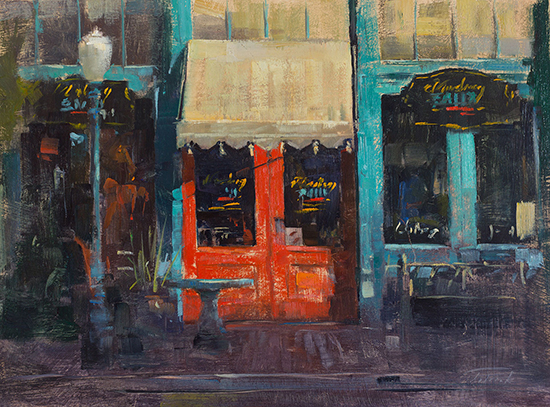 Mustang Sally's 16 x 20" Oil on Panel

Patrick Saunders has created what may be the ultimate plein air artist's lifestyle. Leaving behind the notion of a traditional home and studio, Saunders and his wife, photographer Kimberly Saunders, have embraced the mobile life, traveling across the United States in their 16' Airstream Bambi trailer. This untethered freedom has allowed him to participate in plein air painting events from coast to coast as well as to teach workshops wherever interest develops. Saunders has won awards for his paintings in many nationally recognized plein air competitions and is a Signature Member of the Laguna Plein Air Painters Association and the Oil Painters of America. We asked him to tell us about how he made the decision to take his life onto the road.




It was all my wife Kimberly's idea. After living in the Midwest and on both coasts, we were unsure of where we wanted to settle down. We had been on the home ownership/home improvement track, and wanted more free time to create. For a while, we considered buying a tiny house and trying out some different areas of the country, and that slowly evolved into the idea of an Airstream. When I started painting en plein air, an outdoor, mobile life made more sense than ever.

Our only expectation was the promise of new experiences. I can't say that anything has turned out as expected, but it has been a series of adventures. In the two years since we started, we've been from coast to coast and border to border, stayed in some of the most beautiful places in North America, met a series of wonderful and outrageous characters, outrun hailstorms, and crossed paths with bears. Best of all, it's been an endless summer, as we've chased 70 degrees.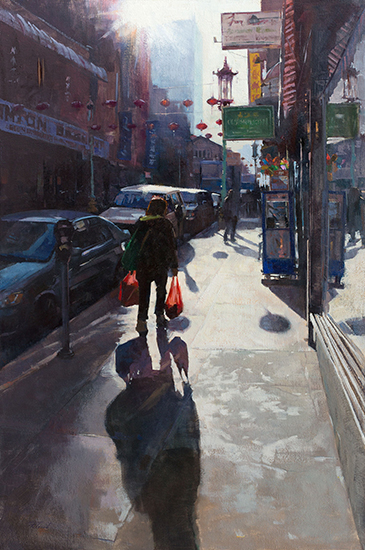 Back from the Bazaar 24 x 36" Oil on Canvas

The logistics of living in a small mobile space must make it difficult to make art at times. Do you primarily work outdoors?

I find painting outdoors much easier and more rewarding than an indoor setup. The light can't be beat, the ventilation is far superior, and I never get "stuck in the studio." I have a 12 x 12' canopy that I can set up and paint under in almost any conditions. The Airstream is our home base, so all of my equipment, including frames and larger canvases, fits in the back of our tow vehicle, a Ford long bed truck.

Is it possible to earn a steady living traveling the plein air circuit, or do you add to your income through commissions, teaching—anything else?

Plein air is just one aspect of what I do. While it's possible to earn a living just on the circuit, it's quite volatile. You never know what to expect at any event, even if you've been there previously. I've been teaching painting since 2001, at the Kansas City Art Institute and on my own. I set up workshops anywhere there are willing students. I also have a steady stream of portrait, pet and landscape commissions. On top of that, we have a thriving online business selling prints and cards of our artwork.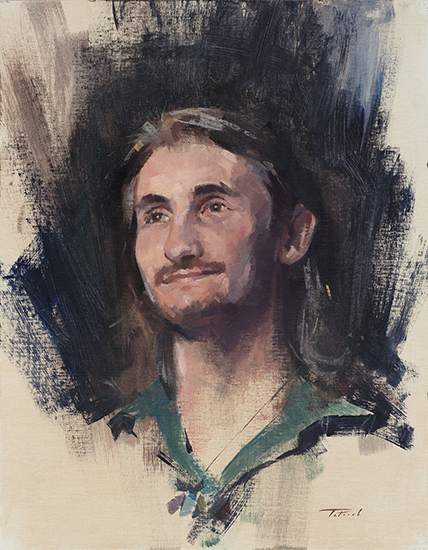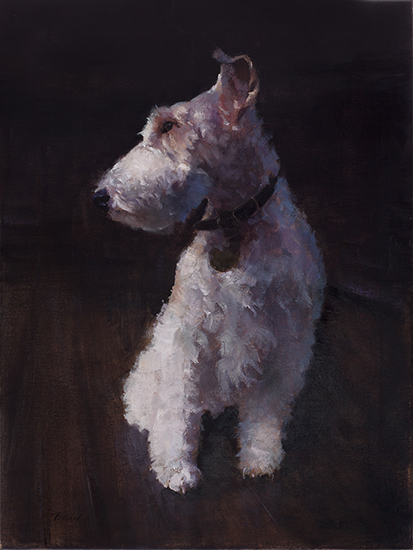 Grayson 14 x 18" Oil on Linen Webster 18 x 24" Oil on Canvas

When was it clear to you that art would be your full-time profession? Did you receive encouragement from family and/or teachers when you were young?

My mother painted, and was always encouraging of my art. It was something I did since I was very young, but I really didn't consider it as a career until I was a senior in high school. I was planning to pursue architecture, but my high school art teacher could see that I was more interested in drawing and painting. He convinced me to make a change.

Mandevilla 6 x 8" Oil on Panel

I attended the Kansas City Art Institute. I can't say that anyone there taught me how to paint, but they did teach me how to learn. I resented that at the time, but now I see how much further an extensive knowledge of art history and theory goes than simple technique. After college, I spent a decade at Hallmark Cards. I apprenticed with Gail Flores, an amazing watercolor painter, and that is where I learned the most about technique. We painted mostly flowers, all day, everyday. One after another. Paint it, toss it aside. I found that painting flowers translated into everything. One of the biggest issues in painting is overworking a piece, and no subject reveals this faster than flowers. There's a delicate balance between accuracy and energy. If too much time is spent on a flower, it quickly becomes heavy and lifeless.

Tell us about your preferred materials. What pigment colors do you typically keep in your palette? Do you work mostly on panels or stretched canvas, cotton or linen? Do you work in other mediums in addition to oil?

My palette is constantly evolving as I experiment with new colors, but I always keep a consistent set of warms and cools. My current palette is Titanium White, Cadmium Yellow Medium, Cadmium Orange, Cadmium Red Light, Alizarin Crimson, Yellow Ochre Light, Burnt Sienna, Burnt Umber, Prussian Blue, Cobalt Blue and Cerulean Blue.

I work on a variety of surfaces, but I'm very particular about the preparation. Whether it's canvas panels, stretched canvas, linen or hardboard, I prefer an oil-primed surface. Painting on an oil-primed surface creates a chemical and a mechanical bond with the paint, while an acrylic-primed surface only creates a mechanical bond. Without the chemical bond, poor adhesion can cause the paint to bead up. Acrylic grounds are cheaper, faster and safer, but the end result is not nearly as easy to work with. I also prefer to prime my own surfaces for the sake of texture. Most pre-stretched and pre-primed supports have a very uniform texture, having been primed by machines. I find it overwhelming and distracting, especially in areas of thinner paint application.

I've worked in almost every medium, but in recent years, I've focused exclusively on oil. I find that my work in watercolor and pastel has greatly influenced my oil paintings to the point that I am often asked if the medium is actually pastel or even watercolor.

Above and Below the Sol Duc 14 x 18" Oil on Panel

What other artists' work do you look at regularly for inspiration? Do you have any particular books that spark your creativity?

There are so many. Of course, there are the ones almost every realist painter points to—John Singer Sargent, Cecilia Beaux, Andrew Wyeth, Joaquin Sorolla, Anders Zorn, and Nicolai Fechin, or the great landscape painters— Arthur Streeton, Willard Metcalf, Edgar Payne, William Wendt. I have a particular affinity for the Russian painters—Abram Arkhipov, Anatoli Levitin, Filipp Malyavin, Valentin Serov. I studied illustration, so I'm also drawn to a number of the greats—Bernie Fuchs, Dean Cornwell, Howard Pyle, Kent Williams. I also find design inspiration from more modern painters like Richard Diebenkorn and Robert Rauschenberg.

I had an extensive art book collection, but I sold them all when we hit the road. It wasn't difficult for me, as I found that there are many aspects of paintings that you can't really appreciate in a book. Henry Ossawa Tanner's work didn't impress me in print, but when I was able to view a retrospective in Kansas City, I found a glow that cannot be reproduced. Abbott Handerson Thayer's work is similar. I'll never forget the first time I saw Lovis Corinth's "Nana" at the St. Louis Art Museum. The movement of the brushstrokes took my breath away. I can stare at those paintings for hours. Living in New York for a time, we had access to so many great works of art that took on a new meaning once seen in person. The concept of scale and texture can only be appreciated in person for certain artists like Lucian Freud or even Helen Frankenthaler and Mark Rothko. If you've ever seen Sorolla's "Vision of Spain" at the Hispanic Society of America in New York, you just can't get the same sense of awe in a book. Museum experiences evolve as well. During a renovation at the Metropolitan, "Madame X" was available unframed. It was like peeking behind the curtain at Sargent's working methods.

Now, I have a very large collection of digital images that I can reference. A number of museums have digitized their collections and made them available as high-res downloads. They're easier to sort and far better than print reproductions. Still not the same as the real thing, but inspiration nonetheless.

Tell us a little bit about your process and what you look for when you are scouting a potential painting location.

My paintings are ultimately about the process, and I want that process to come through in the final piece. For that reason, I don't produce any sketches, studies, or even draw on the canvas prior to painting. I dive right in with broad areas of color in an attempt to capture a subject's essence as quickly as possible. The process of then correcting and altering those initial marks adds a sense of energy to the painting that I couldn't achieve with a less spontaneous approach. Sometimes a painting goes very smoothly from start to finish, and other times it's a struggle. I might find myself wiping or scraping out whole areas of a piece, but this creates unexpected colors, textures or edges that add to the tension of the final image.

Choosing a subject can sometimes be very difficult for me. Anything and everything can be painted and probably has been painted, and painted very well.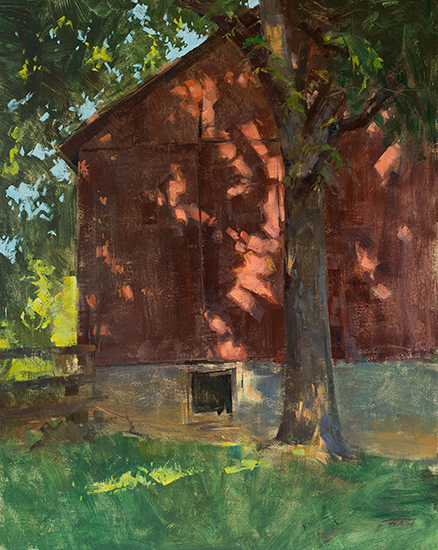 Light Dancing at the Clapp Barn 16 x 20" Oil on Panel

I don't decide in advance. I have to find something that appeals to me personally in the moment. I always ask myself, "Why do I want to paint this, and what's this painting about?" It could be as simple as the juxtaposition of values and colors, or an interesting pattern. The landscape I'm painting probably isn't about the barn that is front and center, but might be about the way the light coming through the trees creates a pattern of darks and lights across its surface. The best paintings make us feel something beyond a reproduction of a visual image. There are landscapes of a summer afternoon that make you feel the heat of the sun. There are paintings of historical or everyday events that fill us with joy or sorrow. If I can't find an emotion in a subject, then I can't expect anyone else to do so either.

Do you feel that your artwork or style is unique?

My favorite quote on style is from Orson Welles: "Style is knowing who you are, what you want to say, and not giving a damn." Paintings by certain masters are instantly recognizable, but I would never argue that it is because they prescribe to a particular style. I don't believe for a second that John Singer Sargent set out to create a "John Singer Sargent". He just painted. Lucian Freud didn't think "I need thicker paint here, or it won't look like one of my paintings." He observed what was before him and painted it the best he knew how.

I would say that I am unique in the same way as every other painter. The more I work, the more confidence I have and the more that confidence comes through in my paintings. I take in everything I can, and paint the best I know how. Confidence is style.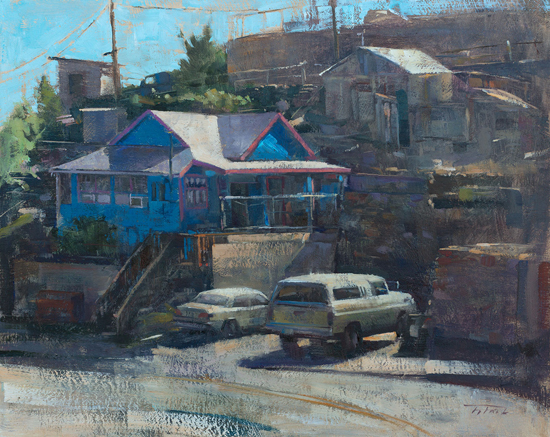 Hillside History, Jerome 16 x 20" Oil on Panel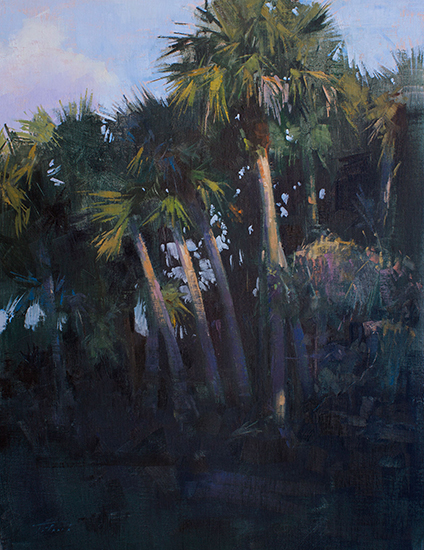 Riverbend Breeze 14 x 18" Oil on Linen

What do you try to pass along to your students when you are teaching classes or workshops?

My focus as a teacher is to always give encouragement, practical advice and most of all, actionable feedback. I learned early on that actionable feedback is one of the things lacking most in classes or the art industry in general.

The three most confusing words I ever heard in my time as an artist was at Hallmark Cards —"Make it special." The routine worked like this—I would receive a written request to create art for a card. Maybe a red rose was needed, or an image of a mother and daughter. Whatever it was, I painted it, and did my best to create a piece that I was both proud of and that suited the needs of the assignment.

The next step in the process was the "creative review." Artists would walk into a room with their work and be confronted by two or three executives who were there to provide feedback.

There I was, a college senior—I started as an intern—and intimidated by what I assumed were art professionals that knew everything—everything that I wanted to know! I was excited to learn from these seasoned veterans. I had my heroes that I wanted to paint like. I spent my nights and weekends practicing outside of work, hoping that one day, I could paint even half as well as those who came before me. I was nervous sharing my work, but excited to hear how I could make it better.

"Make it special." That's what they told me. For a moment I was speechless. They simply smiled. "Is there anything specific you would like me to change?" "No, just make it special." And that was that. I left the room with a stomach ache and nothing more.

A good teacher will give actionable feedback or even demonstrate how to improve.
"Your values are incorrect."
"This edge is drawing my eye to it and should be softened." "You don't have a clear focal point." "The drawing is off right here."

Students shouldn't settle for anything less.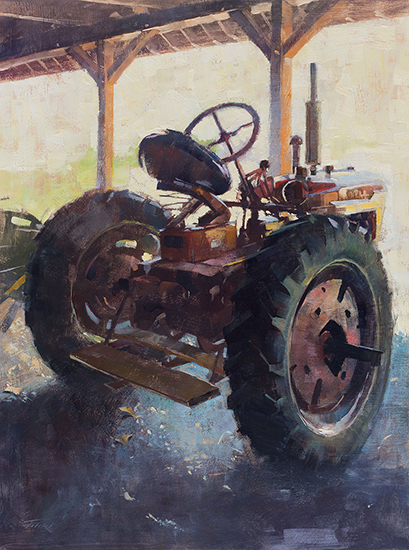 Respite 18 x 24" Oil on Panel

The most important thing I believe a beginning artist should ask him or herself is "Why?" In the case of something that can become so consuming, so affecting, you'd better ask yourself, "Why do I paint?" Like most creative undertakings, painting involves a mix of joy and frustration. During those moments of self-doubt (and believe me, everyone has them), a clear understanding of why you chose this path can keep you moving forward. While there has been a media trend to brand painting as a hobby (i.e., plein air painting is "the new golf"), I assure you that painting is far more than a mere distraction or sport. Painting isn't a light undertaking, yet it can be one of the most rewarding experiences. If you paint because you are compelled to, you can survive the frustrations and stay passionate. If your reasons for painting aren't personal, and are driven more by economics than emotion, you will be frustrated more than fulfilled, and perhaps come to hate what you thought you loved.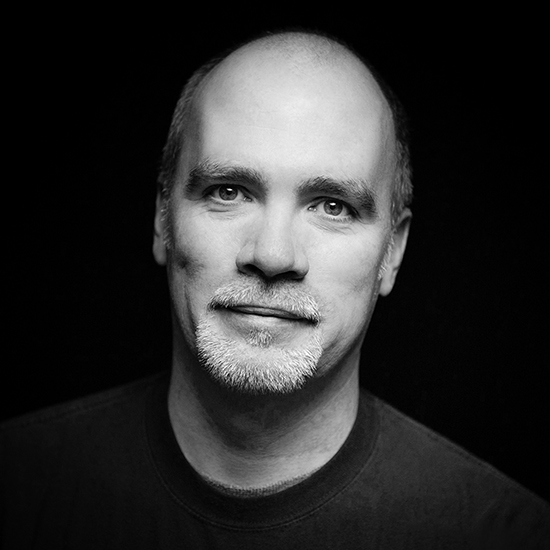 To see more of Patrick Saunder's work, go to:
http://www.patricksaunders.com
All Artwork © Patrick Saunders

Save
Save
Save
Save
Save
Save
Save
Save
Save
Save
Save
Save
Save
Save