Prairie Fire

Perspectives No. 433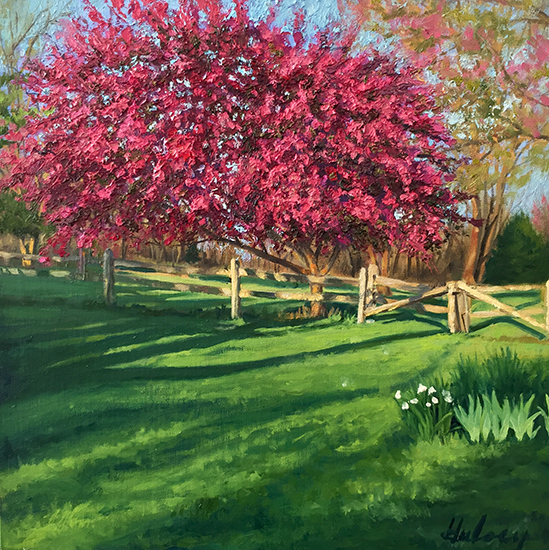 Prairie Fire 12 x 12" Oil J. Hulsey
Spring is slowly working her magic here in the Midwest, gradually presenting us with visions of beauty as flowers and shrubs start to bloom. Over a couple of decades, Ann and I have turned our yard into a canvas of successive flower compositions which arrive, fade and are replaced with the next set throughout the spring. If the weather is cool, especially at night, the show lasts longer and we can get some real painting done. We have already enjoyed and captured the fabulous blooms of our big Prairie Fire crab tree. That is followed by a large American Fringe tree—a white sensation which lights up the yard and smells like Gardenias. At this moment, the early peonies and iris are fading while the later-blooming ones are starting to open. We live for these moments!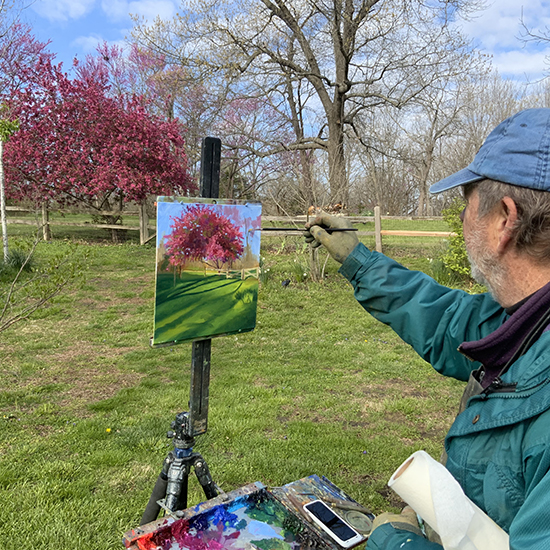 Building a successful garden takes some thought and planning, much the same way that painting does. Perhaps that is why so many artists have built gardens—it is a natural fit. Monet, Caillebotte, Bonard, Renoir, and many other impressionists, Nabis, post-impressionists, abstract expressionists, and so on, have built gardens as another form of expressing their creativity. See: Beyond Giverny - The Gardens of Caillebotte, Bonnard and Renoir Both activities are remarkably similar except for one important factor. We paint in three dimensions, but we build gardens in four. Understanding the fourth dimension—how time will affect the look of the mature version of a garden—is crucial when we are imagining our composition. Inevitably we will make mistakes and wind up moving plants later, or, heaven forbid, removing some altogether which have either grown too large, or not grown at all. That's when the painter in us appreciates how much easier it is to paint a garden than make one!

In paint, we have complete control, but not with Nature. We always learn valuable life lessons in the garden. When we consider what elements make up a good landscape painting, we are also saying the mantra of good garden design. We need to structure a composition which has a strong focal point that is supported by all the other parts—what gardeners describe as "good bones". We will want to consider major and subordinate masses, textures and edges, repetition of form, variety of color palette and temperatures, symmetry and asymmetry, light and shadow. In garden design, as with painting, we have to try and imagine the finished subject before we begin. When I am painting, I often ask myself questions as I am composing my picture: "What if I move that conifer over to the left ten feet, or perhaps create an opening here to lead the eye to a view framed by those tall shrubs? Maybe I'll 'zoom in' and crop out the rest of the background to focus on that old barn in the trees". When Ann and I were designing gardens for other people years ago, our guiding principle was always, "What would we like to paint?" That's how we create a painting and that's also the best way we know to build a garden.