The Color that Changed the World

Perspectives No. 322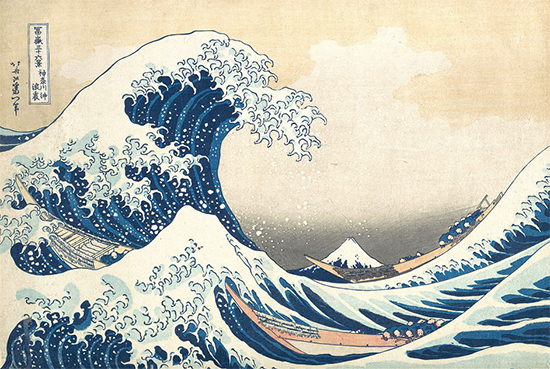 The Great Wave off Kanagawa ca. 1829-1833 Color Woodblock Katsushika Hokusai
"And that is how I caught Cézanne off guard,

coming along bent over in thought. His face like a potter's,

sun-burned, looked startled as the shadow of nearby leaves

played over it. He had a small, bony head with rosy skin,

lively eyes, and a white mustache,

carelessly smeared with prussian blue."

Jules Borély, Conversations with Cézanne

It is hard for artists, spoiled as we are by the easy availability of all the colors of the rainbow, to imagine a world wherein one of our important and necessary colors costs more than gold. But that was the world before 1703. The strongest and most useful permanent blue at that time was ultramarine, from the words "oltre marino"—referring to it being brought from "over the sea". So expensive was it that artists had to rely on their wealthy clients to buy it for them.

In 1703, however, all that changed, for a new blue was accidentally created which could be made by anyone who knew the secret formula. The color maker who discovered it, Johann Diesbach, wasn't even trying to make a blue, but rather a standard red lake, made from cochineal. He was late with his customer's order and rushing to complete the job. To make the red, he needed dried cochineal, iron sulfate and potash. Fortunately, he didn't have the potash on hand. Potash is an alkalai—what is known as a mordant—necessary to make the color attach to fibers and become permanent. There are several versions of what happened next, but the result was that Diesbach got his hands on some contaminated potash, which, when combined with the cochineal and iron sulfate mixture turned blue instead of red.

When he saw this, Diesbach forgot all about making red and began to experiment to determine how this blue had occurred. What he had accidentally created was a chemical reaction so complicated that it might not have been discovered at all for many years. Apparently, the potash he used had animal blood in it, which contains iron. This iron had reacted with the potash to change the potash into potassium ferrocyanide. When he mixed this with the iron sulfate, he accidentally created another compound, iron ferrocyanide—what we know as Prussian Blue. Even though he knew how to create it, he still had no idea why it had turned blue.

Initially, Diesbach kept the formula to himself, but the fellow who may have sold him the contaminated potash, Johann Konrad Dippel, sorted it out and by 1710, was selling the new color. It was an instant sensation partly for its deep, intense blue, great transparency and great strength, but also because it was a tenth of the price of ultramarine blue. Because it was the first truly synthetic color, it was easy to supply the world-wide demand for a strong, non-toxic blue. It is credited with reviving the Japanese woodblock industry which then influenced the French Impressionists, whose work and colors inspired modern art.