Razzle Dazzle

Perspectives No. 435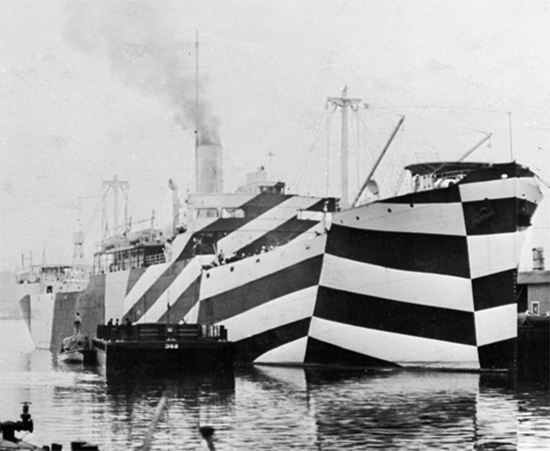 Photograph of the USS Mahomet 1918
British artist Norman Wilkinson (1878 - 1971) is credited as being the inventor of dazzle painting, or razzle dazzle, during World War I. Wilkinson was a prolific illustrator and maritime painter. During the war, he was assigned to submarine patrols and mine-sweeping at a time when German submarines were successfully sinking multiple British ships every day. Wilkinson's brainstorm was not to try to camouflage the ships, but rather to create optical confusion. He wrote that a ship should be painted "not for low visibility, but in such a way as to break up her form and thus confuse a submarine officer as to the course on which she was heading".

Wilkinson was assigned by the British Admiralty to head a unit of artists who designed and rendered various dazzle designs onto model ships. The designs were tested before being painted on larger ships. Wilkinson also served as a consultant to the U.S. Navy in its camouflage efforts. The intent of the graphic, geometric designs was to mislead the enemy as to the range, speed and heading of the ships and hopefully make it impossible for them to fire accurately. It would be difficult to know if the ship were moving toward or away from the observer.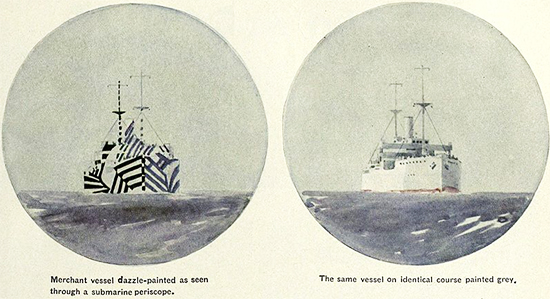 Artist-Rendered Camouflage Periscope View

Whether the dazzle painting was more effective than conventional painting in saving ships is unknown. It has been unreliable to try to compare the damage sustained by dazzled versus conventionally painted ships, due to the high number of variables (such as differences in ship sizes and different maneuvering tactics used by the ships).

Variations of dazzle painting continued to be in use through World War II, although often in simpler forms—a false bow wave painted on the front of a ship to indicate it moving swiftly, for example. More sophisticated radar and other measures made it less effective.