A Remembrance -

Dennis Perrin

Perspectives No. 450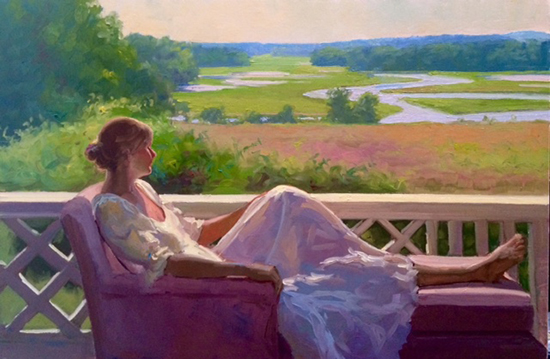 Contemplating Infinity 24 x 36" © Dennis Perrin

" . . . fall in love with the process of painting. . .

Focus on what you want, what you love,

and everything else will take care of itself.

Oh, and always ask yourself 'Why?' Why do I paint?

If you can answer that with every painting,

you will be the happiest painter who ever lived."
We were saddened to learn of the passing of artist, Dennis Perrin. We were fortunate to meet the Perrins when Dennis and his wife and model, Aimee, visited us at our studios on one of their cross-country teaching trips several years ago. Perrin's mastery extended beyond his lyrical floral, figurative and landscape paintings into his passion for passing along the skills and vision he had worked so hard to acquire.

We interviewed Perrin for The Artist's Road in 2015. His insightful words continue to inspire. Click Voices of Experience - Dennis Perrin to read more about Perrin's life and art. We extend our condolences to Aimee and the Perrin family.