Rhythms
Perspectives No. 54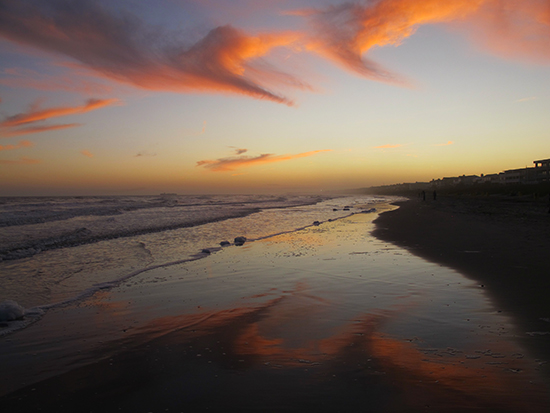 Isle of Palms photograph by John Hulsey

Even though we both grew up in the Midwest, John and I have always felt a sense of returning home whenever we have come back to the ocean. I'm sure that we are not alone in feeling great comfort in the rhythm of the waves coming to shore and the calm that seems to come from a synchronization with the rhythm of our own breathing. As painters, we are delighted by the quality of light, vast space and confluence of water and land. Edges are always interesting places to paint.

This trip we decided to take our Great Pyrenees, Bogie, for a visit back home to the beaches where he spent the first five years of his life. Now, over 13 years old (91+ in human years), he stoically endured the long two-day car ride. Today, for the first time in 8 years, he walked his slow pace down the beach and stood in the foamy water. I have no doubt that he also felt he was home again, as he looked across the great expanse of ocean and sniffed all the familiar briny smells of the marine environment again.

We Midwesterners know that the landscape of the Great Plains possesses many of the same visual qualities as that of the ocean. The wide open spaces and miles of gently undulating grasses mimic the patterns of the ocean waves. This makes sense when one discovers that the Great Plains were part of a vast inland ocean eighty-five million years or so ago.

Both landscapes are studies in the big sky - constantly changing light effects, dramatic sunrises and sunsets, clouds of all varieties. The ocean adds a world of new painting challenges and possibilities. One of our favorite painting subjects is the reflection of the sky in the wet sand which produces constantly changing abstract patterns. If the surf is rough, there can be great foamy pillows of spume which advance and retreat with the breaking of each wave. While a moving target like this is a bit of a challenge to paint at first, repeat patterns will emerge after some study making the job of composition more straightforward. Then we can relax into the color work with joy and enthusiasm. And, if we have a dog with us, well, what could be better?

blog comments powered by Disqus
Save