A Passion to Create

An Interview with Ryan Jensen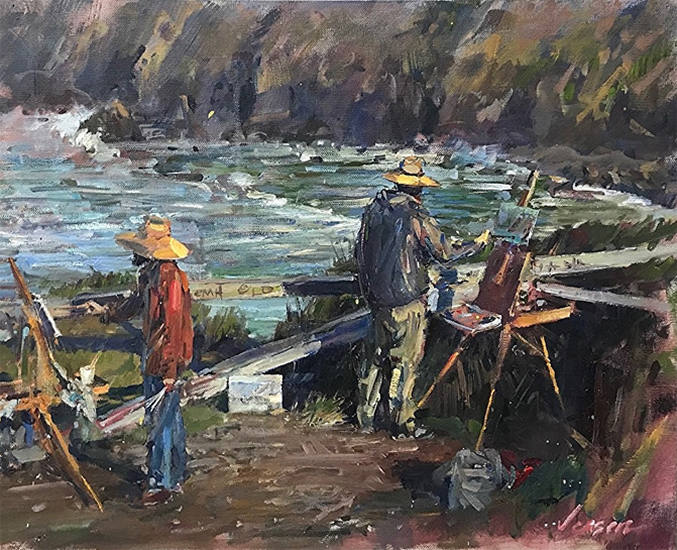 16 x 20" Oil

Art has surrounded Ryan Jensen from birth. His mother, a graphic designer, worked from her home studio producing magazine covers for software and other companies in Silicon Valley. His father, David Jensen, was a well known California oil painter. Ryan can remember being driven to school by his father who, with paint covered hands, would point out interesting perspectives to his young son. Although Ryan wasn't particularly interested in painting at that time, it is obvious that the lessons of his father were becoming embedded and would resurface when he picked up paint brushes full time as an adult. The one constant throughout his childhood, however, was his pencil. "I was always sketching, all the time. I couldn't help it. There were drawings all over my homework and everything else."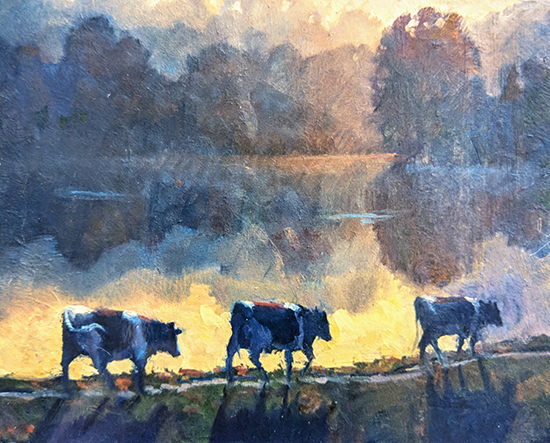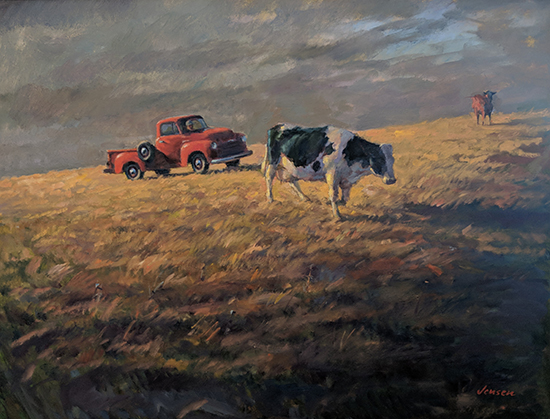 Two Oil Paintings by David Jensen, Ryan Jensen's Father

After leaving school, Jensen joined the United States Marine Corps for eight years, doing three combat tours to Iraq and Afghanistan. Even in these unlikely circumstances, art was a part of his life. "I found I was being summoned to do art projects—signs for our patrol base as memorials for fallen marines, tattoo designs for other soldiers. I took time to sketch people, too."

After leaving the Marines, Jensen returned to school to study painting, majoring in fine arts. This was the beginning of his work with color. Then, after the death of his father in 2017, he decided to go all-in and devote himself to painting every day for a full year. He says, "Everything has changed, but most significantly, my drive. If I'm not thinking about painting or doing a painting, I'm looking at paintings. It's become an obsession. I feel great. I just love it!" He is using the lessons his parents taught him—"Painting from life is the quickest way to overcome problems as an artist and be receptive to colors and values and changing light in the intimate way an artist needs to be. I love to paint en plein air and connect with a moment out there under shifting light—to capture a moment that someone will want to look at forever."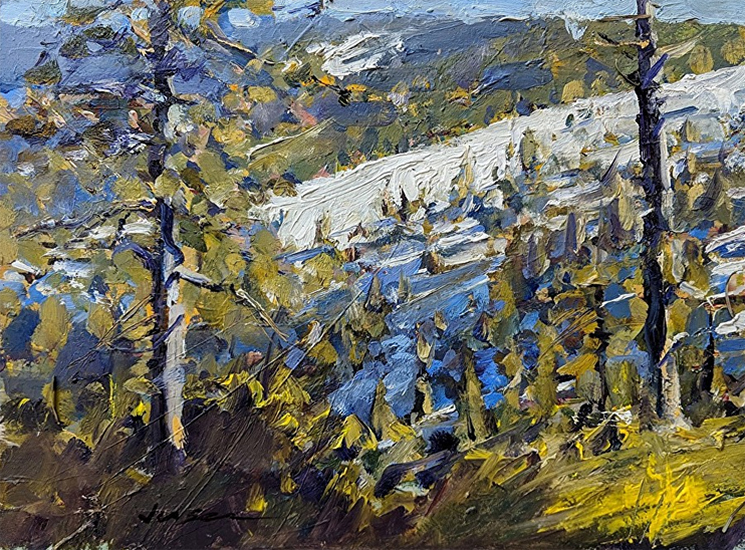 16 x 20" Oil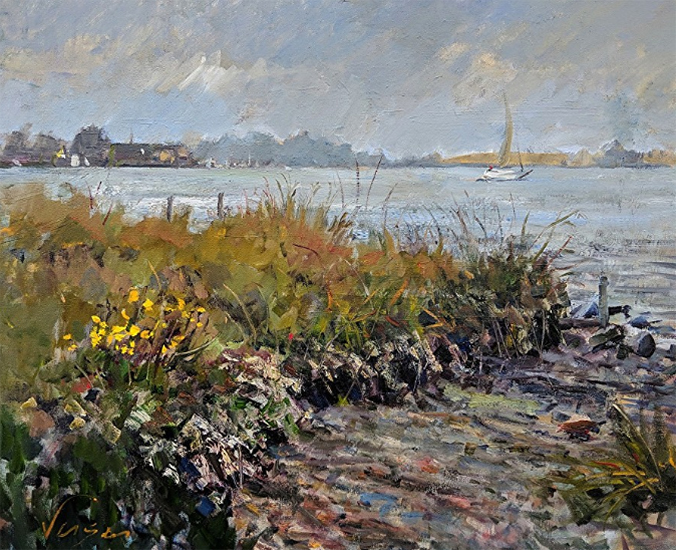 24 x 30" Oil
"My dad taught me a lot about dealing with a paint brush and dealing with paint—how to hold a brush, how not to mess around, not fiddle. You have one chance. You're going to mess it up, but look at what you've done. If the paint drips, don't mess with it. I've caught myself doubting myself, but if I remember to look at things as shapes—how much does that look like a circle, square, etc.—to draw that shape and not what the object is anymore, all of a sudden that object becomes what I'm painting. If you step back from your work often, evaluate what you've done, put some dark in the background, set up your contrasts, all of a sudden, you can paint a boat!"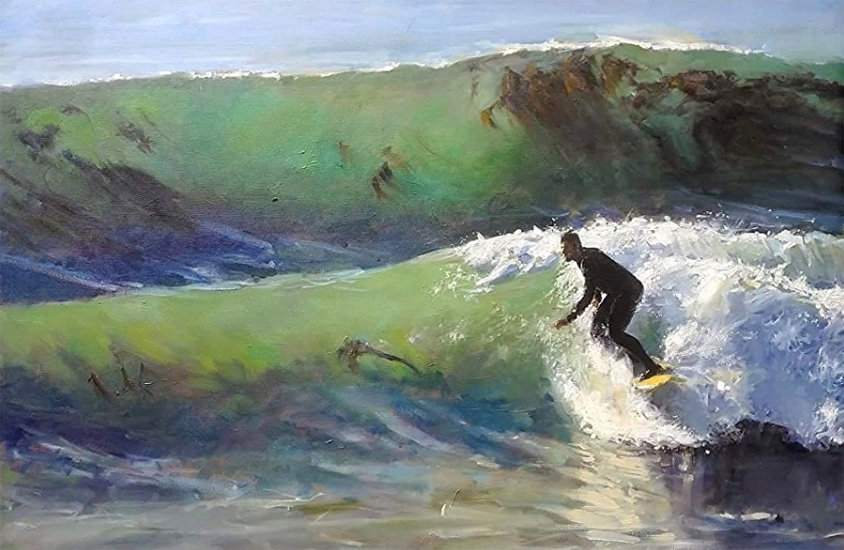 20 x 30" Oil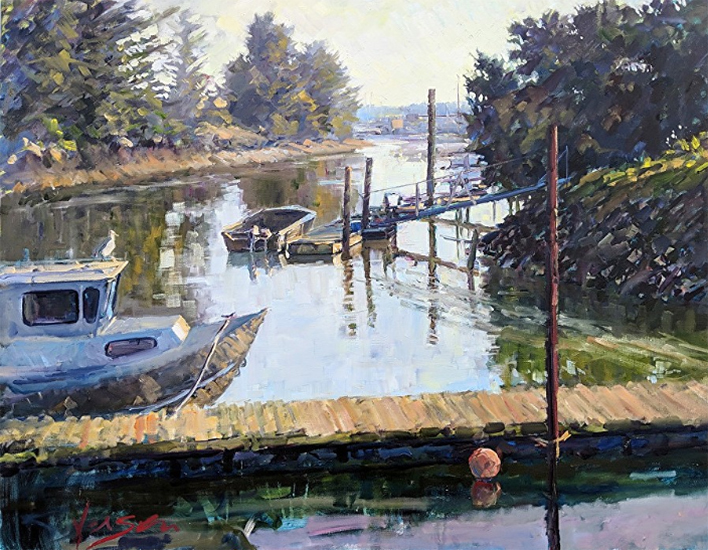 36 x 48" Oil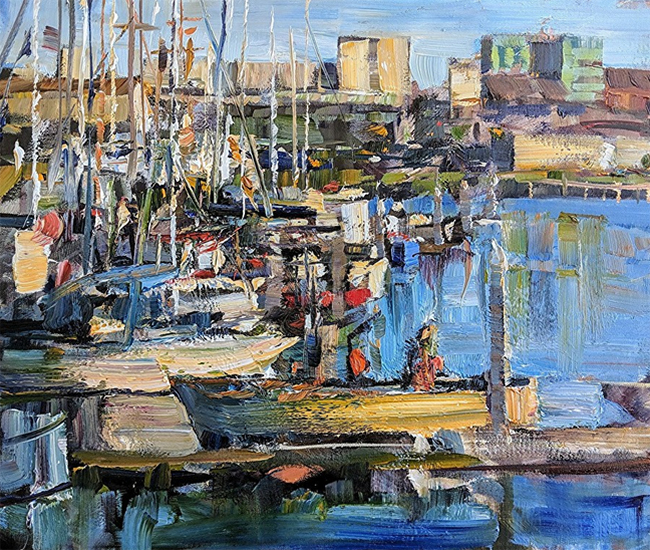 20 x 24" Oil

Jensen carries a small sketchbook with him to do compositional thumbnails, but prefers to just dive in head first to his canvas. "It gets my blood pumping to jump into it." He pushes himself working on very large canvases, many 60 x 40", attempting to complete them in about three hours, all en plein air. "I separate myself as much as I can from my work—focus on what I'm looking at. Whatever happens, I don't erase or wipe it off. I just try to have the courage to leave it alone and focus on what I'm looking at."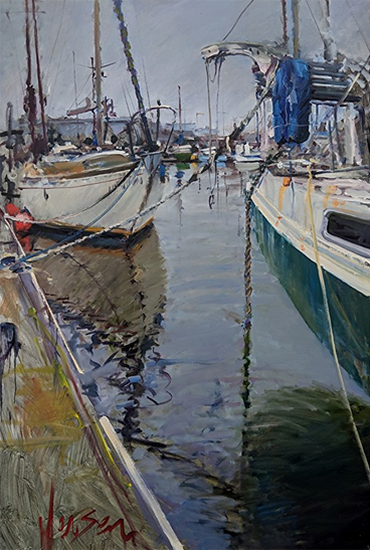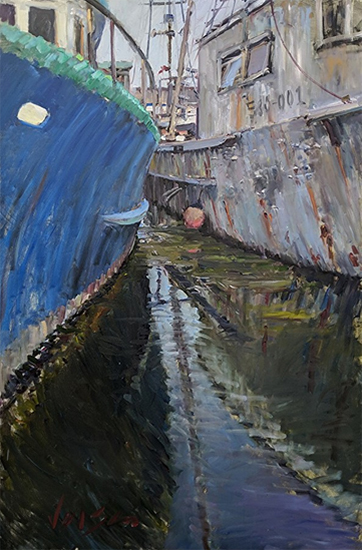 Two 60 x 40" Plein Air Oil Painting by Ryan Jensen

Jensen's year of painting every day has expanded now into year two and appears to be just the beginning of his art journey. He is fortunate to live nearby to master artist, Jim McVicker, who has become a frequent painting partner and mentor. "I had seen Jim's paintings on the internet and noticed he was from the area. I emailed him and one thing led to another. We began painting together once a week, then three times a week. We're now good friends. He took that spot that my dad had in helping me see what was wrong with the painting. We need someone to push us. We need that edge."

Jensen has gained the confidence to begin to teach others. The advice he gives to beginning artists? "Paint! Even if you're not sure what to do, try to paint with authority. You're going to not know what to do a lot of the time and if you tinker around with the brush, it's going to show. Try to keep a rhythm and energy to your work. You're going to have to fake it sometimes, but paint as if your life depends on it. Start from your feet and end up with your paint brush. Simplify everything. Take that artistic license a mile if you have to."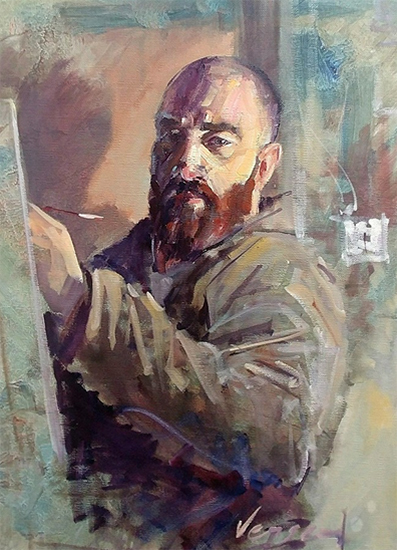 To see more of Ryan Jensen's work,
go to: http://ryanjensenartwork.com
https://www.facebook.com/ryan.jensen.3363

All artwork copyright Ryan Jensen