Signposts

Perspectives No. 194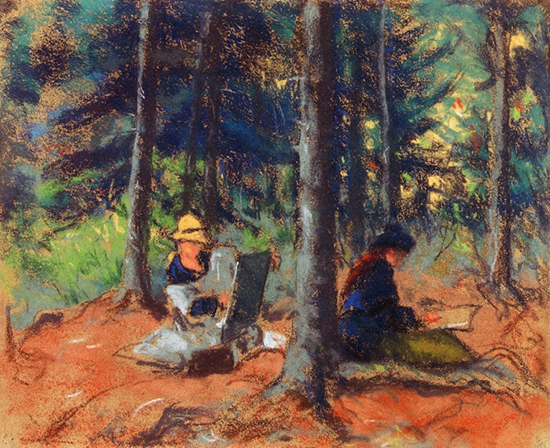 Artists in the Woods, date unknown, Robert Henri
"There are moments in our lives, there are moments in a day, when we seem to see beyond the usual. Such are the moments of our greatest happiness. Such are the moments of our greatest wisdom. If one could but recall his vision by some sort of sign. It was in this hope that the arts were invented. Sign-posts on the way to what may be. Sign-posts toward greater knowledge."
- Robert Henri 1865-1929
As we drove across Nebraska on Interstate 80, we were surprised to see a sign at exit 222 announcing the Robert Henri Museum. The famous artist and teacher that we knew as having studied at the Pennsylvania Academy of Fine Arts and the École des Beaux Arts in France spent a large part of his childhood in Cozad, Nebraska. The town itself was founded by Henri's father, John Jackson Cozad.

Generations have found inspiration in Henri's teachings. We refer to his book, The Art Spirit, often. Henri taught Edward Hopper, Rockwell Kent and Joseph Stella at the New York School of Art and the Art Students League and was named one of the top three living American artists by the Art Council of New York. He was a leading figure in the AshCan school.

But we had never known the back story of Henri - his unlikely childhood. Robert Henri was born Robert Henry Cozad, near Cincinnati, Ohio, the son of a riverboat gambler. In 1873, when Robert was eight years old, the family moved to Nebraska. Nine year later, Robert's father fatally shot a rancher in a dispute over pasturing cattle on his land. As the townspeople began to turn against him, he gathered up his family and fled to Denver, Colorado. Other members of the family changed their names to avoid identification and Robert Henry Cozad became Robert Henri, (pronounced Hen-rye). The family later moved to Atlantic City, New Jersey and Henri began his formal education in painting. His father was eventually cleared of wrongdoing.

We know him best for his strong words emphasizing originality and depicting life truthfully in art. Ironically, the small town of his childhood (population just under 4,000) now embraces the Cozad family with a museum dedicated to Henri's work and a visiting artist program.